If you're thinking of buying a motorbike to get around, you're not the only one in love with the idea.
The fastest growth in any kind of vehicle registration was for motorbikes, up 22% between 2010 and 2015.
In the 10 years since June 2007, motorcycle registrations in NSW have gone from 125,000 to just over 220,000 in September 2017.
Why we love them
The Federal Chamber of Automotive Industries (FCAI) says there are still many good reasons why Australians love their motorbikes.
First, there are many different kinds of motorbikes to choose from, both on- and off-road – café racers, cruisers, super-motards, motocrossers, scooters.
Second, they are affordable.
The top brand of road bike is Harley Davidson, then Honda and Yamaha
The most popular off-road brand is Yamaha followed by Honda and KTM
The most popular ATV is Polaris then Honda and Yamaha.
We love ATVs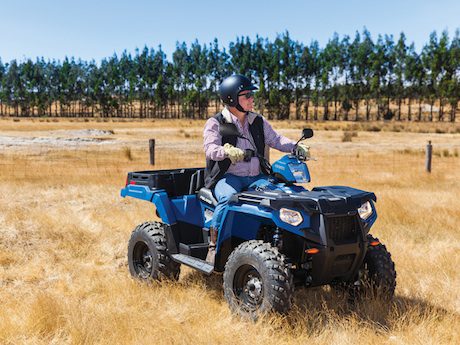 The strongest demand in the first 9 months of 2017 was for ATVs (all terrain vehicles), up a healthy 4.5%. This is why the government has put such a focus recently on the safety of ATVs and their riders.
Demand for road and off-road motorbikes was not as strong as in the nine months to September 2016. But sales of Indian bikes rose 16.4% and Victory motorcycles were up 47.1%.
Market share of motorcycle types in Australia has shifted a bit since September 2016. The biggest decrease is in road motorbikes:
Sept 2017 12-Month: Market Share, Change
Road motorbikes:       40.5%,                    -14.9%
Off-road motorbikes: 32.9%,                   -5.0%
ATVs (all terrain):       22.8%,                   +4.5%
Scooters:                             3.8%,                   -14.0%
Meanwhile, the popularity of scooters has been falling for 6 years now. This is possibly because:
Cheap imports turned out to be a letdown and turned some prospective buyers off;
Petrol prices have steadied or fallen in that time; and
There is just not enough parking in our cities to support scooter use.
Motorcycle greenslips
The NSW compulsory third party insurance scheme has just changed. From December 2017, it includes more fixed benefits for motorbike riders, whether they were at fault or not in an accident. In the past, they got limited benefits because the accident was often seen as their fault.
To find the cheapest price CTP green slip for a motorbike in NSW, you can use the greenslip calculator. It takes only 2-3 minutes to fill in. You will get the cheapest price from each of the six green slip providers, based on your driving record and the engine capacity of your motorbike.