The latest Isle of Man TT video game "Ride on the Edge" features motorcycles rendered by Brisbane computer graphics production studio Virtual Mechanix.
Managing director and former rider Andrew Porter says they began working on the 3D model bikes for the developer Kylotonn about 18 months ago.
Check out their results in these video trailers for the new game which is available for Xbox One, PlayStation 4 and Microsoft Windows platforms.
3D models
"Initially we produced a single prototype 3D model, testing the number of polygons for the detail required to convincingly portray overall shapes and forms of a superbike within the limitations of game console hardware," Andrew says.
"Next, full production started building the 3D models, unwrapping the surfaces and creating realistic textures.
"Each bike is made from approximately 80,000 triangles, matching detailed CAD models or blueprints supplied by manufacturers as closely as possible.
"We know detail has to be precise to meet rider and fans' expectations."
Game motorcycles
Check out the showroom of featured bikes in all their rider livery including the BMW S 1000 RR, EBR 1190RS, Honda CBRB1000RR, Kawasaki ZX-10R, Norton V4 RR, Suter MMX 500, Honda CBR600RR, Kawasaki ZX-6R, Triumph Daytona 675 and Yamaha YZF-R6.
"Once a model is accurate, more detail is added via graphical texture pages which include normal maps (e.g. small bolts, stitching on leather seats etc.), texture pages (i.e. metallic properties of exhausts or roughness of a handlebar grip) and finally livery and logos of manufacturers and riders," he says.
Riders include Australia's Cameron Donald and a field of stars such as William and Michael Dunlop, John McGuinness, Ian Hutchison and Bruce Anstey.
"We produced a total of 14 bikes, a variety of superbikes, sports bikes and sidecars which will hopefully be released at a later date in a game upgrade scheduled for May," Andrew says.
"Each bike takes a single person around three months to produce and at production peak last year VM had six artists working concurrently to meet deadlines.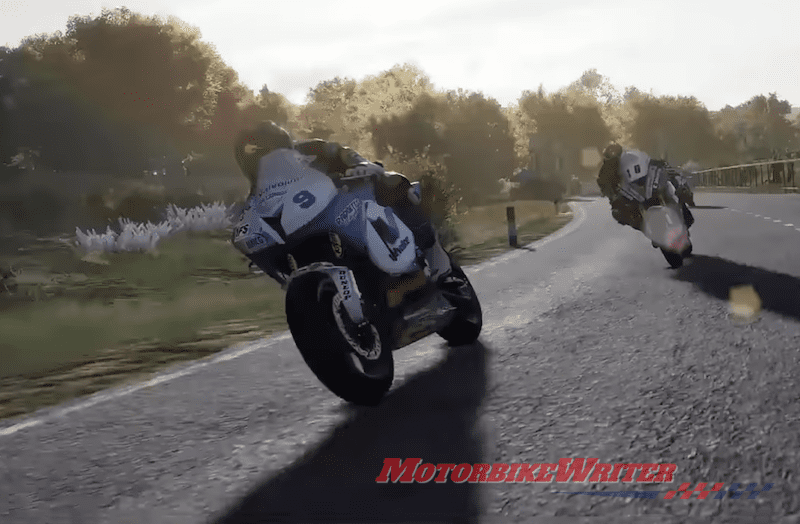 "Once quality is assessed, delivered and confirmed by the clients and manufacturers, the 3D models are added to the game engine and we don't see any more of the bikes until preview shots or the game is released which could be six to 12 months later. So it's really exciting to see our work implemented as a small part in the overall effort of many to produce the final game.
"We're very proud of the results and the best thing about this is that we can work for clients all over the world, sitting in Brisbane producing amazing art work, for exciting vehicles and subjects which we dream about."
Over the past 15 years, Virtual Mechinx has created 3D vehicles for WRC7 Rally, CSR2 Racing and Project Gotham Racing. 
If you'd like to play games like the the latest Isle of Man TT racer right now, check out these indie bike games.