Australian motorcycle riders are the happiest motorists on the road, even in these COVID times, according to a new survey.
The new research survey was conducted by YouGov and commissioned by ING who is launching their new Motorcycle Insurance.
It found that 82% of motorcyclists say riding makes them happy, compared with only half (55%) of motorists.
This is nothing new and mirrors other studies and longheld beliefs that riders are happier.
Therapeutic benefits of motorcycle riding were also highlighted in the ING study.
More than half (51%) of motorcycle riders surveyed said the positive mental health effects of riding was the top reason for them choosing the biker lifestyle.
ING Head of Wealth Cathy Duncan says the research indicates that "riding a motorcycle could be providing many with some of the same benefits of practices like yoga and meditation".
The study of 1006 Australians aged 18+ years throughout the nation this month found that almost half (48%) of the motorcycling respondents said riding is a form of mindfulness that helps them de-stress.
Other highlights include:
41% say they love the sense of freedom that comes with riding;

more than a third (34%) enjoy the fresh air and taking in nature;

35% got into riding because of their friends or family;

24% of riders vow to keep "biking" as a family tradition;

26% will teach their kids how to ride;

43% want to share their joy of riding with friends or their partner.
The study also found riders were aware of their safety with 36% saying their riding gear was their 'second skin' while 47% said it gave them confidence on the road.
As many as 60% said their gear and leathers were more important than other personal belongings such as their car, computer, phone, watch or wedding ring.
While 40% of Aussie motorists said they found it difficult or stressful to find parking, only 23% of motorcyclists complained about parking.
Destinations and commuting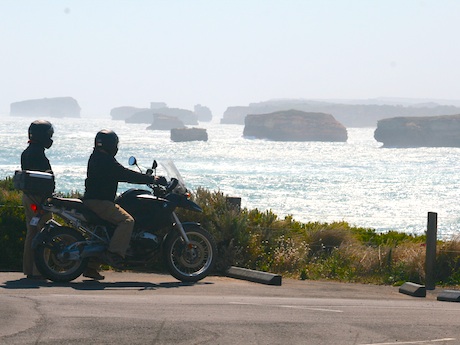 Riders also nominated their top five Aussie motorcycling routes as:
The Great Ocean Road (VIC)

Kangaroo Valley Southern Highlands (NSW)

Adelaide Hills (SA),

The open roads of Tasmania (TAS)

Palm Beach (NSW)
The research found that Aussie motorcycle riders aren't only benefitting mentally from their practice, they're also saving time and money.
More than one in three (36%) motorcycle riders said they love riding for: the convenience of getting around, the ease of finding a parking spot (35%) and saving money (34%).
A quarter of riders said they started riding because it helped them avoid busy public transport and is a quicker commute.
Even non-motorcycle riders can see the commuting benefits amid COVID-19, with a fifth (18%) considering riding a motorcycle as an easy way to get around and almost one in 10 (9%) believing it is a way to escape busy routes to work.
"The research suggests the pandemic has many reassessing their daily commute and how they get around," says Cathy.
"With price and convenience benefits along with mental health and wellbeing perks, why wouldn't you consider it?"