Australian fashion model Laura Csortan, an off-road novice, gets expert riding lessons on the Sahara dunes from four-time Dakar rider Christophe Barriere-Varju in a TV documentary.
"Riding Morocco: Chasing the Dakar" features the Aussies riding the new and aptly named Honda CRF1000L Africa Twin in the toughest of conditions.
It has been broadcast on National Geographic across 170 countries worldwide since June and if you missed it, you will be able to watch it – free of charge on Friday September 30, 2016 – on Dream Racer Television.
Christophe is a French-African immigrant who has competed in the Dakar Rally four times, making a feature-length movie of his 2010 exploits called Dream Racer which has won multiple film awards.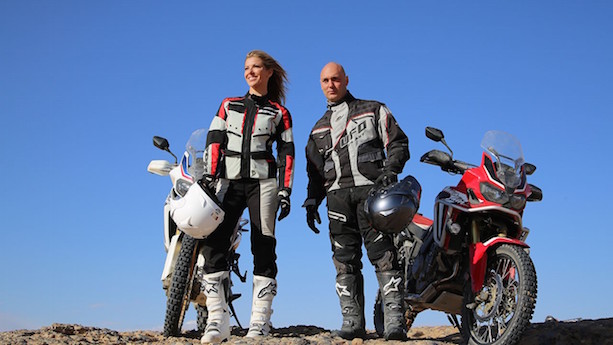 Laura, who was crowned Miss World Australia and Miss Universe Australia and is now a TV reporter, grew up riding dirt bikes on her family's farm and obtained her road licence in 2005.
"I've always been a bit of a petrol head," she says. "I think I get that from all my cousins who grew up on a farm. We frequented there every holiday as kids."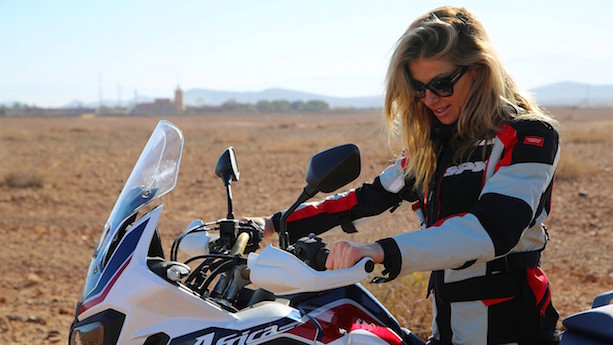 In the new show, Christophe shares his vast riding knowledge with off-road novice Laura who rides the semi-automatic Dual-Clutch Transmission model that doesn't require a clutch lever.
Their ride in February this year took them along part of the original Dakar Rally route before it moved to South America in 2009 after terrorist threats shut it down in 2008.
It includes the rugged Atlas Mountains, rocky valleys and gigantic Sahara Desert dunes.
"It was obviously very different being part of an established and experienced team filming for National Geographic than what Simon and I did with Dream Racer," he says.
"Definitely two opposing ends of the spectrum with the cameras and amount of people involved during the filming."
The broadcast began on the National Geographic Channel in June 2016 in more than 170 countries, including Australia.
The Dream Racer Television Video-On-Demand platform has already reached viewers from over 35 countries in its short 80 days since its launch. The platform content is protected with best-in-class DRM protection and 256k encryption levels.
The platform uses dynamic adaptive streaming, which means the quality (and the size) changes dynamically based upon the speed of the user's internet connection and automatically switches based on the user's bandwidth.