ATV Weight – Specs by Size and Model
450cc Sport ATVs weigh an average of 400 lbs while Utility ATVs of the same size weigh closer to 550 lbs, on average. ATV weight varies by ATV size, class and manufacturer. Sport ATVs favor lighter performance parts for racing where Utility ATVs require heavier duty parts to remain durable in work conditions. Manufacturers like Honda and Yamaha offer a sport-utility hybrid class of ATV designed to be sporty and tough. Sport-utility ATVs weigh more than pure sport models and less than pure utility ATVs, a happy medium.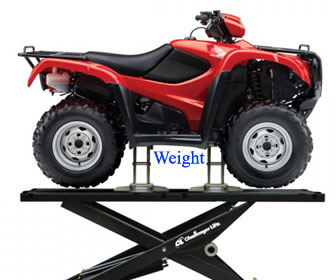 ATV weight should not be confused with ATV capacity. ATV Weight refers to how heavy the ATV is and capacity refers to how much weight a four-wheeler can safely carry. There are also two weight designations per ATV. One is called "dry weight" which means the oils, gasoline and other fluids have not been included and the second is called wet weight, or simply weight. It is generally more useful to know the wet weight of an ATV as this is the condition the ATV will be in when riding.
Average ATV weight by engine size
50cc ATV avg weight: 215 lbs
70cc ATV avg weight: 250 lbs
90cc ATV avg weight: 265 lbs
200cc-400cc ATV avg weight: 495 lbs
400cc-600cc ATV avg weight: 650 lbs
600cc-1000cc ATV avg weight: 840 lbs
Important: Actual ATV weight can vary depending on part options. I highly recommend downloading an ATV manual if you need to know the exact specs of an individual quad. Weights by engine size represent the aggregated average weights of popular ATV brands by engine size.
Weight of popular Yamaha ATVs
Weight of popular Honda ATVs
Weights of other popular ATVs
Why ATV weight matters
There are several reasons why the weight of the ATV you ride matters. The most important reason is safety. ATV weight and injury severity potential are linked. A young or inexperienced driver should opt for a lighter ATV.
Another reason ATV weight matters is dependent on your riding goals. If you race your ATV you know that lighter is faster. That's why you see some high horsepower quads weighing less than much smaller utility ATVs.
I hope this helps you get an idea about the weight of an ATV you might be considering for purchase. For more information on these and other ATVs visit the ATV Brands page. Ride safe!