American motorcycle custom accessories and motorcycle apparel company Arlen Ness have released a new range of performance racing leathers.
They feature CE Certified gear suitable for the street riders right to racers. To find a retailer, click here.
Top of the  line is the Sentinel costing $1299.95. The shoulders, knees, and elbows have magnesium sliders and they come with double-layer leather in high abrasion areas and multi-component knee and elbow protectors. The torso is protected by an internal chest shield that features side extensions and ventilation holes for airflow.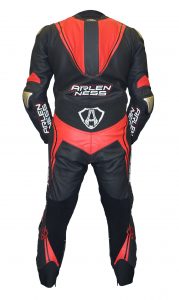 The Sentinel is made with perforated leather for ventilation in an Aussie summer and is fitted with an aerodynamic hump for streamlining, while the memory foam under the collar provides the collar bone with added safety and comfort.
There is also double-layer leather reinforcement at the elbows, shoulders and seat.
It comes in a wide range of colours.