Arctic Cat DVX 300 Specs
The DVX 300 is an all-terrain vehicle produced by Textron Offroad, formerly known as Arctic Cat. Engine specifications: The DVX 300 engine is of single-cylinder four-stroke with a single overhead cam valve design. The engine has a carburetor and displacement (cc/ci) of 270 / 16.5. The DVX 300 transmission is a chain driven CVT type with reverse gear.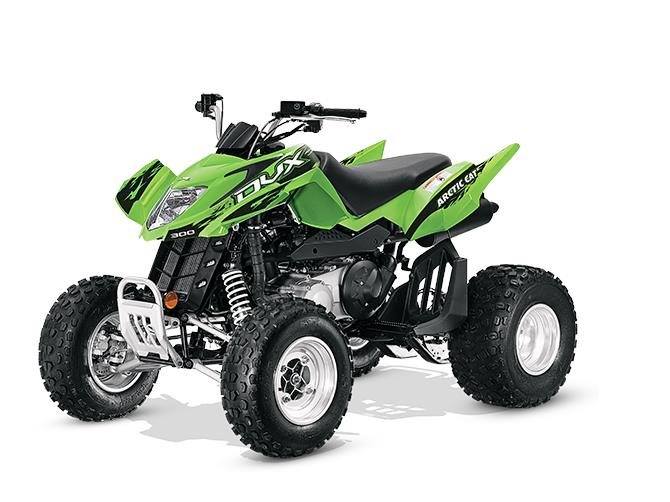 DVX 300 tires are Kenda Klaw XCF AT 21 X 7-10 in front and Kenda Klaw XCF AT 20 X 11-9 in rear with hydraulic brakes all around. Fuel capacity (gal/l) is 3.3 / 12.5. DVX 300 Dry Weight (lbs/kg) is 425 / 192.8 with a wheelbase (in/mm) of 46.4 / 1179. A Bore (mm/in) of 72.7 / 2.86 and Stroke (mm/in) of 65.2 / 2.57 yields a total displacement (cc/ci) of 270 / 16.5.
How fast is the Arctic Cat DVX 300?
The Arctic Cat DVX 300 has a top speed of 40 MPH in stock condition. Youth sport ATVs, including the DVX 300, limit maximum speeds for rider safety reasons. Typically a rev-limiter is installed and it is not recommended that you remove it.
DVX 300 oil capacity and type
Arctic Cat DVX 300 engines require 0w40 oil that is wet clutch compatible. Many owners also report using 10w40 oil with good results. DVX 300 oil capacity is 1.7 quarts (1.6 liters). Synthetic oil is not required but recommended on engines with performance modifications or that have already switched to synthetic oil.
What is an Arctic Cat DVX 300 worth?
The average DVX 300 MSRP is $4299 new. When searching for a used Arctic Cat DVX 300 for sale the current value is typically half MSRP or less, depending on condition and number of after-market parts. Learn more about ATV values.
The Arctic Cat DVX 300 has a double A-Arm independent front suspension with 6.1 inches of travel. The rear suspension is a single swing arm with 6.5 inches of travel. The DVX 300 was first produced in 2009 and has remained unchanged through the years. It was offered with a limited 6 month warranty and belongs to the sport class of ATVs. It is a 4×2 ATV, not 4×4.
Key DVX 300 specs
Displacement (cc/ci) = 270 / 16.5
Engine Type : 2-Stroke Single-Cylinder
Bore and Stroke : 72.7mm x 65.2mm
Arctic Cat DVX 300 Seat Height: 29.2 Inches
Cooling System : Liquid and Air Cooled
DVX 300 dry weight (lbs/kg) is 425 / 192.8
DVX 300 Top Speed is 40mph
Oil capacity and type = 1.7 quarts of 0w40