The biggest and most powerful scooter – Aprilia SRV 850 – blurs the lines between bike and scooter.
For a start it's powered by a thumping 839.3cc over-square V-twin from the Mana with 57kW of power and 76.4Nm of torque.
To accommodate the V-twin, it's no longer a step-through, but more of a step-over.
The general shape is scooter-ish, but if you see it looming up in your mirrors at a rapid pace, it looks more like a superbike with its sharp beak, aggressive light display and racing-style fairing.
It also features sticky Pirelli Diabo tyres as you'd expect to see on a sports bike, although they're a special scooter variety. Still, the front rim is a 16-inch wheel like they have used in MotoGP.
Other motorbike characteristics are chain drive, double steel cradle frame, 41mm telescopic forks and a swingarm with a laterally mounted, horizontal, hydraulic monoshock with seven‐position spring preload adjustment.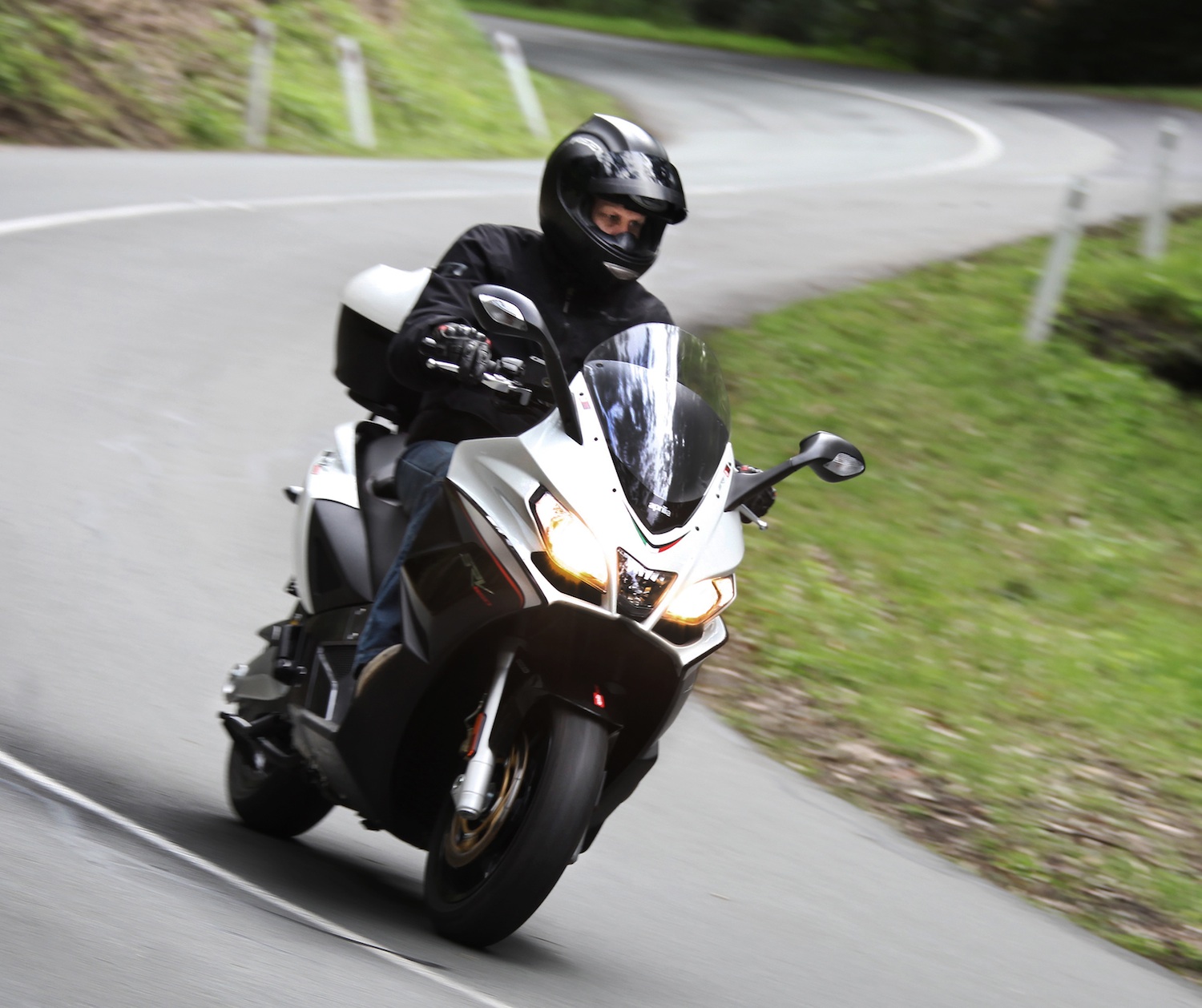 Even the name blurs the distinction between bike and scooter as it's a derivation of Aprilia's RSV4 superbike.
It's not only the world's most powerful and fastest scooter, but also the first with ABS and traction control.
There are other scooters with ABS such as BMW's new C 600 Sport and the C 650 GT which also costs $15,990. But no other scoot has traction control as well.
Aprilia Traction Control was developed for the World Superbike championship and is now being used across many of the Piaggio stable including Moto Guzzi.
The techs have adapted ATC for the special needs of a scooter which has more wweight over the back wheel.
You can select Sport mode which is less intrusive or turn off the ABS/ATC traction control system with a button on the right switchblock.
It might seem strange having traction control on a scooter, but the big V-twin is powerful enough to require an electronic Super Nanny.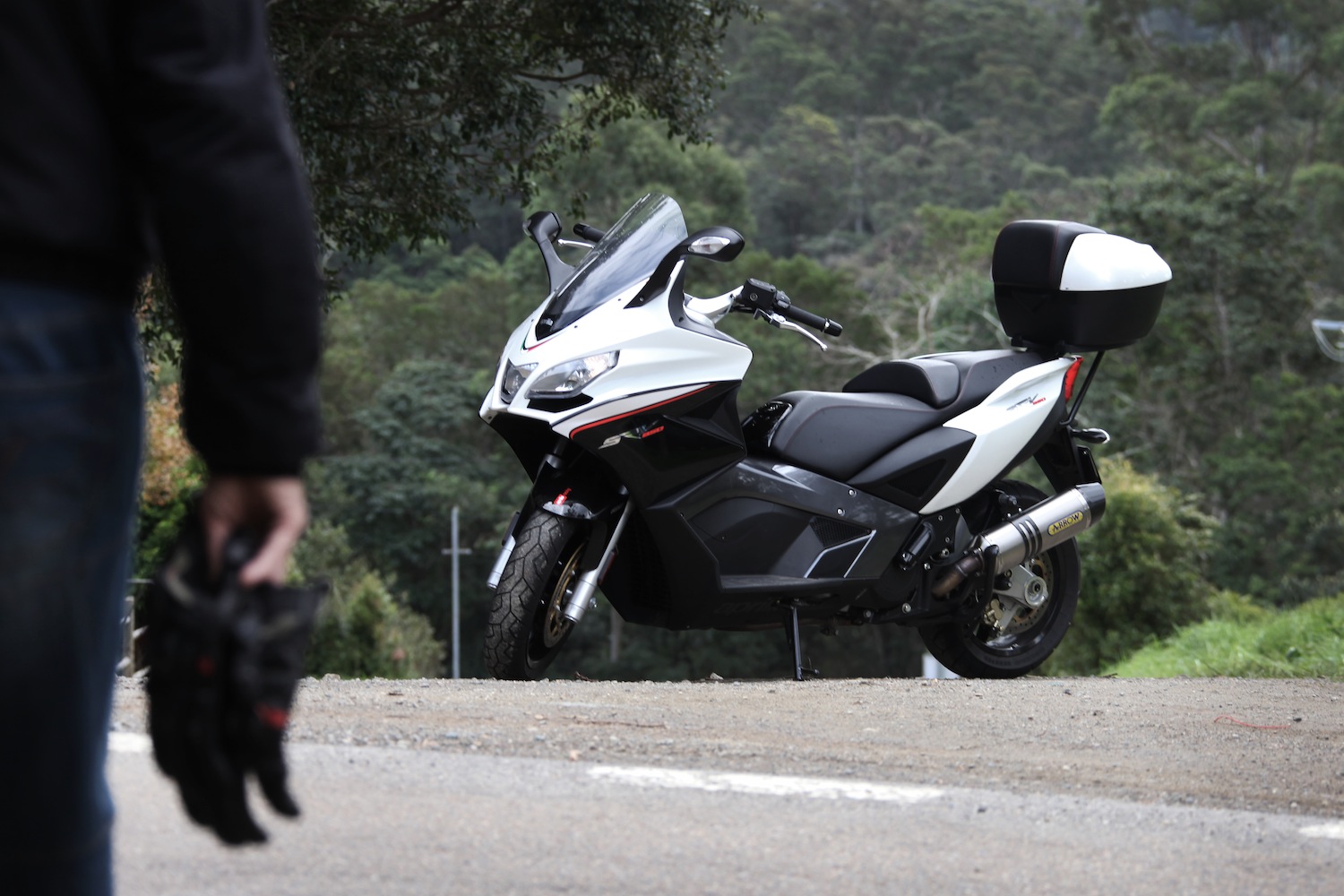 The four-valve, single overhead, twin-spark cam twin comes from the Mana and has the same power and torque. Fire it up and the scoot vibrates with verve.
This test model has been loaded with an Arrow aftermarket exhaust blowing a steady tuba note that sounds more like a sportscar than a scooter.
Like most scooters, it's a twist-and-go system, or for the technically minded, it has a continuously variable transmission not unlike that used in many modern passenger cars and even some SUVs.
CVT is popular among car manufacturers because it is simple, economical and cheap to manufacture.
The system uses pulleys and a belt to seamlessly change the gear ratios without any "shift shock" or delay. It eliminates the gear shifts of a conventional automatic and the accompanying rise and fall of engine speed.
Since the engine speed is always operating at the optimum point, acceleration is strong and you never get caught out in the wrong gear or waiting for the transmission to change down.
At highway speed, you just roll the throttle on and it will accelerate about 10km/h every second.
Because there is little engine braking and when you decelerate under 30km/h, the transmission disengages to save fuel, so you rely heavily on the Aprilia's brakes.
The brakes are operated by hydraulic, four-position-adjustable levers on the bars. Like most bikes, the right lever controls the front double 300mm discs with Brembo double-piston calipers, while the left lever operates the back 240mm disc.
It also has a parking brake because when the engine is turned off, the transmission is in neutral and since the sidestand is short and almost vertical it has no holding power when pointed even slightly downhill.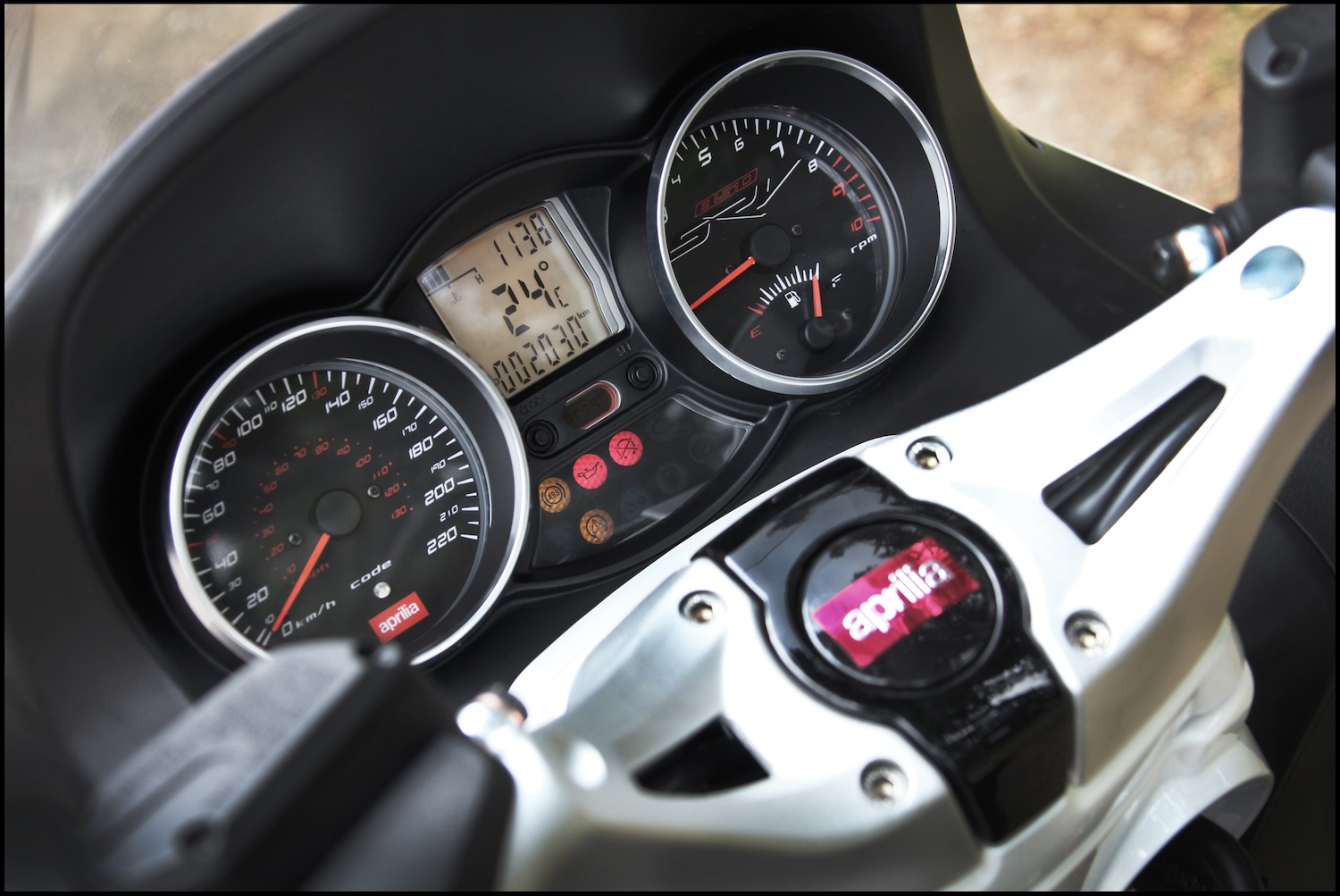 The SRV 850 also comes with a centrestand which is easy to deploy; just hold the left handlebar and the pillion grab handle, then put your weight down on the stand and it gently rocks up into position.
On the road, the SRV 850 inspires with its swift progress, nimble motorcycle-style handling and rocksteady high-speed touring capabilities.
The engine vibration at idle turns into a tingle under acceleration and smooths out to a gentle vibe at touring cadence.
Nimble handling characteristics are defined by the 16-inch wheel. It turns in quickly and the grippy Pirellis allow up to 45 degrees of lean angle.
It holds its arc through the corner, but if you have to adjust your line, it's no problem.
Mid-corner bumps also don't seem to upset the scooter and the wide handlebars provide rider confidence as well as high-speed stability.
Aprilia claims their simulations and road tests have recorded a "coefficient of stability" at full power of 1 rad/sec which is similar to a motorcycle and almost twice as high as a conventional scooter. Aprilia says the stability comes from the rigid, double cradle steel frame with reinforcing plates.
On test I found it rock steady and passing truck windblasts didn't send it into a shimmy.
Aprilia has also done a great job with the suspension and wheel combination. It rides the lumps well with no headshake, no crashing into the bump stops or bouncing the rider out of the seat.
Tall and short riders will find a comfortable position on the cushy perch which has stylish red stitching and a lower back cushion for extra support. Pillions also have a comfortable seat with big hand grips and the optional top box has a very wide and thick backrest cushion.
Riders can put their legs straight down on the big floorboards or rest their feet on the front cowl, cruiser style.
The instrument panel has analogue speedo, tacho and fuel gauge making them all very easy to read. There is also a digital LCD screen with odo, two trip meters, clock, ambient temperature readout and engine temperature with a button on the back of the right switchblock to click through the information.
On tour, the Aprilia consumed fuel at an average of 5.5 litres per 100km, providing about 340km of range from the 18.5-litre tank. That's not great economy, but then it's a pretty heavy machine at 250kg dry and about 280kg with a full tank and my luggage.
The smoothness of the engine, the plush ride, trouble-free handling and comfortable riding position mean that at the end of a long day's ride, you still feel fresh.
My only complaint is the wind noise at highway speed from the sporty windshield.
So if you want a machine that will commute, mix it with the bikes on the weekend cafe run and tackle an intercity tour in comfort, you don't have to get a motorcycle – the Aprilia SRV 850 scooter could be worth considering.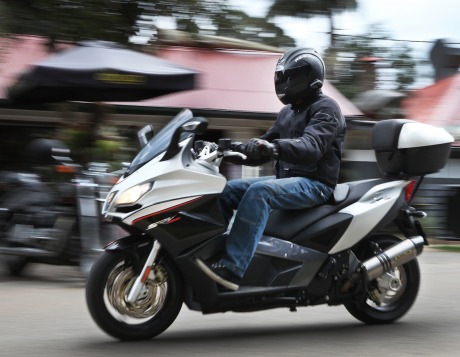 Aprilia SRV 850 ABS/ATC tech specs
Price: $15,990 (+ORC)
Warranty: 2 years/unlimited km
Service: 10,000km
Engine: 839.3cc, 90°, 8‐valve, SOHC, liquid-cooled V‐twin
Bore x stroke: 88 x 69mm
Power:  57kW @ 7750rpm
Torque 76.4Nm @ 6000rpm
Transmission: CVT with torque server, automatic dry centrifugal clutch
Chassis: Double steel cradle
Suspension: 41mm telescopic forks; laterally mounted, horizontal, hydraulic monoshock with seven‐position spring preload adjustment
Brakes: 300mm semi‐floating stainless steel discs, Brembo double-piston 28mm floating
callipers (front); 280mm steel disc and 25.4mm double piston calliper; two-channel ABS
Wheels: 16″ x 3.50; 15″ x 4.50 alloys
Tyres: 120/70‐R16" ‐ 57H; 160/60‐R15" ‐ 67H, tubeless
Length: 2237mm
Width: 790mm
Wheelbase: 1593mm
Seat: 780mm
Fuel: 18.5-litre tank
Dry weight: 250kg
Colours: black, or black and white