Aprilia RSV4R Review
Growing up in the rural northern Canada (Saskatchewan), it should come as no surprise that I live my life without a lot flair; I prefer sneakers over Italian shoes, steak over pasta and a cold beer over wine.
While I have always admired the Italian's passion and ability to build extremely competent motorcycles, there has not been a model that I felt really suited my character or made me feel as though I just had to have one in my garage.
Well my friends, that day has come. Just one look at the Aprilia RSV4R was all it took for me to hang up the sneakers and throw the steak to the dog. No more post-race Pabst Blue Ribbon for this guy; I'll have a nice Chianti, grazie.
OK, maybe the transformation didn't happen quite that abruptly. But I must say that many of my opinions have changed thanks to my three weeks with the Aprilia RSV4R.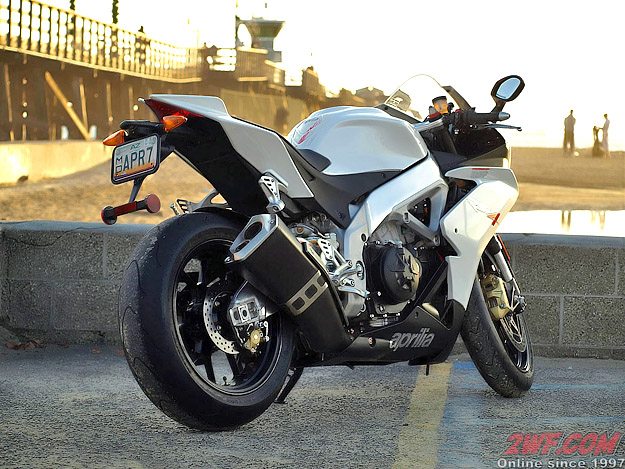 Aprilia RSV4R Styling
Let's start with the styling. While I have always been impressed with the motorcycle design coming out of Aprilia, the RSV4 is hands down the best looking bike I've seen to come out of Italy. Having said that, I was surprised to find how divided people seem to be on the styling.
There seemed to be a sort of love-it-or-hate-it feeling about the new RSV4R styling when speaking to other riders. Among the non-riding public I came into contact with the comments were almost 100% positive however.
The angular lines of the RSV4 and triangular tail section are quite extreme but it is a look I fell in love with from the first time the photos of the new Aprilia surfaced. The Aprilia RSV4R comes in two different color combinations: black/red or white/black. I would be spending my three weeks on the white one with the black forks.
That's right — not the gold forks, which only means one thing. This would be the RSV4R, not the RSV4 Factory.
The paint scheme is quite simple yet it manages to look like a racing machine without having to plaster the bike with dozens of go-fast graphics. The fairings are clean and tidy and the tail section is extremely tiny. The forks are topped off in orange, adding just a bit of style to the already impressive front end.
With today's emissions controls there are seemingly very few sexy stock exhausts to be found on modern sportbikes. While Aprilia has done a better job than most, the 4-into-2-into-1 exhaust is still a far cry from being attractive.
Sitting on the new RSV4R you soon find the small size is not an illusion; this is one compact sportbike. While the package as a whole seems to be on par with the smaller 600's, the seating position was not cramped and I instantly felt at home in the cockpit. The only drawback of the small size seemed to be the placement of the mirrors which, on this narrow fairing, were almost impossible to move into a position that was of any real use.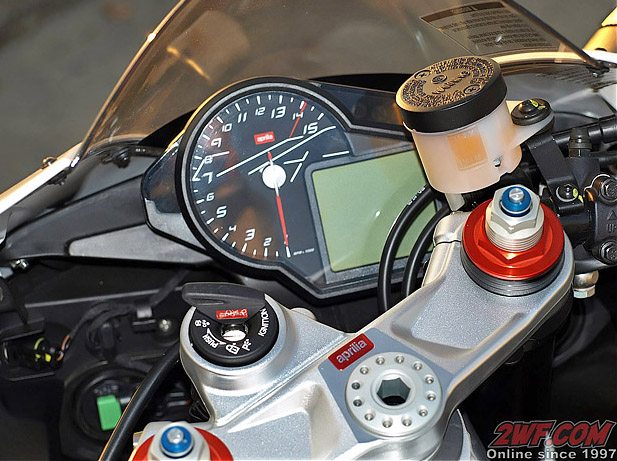 RSV4R Engine and Specs
The Aprilia RSV4 comes in two versions, the RSV4R base version and the higher-spec version, the RSV4 Factory. The R model is essentially very close to its pricier sibling in all areas except suspension.
The R version features Showa/Sachs suspension instead of Öhlins; aluminum components instead of magnesium; plastic portions of bodywork instead of carbon fiber; and a non-adjustable chassis. The Factory also allows you to change the swingarm pivot point, steering head angle and even the engine position.
Both RSV4 models are powered by the same super-compact 999.6 cc 65° V four-cylinder engine producing a claimed 180 hp at 12,500 rpm and 85 lb-ft of torque at 10,000 rpm.
The engine features a ride-by-wire multimap system, a sophisticated electronic injection system with two injectors per cylinder and 48mm throttle bodies. The RSV4's forged pistons deliver a high 13:1 compression ratio. The only thing lacking on the RSV4R are the variable-height air-intake trumpets fitted to the Factory model.
I would not be losing any sleep however due to my current ride's lack of magnesium or gold shiny suspension. I would be instead taking joy in the Brembo monobloc brakes, fully adjustable 43mm Showa fork and Sachs shock . I would also be enjoying the 25% less money I paid for the bike, had I actually paid for it.
The RSV4R is wrapped in an aluminum dual spar frame and has a dry weight of 405 pounds. The whole package is quite small and closely on par with the current CBR1000 in terms of size; although, surprisingly, it feels even tinier.
Instruments
The RSV4R uses a mixed digital/analog instrument display and it provides a clean, functional view of what's happening aboard the Aprilia. Instrumentation includes tach, speedo, shift light and displays for gear and engine mode.
Riding the RSV4R
I had heard the rumors of the sweet sounds emitted from the new Aprilia, so with the anticipation of a small schoolboy about to open a birthday gift, I fired the big V4 up for the first time. The Aprilia has a fierce roar that screams race bred; it is a sound Aprilia pilots will come to lust. Walking into the garage every morning gave me the feeling that I was in the Grand Prix paddock firing up a factory-built race machine.
Once out to terrorize the local streets my first impressions were on how compact the Aprilia is and how it feels like you are directly connected to the front wheel; both in body position and feel from the bars. Input was instant and responsive and although the RSV4R is compact it was surprisingly quite comfortable.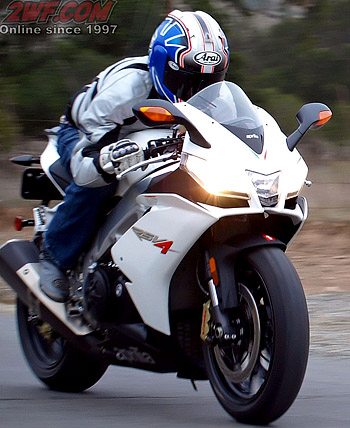 Sore knees and numb hands are the norm after a day of long riding for me on most modern sportbikes, but even after long days in the saddle I was pleasantly surprised at just how easy the Aprilia was on my abused frame.
I would have no problem riding this bike as a daily commuter — this is not something I would not have expected from such a proven, fiery track weapon.
Another thing I found quite fiery on the RSV4R however was the amount of heat generated in the saddle area.
Things were getting pretty toasty while sitting in stop-and-go traffic, even though I was riding in very cool conditions.
Riders of the Aprilia will definitely be breaking a sweat when riding on hot summer days in slow moving traffic.
This is no doubt caused by the high running temperature of the RSV4R; the temp gauge would regularly hover around the 210-220 degree (F) mark and seemed to climb there quite quickly..
It is a common misconception, and one that I am guilty of, to think every motorcycle with the letter "V" in the name is going to be a torque monster. So it was to my surprise that this V4 Aprilia does not make tractor-like torque.
While the motor pulls strong from the bottom, it does not have the grunt of a V-twin or even the CBR1000 for that matter. Hit the 7,500 RPM mark and the RSV4R truly comes to life in an impressive manner; this V4 has one serious punch in the mid-range.
The fun doesn't stop there, however, as the RSV4R pulls hard until just short of the 14,200 rpm redline and does it with an exciting power delivery with the front end dancing through the air. Perhaps not the most electrifying power delivery of the liter bikes but definitely one of the most exhilarating.
Maybe the best part of this rush is the captivating melody being played by the V4 engine as you pour on the power. I put the RSV4R right on par with the current crop of liter bikes, especially when you tap into the potent top-end that will challenge any of the inline fours.
The V4 Aprilia engine feels perfectly balanced with no vibration to speak of and the fuel injection worked to perfection making the RSV4R an amazingly smooth ride. The Aprilia uses a 6-speed cassette-style transmission with a tall first gear which likely had an effect on the lack of torque feel down low. While shifting was adequate, finding neutral was a challenge and a delicate foot was required at nearly every stop. The cable-actuated slipper clutch pull was low-effort with a nice feel and linear action.
My ride on the RSV4R was a true real-world test taking place on the city streets and local canyons. While much of the cutting edge technology was most certainly designed with the track in mind it also makes the RSV4R a sharp, enticing ride on the street.
The nimble chassis comprised from a mixture of both cast and pressed pieces of aluminum with a beautiful polished finish made me feel as if I was truly enjoying the best of exotic bike performance. It changed direction with complete ease making it a simple task to put the Aprilia on the perfect line through every corner.
The RSV4R comes equipped with 43 mm inverted Showa forks and Sachs gas-charged shock absorber. Sachs also provides the non-adjustable steering damper. For all of you out there with tender tushies, the suspension is fully adjustable for preload, compression and rebound damping adjustment.
I am not a big tweaker of damping, so the Aprilia was right up my alley — no tweaking needed. Sure, the gold Öhlins parts on the factory look ultra trick but it should be noted that the "R" model is sporting some top-notch suspension components as well.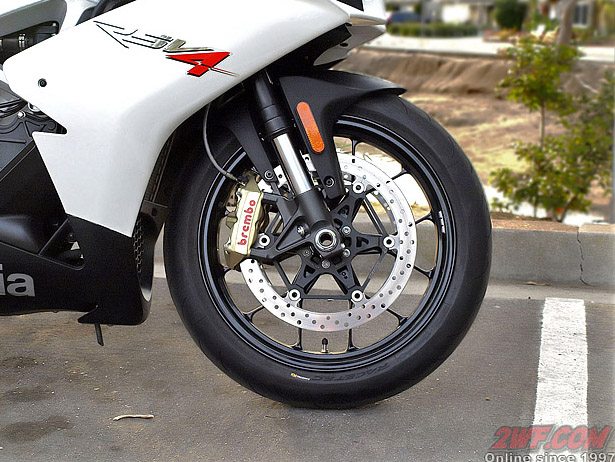 Brakes
Something that should not be forgotten is that the RSV4R does sport some of its own trick parts. Can you say Brembo 4-piston monobloc calipers and a radial-mount master cylinder with a pair of 320mm diameter discs?  I knew you could.
The rear brake is a single 220mm disc with a Brembo twin-piston caliper. Metal-lined brake hoses are used both front and back.
I have ridden with some nice brakes in my day but these Brembo's take the cake. Absolutely the best-feeling brakes I have ever laid my paws on. Perfect feel, coupled with awesome stopping power had me staying on the gas just that bit longer knowing the RSV4R brakes would be there to haul me down from warp speed.
I have had the pleasure of riding many bikes with Brembo's and while many had great stopping power they often lacked the feel or progression I look for in a braking system. Brembo has really nailed the braking system on the RSV4R however. Never has it ever been so much fun to slow down!
Tires
The RSV4R comes equipped with Metzeler's Racetec K3 high-performance street tires. It's been quite some time since I have seen a sportbike come equipped with Metzeler tires, so I was not sure what to expect.
They have a very aggressive tread pattern that looked very well suited for track days. During my first week in rainy conditions the tires were a bit of a handful as they gave me a few good wiggles in the wet. Once conditions dried out however, the Metzeler's were much more in their element and provided great sporting characteristics and grip.
Variable Engine Mapping
I spent a short time playing with the variable engine maps and found them slightly difficult to navigate quickly. The Aprilia features Track, Sport and Road settings. Track mode is full power while Sport mode limits power in the first three gears.
Road mode brings the power down to 140 HP in all gears. It feels somewhat strange hitting the starter button to change modes. The mode takes a good amount of time to change which is annoying and had me double checking on more than one occasion if I was hitting the right button since it did not seem like anything was happening.
To be honest, I have never been a big user of mapping mode switches while riding on the street. I normally forget if a bike is even equipped with the option.
I rode the first week with the RSV4 in the rain and completely forgot that I even had the option to switch modes to help me out in the slick conditions. Had I remembered, I no doubt I would've switched from the Track mode anyway. What fun is riding if you can't flirt with a little disaster every once in a while?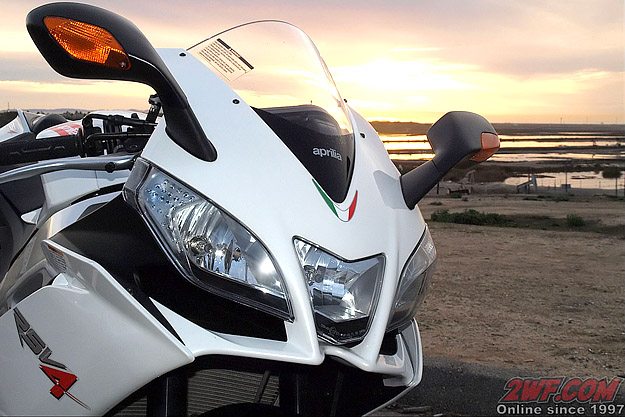 Conclusion
While Aprilia has always produced some exciting and competent motorcycles, none have had such a wide appeal at such an affordable price for a motorcycle that is capable of winning straight out of the box.
There is plenty of technology packed into the RSV4R for the $15,999 price tag. I love riding all types of motorcycles, from 50cc scooters to 600 pound cruisers, but deep down I will always have a desire to ride the most race-worthy, performance oriented sportbike available.
So to me, the arrival of the Aprilia RSV4R is almost like my personal wish list being answered. A hardcore piece of machinery built for serious sport use in a price range that is affordable to the average motorcycle owner.
For any rider who dreams of the rush and excitement of piloting a factory racing machine, the RSV4R will get you closer to that experience than any other mass produced sportbike under $20,000. For this, Aprilia (and Italy), I thank you.
UPDATE:  2010 Aprilia RSV4 Recall (US)
Manufacturer:  Piaggio USA, Inc. Date: Jan 25, 2010
NHTSA Campaign ID Number:  10V029000
Component:  Engine and engine cooling
Potential Number of Units Affected:  335
Summary: Piaggio is recalling certain model year 2010 Aprilia RSV4 "Factory" and RSV4R motorcycles manufactured between July 2, 2009, and October 30, 2009. In manufacturing the connecting rods, a process was used to straighten the rod in order to meet specifications. This process introduced stresses into the rods which greatly affected strength and reliability.
Consequences:  Connecting rods in the affected vehicles could fail and cause engine failure that could lead to a loss of vehicle control, resulting in a crash, personal injury, or death.
Remedy:  Piaggio will notify owners and replace the engines free of charge. The safety recall is expected to begin on or about February 28, 2010. Owners may contact Piaggio at 1-212-380-4431.
Notes:  Owners may also contact the National Highway Traffic Safety Administration vehicle safety hotline at 1-888-327-4236 or go to http://www.safercar.gov .
See Also:  wBW Aprilia Mana 850 Review
2010 Aprilia RSV4R – Specifications

Engine
Type: Longitudinal 65° V-4 cylinder, 4-stroke, liquid cooled, DOHC, 4 valves per cylinder.
Capacity: 999.6 cc
Bore/Stroke: 78 mm x 52.3 mm
Compression Ratio: 13:1
Ignition: Magneti Marelli digital electronic ignition system integrated in engine control system, with one spark plug per cylinder and "stick-coil"-type coils.
Exhaust: 4-into-2-into-1 layout, single oxygen sensor, lateral single silencer with engine control unit-controlled butterfly valve and integrated trivalent catalytic converter (Euro 3).
Generator: Flywheel mounted 420W alternator with rare earth magnets
Lubrication: Wet sump lubrication system with oil radiator and two oil pumps (lubrication and cooling)
Fuel System: Airbox with front dynamic air intakes. 4 Weber-Marelli 48-mm throttle bodies with 8 injectors and latest generation Ride-by-Wire engine management. Choice of three different engine maps selectable by the rider with bike in motion: T (Track), S (Sport), R (Road)
Transmission
Gearbox: 6-speed cassette type gearbox 1st: 39/15 (2.6) 2nd: 33/16 (2,063) 3rd: 34/20 (1.7) 4th: 32/22 (1,455) 5th: 34/26 (1,308) 6th: 33/27 (1,222)
Clutch: Multi-plate wet clutch with mechanical slipper system
Primary Drive: Straight cut gears and integrated flexible coupling, drive ratio: 73/44 (1,659)
Final Drive: Chain: Drive ratio: 40/16 (2.5) or 42/16 (2.625)
Chassis, Suspension and Brakes
Frame: Aluminum dual beam chassis with pressed and cast sheet elements. Sachs steering damper
Front Suspension: Upside-down 43 mm Showa fork. Forged aluminum radial caliper mounting brackets. Completely adjustable spring preload and hydraulic compression and rebound damping.
Front Wheel Travel: 120 mm
Rear Suspension: Twin sided aluminum swingarm; mixed low thickness and sheet casting technology. Sachs piggy back monoshock with completely adjustable: spring preload, wheelbase, hydraulic compression and rebound damping. APS progressive linkage.
Rear Wheel Travel: 130mm
Brakes: Front: Dual 320-mm diameter floating stainless steel disc with lightweight stainless steel rotor and aluminum flange with 6 pins. Brembo monobloc radial calipers with 4 Ø 34-mm opposite. Sintered pads. Radial pump and metal braided brake hose Rear: 220-mm diameter disc; Brembo caliper with two Ø 32 mm separate pistons. Sintered pads. Pump with integrated tank and metal braided hose.
Instruments and Lights
Wheels and Tires
Front Wheel: Aluminum alloy with 6 split spokes, 3.5"X17"
Rear Wheel: Aluminum alloy with 5 split spokes, 6"X17"
Front Tire: 120/70 ZR 17
Rear Tire: 190/55 ZR 17 (alternative: 190/50 ZR 17)
Dimensions, Weights and Capacities
Length: 2040 mm
Width: 735 mm (at the handlebar)
Height: 1120 mm
Clearance: 130 mm
Saddle Height: 845 mm
Trail: 105 mm
Steering angle: 24.5°
Fuel tank capacity: 17 litres (4-litre reserve included)
Dry weight: 184 kg *
Performance (Measured at crankshaft to 95/1/EC)
Maximum Power: 180 CV (132.4 kW) a 12,500 rpm
Maximum Torque: 115 Nm a 10,000 rpm
Colors
Price
$15,999.00 USD
Note:
 For informational use only. All material and photographs are Copyright © webWorld International, LLC since 2000. All rights reserved. See the webBikeWorld® 
Site Info page
. Product specifications, features and details may change or differ from our descriptions. Always check before purchasing. Read the
Terms and Conditions
!
Owner Comments and Feedback