The Melbourne-based Toy Run For the Father Bob Maguire Foundation has been cancelled due the COVID restrictions of 50 people at outdoor events.
It follows the recent announcement that COVID travel restrictions had forced the 43rd Melbourne Toy Run to operate as a virtual event.
In NSW, the 43rd Newcastle Toy Run will collect gifts, but the ride is off, while the Motorcycle Riders' Association 41st Toy Run in Tasmania will go ahead as a restricted, ticketed event with details sent to ticket holders soon.
Toy Run For the Father Bob Maguire Foundation organiser Cate Hughes says the "tough decision" was made not only because of COVID restrictions but also to protect Fr Bob "who is particularly vulnerable due to his rare illness and age".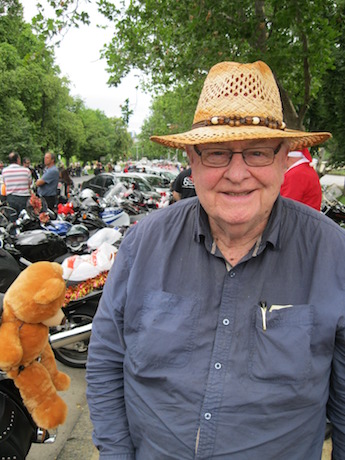 However, efforts to raise funds and gifts for the appeal are still going ahead.
Fr Bob or Foundation staff will be at Scotties Garage Toy Run After Party this Sunday afternoon and there are some "mystery rides" still on which will collect funds and gifts for the appeal.
These are the drop-off points: 
Morgan & Wacker Harley-Davidson® Melbourne, formerly Northside Harley-Davidson®, 370 Cooper Street, Epping – Monday-Friday: 9:00am-5:30pm & Saturday: 9:00am-3:00pm  NB Sunday 6th December to be confirmed – ph: 93849900

Open Road Motorcycle Service Centre, Factory 5, 65 Horne Street, Sunbury, Monday-Friday 9:00am-5:00pm & Saturday by appointment only – ph: 97408563
Johnny's Hog Shop, 9/419-425 Old Geelong Road, Hoppers Crossing, Monday-Friday 9:00am-6:00pm & Saturday 10:00am-12:00pm – ph: 83608836 to confirm first.  NB Johnny's Hog Shop is a very busy/booked out, high end performance racing workshop; please respect by dropping off toys & leaving asap
Bad Boy Bobbers & Customs, 97 Warrigal Road, Hughesdale, Tuesday-Friday 10:00am-5:00pm & Saturday 9:00am-12:00p
Scotties Garage, 71 Miles Grove, Seaford, Saturday 5th December 10:00am-5:00pm; Sunday 6th December 9:00am-7:00pm; and Tuesday 8th, Wednesday 9th & Thursday 10th December 9:00am-2:00pm
"Although very disappointing to have to cancel last minute, I'm quietly confident that the riders, and now members of the public, will show their generosity at our drop-off points, with the added bonus of being able to accept larger toys/items that riders cannot carry eg bicycles, step on scooters etc," Cate says.