Akrapovic is a name that is synonymous with sports bikes. But now the Slovenian exhaust manufacturer has revealed a series of Open-Line full exhaust systems for Harley-Davidsons at Daytona Bike Week.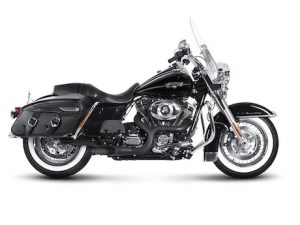 Motorcycle riders fit aftermarket exhausts for a variety of reasons: Sound, performance, weight and looks. Sometimes it's for just one of those reasons, sometimes a mixture and sometimes all four. Akrapovic is claiming their Open-Line complete exhaust systems, which include headers, mufflers and heat shields, will fulfill all your exhaust needs.
Stock Harley pipes make a distinctive "potato-potato" sound while common aftermarket pipes for Harleys such as Screamin' Eagle and Vance & Hines sound more like an angry bear with a sore throat. According to Queensland's top traffic cop, Michael Keating, those loud Harleys you can hear for miles are illegal. So it's surprising more Harley riders don't cop fines. (Akrapovic warns that the emission levels of their Open-Line exhausts do not comply with the Californian Air Resources Board which has the world's toughest restrictions.)
Akrapovic says their system has a "bold and tonal signature". If you want to hear what they sound like, click here to listen to some examples of the pipes on various Harleys. You can compare the sounds of the stock exhaust against the sound with and without a noise-reduction insert. It sounds throatier, but not that much louder, even without the insert. This is also an interesting clip of the Morsus custom bike which is a joint project between Akrapovic and Slovenian-based Dreamachine Motorcycles. It certainly has a "resonant sound".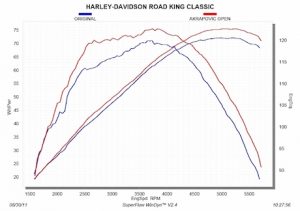 One of the typical results of fitting a free-flowing exhaust system is a loss of bottom-end power. Usually the louder the exhaust, the worse the performance. Akrapovic claim their pipes not only sound good, but also increase both torque and power. They fitted a set to a Touring model and found power output increased 3.5hp at 5270rpm and torque by 7.5Nm at 2250 revs.
Harley runs their engines fairly lean so, if fitting an aftermarket pipe, it is important to match the ECU and air filter for correct air-fuel mix otherwise you may have trouble with starting, idling, backfiring and throttle response. There are aftermarket diagnostic tools available to help, but it might be best to leave it to the experts. Akrapovic claims their exhaust system requires no bike modifications, yet strangely they offer a special engine mapping option from Dynojet.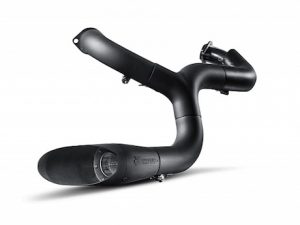 Beauty is in the eye of the beholder, but all Akrapovic pipes are well finished with no messy welds. These Open-Line pipes are made from stainless steel and are available in chrome or black-coated.
One thing you can't dispute is the weight saving. An Akrapovic Open-Line full exhaust system weighs 4.1kg compared with a stock Harley Touring system which is 15.9kg. That's 11.8kg, which is more than the weight of the back wheel.
Australian distributor, Gas Imports, says the exhausts are available now with delivery taking up to six weeks. Prices vary depending on the bike.