There have been many airconditioner units for motorcycles and riders over the years that are big and expensive, but now an Indian company says it can provide cool and cheap air for your head.
AptEner Mechatronics claims it will soon release an add-on airconditioner unit which simply straps to the front of a full-face helmet.
BluSnap airconditioner
It's called BluSnap and it provides cool air via the chin vents.
The union is powered by a rechargeable battery and is claimed to reduce heat in your face by 6 to 15 degrees centigrade.
It features a water reserve, a fan, a non-slip strap in a choice of five colours and an anti-bacterial air filter that should be replaced in three to six months.
AptEner claims the battery will last 10 hours and the water reservoir will provide two hours of evaporative cooling before needing a top-up.
They also say one of their "key innovations" is making evaporative cooling work in humid conditions.
"The beach is as close to an ideal air-cooler as you will find, and it works very well in hot and humid conditions," they say.
The BluSnap unit is quite bulky and may incur the wrath of the Victoria Police who fine riders for wearing action cameras that protrude more than 5mm from the helmet.
This unit is bigger than that! Dimensions are 132mm wide, 127mm deep and 101mm high.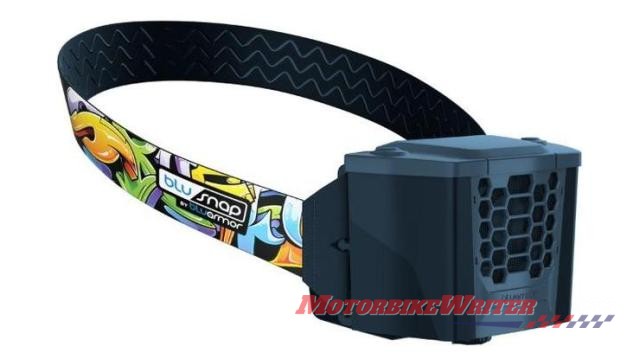 You can order the BluSnap helmet air cooler now at Rs1609 (about $A32, €20, $US25) and it will begin shipping around the world within a month.
Other bike airconditioner units
We have seen many airconditioner units for motorcycles, but most are big and clunky.
However, American company MiClimate claims to have made a compact unit.
Despite a successful crowd-funding campaign and a claim to hit the market at about US$269 with battery, we still can't find any sign of it being available yet.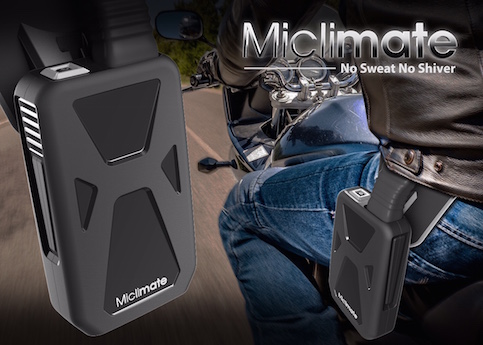 The crowd funding site still exists, but when we search for MiClimate, we are shown to an infected site for personal airconditioners.
Our favourite is the Ventz unit which is a passive cooler that shoots air up your sleeves.