There are no manufacturers who make an adventure motorcycle that is totally suitable straight off the showroom floor.
You either have to fork out extras for factory options or aftermarket accessories. Sometimes you even have to change the most fundamental things such as tyres or handlebars.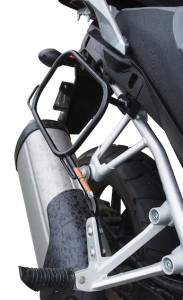 I recently wrote a series of articles on setting up adventure motorcycles that is being published in Australian Road Rider magazine. Rather than just giving my own tips, I sought the advice of the experts.
One of those was Andy White of Andy Strapz who has been expertly securing adventure riders' loads since 1995. When it came to adventure motorcycle luggage, Andy had the best advice: "Always leave about 20% of space so you can put your jacket liner in it or in case you buy something along the way."
The guys at Andy Strapz in Melbourne are riders and they rigorously test every item they sell. So it should be assumed that their new pannier support frames for the new Suzuki DL1000 V Strom will be sturdy.
"I've been lucky enough to get my hands on one of the first demo bikes from my friendly local dealer," says Andy. "As usual, my frames are designed to be light and unobtrusive, keeping the whole Expedition Pannier system as narrow as possible. I always aim to get the frames to look as if they are OEM equipment by following styling and body lines of the bike."
The frames cost $370 plus postage and can be fitted in about 15 minutes with two Hex keys and a 13mm spanner.
"They can be stashed in the shed when not in use if that's the way the owner wants to roll," says Andy.
They are made by hand from mild steel tube to allow maximum resistance to vibration and straightening after a tumble. They are powder-coated satin black and all the supplied nuts and bolts are stainless steel.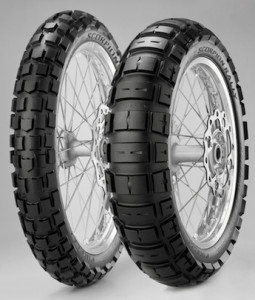 Meanwhile, I've finally worn out my set of Pirelli Scorpion Trail dual-sport tyres on my BMW R 1200 GS after about 10,000km. Actually I could easily squeeze out another couple of thousand kilometres despite loads of gravel and two-up riding. However, I've now been offered the next step up in aggressive tread, the Pirelli Scorpion Rally and am looking forward to punishing them.
Adventure bikes are always being updated and riders are always trying out new gadgets and new tyre treads. What are your tips for kitting out an adventure bike? Please leave your tips in the comments box below.