Best Adventure Motorcycle Helmets
Adventurous motorcyclists have many choices with regard to helmets. Many factors come into play when choosing a helmet . Today, riders are choosing helmets with significant wind screens and built-in peaks, or visors, in an effort to block the sun and provide for more comfort when riding west after a long day of riding.
Two helmets, in particular, have staked claims to the current marketplace for quite some time; the Arai XD4 and the Shoei Hornet. However, after thorough testing of both and the addition of the new AGV AX-8 Dual Sport to the mix, there may be significant competition on the horizon. Here, I'll give me own review of each with regard to several categories which are important with regard to motorcycle helmets.
What is a Dual Sport Motorcycle Helmet anyway?
Dual sport motorcycles are designed and developed to ride on the road and off. Being able to ride on either surface requires a different style of helmet, a dual-sport motorcycle helmet or sometimes referred to as adventure motorcycle helmets. Back to the review…
Dual Purpose Motorcycle Helmets Fitment
Every rider has a different head shape and size, and each will choose to wear their helmet in such a way that is specific to their own desires and personal fit. Therefore, no one device will come out on top in this particular category. Riders should try all three on to determine which is best for their specific requirements.
Broad comments on personal preferences aside, the Arai XD4 just felt better when I put it on.
Winner: Arai XD4
Anti Fog Motorcycle Helmets designed for Fog-resistance
As with fit, the subject of fog resistance's yet another category in which it is very difficult to declare a victor. Unfortunately, it is nearly impossible to recreate exact speed, wind, light, temperature, and humidity for adequately testing various helmets.
Ultimately, all three helmets did about the same with regard to their ability to resist fog build-up. Keep in mind, each safety helmet allows for the possibility of fogging up,but are all basically adequate. By simply opening the bottom of the screen slightly,all three devices allow enough air flow to resist fog.
Winner: 3-way-tie
Dual Visor Motorcycle Helmets for Ventilation for Cooling
Each helmet offers a notable degree of intake and exhaust ventilation points, however,the general consensus is that the Shoei helmet actually circulates air in a most sufficient way.
Of course, taking into account varying shapes and sizes of riders' heads, riding speeds, etc., each experience is different and, therefore, may obtain a completely different result. But, for the purposes of the testing performed here, Shoei outshines its competition.
Winner: Shoei
Dual Sport Motorcycle Helmet Weight
Comparing XL's to XL's,AGVis definitely weighs in lighter at 1490 grams, followed by Shoei at 1542 grams, and Arai comes in as the heaviest at 1693 grams. To answer your next, obvious, question: Yes, even small differences like a couple hundred grams can and will be felt in a riding situation.
The human head is one of the most hypersensitive parts of the body and even the most minuscule amounts of weight will be felt over time. Therefore, a definite winner emerges here.
Winner: AGV
Extreme Motorcycle Helmets Quality of Construction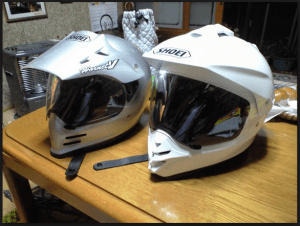 The helmets tested here are all high-quality helmets, but the liner design in the AGV, unfortunately, causes it to fall short of the Shoei and Arai with regard to quality. Helmet liners that are a bit loose or slack tend to feel inconsistent upon usage and, therefore, a little awkward mainly due to a difference in wearability that will consistently be felt while riding. Having ridden all three helmets, Shoei does a superb job in terms of overall functionality of the liner, screen, chinstrap, and assembly.
Additionally,the majority of riders will find themselves to be discouraged in how easily the plastic mounting bolts can be easily undone and come apart. This is the case across the board on each helmet. Keep in mind, however, that this is not a design flaw or defect. Without bolts that intentionally breakaway, the peak could become very in the event of a sudden crash or on the occasion when riding under and through trees with low-hanging branches. They need to free themselves from the helmet structure in order to gain Department of Transportation (DOT) certification and, therefore, should not be considered a deficiency.
Winner: Shoei
Dual Visor Motorcycle Helmet Visibility
This portion of my test should not have been considered a contest. With it's ultra-low chin bar, the AGV has an enormous viewing window taking advantage of both vertical and peripheral viewing areas.
The AGV's portal is noticeably larger than any of the other helmets and, surprisingly, offers the most visibility you'll ever want or need.
Winner: AGV
Price – The Wallet Test
This category, requires personal research depending on your place of purchase but, generally speaking, the AGV is the least expensive while Arai is the most costly.
All three helmets are high on the pricing spectrum, and anyone who's ever used a $100 device will say they can feel, hear, and experience the difference when comparing low-end verses high-end options on the market today.
For the purposes of this helmet comparison, the Arai XD4 was found to be the most affordable, and leave some room in the budget for cameras and bluetooth comm options.
Winner: AGV
The Deciding Factor – Gut instinct
In the above various categories, it seems to be a close battle between AGV and Shoei to come out on top. It's important to remember that every rider has a different height, preferable riding position, desired motorcycle, windscreens and add-ons and accessories, and will experience different weather and overall riding conditions. Some riders prefer cameras attached to their helmets for recording their adventures too. Without actually trying each helmet, there's no way to say for sure which one is the perfect choice for every individual rider. However, my personal choice is the Shoei. Why? Simply put, the"Flutter Factor" is the deciding element.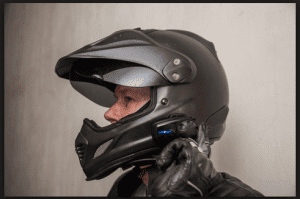 Flutter factor is vibration, or flutter, that is felt when a peak moves due to wind force while riding. The design of the Arai and AGV are such that their peaks (visors) are only mounted by two bolts on each side of the helmet.
Also, each peak is constructed of a somewhat soft and flexible material which lends itself to a more unstable environment. Considering wind gusts and speeds it will be subjected to throughout a ride,the problem of unwanted vibrations will surely be noticed. The Shoei, on the other hand, has a peak that is connected at three points which includes the top.
It's made of a slightly stiffer piece of plastic, and it is actually somewhat smaller. This means less potential to catch on the wind and vibrate uncontrollably.
And BMW? Let's not leave out the BMW Motorcycle Helmets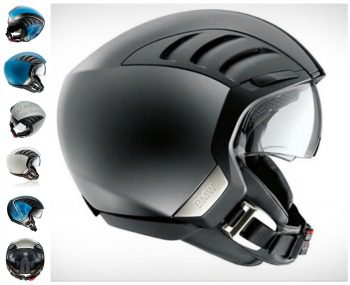 What is it about the BMW logo that make us want to put it on everything? Brand loyalty? Elevated Status symbol? Belonging to a like-minded group? Whatever your reason (you may not even know it) is, that symbol makes it way on to a good portion of the gear that you own. Helmet Included.
BMW has several models of helmets, but for the purpose of going on an adventure either on-road or off, a few options from this iconic brand are available:
— BMW Enduro Magnesium
So, how does this translate to you – the consumer?
Each motorcycle enthusiast will have a different result but, generally speaking, the peak design of the Shoei is far more desirable in terms of preventing flutter vibrations than the other two. Unwanted peak vibrations that occur while long-distance riding, is a major safety issue and distraction. In addition, it's a real pain when experiencing excessive eye bounce. There are even a few articles of support behind the theory of permanent vision impairment due to an excessive amount of eye vibration.
Each of these safety devices will work adequately for your specific situation, but if you are in a position that requires a quick and final decision go with the Shoei and avoid having unwanted fluttering become an issue for you. Using the Arai and AGV will increase your chances of experiencing the same vibrations that make for unsafe riding conditions.