The KLR650-A was unveiled in 1987, replacing the smaller KLR600 and becoming the monster of the Japanese dual sports. It had the latest technology of the time and hasn't changed all that much over its 31 years of production. It is amazing to think that it's production life spanned such a long time considering there hasn't been anything else on the market that hasn't evolved in its technology, looks, and parts.
The KLR650 has gone through a few evolutions, albeit minor ones with the biggest being an update in 2008 to the Plastics, Chassis, Engine, and Rotors. Mostly it was the same bike with updated looks.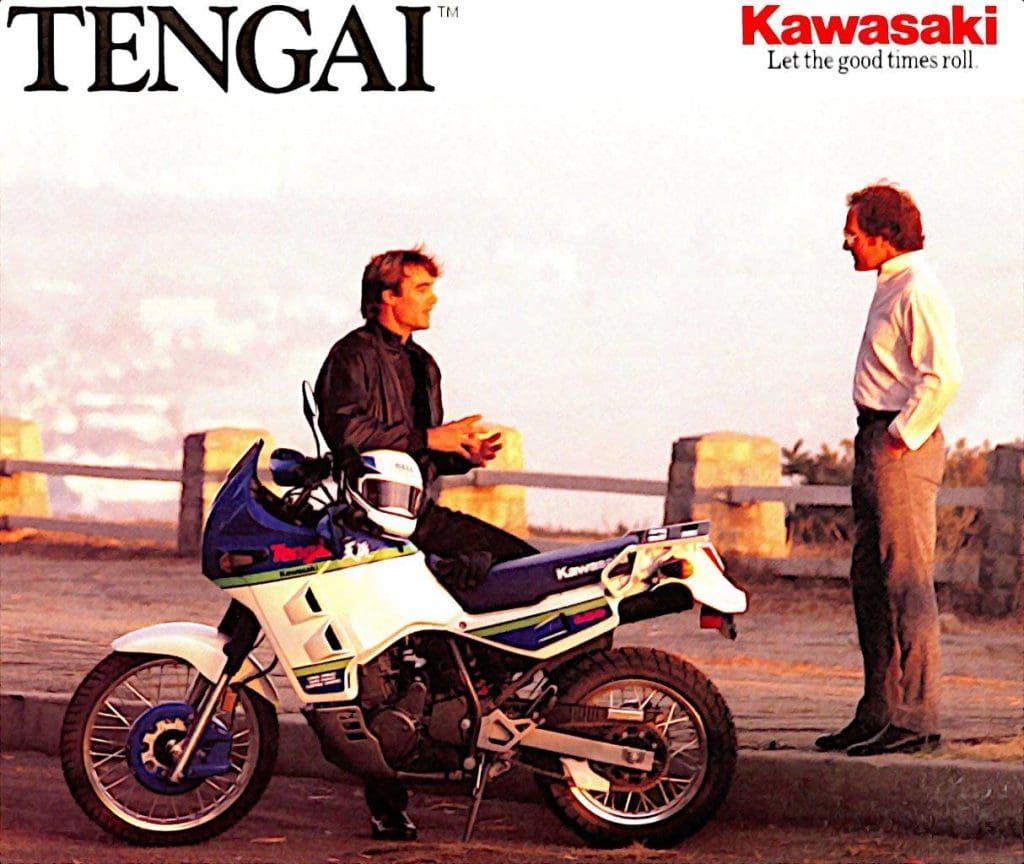 Original Kawasaki KLR650-B Tengai Brochure
Breakdown
Pros
More dirt-bike than adventure tourer; perfect if you are looking to go off the beaten path
Less technology and more practical design (easier to work on or work with if you are stuck out in the bush).
Cost/purchase price is light on the wallet, and so is the maintenance costs when comparing equivalent models of different manufacturers.
Lots of aftermarket accessories, as well as stock OEM parts
Steel double tube engine frame that allows a little bit of give for softening the bumps – and the way that the forks are designed to give more stability at higher speeds than dirtbikes and lots of room for some give on jumps.
No ABS – offroad, you don't want ABS to suddenly lock your rear tire on gravel – it's better as it allows the rider to control which brake does what (as ABS isn't ideal off-road).
Carbureted (again, makes it easier to work on in the bushes).
More torque in the bottom end, let's face it – again something that's needed when dealing with tricky off-road situations as well as getting away from surprised wildlife.
CDI discharge system – as sometimes simpler is better to work with.
Cons
Very old technology (which can be a pro or a con depending on what type of motorcycle enthusiast you are – 31 years of new and used parts available and easier for the backyard mechanic to work on due to the lack of technology).
Soft suspension goes through oil faster than most, heavy (depending on what you are looking for).
Doesn't have the same power as some of its equivalents.
Carbureted (you have to deal with a choke and proper jetting for the altitude you are riding at as power will vary between sea level and higher altitudes).
Smaller windscreen with less wind protection on the highway.
The electrical system wasn't enough to handle more than the bike and some heated grips
Generations of KLR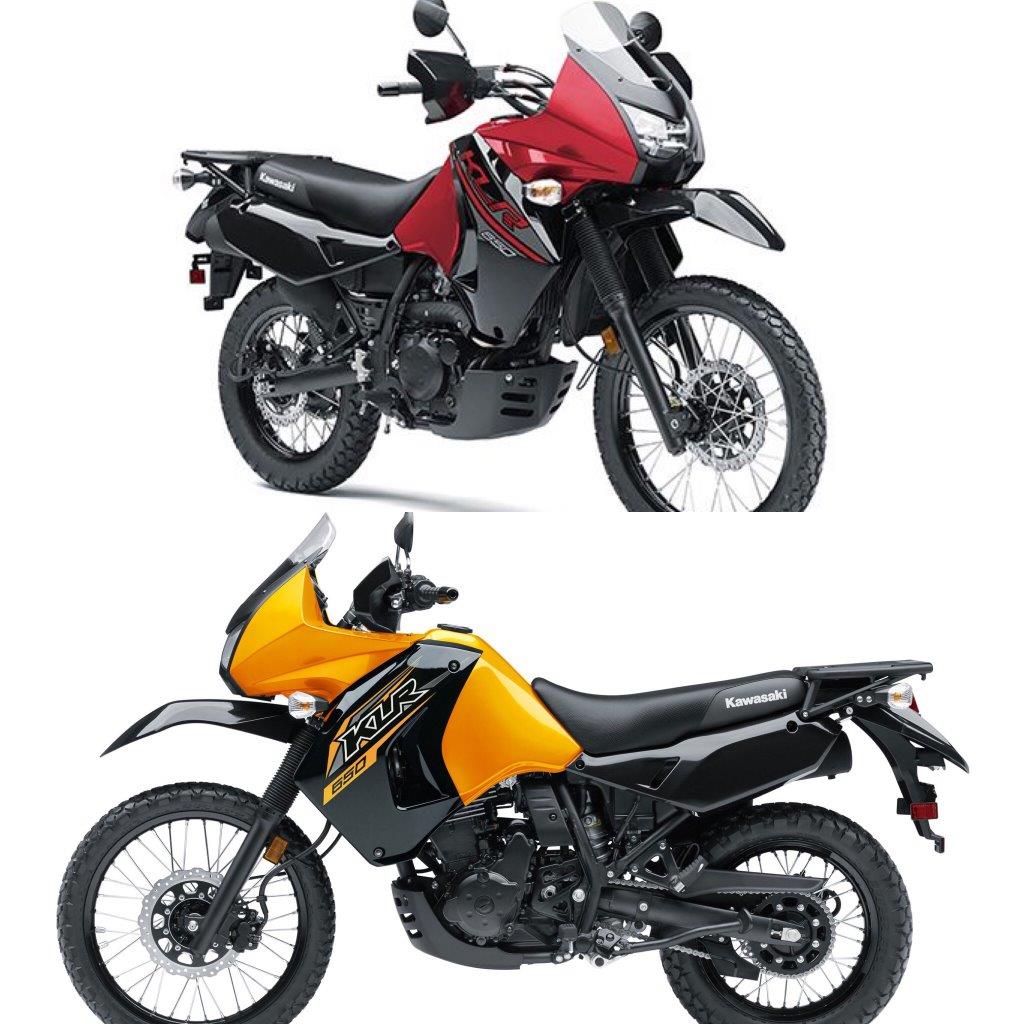 Being a versatile, inexpensive bike, the KLR650 has been a strong seller for over 3 decades. I even worked at a Kawasaki dealership out of Calgary, AB Canada for roughly 7 years as a salesperson and I remember the many new and used KLR650's that left with their new owners every year.
It wasn't just one demographic purchasing them either, but all age ranges and walks of human life. There are even dedicated forum sites such as the KLR Forum and fan sites such this KLR650 timeline page.
I had come across a comparison book I had from back in 2003 – on the A series. Just something neat to share from the books and magazines that I hadn't yet recycled. I guess being a slight bit of a collector amounted to something useful here and there.



31 Years of Production Changes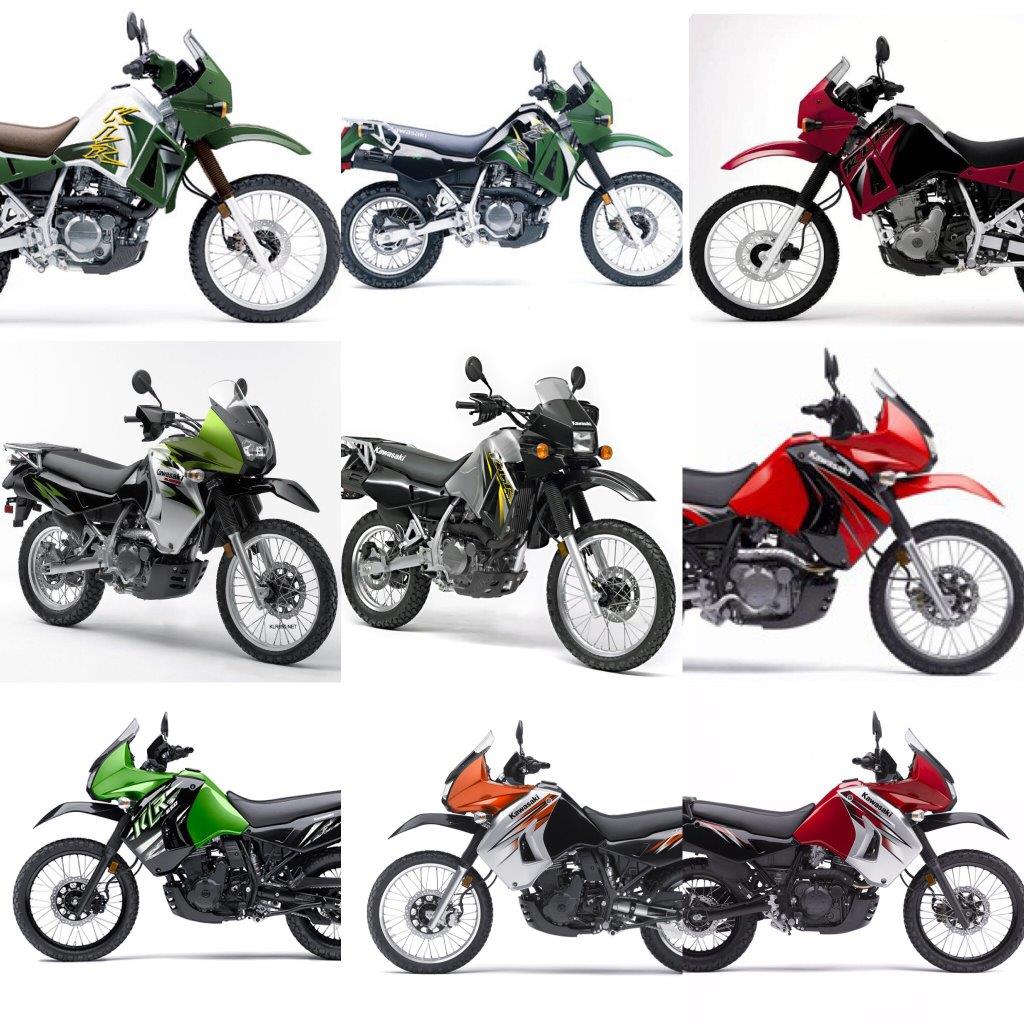 Some Notable Milestones
1987
The KLR600 was retired and evolved to the larger 651 cc engine and the KLR650-A model was born. Being a first year, there is always going to be some form of kinks and so the crankshaft is different from all the other future models.
1988
Kawasaki engineers made the engine cases stronger and reinforced it with extra bolts between the crank and the countershaft.
1990
An improvement in the countershaft with longer splines for more engagement with the sprocket. The Tengai (KLR650-B model) was introduced as a more off-road/Dakar style which that production ran until 1992.
Interesting side note, Tengai in Japanese means "the end of the sky". Also, in 1992, there were some changes to front brake master cylinder, improving braking performance.
Mid-1996
A few changes made for improvements to the engine again creating something that would be longer lasting: there was an improved clutch basket with more clutch plates, the 2nd and 3rd gear ratios were changed; also they changed the crank to a heavier part and took out the kickstarter as it wouldn't fit with the newer style clutch basket.
A few other noted changes were that they changed the countershaft sprocket retainer from a slotted plate to larger nut and they changed the valve cover, while also adding a bracket to hold the cam chain bumper.
Pre-2001
At some point in time, the Kawasaki service manual indicated that there was a higher charging system output; but the only change in the microfiche seemed to be the rotor. The new power rating changed to 17A/14V (238 W) @ 7000 rpm; whereas the earlier version was 14A/14V (196 W) @ 8000 rpm (side note: that's above redline…).
2001
Assembly of the KLR650 shifted from Japan to Thailand. The likely reason would have been to save assembly and labor costs, as the parts still appeared to have been manufactured in Japan.
2007
There was a new shift lever added prior to the "major" change in 2008
2008
The KLR650 A model changed production into the E model, improving the engine, chassis and modernizing the bodywork to keep up with the competition that have been changing and evolving – all while keeping the costs of the machine itself down (which among other things kept up the model's popularity with the die-hards and pleasure riders alike).
2009
The KLR650 becomes less of an oil guzzler by having thinner piston rings, reducing engine oil consumption.
Summer 2011
Kawasaki changed the clutch basket with a new version containing only 6 clutch plates as compared to the 7 that had been in the A model since 1997. This change started at engine number KL650AEA72320.
Summer 2014
(Halfway through the manufacturing year) There were spring and fork upgrades increasing the firmness of the shocks to lessen rebound and increase spring firmness. The seat was also narrowed in the front (to help with more inseam challenged riders, as even myself at 5'8" was a little stretched while riding it) and widened in the rear.
2018
The announcement of the end of the KLR650 dynasty.
Why Did This Model Series Run For 3 Decades?
There is a lot of speculation, but basically, it came down to what you got for the cost, there has been nothing comparable. Yes, you can spend a ton more money on adventure bikes or something with more technology, power, and features, but sometimes more doesn't equate to better.
This seems to be proven over the sheer number of units that have been sold over the years. I would imagine that would be well over 250,000 considering how many just the dealership I worked for sold each season alone… and there are many Kawasaki dealerships throughout Canada, the U.S., and Europe.
It was off-road enough to satisfy the riders that wanted to stray off the beaten path but stable with just enough power to be decent on the highway. The A and E models featured a 6.1-gallon tank which was plenty to take you to a gas station in the middle of nowhere before running out of fuel.
31 Years of Stories on the Road
Rummaging through old magazines, I came across an article I found from Canadian Biker in March of 2004. The story and photos were done by Darryl Oakley which he details his trip starting in Kimberley, B.C. traveling up the Alaska Highway north towards Liard Trail.
It was a solo trip for him, although he admitted it wasn't as smart or safe as going in a group, but for him, that was an important part of the journey. He talked about meeting a lot of different people on the way and describing the peace and serenity of the near-empty roads; watching the beauty of the northern lights and just how much freedom he felt.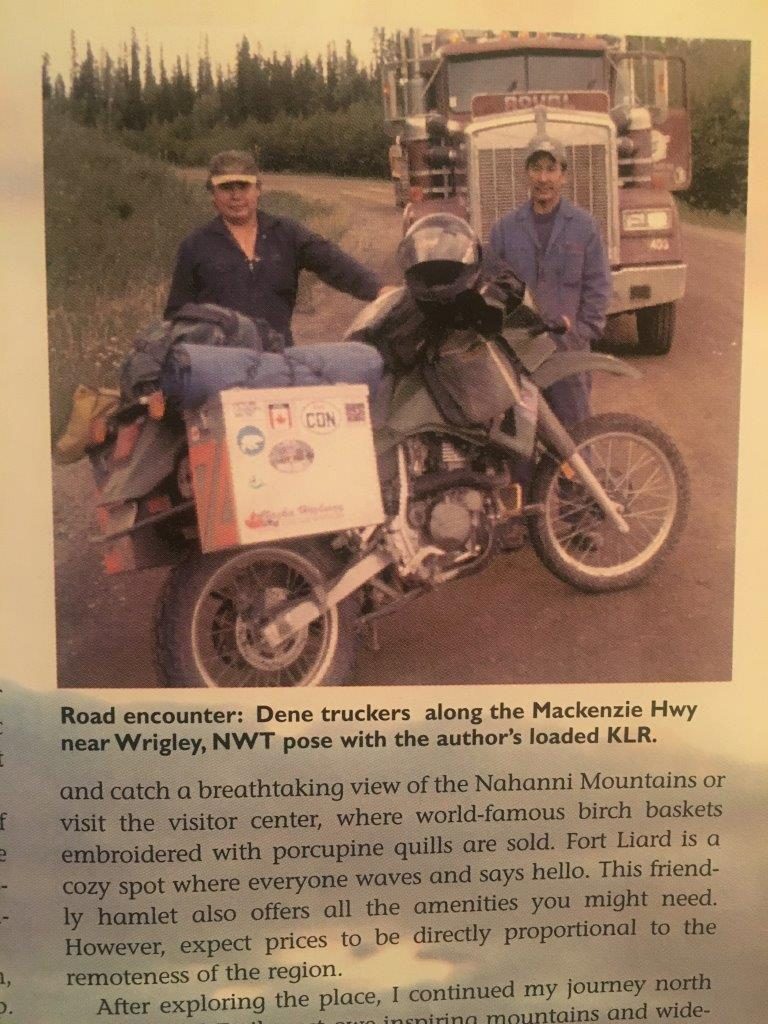 Dakar Rally in 2007
This is starkly contrasted by the Dakar Rally in 2007 that a team called Team Green Dakar out of the Netherlands.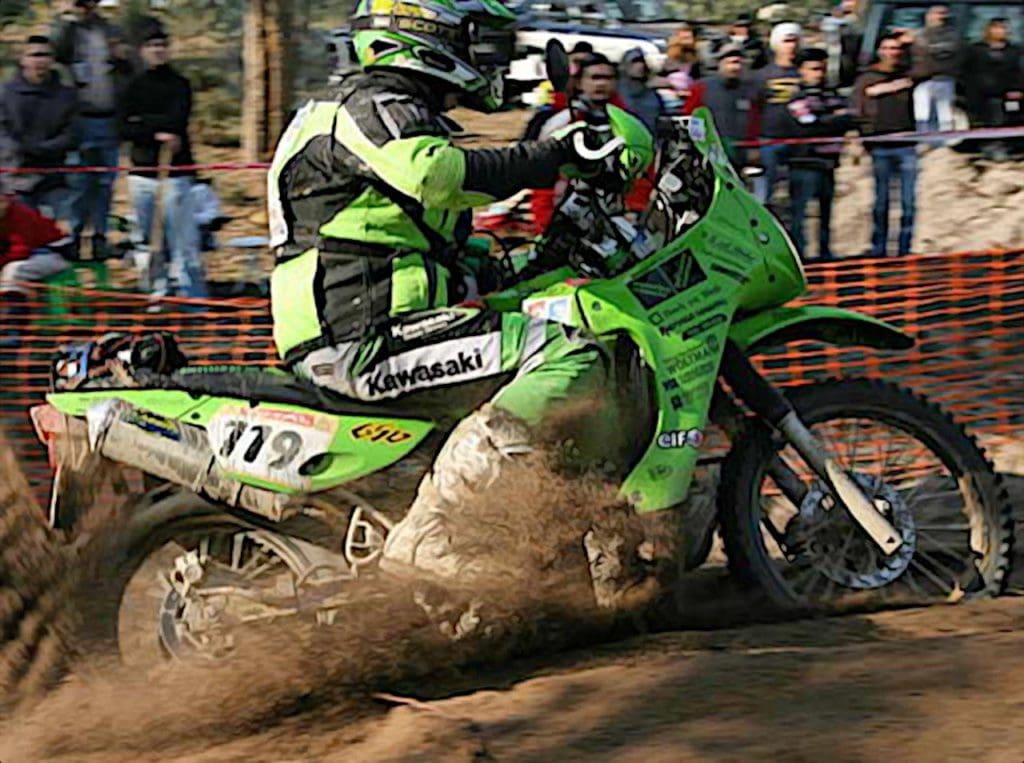 Dakar Rally Image via Adventure Riding NZ
This team included three riders that were determined to conquer the famous Dakar Rally and the brave riders names were: Peter Oosterbeek, Nol Bikker, and Michael van den Enden. They made it to the fourth stage of the race, but there were no longer any motorcycles at the checkpoint and so it was a did not finish result.
Apparently, there had been some sort of engine problems encountered in the dunes of Morocco. The extreme heat of the desert day and cold of the desert night pushed the bike's engine to the limits among traversing over the heavy sands.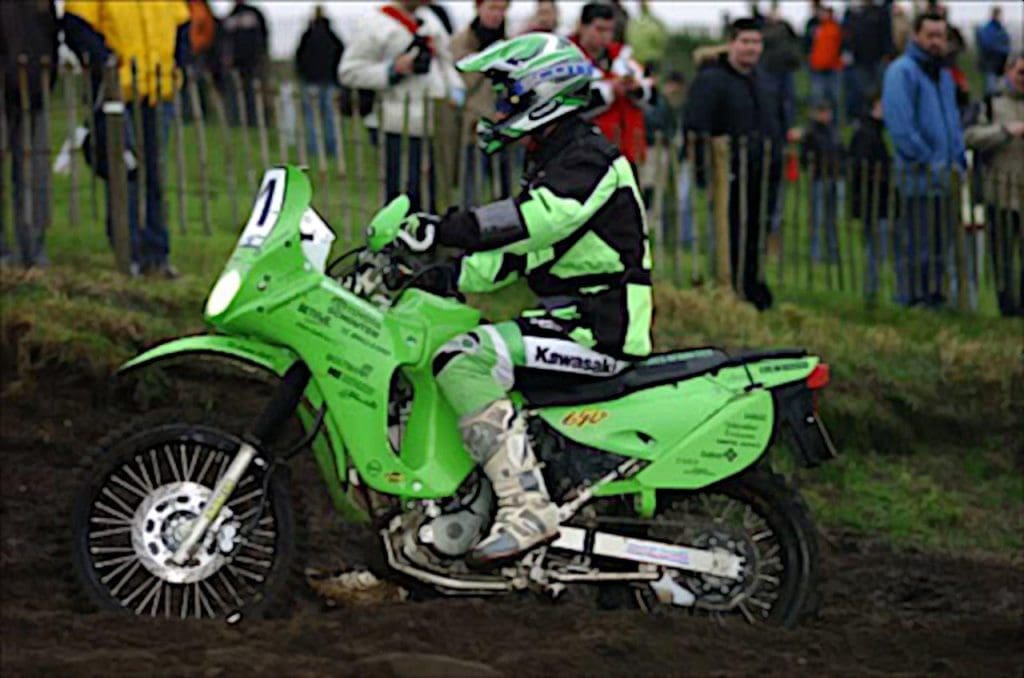 Dakar Rally Image via Adventure Riding NZ
Around the World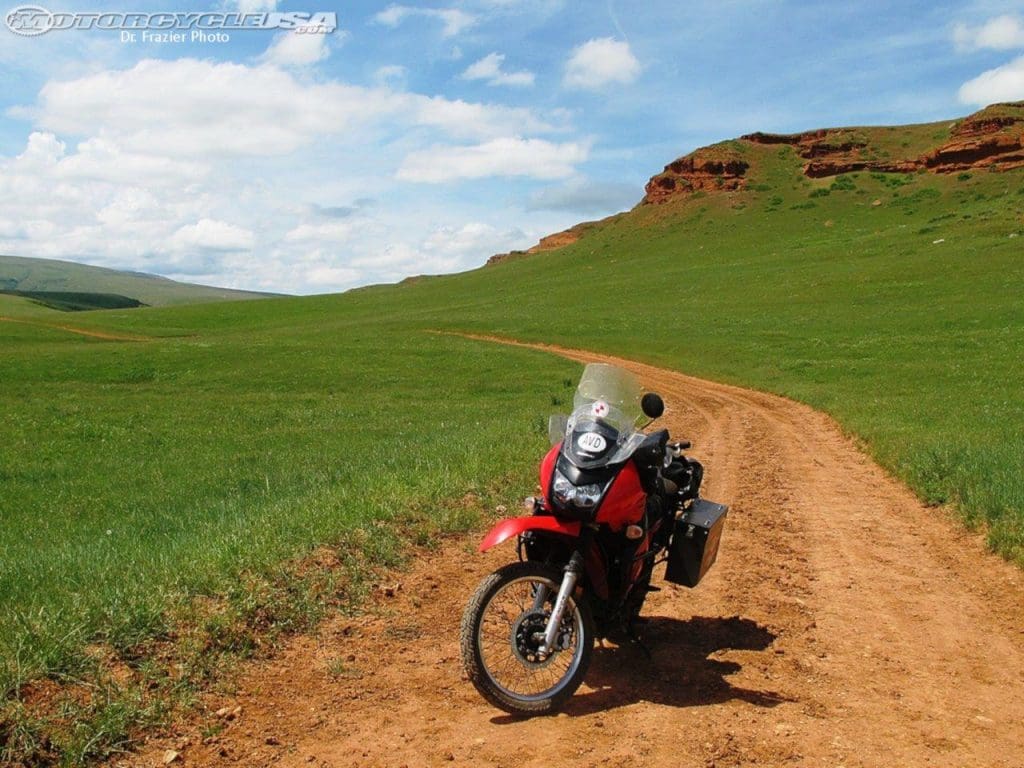 Image via Motorcycle USA
There are also different stories about around the world travels, and one in particular that stood out for me was the global circumnavigating tours, such as those documented by Dr. Gregory Frazier in 2001, 2002.
Two of Dr. Frazier's articles from Motorcycle USA can be found here:
The basic gist of them is showing how resilient this bike was in different conditions, using different accessories, parts and outlining maintenance along the journey. He went over what worked for him, what didn't and a few humorous stories about the bikes tendency to want to lay down for naps at gas stations and getting free car washes crossing mountain streams.
I definitely recommend looking at these articles as they outline a great deal of information that only comes from the experience of riding the bike over 45,000 miles.
Movies & TV Series the KLR650 Appeared In
Over the years the KLR650 appeared to be a pretty popular bike to make appearances in movies. Not only was it likely budget friendly, but it was versatile, light and looked different from a lot of the other similar bikes. Here are some movies and series that the KLR650 appeared in:
Ellas Aman, Ellos Mienten (TV Series) 2018
Beauty and the Beast (TV Series) 2012-2016
Hackers 1995 (a personal favorite of mine)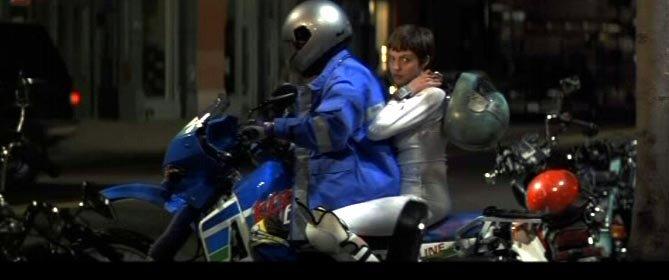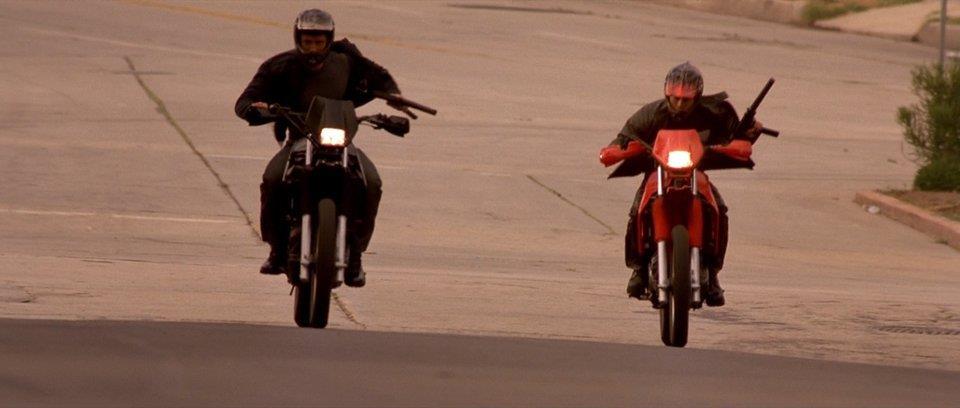 Neat Points of Note About the KLR
Though they were only a few years running, the C model had a few distinguishable differences such as a smaller tank, beefier off-road features such as larger forks, steel rims, skid plate, rear brake reservoir cover, different tire sizes, a different seat, even less gauges and 37 pounds more weight (likely from the extra reinforcements for off-roading).
The U.S. Army actually had a diesel engine made for the KLR650 that was designed by Hayes Diversified Technology to run military-spec diesel fuel with the same cases, and gearbox – but different pistons, cylinders and other internals that belong with a diesel run engine as opposed to gas. They also featured a sealed non-spillable battery that had a few more advantages than the normal unsealed ones available to the public.
Kawasaki KLR650 Image Gallery