The adventure motorcycle market is booming and many of these riders are new to riding on the dirt, so we have secured these expert riding tips from UK racer Grant Draper.
Grant started riding off-road at 17 years and has raced motocross and enduro.
He says the main difference between the riding and racing he has done and what you are about to do with your big-bore adventure bike is managing the weight.
The "big" bikes for enduro and motocross racing weigh only around 113kg (250lb).
Compare that with some of the big-bore adventure bikes such as the top-selling Africa Twin at 228kg fully fuelled right up to the Moto Guzzi Stelvio at a whopping 296kg!
That's daunting for a first-timer.
If you're planning your first adventure, here are some good habits to get into, and tips to learn from.
#1 – Foot position tips
Most off-road riding tips cover riding in the "attack position", but they leave out the importance of foot position.
Whether you are sitting and putting your foot out for a corner, or standing and dabbing your foot to offer counter-balance, you need to angle your ankles and toes slightly upwards.
This will allow your foot to glide over dirt, roots and rocks. If you don't, at some stage your foot will get caught.
Best case scenario? You're thrown off the bike.
Worst case? A broken ankle.
#2 – Lever hovering
When riding on the road, you might hover over the clutch and brake – occasionally.
Off-road, you'll want to do that all the time.
If you don't, you won't be able to gas-up to get through and over obstacles using the clutch.
More importantly, if an obstacle appears and gives you a shock, I can guarantee where you transfer that shock too; the front brake.
If you are already hovering over the brake, and know where the bite point is, you'll be less likely to grab too much.
You need to be able to react quickly, and you can only do that if you're fingers are hovering over both levers.
Which brings us to…
#3 – Adjusting clutch and brake lever position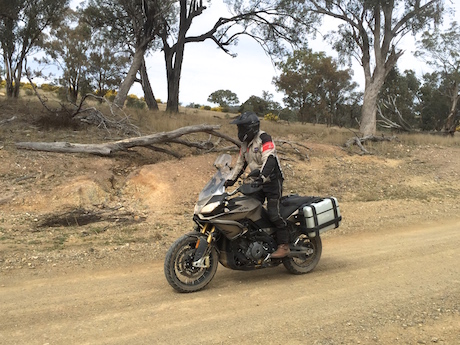 You shouldn't need to move your hand to grab the front brake or clutch.
They should be set in a position that is comfortable to ride for prolonged periods, with two fingers hovering over each.
You can adjust these quickly and easily, to a position that suits you.
Also, if your clutch is stiff (and not hydraulic), I'd recommend getting a cable oiler and oiling the cable.
And, when this doesn't work, consider purchasing a new cable.
#4 – Eliminating arm pump
Not ridden in the dirt before? Bad news – your arms are going to hurt like crazy.
Arm pump is essentially cramp in your arms.
When it starts to build-up, it's not just painful, it can be dangerous.
You'll struggle to control the throttle, brake and clutch correctly.
But, once it sets in, it's also extremely difficult to get rid of.
The easiest ways to combat arm-pump are:
Exercise prior to off-road riding using a grip strengthener, or a gyroscopic ball (a Powerball is a good example).

Set your clutch and brake levers so they are not awkward to reach.

Lightly grip your bike with your knees. This will relieve some pressure from your arms, and offer more bike control.
There's more details on preventing arm pump in my Beginner's Guide To Motocross.
#5 – Riding hills and off-camber
Some riders think hill-climbs are the most difficult part of off-road riding. They're not.
It's something that can be learned easily with progression. Start small, and work your way up.
Riding off-camber is an entirely different story.
Mainly, as it involves lots of weight transfer and counter-balancing, all of which can seem unnatural.
When approaching an off-camber section:
Put weight over the foot that's on the downside of the camber, to give grip to the edge of the tire.

Stand up (for additional bike control), and be ready to put out your inside leg out in case you bobble.

Try to keep throttle movement smooth. It's hard enough to balance on off-cambers, without additional jerky movements to counter.
Look at where you want to go, as that's where you'll usually end up (i.e. don't look around you, or directly at your front wheel, look ahead).
#6 – Negotiating roots
If you're riding roots, and notice a camber, the technique is the same as above.
The difference is you should be ready for the front wheel to snap off the roots. So, you'll expect to be dabbing your inside leg regularly to keep yourself stable.
Get used to leaving this inside foot completely off the peg at times.
Eventually, you'll progress to riding straight through roots as if they weren't there.
You do this by loosening your grip on the bars, gripping more with your legs and knees, and purposely allowing the bike to dance around off each root.
By staying in an attack position (bent knees and arms), you'll absorb each "snap" of the front and rear wheels. Momentum will continue to push you forward.
#7 – Conquering sand, bulldust and mud
If in doubt, gas it out. Or, something like that.
The key to boggy and sandy terrain, is keeping the front-end light.
That means a slight weight transfer to the rear, but also plenty of throttle.
It's important not to "blip" the throttle on and off. Keep your throttle hand steady to hold the front light.
Blipping the throttle on and off is going to throw your centre of gravity all over the place, causing the front wheel to dig in, and there's a good chance that ends with you eating a face full of sand or mud.