The 2023 Himiway Zebra is an entry-level all-around fat-tire ebike. Priced at just under $2,000, the Zebra features a robust frame with an integrated battery and 4" thick fat tires.  
Himiway is a band I'm quite familiar with, having now reviewed three of them. Other Himiways I've reviewed include the 2021 Himiway Cruiser Step-Thru and the 2023 Himiway Cobra Pro (which I've got over 1,000 trouble-free kilometers on at this point).
With a focus on the overall value proposition and ease of use, Himiway's Zebra is probably the best all-around fat tire long-range hardtail for under $2,000 if your use case is focused on general urban or light trail riding. 
The Zebra uses a Shimano Altus 7-speed groupset, which is down on gears compared to some other ebikes in this category, but that is more than compensated for by the powerful 750-watt motor. Tektro hydraulic brakes clamp down on 180 mm rotors to bring the 79 lb Zebra to a halt.
It's a good package overall. For a first ebike or for someone that wants to ride all day worry-free, the Zebra is a solid choice.
Words & Photography: Cameron Martel
Himiway provided this Zebra at no cost for our use in this review (and future pieces of content). Brands collaborating with us must agree to our impartial review policies. We do not have a financial relationship with Himiway. Thank you for supporting us. See all our ebike reviews.
2023 Himiway Zebra Specifications
MSRP:

$1,999 USD / $2,399 CAD

Where to Buy:

HimiwayBike.com

Warranty:

1-year

Top Speed:

22 mph / 35 kph, class 3

Range:  

128 km (80 miles) claimed

Bike Weight:

235.8 kg (79 lbs)

Weight capacity:

181.5 kg / 400 lbs

Motor:

Himiway 750-watt hub motor

PAS:

Cadence sensor, 5 or 9 settings

Brakes:

Tektro Auriga hydraulic brakes with 180 mm rotors

Gearing:

Shimano Altus 8-speed

Battery:

48V 20 Ah battery with Samsung or LG cells

Wheels:

Kenda 26"x4" tires

Others:

Generic front suspension, front/rear fenders, rear rack, brake light
Putting the Zebra Together
The Zebra comes mostly assembled in its box, but the finishing touches will have to be done once you unbox it.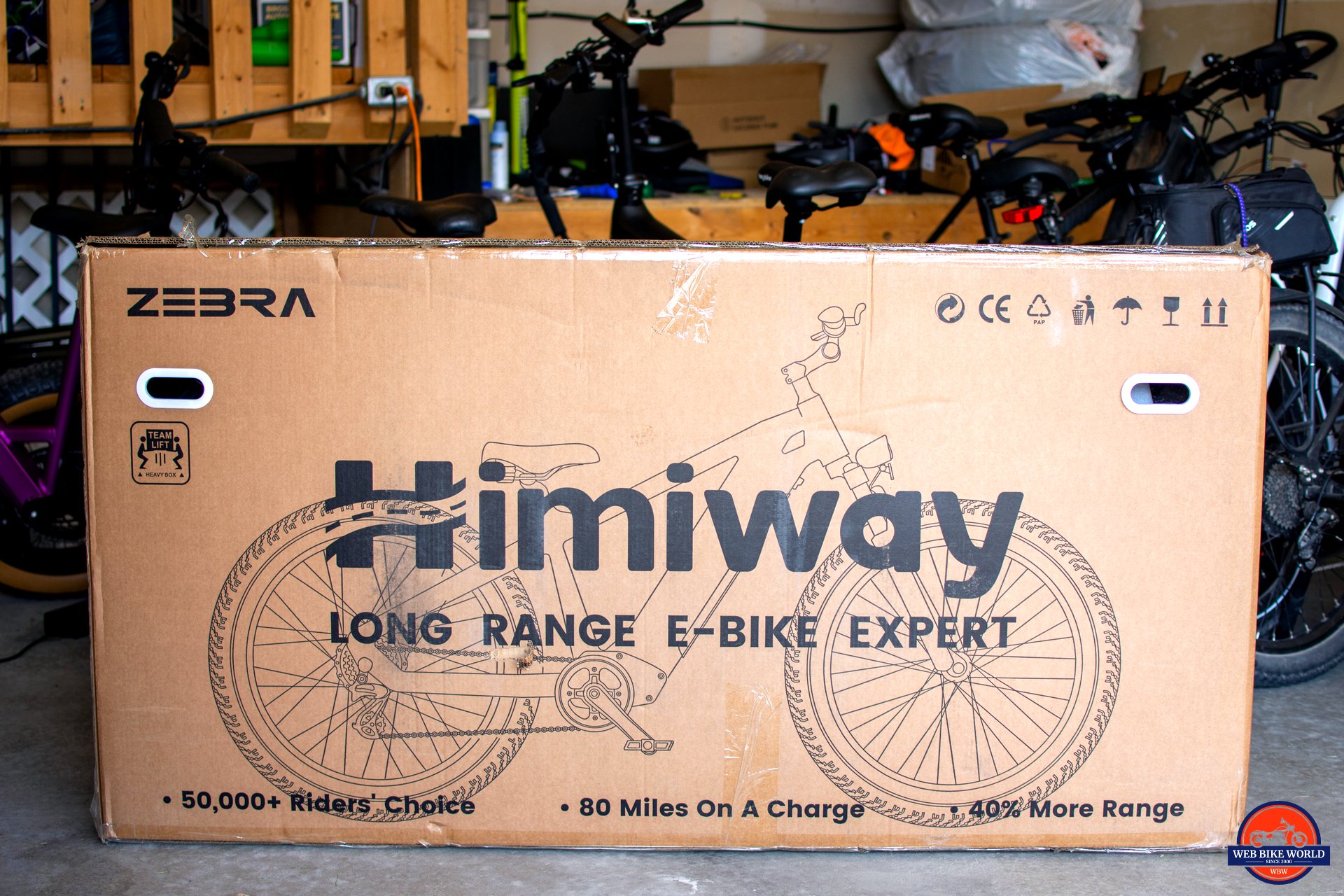 Himiway includes everything you need to assemble it and ride, save for an air pump. A Himiway-branded hat is also included.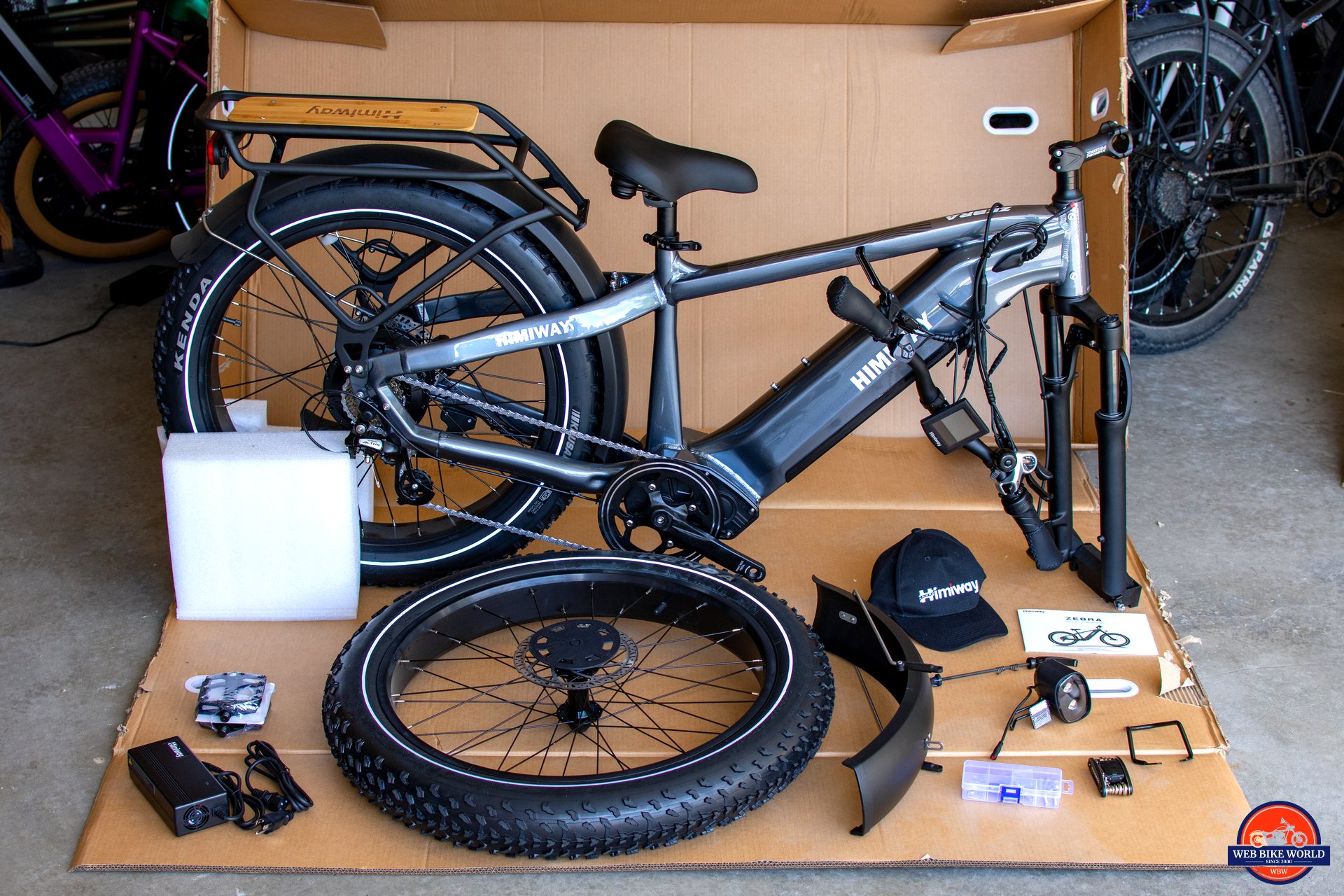 The instruction manual contains the assembly how-to, but you can also find a walkthrough video on YouTube.
Following the included instructions, the assembly went off without a hitch. It took my brother and me about 45 minutes to put the Zebra together. Pro-tip: remove the battery from the frame and charge it while you're putting the Zebra together. Once you're done assembling the bike, you'll have at least 50 km (31 miles) of range in the battery!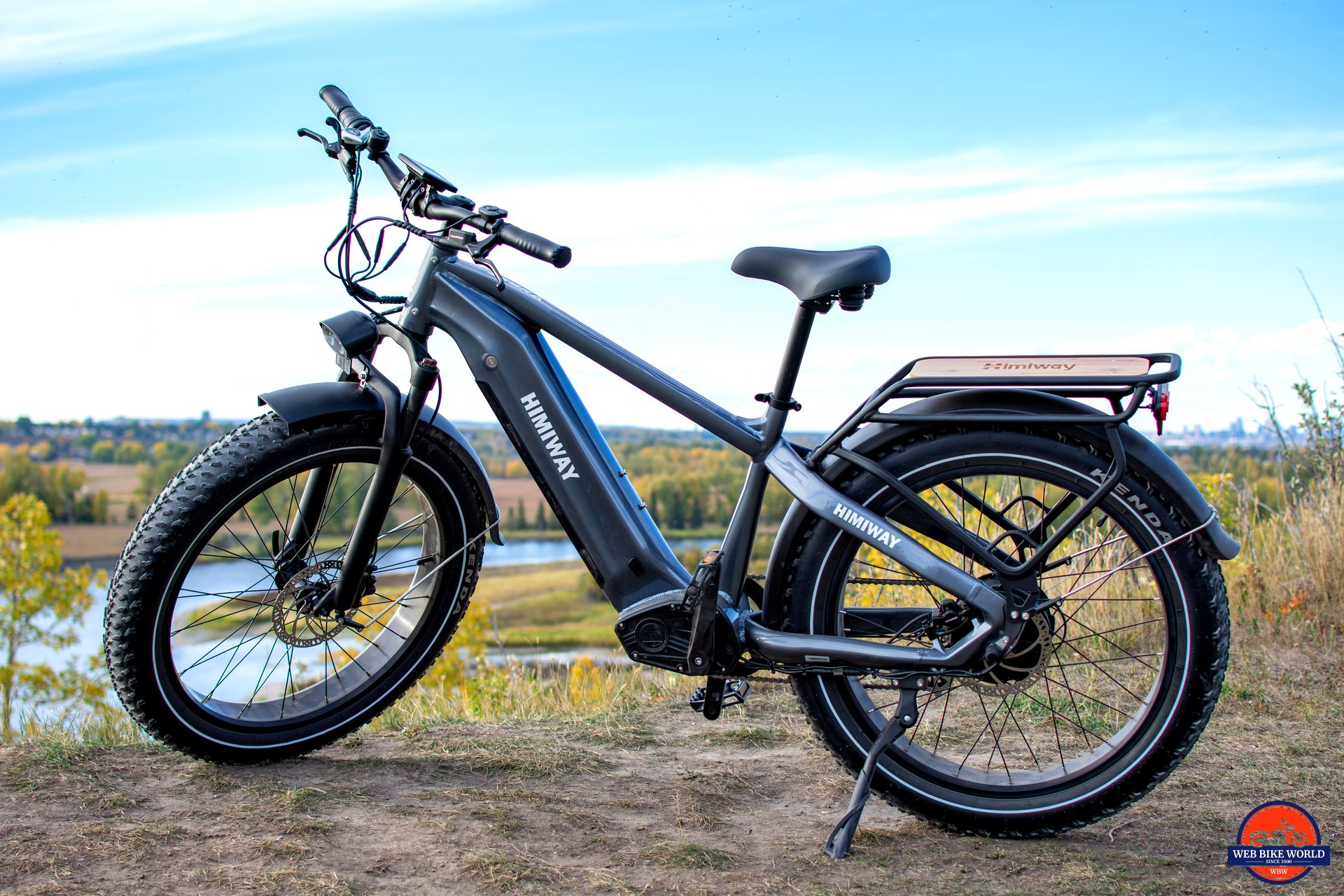 The model I have is rocking the Space Grey colorway, which I think looks great; the grey colorway showcases the bike's curves and features well. You can also get the Zebra in four other colorways: green, blue, purple, and "Skyline," which is two-tone white and teal.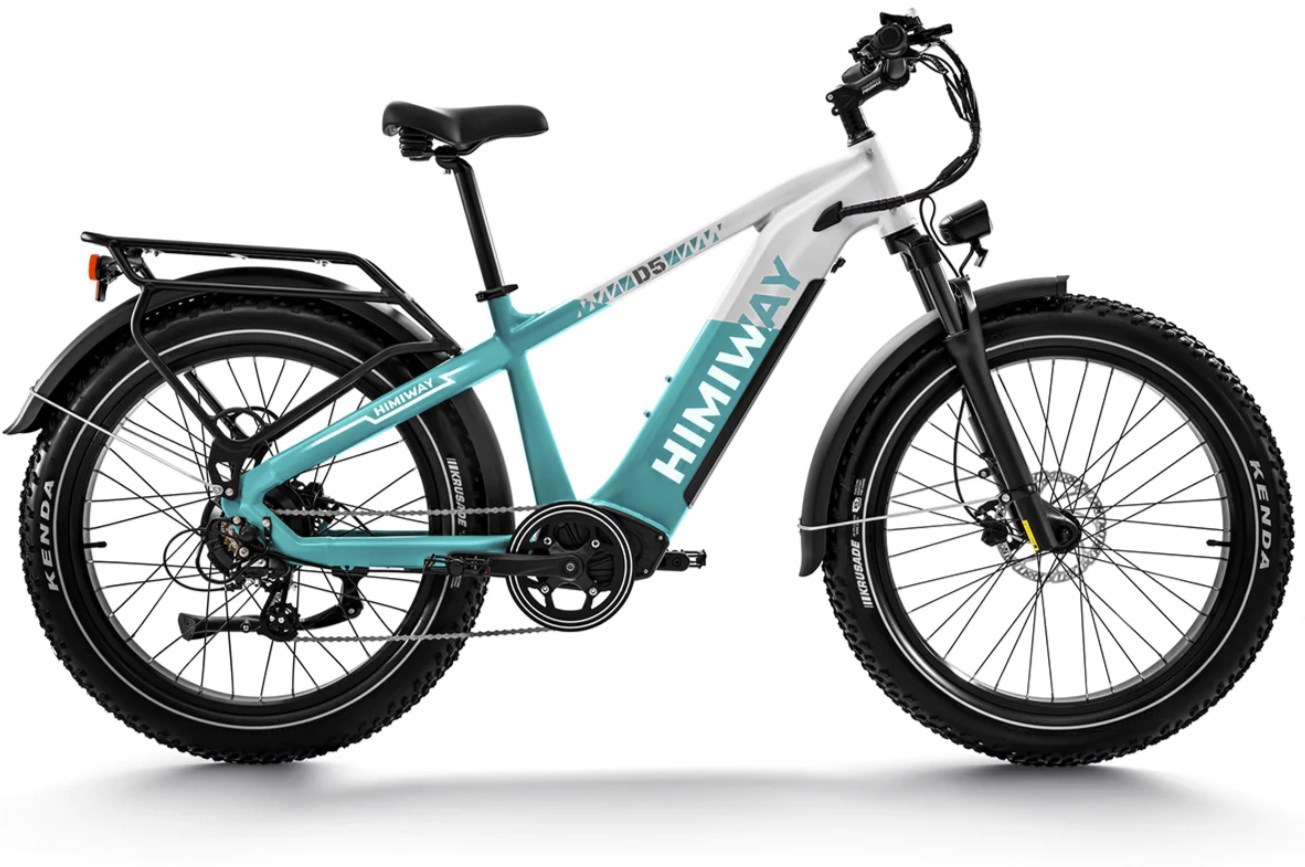 Personally, I'd opt for the Skyline if I were shopping the Zebra, as that's one sick paint job.
The Zebra Was Made for Where the Urban Jungle Meets the Dirt Road
Not quite a city-born commuter and not properly capable of tackling challenging off-road terrain, the Zebra competes in the fat-tire all-terrain niche where the rider is likely to encounter road, gravel, and dirt in safely calibrated doses.
The type of riding you might do living in a North American suburb, for example.
And, as it so happens, the all-terrain all-arounder happens to be one of the most popular ebike types for that exact use case. Many people enjoy the versatility and ease of use these bikes can provide, and Himiway is no stranger to this segment.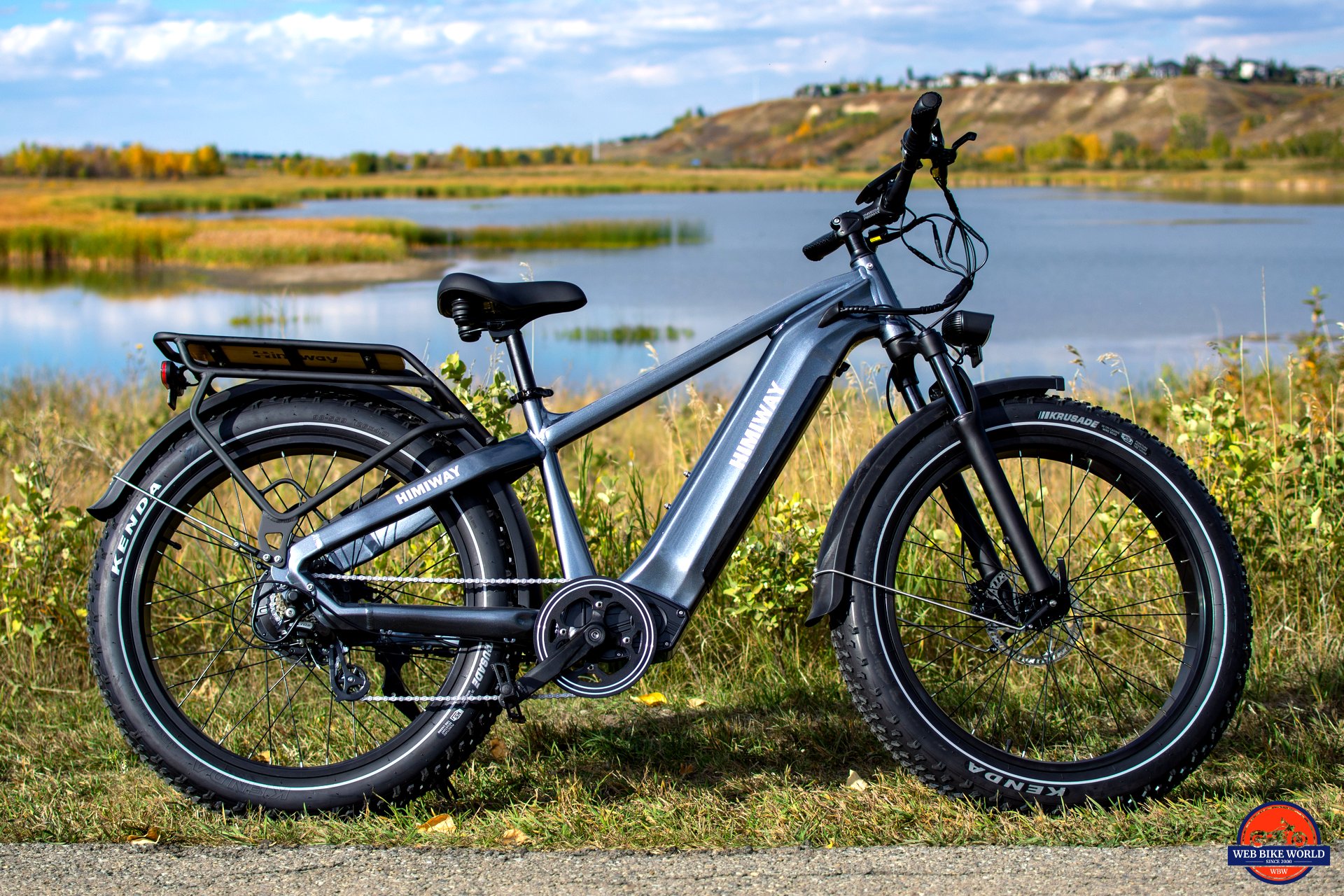 To power your all-day, all-terrain riding, Himiway has stuffed a 20 Ah (970 Wh) battery in the frame's downtube. This keeps the Zebra looking sharp and visually uncluttered; the thicker downtube also gives the Zebra a sense of brawn, like it's sticking its chest out and flexing its pecs.
To keep the ride comfortable, the Zebra is equipped with coil-suspension forks and rolling on 26"x4" Kenda tires. A nod also goes out to the Selle Royal saddle, which I enjoy more than more aggressive seat profiles.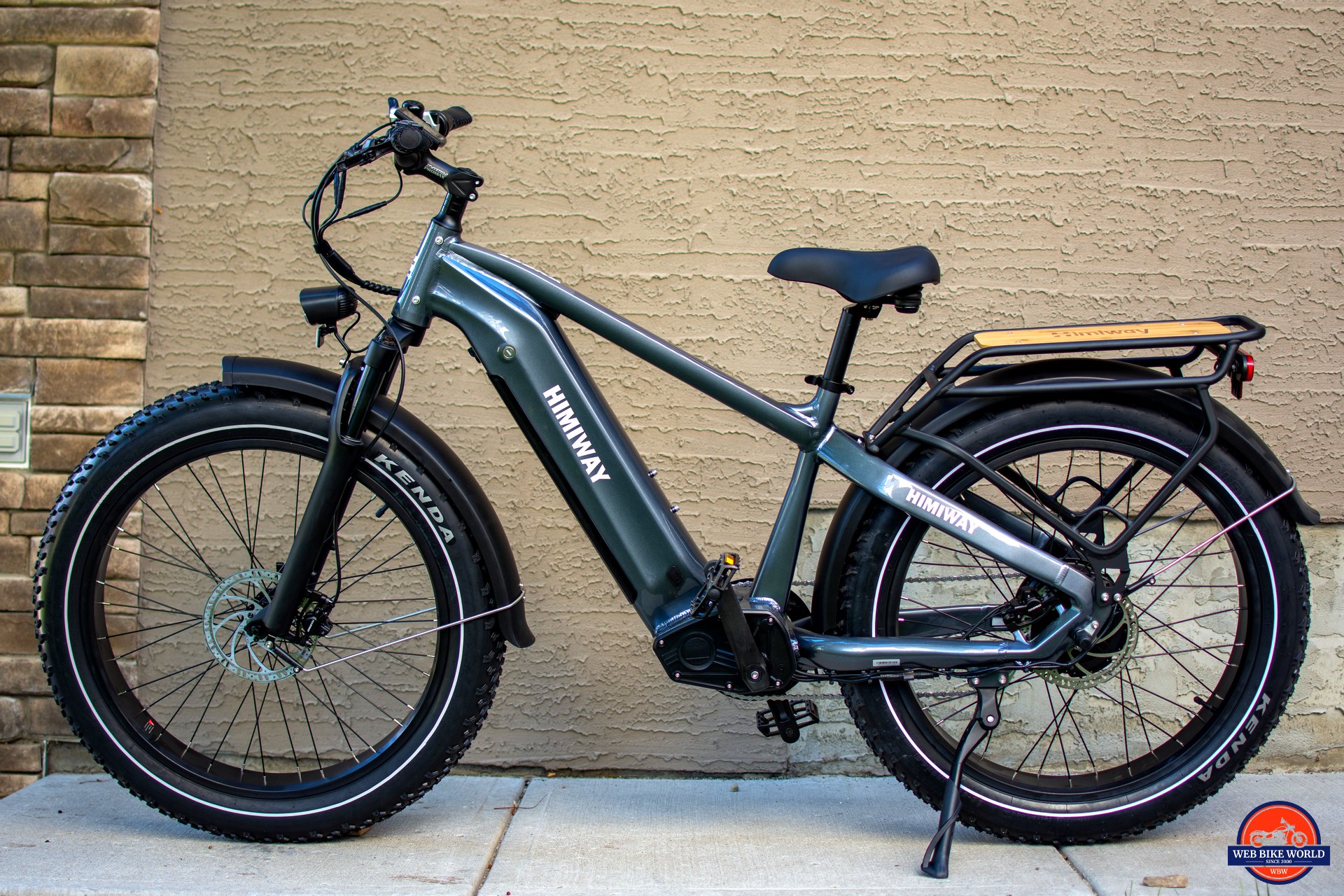 The Zebra is equipped with some urban-focused quality-of-life features: a bright front headlight, front and rear fenders, and a rear rack. The rack is a step up from other racks often included on a bike-in-a-box, and its frame will help ensure that luggage or pannier bags won't get in the way of the wheel, cassette, or hub.
The end product is an ebike that is good at most things and can be ridden comfortably daily. Plus, with a monster maximum range of 128 kilometers (80 miles), you can easily make an afternoon or all-day ride on a single charge.
Successfully Conquering the (Sub)Urban Environment
In some ways, the Zebra is an odd duck of a bike. Its fat tires allow it to ride over dirt, gravel, sand, and even snow with relative ease, but its gearing is restrictive in some riding situations (and not great for climbing hills). Plus, the pedal assist configuration out of the box isn't great for fine control or slow-speed maneuvering.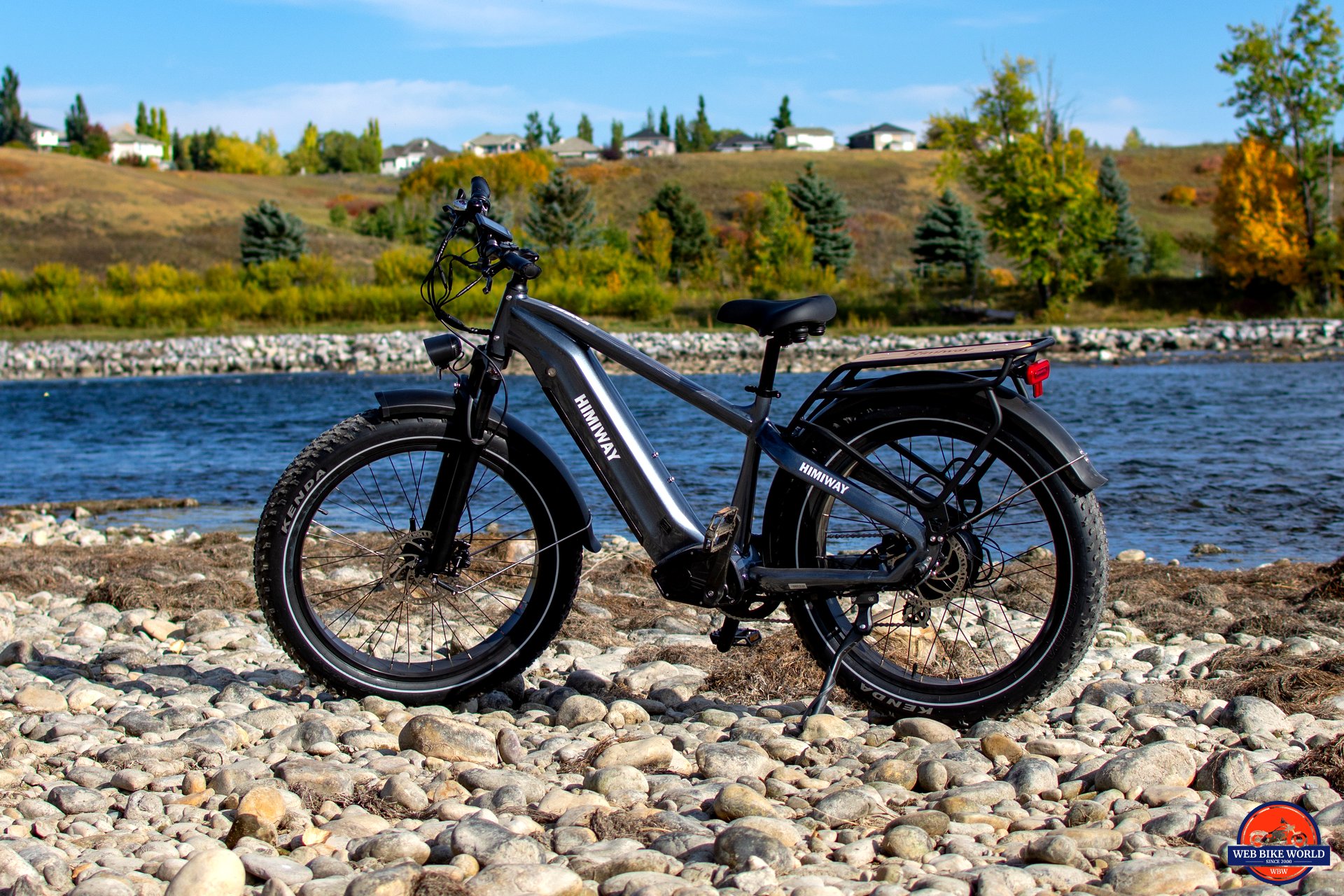 While you can't do much about its groupset, you can reconfigure its pedal assist from 5 settings to 9. This gives you much more granular control over the motor and, frankly, transforms the Zebra into a very competent bike in most urban/suburban settings. For example, crawling along in PAS 1 (of 9) along a rocky riverbed is much better than its stock configuration. 
Instructions on how to make the change can be found in the included owner's manual, as well as on YouTube. It takes about 2 minutes and is very easy to do.
For the bumpy trails I ride on, I keep the tires at about 15 psi. The range vs. comfort tradeoff is worth it, and the 750-watt motor is more than capable of compensating for the additional rolling resistance. For paved roads or well-groomed trails, inflating the tires to 20 psi is the sweet spot.
On-road, the Zebra is confident. Despite not being geared well for hill climbing, the motor gives you the shove the gearing lacks, and I've yet to encounter a hill that the Zebra couldn't easily climb. I wouldn't take it along for serious off-road uphill or downhill riding, but I'd be happy to take it everywhere else.
Some Minor Downsides to Consider
When factoring in its accessible sub-$2,000 price, there are only a couple of areas where the Zebra could improve: its gearing, and its weight.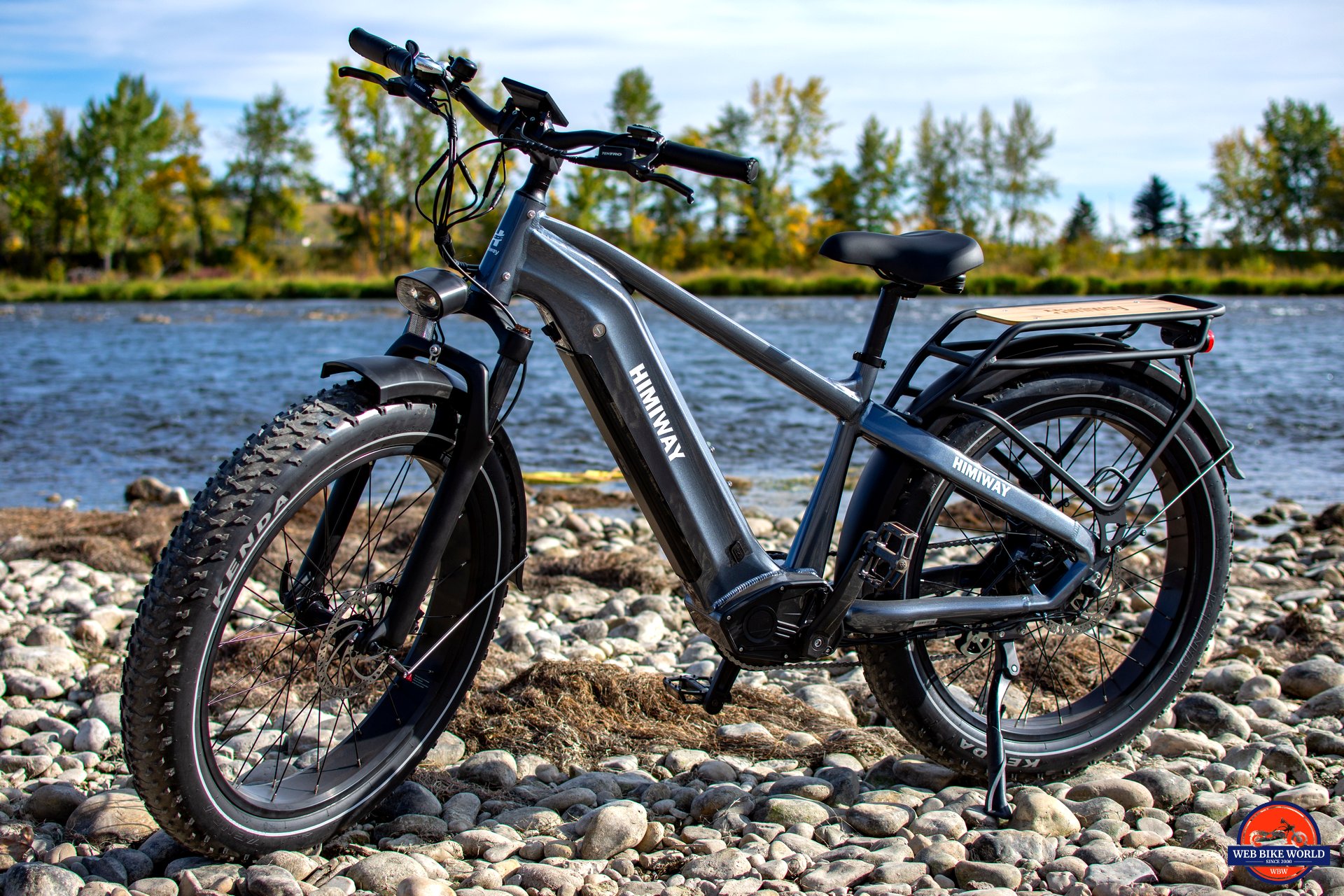 The Zebra is geared for urban riding, so you'll be relying on the motor a fair bit for hill climbing. This isn't a problem unless you want to be more involved and provide plenty of pedal power or if you live in a really hilly area. Since the Zebra relies on the motor to climb hills, it will use the battery more quickly than if it was better geared to allow you to help.
Its weight is also tough: to be able to carry 400 lbs, and to achieve its 128 km / 80 mile range, the Zebra's frame and battery are both big and heavy. So while I'd of course prefer a lighter bike where possible, it's hard to fault the Zebra's pork 79 lbs considering its price and capabilities.
If you want to be able to ride your ebike as much as possible, such as for exercise, hill climbing, or both, the Zebra's gearing will feel inadequate. You can hit a good top speed, but you'll struggle to put down a lot of torque to climb hills. The 7-speed is just a bit too restrictive.
If you're happy to let the motor take on a big chunk of the work, then the way the Zebra is geared isn't much of a problem!
Build Quality & Components
Himiway uses some generic components (such as the front suspension forks), but otherwise, the Zebra is made up of entry-level components from well-known brands.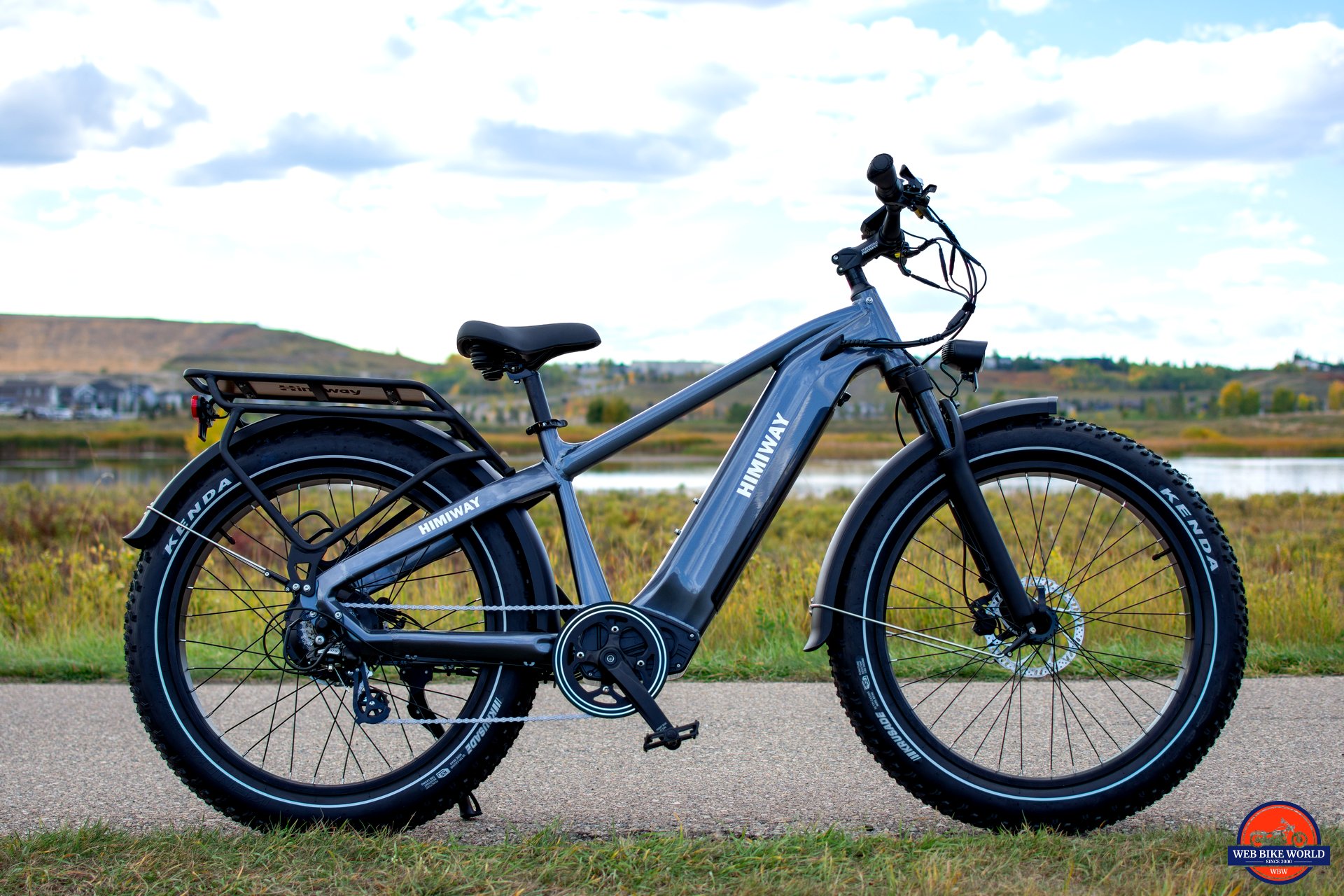 At first glance, I mistook the beefy crank housing for a mid-drive motor, which both confused and excited me. For a bike like this, a mid-drive would be a real treat (but also a strange choice considering the gearing). Alas, a mid-drive it is not!
Forks & Frame
The coil suspension front fork allows you to adjust the preload and lockout. They are generic and are adequate for the job. Considering the price, these forks are a pragmatic choice by Himiway that blends price vs. comfort. Full specs on them are unavailable, but I'd estimate 80 mm of travel based on their performance during my riding.
Replacement forks are available from Himiway for $120; but honestly, if you need to replace these, spending around $300 will net you a better fork.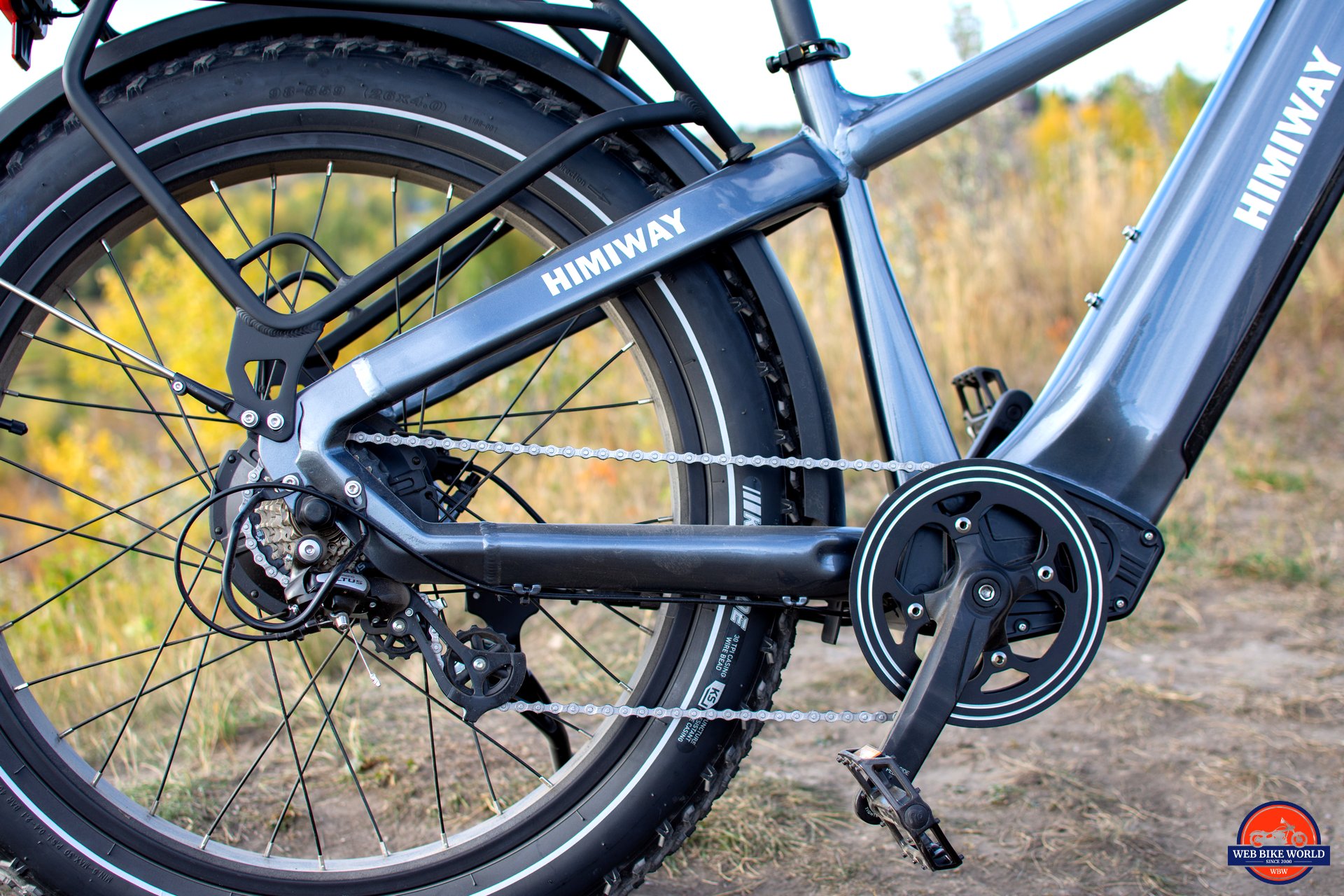 The robust hardtail frame has a 400 lb payload, which means that just about everyone can ride this bike. Not many ebikes have payload capacities this high. 
Its build quality is also pretty good: wiring is tucked inside the frame, the welds look clean, the paint job is even and good quality, and components are mounted in logical places using standard fittings. You can service this bike in your garage if you feel so inclined.
Wheels & Tires
The 26:x4" Kenda tires have an all-terrain tread pattern. They're also sized well and can be mounted on most ebike racks.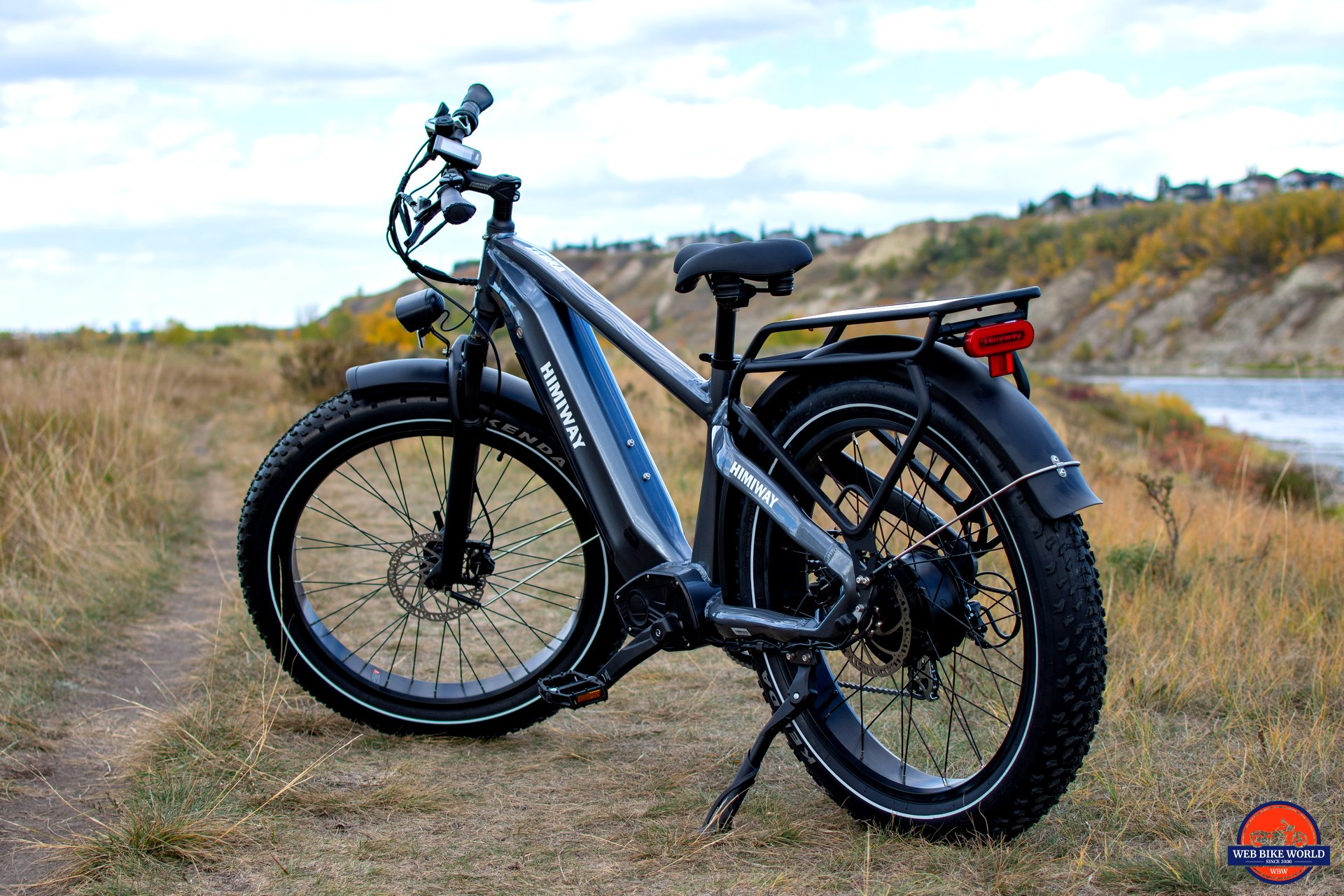 While not proper sand or snow tires, the stock Kenda's are suitable for most terrains and are a good compromise between an on-road and dedicated trail tire.
Run them in the 20 – 25 psi range for on-road riding and in the 15 – 20 psi range for trail riding.
Brakes
A lot of ebikes at this price point use generic brakes, especially if the bike is fit with hydraulic brakes. Himiway is using Tektro Auriga hydraulic brakes, which are very popular and known to be robust and reliable.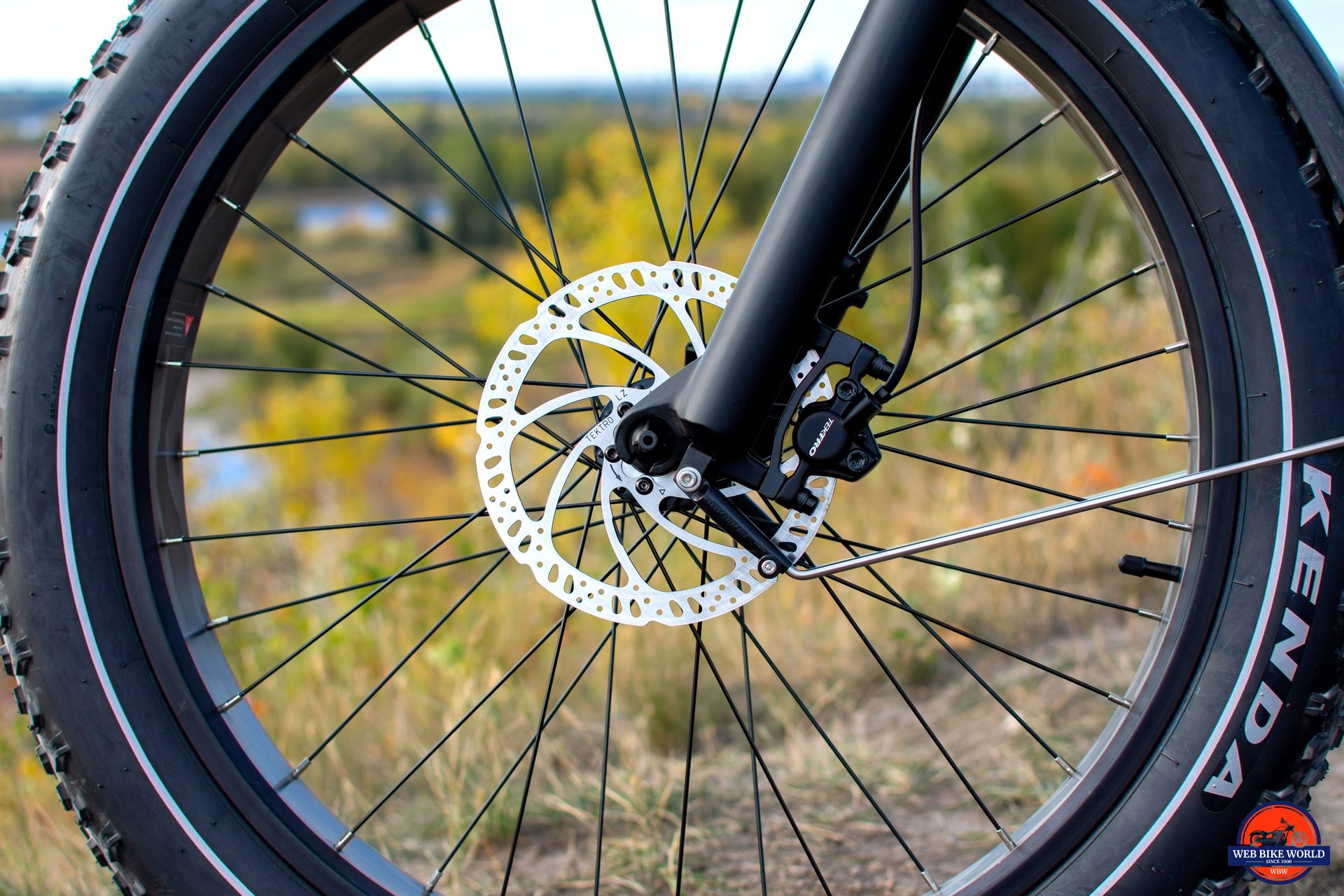 The 180 mm discs are appropriate for where the Zebra should be ridden, but be mindful of brake fade if you're riding aggressively. At 79 lbs, the Zebra will heat these brakes up fairly quickly.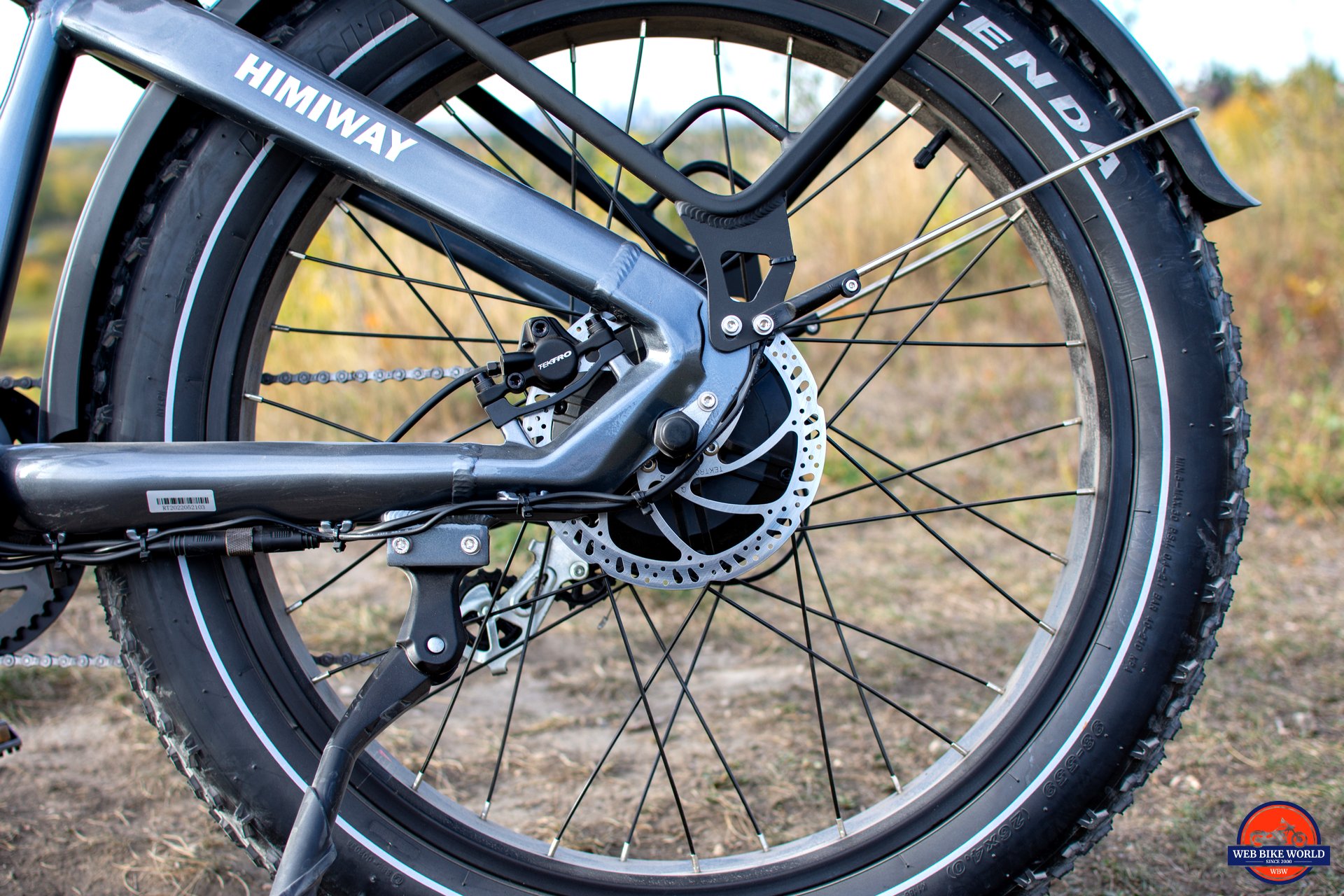 For general riding, though, these Tektro's are up for the job. I wouldn't swap or upgrade them unless the Zebra was my only ebike, and I wanted to upgrade it for the sake of upgrading it.
Rear Rack
The metal and wood rear rack is engraved with the Himiway logo. I like its form factor as it lends itself to mounting pannier bags.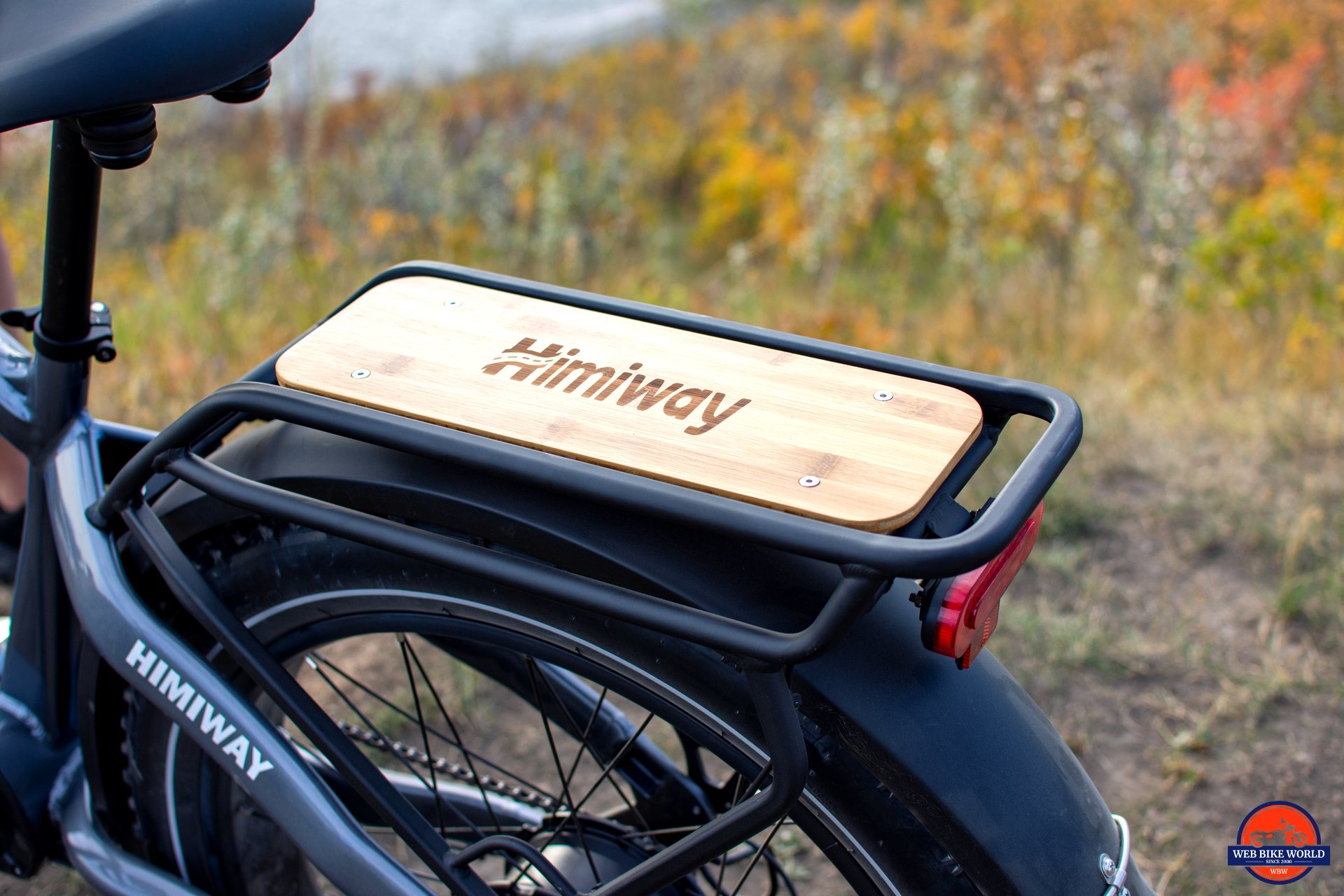 The reflector is mounted at the rear on the underside of the rack. I never had any issues with it rubbing on the fender.
The Himiway Zebra is Ready to Ride Just About Anywhere
A hefty and heavy bike, the 2023 Himiway Zebra is also a robust one. Using brand-name components and featuring a huge battery, the Zebra should provide you with several years and thousands of trouble-free miles.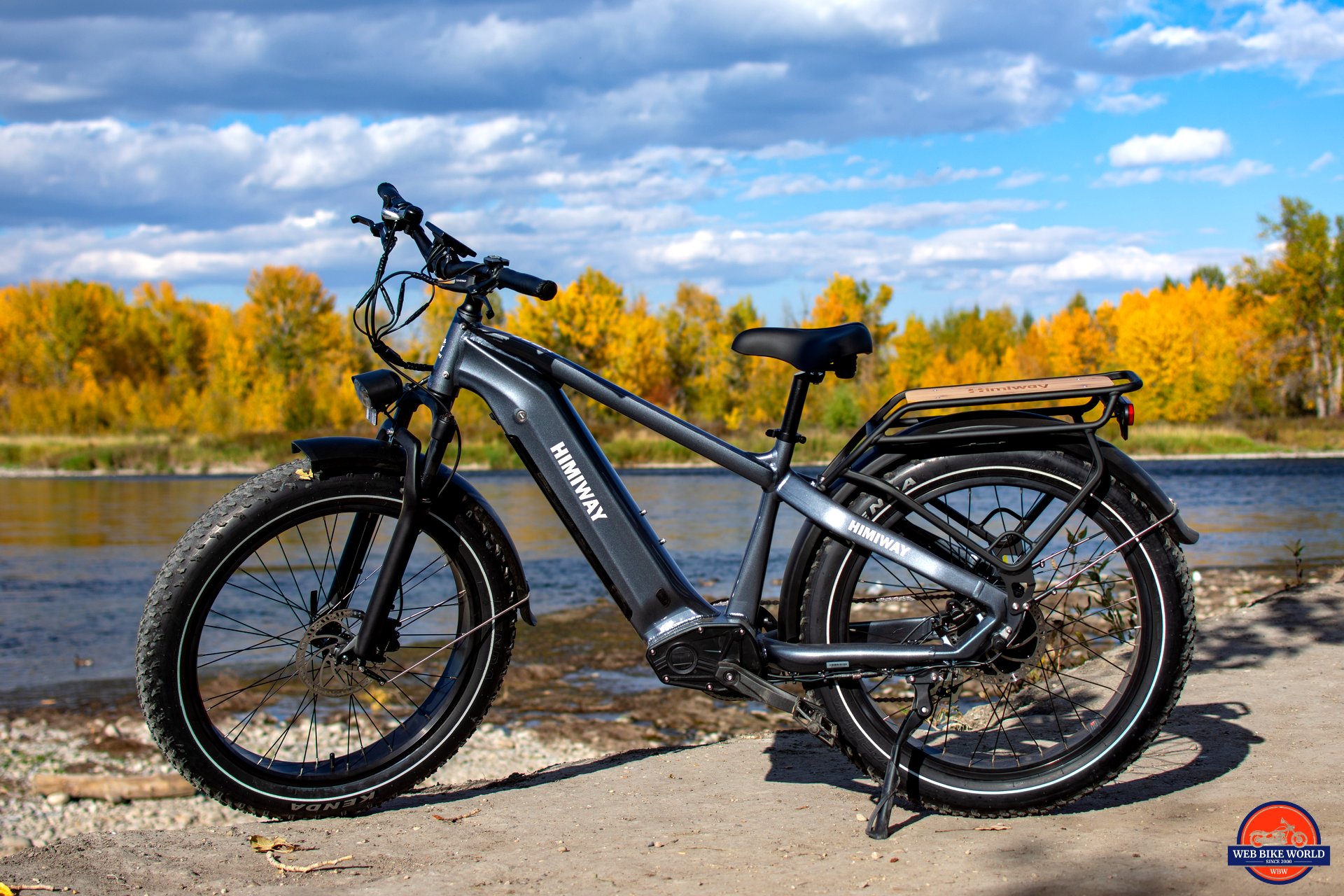 The Zebra would make a great first ebike, as well as a good choice for a single all-arounder that could be ridden daily. People wanting to ride off-road or downhill will be better off with a bike that has a mid-drive or a torque-sensing hub drive, not to mention something 15+ lbs lighter. Everybody else will have a blast riding the Zebra.
As a commuter, light trail bike, and urban pathway rider, the Zebra is a great choice that is also priced well. Himiway has a reputation for bundling good value into their bikes, and the Zebra is no exception.
2023 Himiway Zebra Review
Review Summary
The 2023 Himiway Zebra is an evolution in both design and formula compared to Himiway's other hardtail fat tire ebikes. The 750 watt motor provides plenty of oomph and noticeably superior hill climbing compared to 500 watt bikes, and the inclusion of hydraulic brakes is much appreciated. Riders will be comfortable, thanks to the front suspension, fat 4" Kenda tires, and the wide Selle Royal saddle. Priced under $2,000, this is one of the better all-terrain, all-around fat tire ebikes in the entry-level segment.
Pros
Powerful 750 watt rear hub motor
Good hill climbing ability
Internally-mounted removable battery
Hydraulic brakes
400 lb payload capability
Huge 20 Ah battery and 128 km / 80 mile range
Customizable pedal assist settings
Cons
7-speed groupset
Not geared well for hills if you want to pedal power your way up
Heavy at 79 lbs