Ducati Scrambler Review Summary
Review Summary
The Ducati Scrambler is a petite, fun to ride bike that makes a perfect commuter and a willing partner-in-crime on the weekends. The transmission is a little finicky but the motor is strong, the power comes on quickly and delivery is predictable. A sub 400 lb. dry weight makes it super easy to lift off the side stand and handle on the road. It's probably a little powerful for a raw beginner but it wouldn't take long to get up to speed on this very easy to ride motorcycle.
Pros
Lightweight @ 381 lbs
Good power
Comfortable
Cornering ABS feels effortless
Cons
Transmission is finicky
I hate chain final drive
Weird tachometer
Ducati Scrambler Icon Image Gallery
Introduction
When I was a kid my Dad used to race motorcycles around rough dirt tracks in the middle of pastures on Sunday afternoons. They called them 'scrambles' and they rode mostly cobbled together minimalist European bikes the riders re-built themselves.
The only stock bike in the crowd was owned by a rich guy wearing white leathers that all us kids loved to hate. They were good times that made for great memories.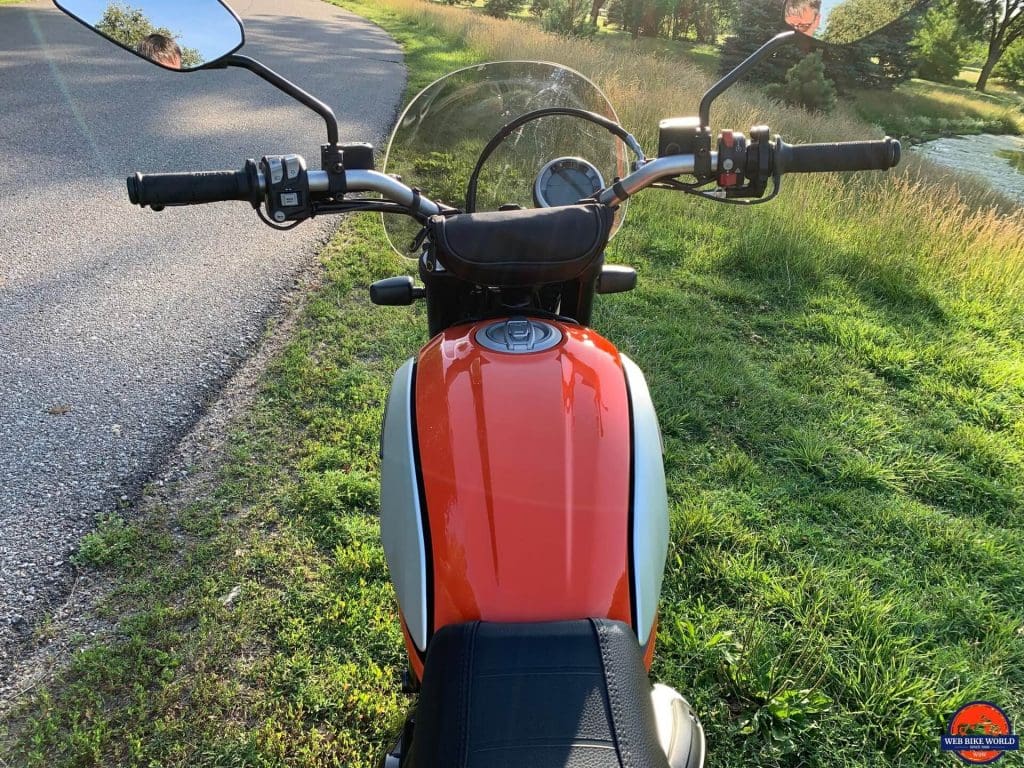 When it became apparent over the last year that progressive health issues had begun to erode my riding abilities and I no longer had the strength to haul my 700+ pound Harley in and out of the garage, I turned my sights on the new crop of scramblers, reminiscent of the bikes my Dad raced all those years ago.
After doing my due diligence on the internet, and sitting on every make and model within a 100-mile radius, I settled on the new 2019 Ducati Scrambler Icon. In 'atomic tangerine' no less.
A couple of caveats before I start. I've read a lot of reviews. I enjoy reading them and appreciate that they push the bike to the absolute limit so we of lesser skills know what they are. As a smaller woman rider though, I'm always left with a few questions about aspects of the bike that are important to the way I ride.
So, I'll be writing this review from my viewpoint as an average rider, since that's what I am. I've also been riding big cruisers for the last 20 plus years. So, fair or not, I'll be making some comparisons between the two. 
History of Ducati
Owning a Harley Davidson in the middle of the US makes you an automatic member of a club that carries a certain prestige, whether you want to be or not. But owning a Ducati carries its own kind of cachet.
The Italian company has been around since 1926. They come from humble beginnings, starting out as a radio component manufacturer. Their first actual motorcycle had a minuscule 48cc engine.
In more recent history they have a well-known reputation for making sexy, fast motorcycles with a long tradition of racing success. Some of which we've had the absolute pleasure of riding and reviewing here at wBW such as the 2019 Multistrada and 2018 Monster 821. Their trademark trellis frame makes them easy to identify as they speed by.
They reintroduced their Scrambler line in 2014 and it took the world by storm, selling over 55,000 units to date. They have diversified the line, slanting some models to off-road prowess (the Desert Sled), and some to around-town use (the Café Racer).
The Icon is the base unit, although as we shall see, it's still pretty well equipped and perhaps the most versatile.
2019 Ducati Scrambler Icon Specifications
Engine
Type – L-Twin, Desmodromic distribution, 2 valves per cylinder, air-cooled
Displacement – 803 cc
Bore & stroke – 88 x 66 mm
Compression ratio – 11:1
Power – 54 kW (72 hp) @ 8,250 rpm
Torque – 67 Nm (49 lb-ft)
Fuel Injection – Electronic fuel injection, 50 mm throttle body
Exhaust – exhaust system with single stainless steel muffler, aluminum silencer cover, catalytic converter, and 2 lambda probes
Standard – Euro 4
Transmission
Gearbox – 6 speed
Ratio – 1=32/13, 2=30/18, 3=28/21, 4=26/23, 5=22/22, 6=24/26
Primary drive – straight cut gears, ratio 1.85:1
Final drive – chain, front sprocket 15, rear sprocket 46
Clutch – hydraulically controlled slipper and self-servo wet multiplate clutch
Chassis
Frame – tubular steel trellis
Front suspension – upside-down Kayaba 41 mm fork, 5.9" travel
Front wheel – 10 spoke in light alloy, 3" x 18", Pirelli MT 60 RS 110/80/ R 18
Rear suspension – Kayaba rear shock, pre-load adjustable, 5.9" travel
Rear wheel – 10 spoke, in light alloy, 5.5" x 17", Pirelli MT 60 RS 180/55/ R 17
Front brake – 330 mm disc, radial 4-piston caliper with Bosch cornering ABS standard
Rear brake – 245 mm disc, 1-piston floating caliper with Bosch cornering ABS standard
Dimensions & Weight
Wheelbase – 1,445 mm (56.9")
Rake – 24 degrees, Trail – 112 mm (4.4")
Total steering lock – 35 degrees
Fuel tank capacity – 13.5 L, (3.57 gallons)
Dry weight – 172 kg (381 lbs), wet weight 189 kg (417 lbs)
Seat height – 798 mm ( 31.4"), low seat 770 mm (30.3")
Styling
One of the first things that attracted me to the Ducati Scrambler is the way it looks. It reminds me a lot of a little bike I bought in the late '70s. It was an on/off-road bike so it had the longer suspension travel, bench seat, and abbreviated fenders, very similar to this Ducati. The bars and seating position remind me a lot of that bike also.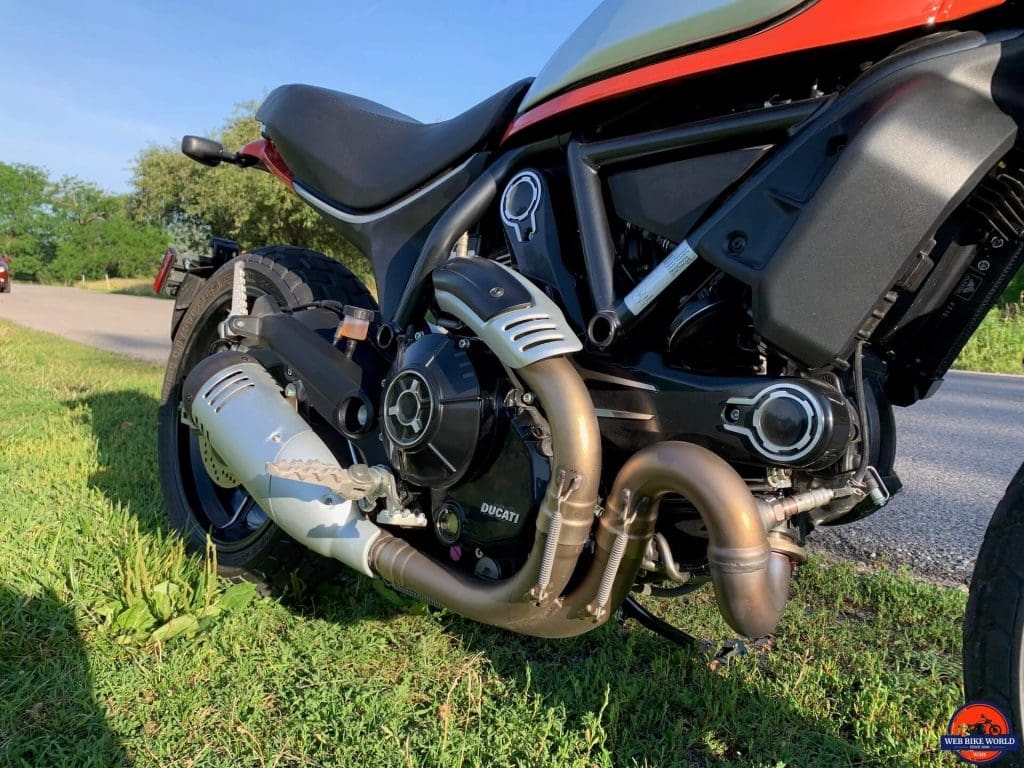 This 2 into 1 exhaust is not retro but it's growing on me
The similarities end at the 2 into 1 tailpipe, which looks more like something from a sports bike, but I appreciate that they're trying to update the look and it's growing on me. Some have complained that it's not a true scrambler because it doesn't have high pipes but I don't remember my Dad's bikes having them.
In fact, I'm quite certain they didn't because I burned my leg backing into one of his bikes and I was quite small at the time. The original Ducati Scramblers in the '60s also didn't have them. I don't think they're all that practical for street use anyway. As short as I am, some very important body parts would be in very close proximity to those hot pipes. Plus they certainly limit luggage options.
For 2019 they added some new styling details. My favorite is the machined air fins on the engine. I didn't think that was such a big deal when I read about them but they really look nice in person and they tie in well with the cast wheels and primary cover, giving the bike a cohesive and upscale look.
The interchangeable tank side panels are also beefier and have more of a 3D look. Personally, if you're going to make the tank that wide I'd rather that space is filled with gas, but it is an opportunity to personalize the look without paying for a new paint job.
They also put a black housing around the LCD dash which ties it into the rest of the bike and beefed up the switch gears on this years model.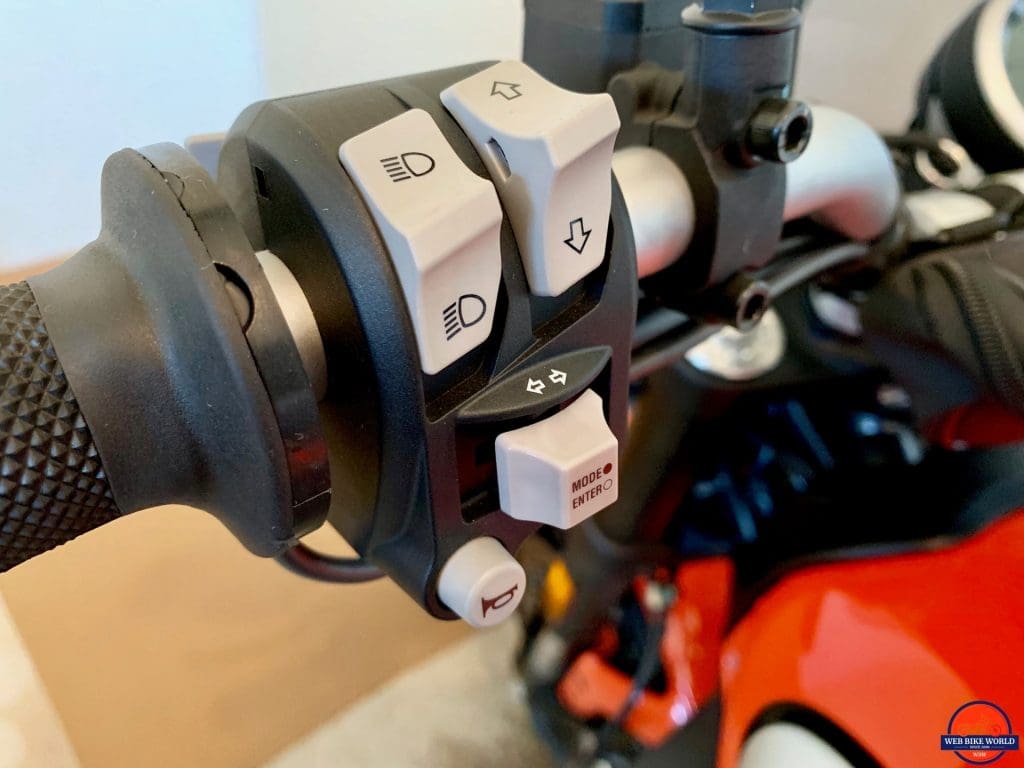 The 'atomic tangerine' paint on the bike is nicely applied and very bright and cheerful in the sunlight, but it doesn't have the depth of the color on my Softail. Still, it's sure to get me seen on my morning commute. It also comes in 62 yellow, hearkening back to the color of their 1962 Scrambler.
The Scrambler has a very cute, compact design with a wheelbase of only 56.9 inches. It takes up about half the room in my garage as my Softail. Placed next to my burly Harley, this little Duc looks almost delicate. The smaller diameter bars and tiny waistline add to that perception, that is until you sit in the saddle and twist the throttle.
The Engine
The Icon may be small in stature but it's got a big heart. The first thing I noticed was how quick this bike is. The 381-pound dry weight coupled with the claimed 73 hp from the 803cc L-twin engine means this bike really moves out and roll-on speed is excellent in every gear.
In fact, it changes speed, both up and down, so quickly and effortlessly that I really have to be mindful that I don't end up on the wrong side of the law.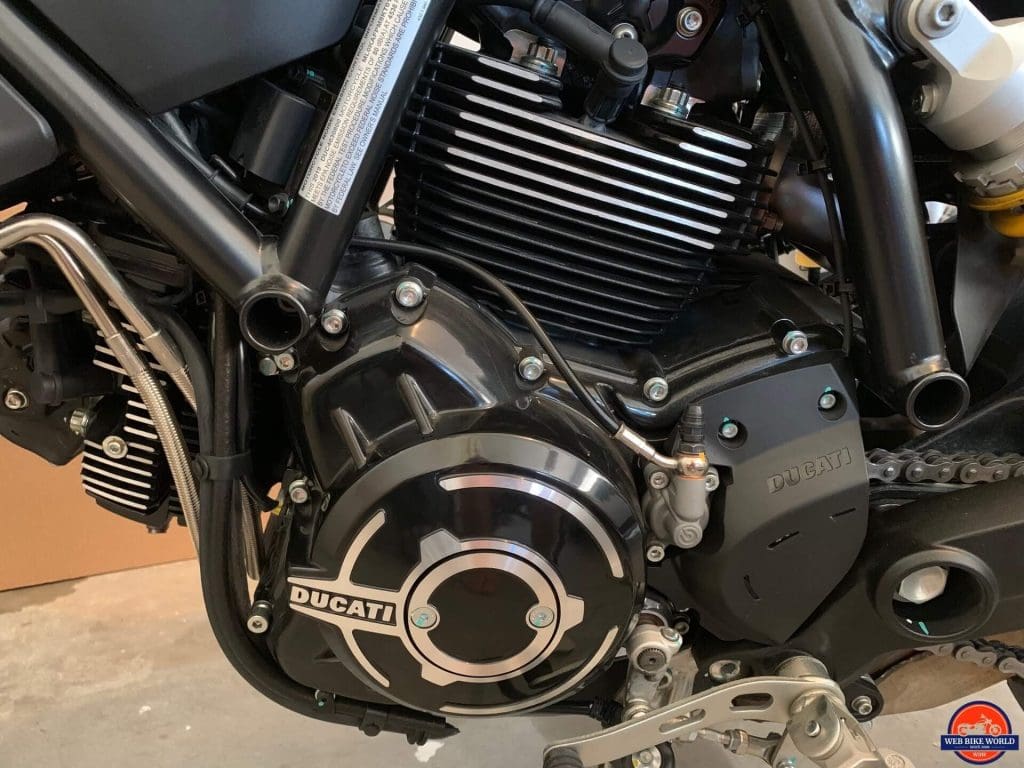 The Scramblers 803cc Desmo L-twin engine has machined fins this year
The Desmo 2 valve engine has been in the Ducati line-up for 10 years now in the Monster livery, but for 2019 they refined it to make it even more responsive with a new camshaft that has 11 degrees of overlap.
This makes the power delivery very linear, predictable, and silky smooth – even at high speeds there is very little vibration. So it's quick but not twitchy or difficult to control. It still has a cable-actuated throttle which means no 'ride modes' but it also means a familiar, immediate throttle response with good feel.
The engine makes peak horsepower at 8250 rpm's with 49 lb-ft of torque at 5750 rpm. When I first saw those numbers I thought I probably wouldn't be making peak power too often. That rpm on a cruiser would have the engine positively screaming (annoying, to say the least). But the Duc's L-twin seems happiest in a higher rev range – I'm talking 4000-6000 rpm though. I'm sure I've made it over 8000 rpm a few times but not on purpose.
Some reviewers complained about the heat from the air-cooled engine but apparently, they've never ridden a Harley. Riding through downtown in rush hour traffic on a 95°F day the inside of my legs did get a little toasty but not "oh my gosh, my seat is going to burst into flames" hot.
If my legs were longer so I could have moved them further from the engine at stops I don't think it would have been all that bad, and once I started moving at a good clip it dissipated quickly. It would help if the exhaust was a couple of inches longer. I can feel the heated air coming out the end on the back of my leg.
It does have a pleasant exhaust note, deeper than I thought it would be. I was a little afraid it would sound like a sewing machine but it's really not much different than my Softail. Granted, my Harley was a later model so the pipes had been neutered by the new noise emission standards, but still, it sounds pretty nice.
Transmission
The Scrambler is outfitted with a 6-speed transmission coupled with a new for 2019 hydraulic slipper clutch. The clutch pull is quite light and combined with the adjustable levers (which should be mandatory for all motorcycles) has eliminated hand cramps on my morning commute.
The transmission is probably my least favorite part of the bike. I'm used to the solid clunk of my Harley. In comparison, this transmission is smoother but feels a little vague and imprecise.
Several times it's gotten stuck between 1st and 2nd gear, something that's only happened to me a handful of times before in 50 years of riding. The gear indicator just shows a dash when this occurs and it takes a solid stomp to get it back into gear.
Several reviewers noted that they got a false neutral in higher gears. I wasn't even sure what that was. I rode it for 2 months without experiencing that glitch, leading me to believe that either they had fixed it or those other reviewers must not know how to shift.
Then one night while trying to escape a semi that was trying to kill me, I suddenly lost power shifting between 4th and 5th gear. I have to admit I freaked for a second, especially since it took me a couple tries to get it into a gear. The gear indicator showed 5th gear the whole time so I didn't have an immediate visual clue as to what was happening.
I didn't do anything different on that shift that I'm aware of. I'll be better prepared if it happens again, but since they're touting this bike as a gateway into the 'land of joy' they should probably fix that. In the meantime, I'm trying to be very intentional when I shift.
There have also been complaints that it's hard to find neutral, but again they've apparently never ridden a Harley. I've never had a problem but I will say Kawasaki's posi-neutral finder is the easiest system I've ever used.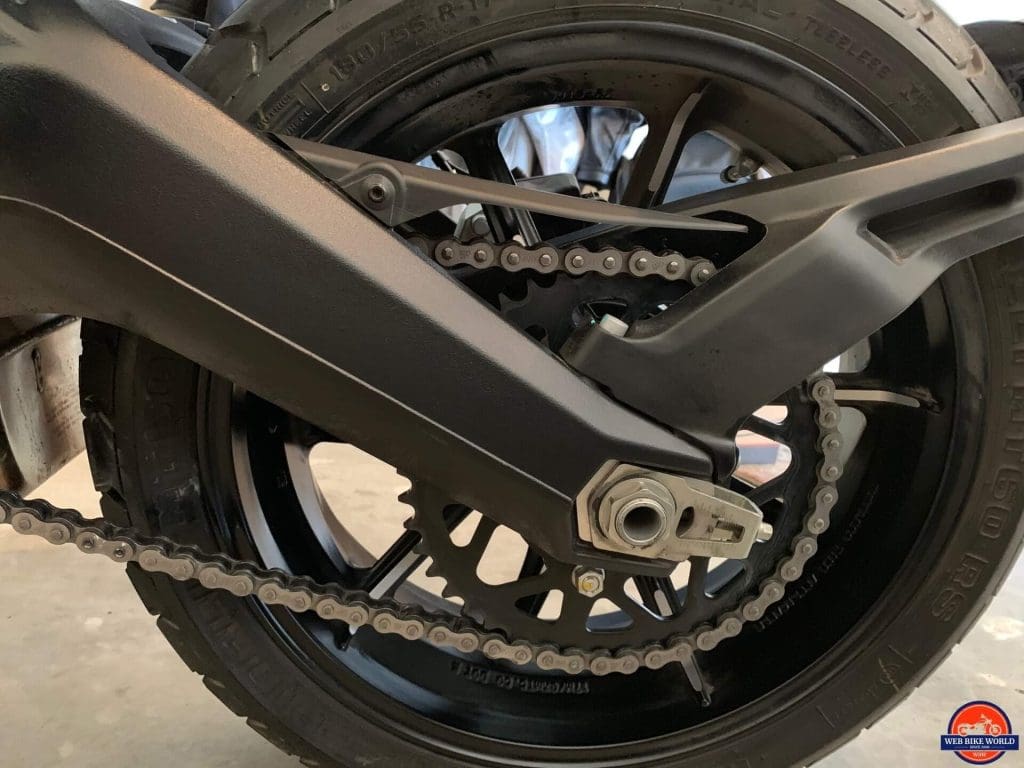 All the Ducati Scramblers have chain final drive. I know it's the most efficient way to get power to the rear wheel but it's also the most maintenance intensive, and it's messy. Thankfully they now have less messy maintenance options, like a spray-on lubricant and auto lubricators.
Chassis
The Icon model sports non-adjustable upside-down Kayaba forks up front and a Kayaba mono-shock with pre-load adjustment only out back. Both ends have 5.9 inches of travel suitable for light off-roading.
For this year they've softened the suspension slightly for a better ride on the street while not compromising the handling. I opted to replace the rear shock with an Ohlins shock. It has more adjustability so I was able to get the bike a little lower. It's a $600 add-on but I think it was well worth it.
Seating & Comfort
Also changed for 2019 is the seat. From the stats on the Ducati website, it's .3 inches higher than last year at 31.4 inches. It's also wider and flatter for a more comfortable ride. Unfortunately, I wasn't able to test that. The increase in height combined with the wider nose made it impossible for me to get more than one toe on the ground.
Instead, I had to buy the optional Ducati low seat (lowers the seat 1.1 inches). It would be nice if they would switch that out for free – I can't help that I'm short. The low seat isn't particularly comfortable but I can get both feet on the ground.
On the other hand, the passenger seat is nice and wide and cushy on both the stock and low seat and there are grab rails underneath if you want to take a buddy with you. Once in the saddle, the seating position is comfortable. I do have to lean forward slightly to reach the bars but the footpegs position my feet directly under me and are at a comfortable height.
Standing & Stop Positioning
They're in a good position for standing up, something I haven't been able to do on a bike since I switched to riding cruisers 20 some years ago. I'd forgotten how nice that is for a change of position.
They do get in the way though when I put my feet down at stops. My shins end up right behind the metal pegs so I have to be very mindful when I stop. The first few weeks I had bruises up and down my shins but I eventually learned to keep my feet further back and not let the bike roll.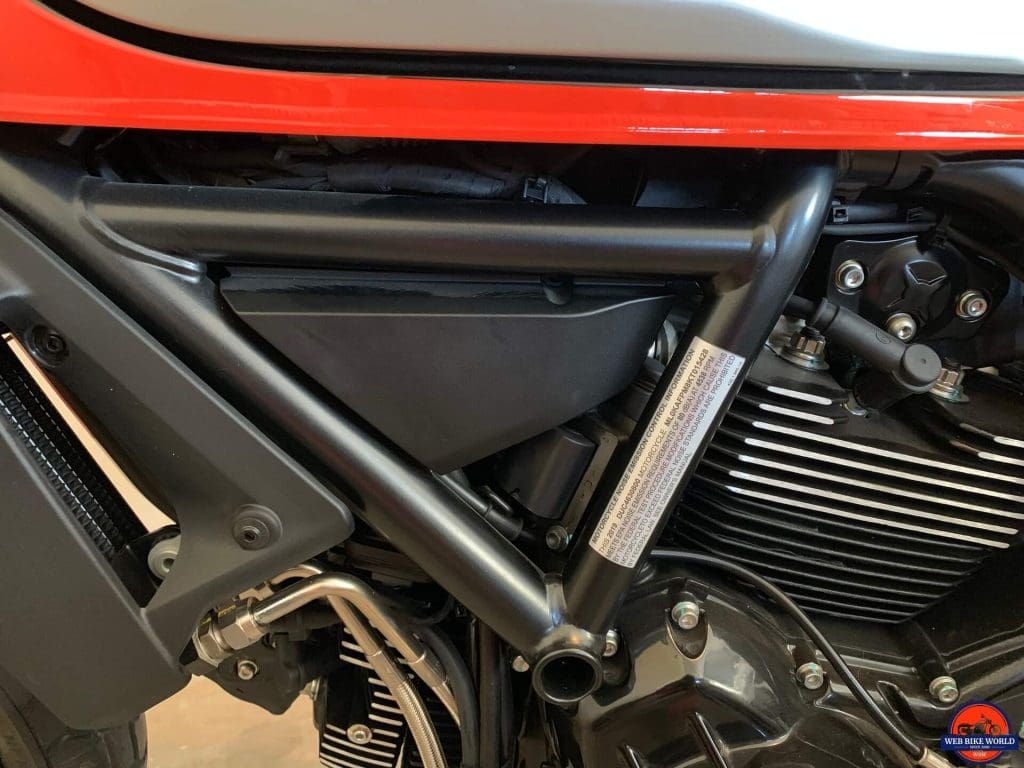 The easily recognized trellis frame is blacked out on the Icon
Frame & Tires
Like all the Scramblers the Icon has the famous Ducati trellis frame although it was so covered in warning labels I wasn't sure at first. Now that most of them are cleaned up that beautiful frame can shine. On the Icon the frame is blacked out. 
We don't have twisties here but the bike lays into corners easily with very little input from me. By the time I think about it, the bike is already turning. Low-speed maneuvers are a breeze with no front wheel flop and a tight turning radius.
Tubeless cast wheels are shoed with Pirelli MT 60 RS tires – enough tread to take on gravel roads while smooth enough for a nice ride on pavement.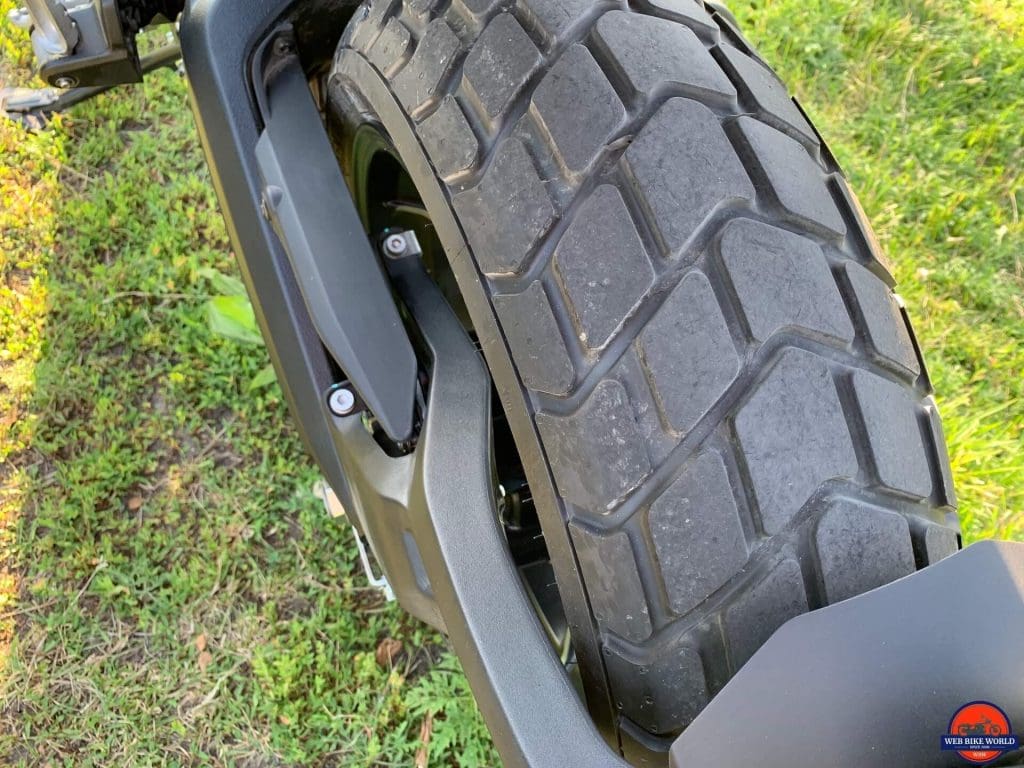 Fat 180 rear tire adds stability to this very light motorcycle
They do not have a center groove so rain channels aren't scary. The front is 110mm wide while the back is a fat 180. I was worried that the big back tire would take more effort to turn into corners but I can't tell the difference.
A Little Off-Road Test
The long suspension travel allows for plenty of cornering clearance. I have yet to scrape anything, something I did with regularity on my Slim. I'd almost forgotten what it was like to fully lean into a corner. It often has me smiling inside my helmet.
I have not taken it off-road per se but I have taken it on my favorite shortcut – a mile-long stretch of minimally maintained dirt road. The little Icon had no problem with washboards, pea gravel, white rock, and a fairly good-sized washout. It danced gracefully over every obstacle like a veritable ballerina while the wide rear end kept it composed on the shifting gravel surface.
I don't expect too many owners will use this bike for single tracking or serious off-roading, they probably would have chosen the Desert Sled if that's their thing, but it can certainly handle the occasional foray off the pavement.
Brakes
For some reason, I expected a bike this light to stop on a dime. It doesn't, but that wouldn't be very safe anyway. You'd have a bunch of newbies doing unintentional stoppies.
The front has a Brembo 330 mm disc with a radial 4-piston caliper while the rear has a 245 mm disc with a single-piston floating caliper.
Together they will hall your speed down pretty quickly with a very progressive action and a good feel. It is of note that the rear brake pedal has a good range of adjustment. From the factory the pedal was so low I couldn't fully engage it. Once adjusted up a couple of inches it felt very comfortable.
Cornering ABS
New this year, and one of the reasons I bought a Ducati is the Bosch 2-channel cornering ABS. Emergency stops don't always happen on straightaways with your bike perfectly straight up so it's nice to have the peace of mind that the ABS protection is available anytime you need it.
It also means self-canceling turn signals which are an important safety feature. I nearly hit a motorcyclist once because he forgot to cancel his signal.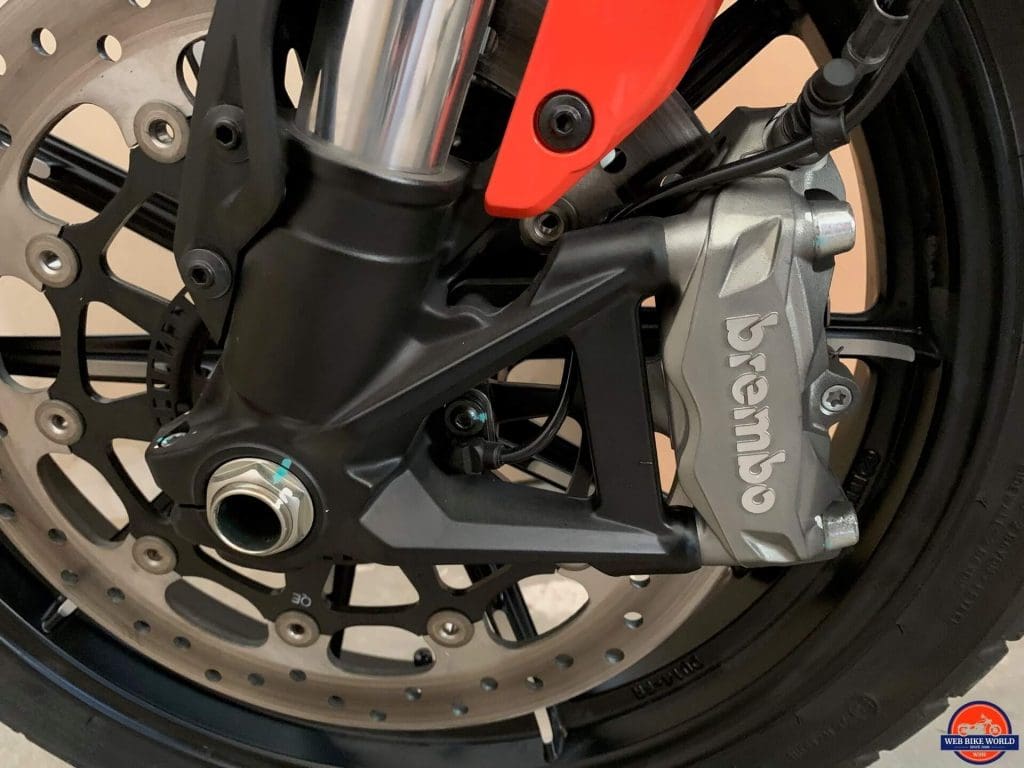 Brembo brakes front and rear have good feel and progressive action
I haven't tested the ABS brakes in a corner – it takes a certain amount of courage to do that on purpose – but I talked to someone who has. He said the bike stood up so fast he almost went off the other side. Nice to know it works!
Electronics
The dash on the Icon is a backlit LCD encased in a smallish round housing offset just to the right of the triple trees. It's nothing fancy, no bright colors or fancy bar graphs, but it's easy to see in any light and all the pertinent information is easy to find and read.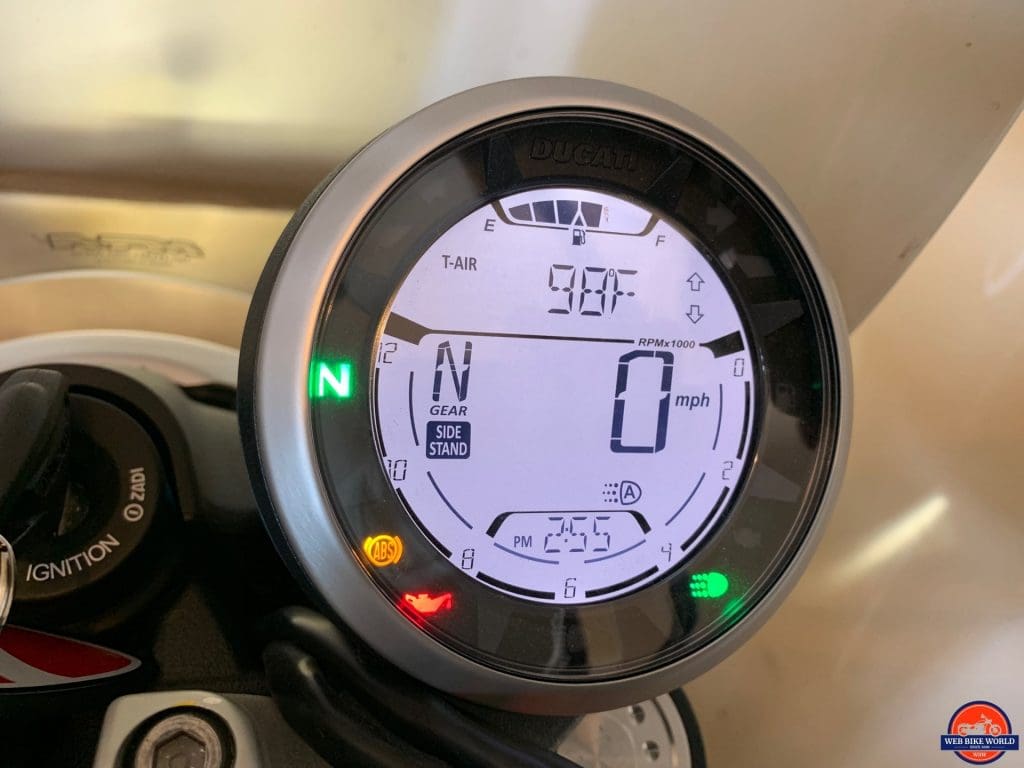 The digital speedometer is large enough to read from 10 feet away without my glasses so there really is no excuse for me to be constantly exceeding the speed limit.
I really thought the off-center location would bother me since I'm a little OCD about things being even but it's a pretty natural placement. What does bother me though is the backward tach. It goes right to left instead of left to right. A small thing but it just looks weird. The other problem is the numbers are very small. I just have to remember that 6000 is straight down.
They manage to pack quite a bit of information in that small space, including an all-important gear indicator, fuel gauge, and a clock. And you can toggle through even more information using the up and down switch on the left grip while the turn signal switch acts as the 'enter' button.
You can choose to display the air temperature, odometer, one of two trip meters or fuel range. The optional heated grips setting can also be displayed and changed via the same switches which are pretty cool when it's cold.
LED Lighting
All the lighting on the bike is LED. The headlight has a daytime running light that illuminates the outside ring of the headlight. There is a sensor that switches it to a regular low beam light when the sun goes down. It also has a little trigger on the left grip to flash the headlight if you need an extra attention-getter.
Accessories
A recent survey revealed that women riders tend to spend more on accessories than men when they purchase a motorcycle. I believe that's in part because motorcycles rarely fit us as well, so we have to purchase low seats, handlebar risers, move the air intake… you get the picture.
For this bike, I had to purchase a low seat and upgrade the rear shock to make it fit me better but I also bought a few other accessories 'just because'.
Windshield
The first thing I thought when I took off for home with my brand new Icon was, "Wow, this bike is quick!". The second thing was, "OMG I need some wind protection". Granted it was a very windy day and I've been riding with a full windshield for many years but I felt completely beat up by the end of the 60-mile ride home.
An internet search yielded a bunch of very similar-looking fly screens to the one Ducati offers. On the other end of the spectrum were some large touring-type windshields that looked out of place on the little bike. Finally, I came across an MRA windshield that split the difference.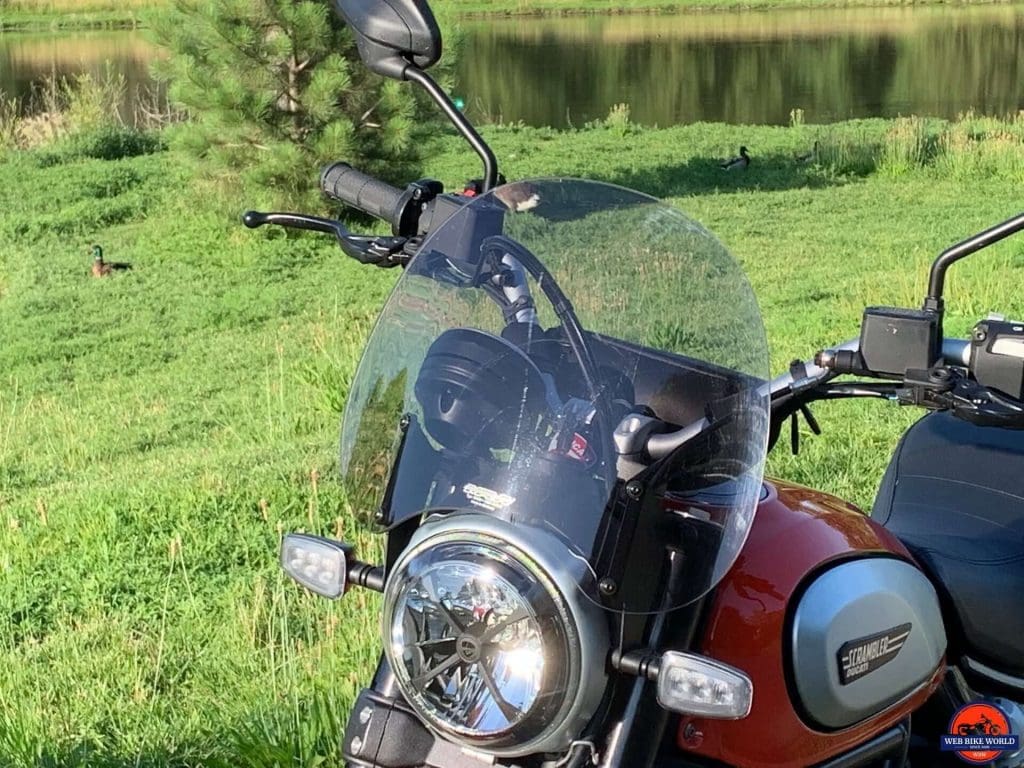 The MRA windshield is just the right size
I've been impressed with the build quality of the shield and brackets. Despite its small size, it's really pretty effective. It keeps the wind off my chest (protecting my nice leather jacket) and eliminates buffeting around the base of my helmet, and I think it looks pretty good!
Storage
Next, I needed some luggage. Ducati does have soft saddlebags for the Scrambler line but they're not all that attractive or convenient since they have roll tops and buckles – a little too fussy for me – so I opted for a tank bag.
I'm not sure how much I paid for it, probably a good thing since it was undoubtedly 3 times more than I would have paid for a non-Ducati branded bag. But it is very good quality, has reflective accents and is just the right size for all my work stuff. I also added a small windshield bag that, of course, also has the Ducati logo.
Footpegs
The only other thing I added was beefier footpegs. The stock pegs were kind of wimpy looking, although in hindsight they would have made it easier to get my big boot under the shift lever. The accessory footpegs are wider, a little longer, and come with rubber inserts for a little more comfort on long rides.
Looking through their website Ducati doesn't have a huge amount of accessories for the Scrambler line but it's extensive enough to personalize your bike to your heart's content with various covers, mirrors, and exhaust options.
Miscellaneous
Fuel Efficiency
I've been averaging right around 50 miles a gallon – combine that with the 3.7-gallon tank and you get a range of about 185 miles which is pretty good for a bike this size.
The range indicator on the bike always says 155 miles after I fill up so it must give you an extra 30 miles or so to find a gas station. The low fuel indicator light also routinely comes on between 110 and 120 miles so you get plenty of advanced warning.
Starting/Stopping Quirks
Deploying the side stand automatically shuts off the engine. I'm not used to that and it's a little embarrassing to do it in a public place with a bevy of onlookers.
The bike also doesn't like to start in gear with the side stand down despite having the clutch engaged. Thankfully my Harley was not this way since I rarely found neutral on it.
Ignition Key
Ducati makes good use of the ignition key on the bike. The gas cap is locked and the seat is also removed with the key – the keyhole is underneath the passenger seat. Once the seat is removed you can access the tool tray (yes, it actually comes with a tool kit), the USB port and the charger pigtail.
A word of warning, the pigtail has a very unusual connector. It didn't match any of the ends that came with the trickle charger. I ended up paying an exorbitant amount for an adapter at the Ducati dealership.
What it Does Well & Not so Well
I'm a firm believer that any motorcycle can do whatever you need it to do. I once knew a guy that road a 250cc Honda Rebel to Alaska and back. Of course, you may need a few accessories, and there may be a few compromises.
For instance, my Softail Slim was billed as a stripped-down bar-hopper and Saturday night cruiser. But I needed it to take me places so I added wind protection and saddlebags and it turned out to be a pretty good touring bike.
The Ducati Scrambler has been marketed as a 'fun' bike that can do a little off-roading if that's where your fun takes you. I also needed it to be a commuter vehicle during the week while I run errands, ride with friends, and bike on weekends. It does all of those very well while still keeping things fun.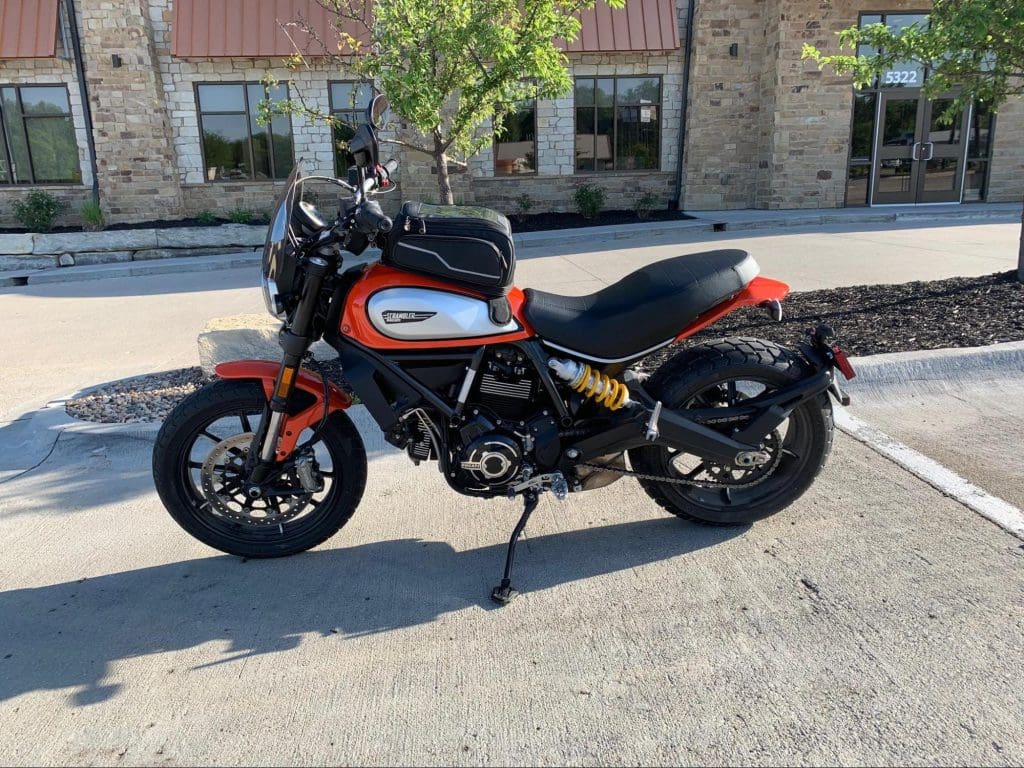 With the addition of the tank bag, the Icon makes a great commuter
Does Well
For commuting, it's very quick and agile so I can keep up with traffic while dodging cagers and potholes. With the addition of the tank bag, I can carry my lunch, shoes, and pants. 
The hydraulic clutch paired with the adjustable levers makes for a lot less painful trip in rush hour traffic, and it also has a pretty slim profile (the mirrors are the widest point at 34 inches) so for those of you that can lane split you should be able to squeeze between lines of stopped cars just fine.
On weekends, it's very easy to hop on it to run errands or meet a friend for lunch. The lighter weight makes it a breeze to maneuver in and out of the garage and parking spaces, even uphill.
And if I make a wrong turn and end up on one of our commonplace dirt roads I no longer have to be nervous that my bike won't be able to handle it.
Not So Well
Those are the main things I bought it for so I'm ecstatic that it does all those things well. But there are a few things it doesn't do quite as well.
The biggest issue is riding in the wind. The lighter weight that makes it agile and fun also makes it blow around in the incessant winds we have here in the heartland. The wide rear tire helps stabilize it some but it's still going to blow sideways if a cattle truck zooms by going the other way.
The 2019 seat is wider and more comfortable for longer trips but the low seat I have to use is good for maybe an hour and a half. Coupled with the lack of wind protection and lighter weight this probably wouldn't be my first choice for long-distance travel.
But I'm ok with that. If money was no object I would have kept my Slim for occasional weekend trips and used the Ducati as my weekday ride, but as with most people, money is an issue and the little Duc meets all my present needs just fine.
The Competition
Before I chose the Ducati I seriously considered two other bikes – the Triumph Street Twin and the Harley Davidson Street 750.
Vs. the Street Twin
I read several reviews that compared the Ducati to the Triumph Scrambler but I thought it felt closer to the Street Twin. The Street Twin has a lower seat than their Scrambler and felt more approachable.
Despite a seat that's 1.5 inches lower, the Street is wider than the Icon so reach to the ground is very similar. The handlebars are a little further away and it's also 40 pounds heavier. All told it just felt 'bigger'.
I like the classic look of the Triumph and it does have traction control with a choice of 3 ride modes but I've never had TC so I really didn't think I'd miss it. It does not have cornering ABS. 
Taking it out for a test ride it rode perfectly fine and I probably would have been happy with it had I not ridden the Ducati first. It was just a little slower and a little less responsive. You can feel every one of those extra pounds, especially since it carries them high.
The gas tank also carries a half-gallon less, paired with the bigger 900cc engine that means more frequent stops. Price is nearly identical to the Ducati.
Vs. the Street 750
I've not seen anyone compare the Ducati to the HD Street 750 but I thought it was the closest match. The HD has a seat height of 28.3 inches but again, it's wider, so that figures into the mix. Still, I could nearly flat foot it.
The reach to the handlebars was very comfortable and although it weighs nearly a hundred pounds more it carries it's weight low so it's not as noticeable. It's not as quick as the Icon but it's still a hoot to ride.
I'm not a real fan of the way it looks. I'm not quite sure what they were going for. It has a headlight cowl but its not a café racer. It's also not a scrambler, a cruiser or a naked. I guess it's just a standard. But what it really came down to was the total lack of electronic aids. HD is pushing these as entry-level bikes.
As such, there are a few things they really should include. First off, ABS should be standard. It should also include a gear indicator, gas gauge, and self-canceling turn signals. I understand HD wants to keep the ride elemental but the lack of those things could get a new rider killed.
Even as a seasoned rider those are aids that I've become accustomed to and I wasn't willing to give up. The price was right though. The HD came in as the least expensive bike at $8,350 with ABS.
Conclusion
It was very hard for me to give up my Softail. It touched my soul like no bike before it ever had. But the 2019 Ducati Scrambler Icon is a very entertaining little motorcycle and I think in time it will prove to be a worthy successor. 
I keep calling it little and it is physically small compared to the bikes I've been riding, but the engine is powerful and quick so I expect I'll never get bored with it. And that small size inspires confidence, especially when you take it off the pavement.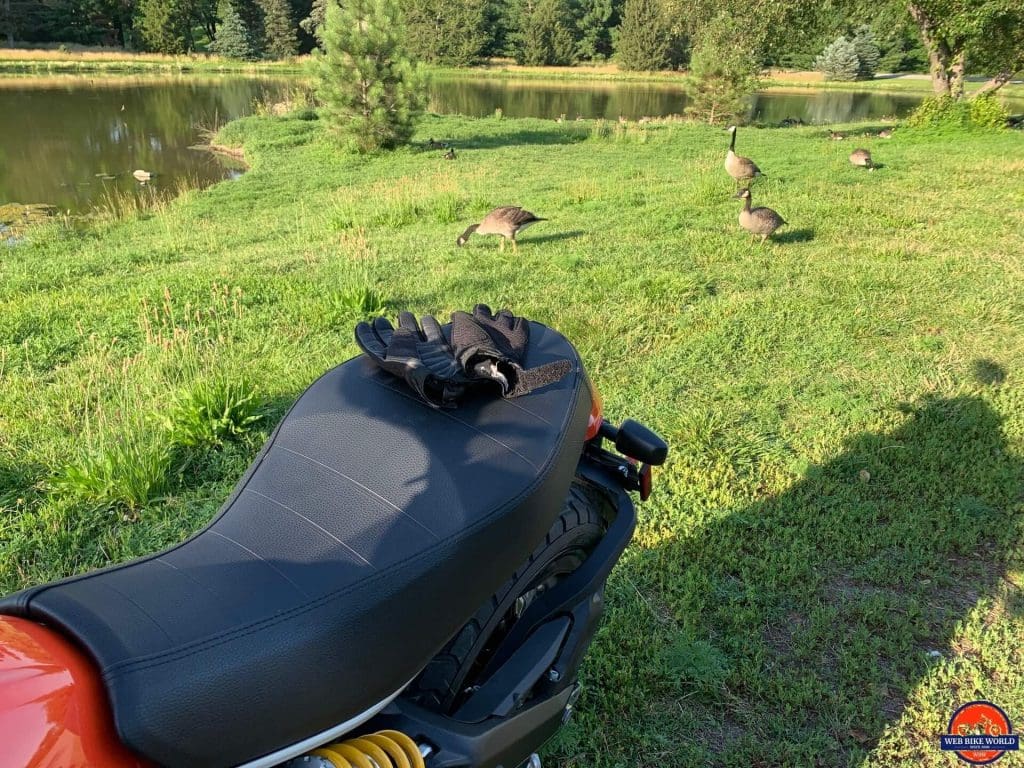 Even the geese were curious about the little Ducati
Ducati's marketing team bills Scrambler ownership as the 'land of joy' and I have to admit I find myself smiling a lot when I ride this bike. I'm hoping this is just the motorcycle I need to prolong my riding life for many years.
Pros
Lightweight @ 381 lbs
Good power
Comfortable
Cornering ABS feels effortless
Cons
Transmission is finicky
I hate chain final drive
Weird tachometer
Specs
Manufacturer: Ducati
Price (When Tested): $9395 in 62 yellow, $9595 in atomic tangerine
Alternative models & colors: Yellow & Atomic Orange
Review Date: June 2019