The first motorcycle I remember riding was so tall I couldn't get either foot down on the ground. I was eight or nine and somewhere south of 4 feet tall.
My dad would lift me up on the seat and give me a push to get me going. When I was tired of riding I would point the bike at my dad and jump off into the weeds. I don't recall ever getting so much as a scratch dismounting in this manner.
If I tried that today I would most certainly break a hip. These days I like to have both feet planted firmly on the ground when I stop so I was pretty disappointed to find that after weeks of shopping there were no mid-displacement standards or naked bikes that would allow me to get more than my tippy toes down.
The Problem
Finding the Right Fit
After comparing all the bikes and bike reviews on other criteria, I narrowed the field down to the Ducati Scrambler Icon, Triumph Street Twin, and the HD Street 750, eventually setting my sites on the Ducati Icon (read my Ducati Scrambler Icon review). Now it was time to see if it could be made to fit me.
I first turned to the internet for suggestions. Other than various seat suggestions, forums were not much help. Most suggested getting something custom fit, which is a great idea, but I couldn't find any specific set-ups to get me started. By this time I had visited the local Ducati dealership enough times that I was on a first name basis with Tim the sales guy.
Chance Opportunity
Out of the blue Tim emailed me and said they were in the beginning stages of a Scrambler project to develop a lowering kit. They were looking for someone height challenged to act as their 'guinea pig' for the Icon. The goal was to shave a couple of inches off the seat height while maintaining or even improving on the suspension feel and performance. With a sub-28-inch inseam, I was the perfect test dummy. I jumped at the chance.
The Fix
As a first step, they had me come in and sit on a 2018 model equipped with the lower seat (a Ducati option) and all the pre-load backed out of the rear shock to increase sag.
Creating a Measurement Baseline
I wore my riding boots which have a 1-inch sole, putting my inseam at 28.5 inches. These two simple changes were enough to get from tiptoes to the balls of my feet on both sides. Better, but still difficult for me to push the bike back or balance the bike in less than ideal terrain or conditions.
It's a little hard to tell but with the lowered seat I could just get the balls of my feet down
Just backing out the preload isn't the best way to lower a bike either as it can make the ride bouncy over rough terrain and we still needed at least another inch. Tim took measurements, both mine and the bike's, and promised to get to work.
Test Ready!
Two weeks later I got a call from Ben, they're suspension expert, that they were ready for another test. When I got there the bike was set up with an Öhlins DU-505 rear shock. A range of spring rates are available, but they used a light 110 N/mm spring.
The Öhlins 505 shock is a single tube design with a large 46mm main piston and an internal gas reservoir within the main body of the shock. It is adjustable for both rebound damping and compression. Length is 296mm and stroke is 58.5mm.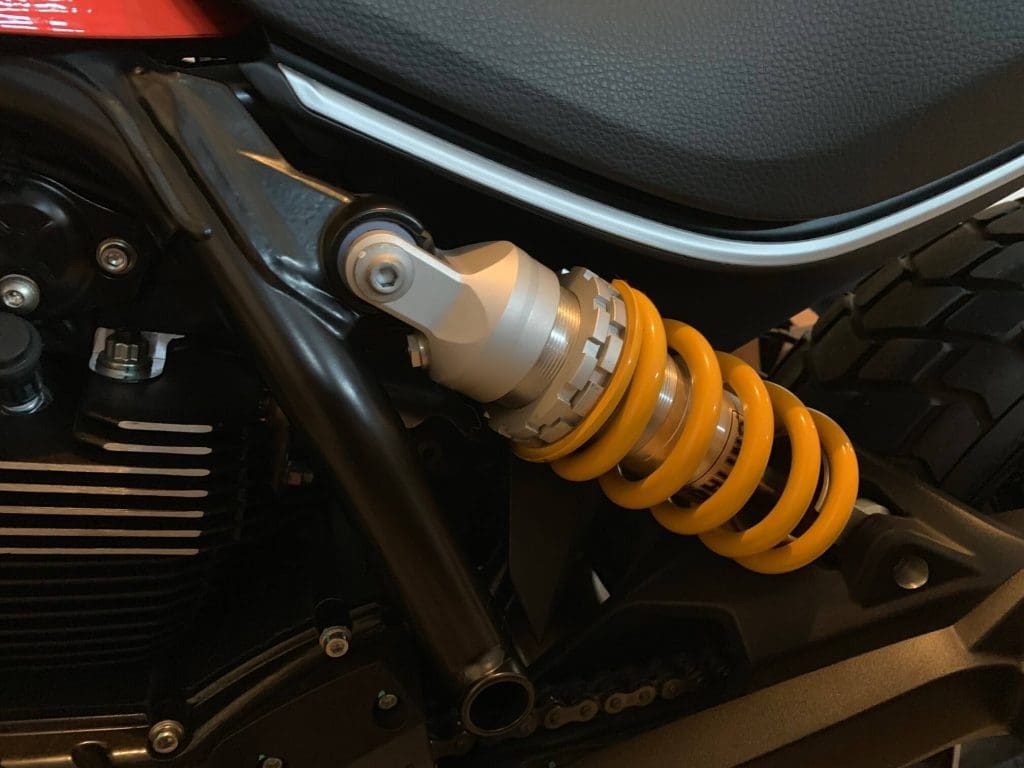 A close-up of the Öhlins shock on the bike
For this test, they left the forks stock. After they weighed me with all my gear on, I sat on the bike and they checked the sag and adjusted the settings of the new rear shock to my specs. After also checking the sag and rebound of the forks, with me sitting on the bike, we decided the only thing that was necessary up front was heavier fork oil.
Fork It
Öhlins does make a complete fork kit for the Scrambler but they are non-adjustable and at $3,000, it was cost-prohibitive for me to switch them out. You can also pull the fork tubes up through the triple trees to lower the front end slightly, but I decided against that.
So, Did It Work?
The low seat option for the Scrambler is 20mm lower than the stock 2018 seat. After replacing the rear shock and adjusting it for my weight we were able to shave off another 20mm for a total of 2 inches.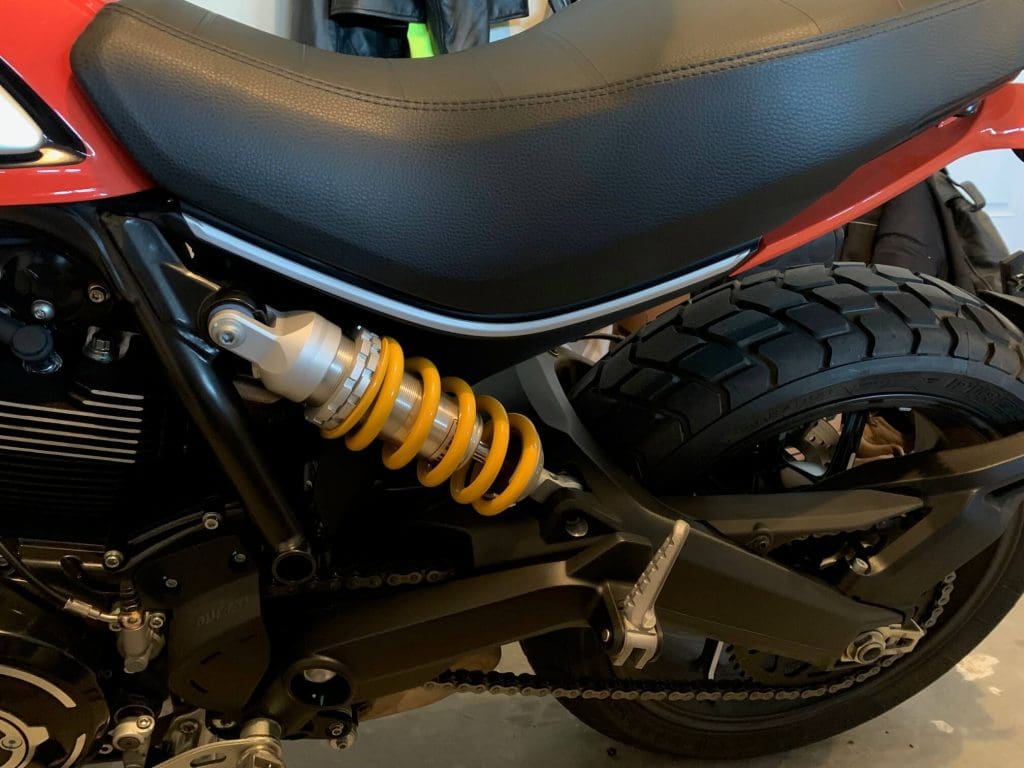 Ducati lowered seat & the Öhlins shock make a 2" difference
My heels were still a breath away from touching down, less than a half inch, but I felt much more confident in my ability to control the bike.
Months Later… Does It Still Hold Up?
I've been riding it now for a couple of months and I have to tell you, the Öhlins shock is worth the price of admission!
We had a really hard winter this year in the Heartland and it took a toll on our roads. We have some really hellacious potholes. So many that it's impossible to miss them all. Through all my travels the suspension on my little Duc has remained seriously composed.
Nothing seems to rattle it much. It has never bottomed out or bounced me off the seat, things that regularly happened on my Softail. It makes for a really smooth enjoyable ride.
Conclusion
I love to ride motorcycles but being very short can limit the number of bikes I feel comfortable riding.
Thankfully, with the assistance of a helpful salesperson and a knowledgeable suspension guru (and several hundred dollars), I was able to get the bike I really wanted at a height I felt comfortable with.
And the cherry on top is I now have a bike with a seriously smooth ride.
For more information and a full list of Öhlins suspension products visit Ducati Omaha, and if you're interested in what's been going on recently in the world of Ducati, visit our news and reviews section here.