Ducati Multistrada Review Summary
Review Summary
The Ducati Multistrada 1260 S can do it all - but is happiest on asphalt going 100+ mph down twisty roads, shredding pavement while simultaneously wooing all who dare cast a glance its way. Negatives? There are a few. Challenging adventure riding off-road wouldn't be wise with only the 17" front mag wheel and street biased Scorpion Trail II tires. The sticker shock of $21,195 MSRP is real as well, but arguably this bike is worth it.
Pros
Sportbike power and handling
Low seat height
Comfortable
Top shelf technology package
Full factory touring luggage option
Excellent LED lights all around
Electronically adjustable suspension
Longer service intervals 19000 miles (30,000 km) between valve adjustments
Cons
Expensive
17" front wheel off-road
Handlebar button labels unreadable at night
Mirror vibration at highway speed
Squeaky rotors
Ducati Multistrada Image Gallery
Losing My Virginity
My Ducati virginity, that is!
It couldn't have been more perfect or romantic my first time with this Italian seductress.
We met in Nice, France – and both originally from other countries. Myself from Alberta, Canada and her from Bologna, Italia.
Our paths crossed somewhere along a picturesque lane named Rivoli. This narrow street was framed by the enchanting old-world architecture commonly found there in the French Riviera and Cote D'Azur region. The sky was a brilliant sapphire blue that day and warm rays of sunshine reflected off her frame in a dazzling way as she came into view.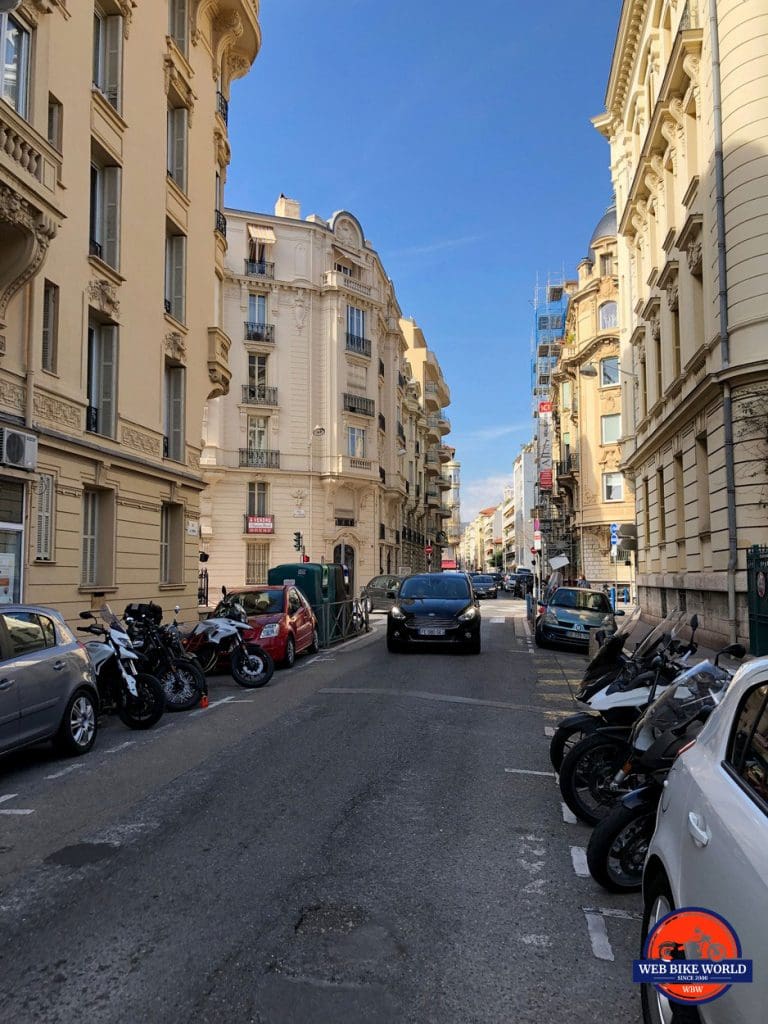 It was love at first sight. I was instantly swept away by her hawkish facial features, large bright eyes, dark-skin, and smooth flowing body lines that hinted at the potential grace and power laying close under the surface of her muscular, mid-sized physique.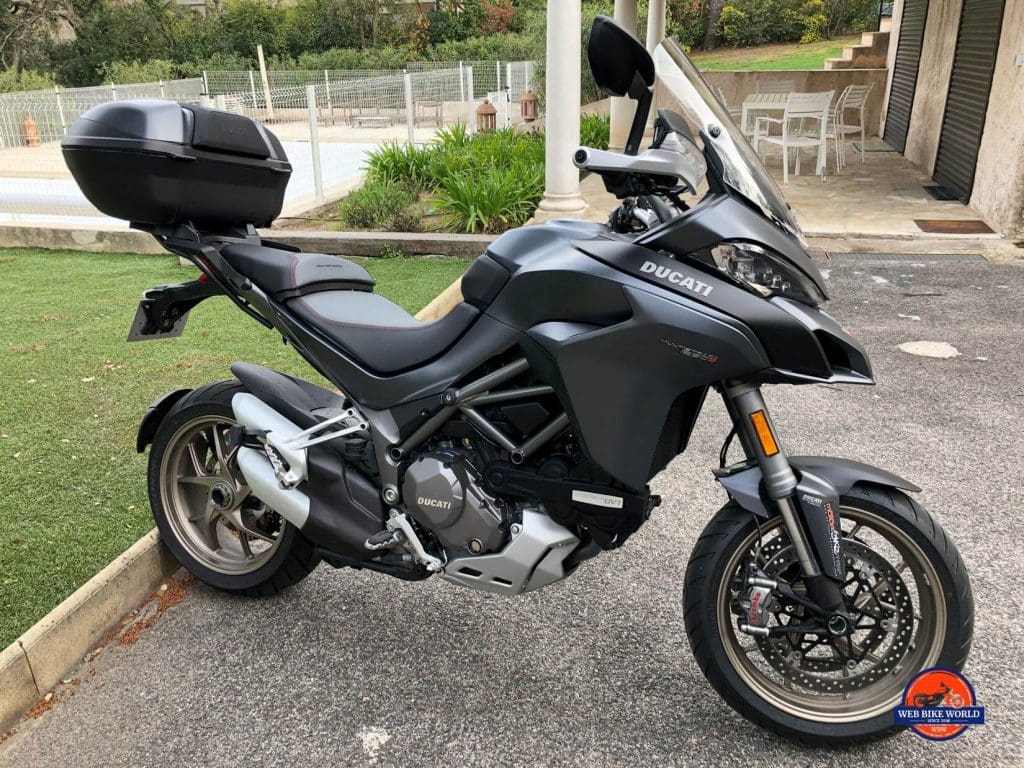 For her part, I'm positive she saw in me exactly the kind of man needed to entertain, even encourage her wild side to blossom here in this Mediterranean paradise.
Indeed I'd previously heard plenty of acclaim surrounding this fiery model from others who had spent a season with her. It was high time I myself had the pleasure. I can assure you she didn't disappoint in the least.
Ahem… I just want to be clear that I'm still talking about the 2019 Ducati Multistrada 1260 S.
A Warm wBW Thank You!
This excellent motorcycle was provided to me free of charge by a rental company in Nice, France called Motorbike Rental. Thanks to them I was able to try out their service and fleet of bikes, both of which I highly recommend. See their website for full details at Motorbike Trip.
Ducati Multistrada 1260 S Specifications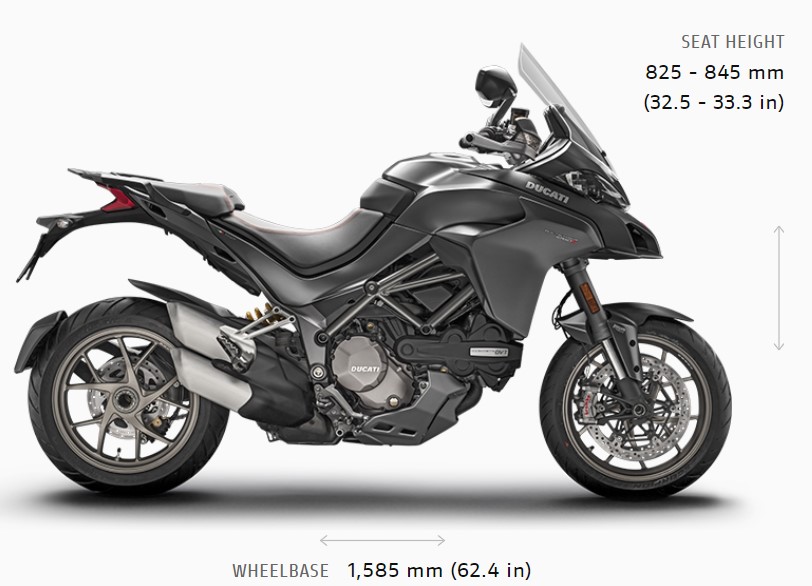 Seat height: 825 – 845mm (32.5 – 33.3 in)
Displacement: 1,262cc
Horsepower: 116.2 kW / 156 hp @ 9,500 rpm
Torque: 129.5 Nm / 95.5 lb-ft @ 7,500 rpm
Dry weight: 212 kg (467 lb)
Safety equipment: Vehicle Hold Control (VHC), Riding Modes, Power Modes, Ducati Safety Pack (Bosch Cornering ABS + DTC), Ducati Wheelie Control (DWC), Ducati Cornering Lights
Maintenance Intervals: 15,000 km (9,000 miles) / 12 months
First Impressions
This steel horse feels premium all around. All materials used have a top-notch quality appearance from the paint to the seat to the tires.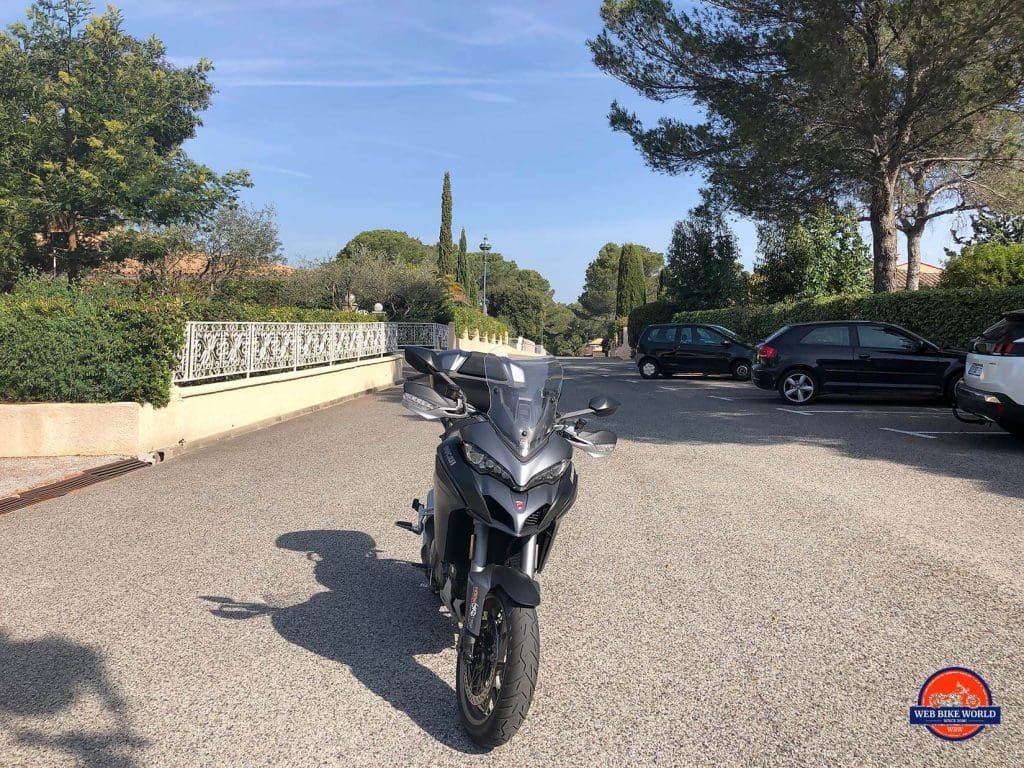 There's plenty going on to suggest this motorcycle was lovingly assembled and all aesthetic details were carefully chosen then placed together "just so" by a motorcycle fanatic with an eye for every detail. I'm sure the people at Ducati argue passionately over whether 3 or 4 company crests belong on this machine and where they will go, right down to the mm.
Dash Display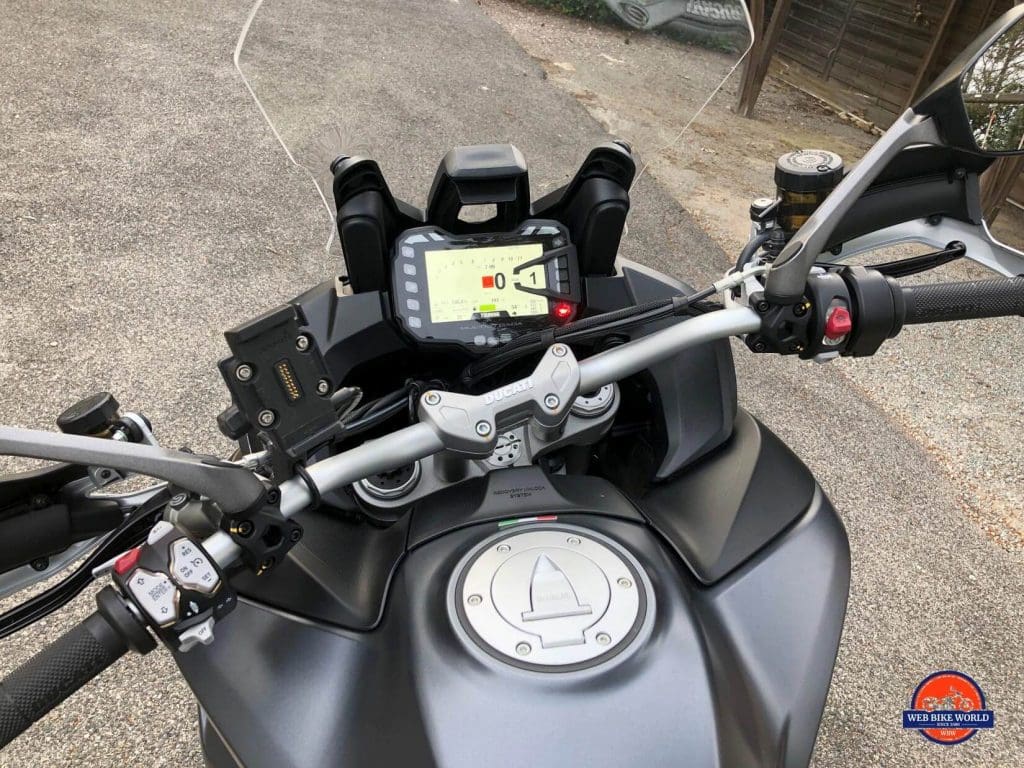 A bike's display is one of the first things I look at when meeting it. User friendliness is a crucial element in getting me to like it, and a sub-par or awkward one can ruin a motorcycle for me.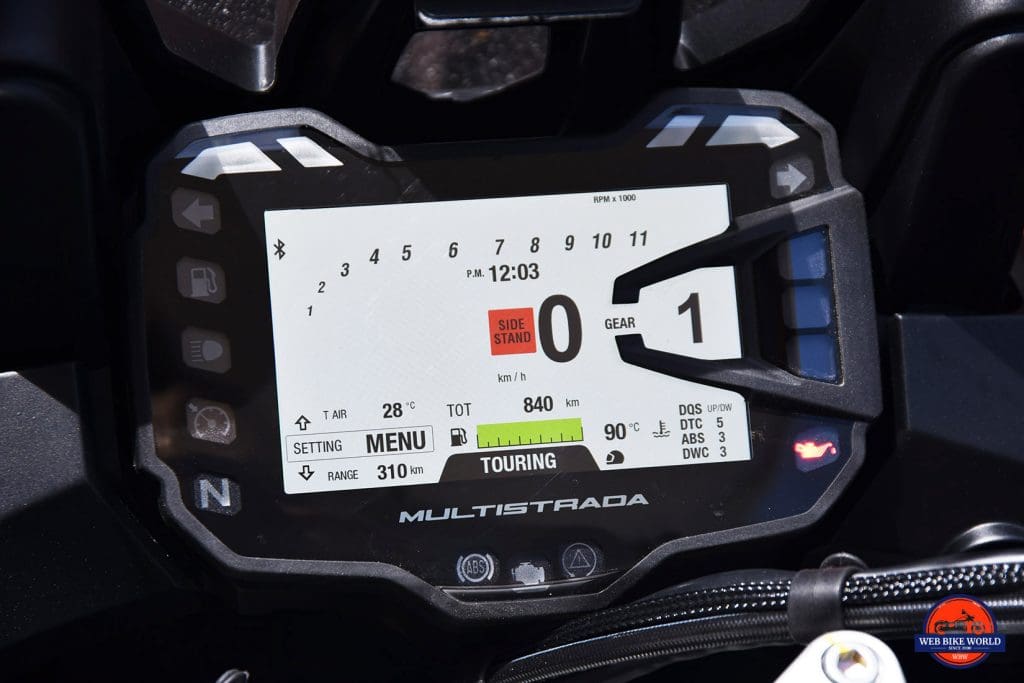 I need to have important machine data quick to find and cycle through on screen to keep me apprised of what it's doing without being too crowded and cluttered. It's a delicate balancing act, but the TFT offering on the Multistrada S is very close to perfection.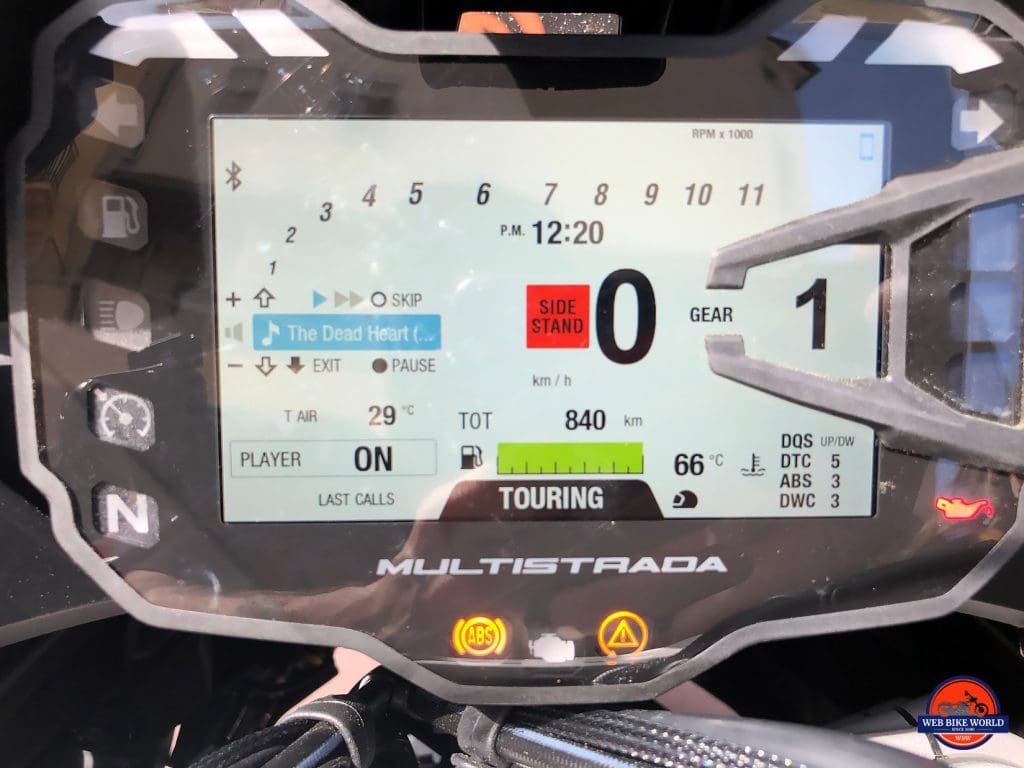 I only found one menu I couldn't figure out how to maneuver out of when I was playing music from my phone and using the bike display in conjunction. I gave up and had to resort to switching the power off in order to get back to the home screen.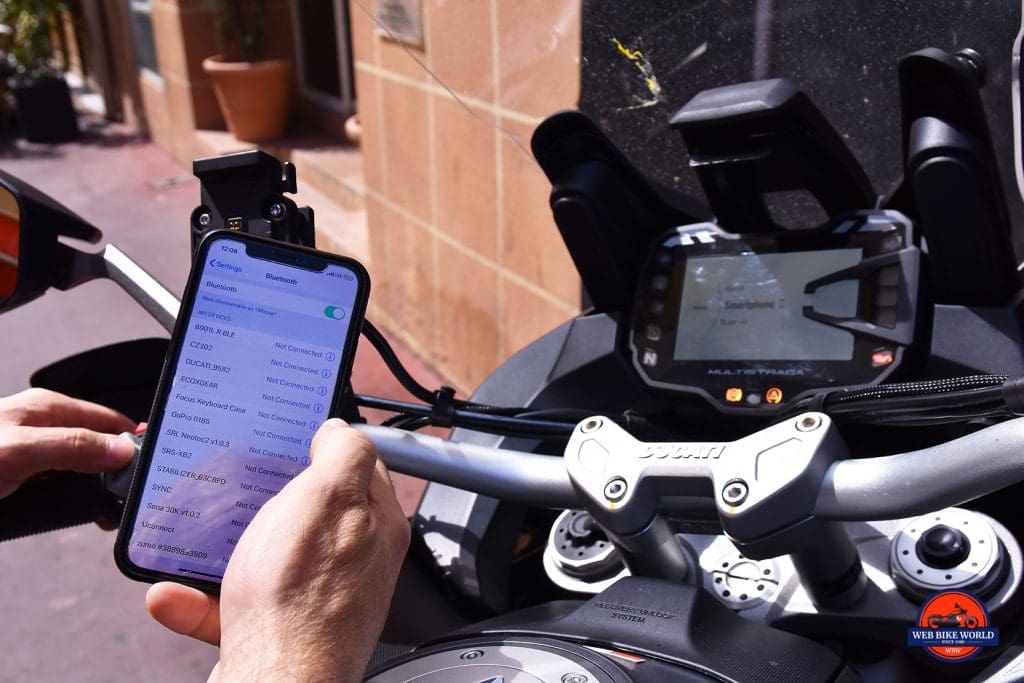 This may have been avoided had I read the owner's manual or downloaded the Ducati Link App and used it to set up everything on the bike using my phone. I didn't know about the app until now and so I missed out on that opportunity to test it. I purposely avoid reading manuals so as to better judge how well designed a bike is.
The Ducati Link app has multiple uses including using GPS to track trips and find your way around, but you need a BlueTooth headset to have the directions piped verbally to you. The app can also be used to meet up with other Ducati riders using it nearby to ride or share experiences. Ducati has built this to be a socializing tool if you want it to be.
Auto-Dimming Display
The dash automatically darkens quickly thanks to a light sensor when riding at night or through tunnels. It even reverses the white background to black and digits to white in order to be easier on the eyes.
I do feel some of the numbers are just a hair too small to read without leaning forward slightly for my 44 yr old peepers, but you may find different.
Jiggling
I noticed at about 4000 rpm the whole display module vibrated pretty wildly but smoothed out at lower or higher rpm. It must be rubber mounted and there's a "sweet spot" of engine revs that sets it rocking and rolling. It didn't bother me much, but it's worthy of mention.
Manipulating the Menu
Cycling through the menus using the left handlebar buttons and syncing my iPhone X to it was 99% child's play. Unfortunately, I didn't have a Sena or other BlueTooth headset to pair with it, but the system on this bike is very intuitive even without reading the manual when it comes to pairing.
All The Goodies
When a motorcycle carries an MSRP over $20K I have a higher level of expectation for the features on board including small things like how the controls feel.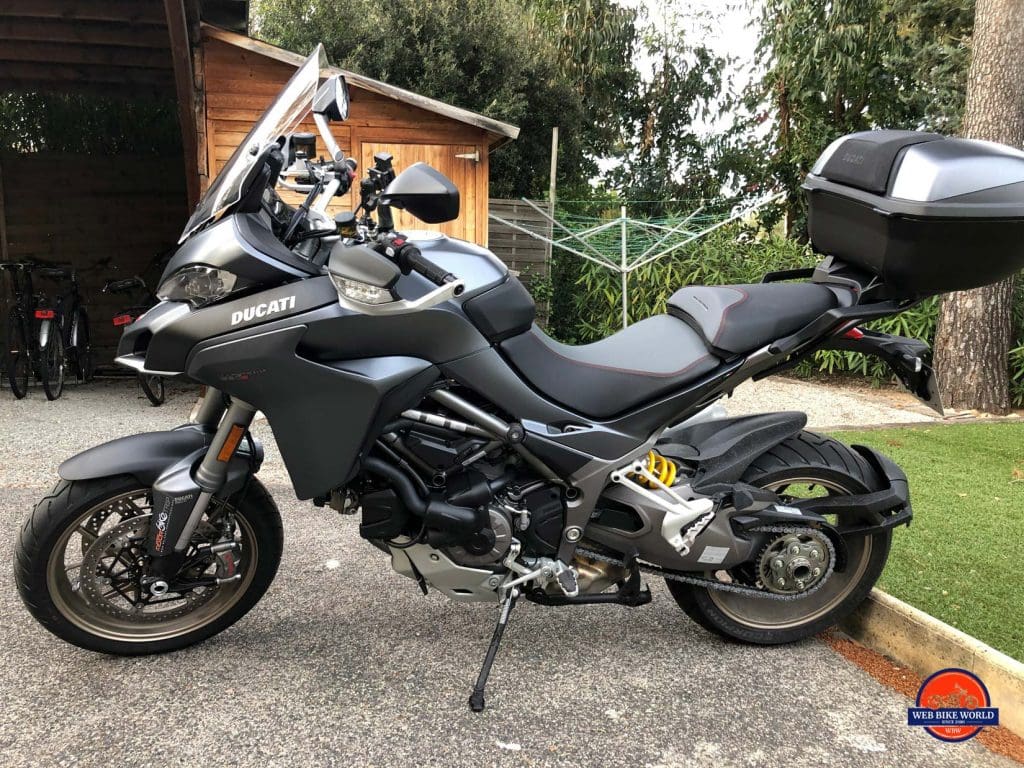 Ducati made their buttons and switches nearly perfect, in my opinion. They're similarly constructed to the level of quality I appreciate on BMW bikes.
All have a robust, tactile feel to them that give usable feedback to the touch when actuated. I'm glad to see they put the button for heated grips on the right bar instead of inside a menu that the rider has to try and hunt down while also not crashing.
No one wants to pull over in order to get the hand warmers going. When I did use the heated grips one chilly evening I found they warmed my hands up satisfactorily even with temperatures dropping to only 5 degrees Celsius (41F). They don't set my digits on fire the way Oxford grips will, but they're excellent by factory standards.
Night Life
What I will definitely call Ducati out on with this bike is how they overlooked using these controls in the dark.
Yes, they backlit all the switches on the bars which are my expectation, but inexplicably the labels on said buttons aren't readable! The backlighting is so bright that it washes out the black lettering labels somehow.
This is a weird one for the Ducati Q.C. department to have missed.
Cruise Control
I'm a cruise control snob. Any touring or adventure bike I test ride better come equipped with this feature and it needs to be intuitive to set and smooth sailing when engaged. I have zero complaints about this Ducati system. It's exactly the way I would have built it.
Self Cancelling Turn signals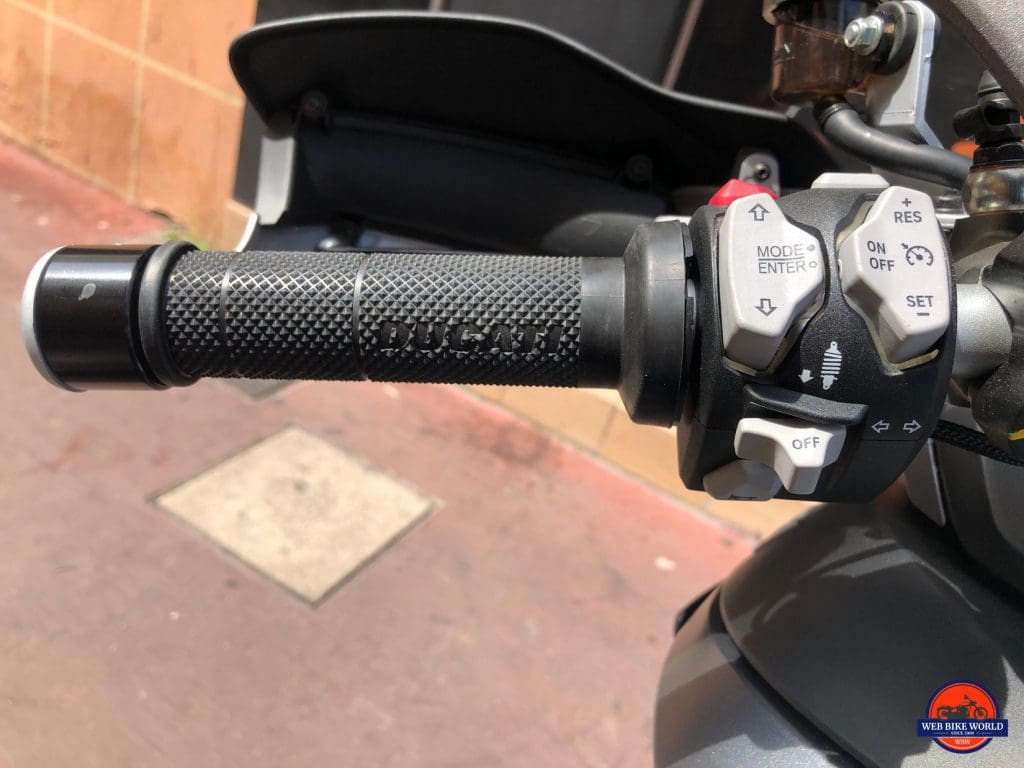 This Ducati has the best self-canceling blinkers I've experienced to date, bar none. I often feel like other ones I've encountered too easily or quickly turn off once activated. The Multistrada ones are just the way I want them when I think of duration and shut off sensitivity.
Screen Prone To Scratches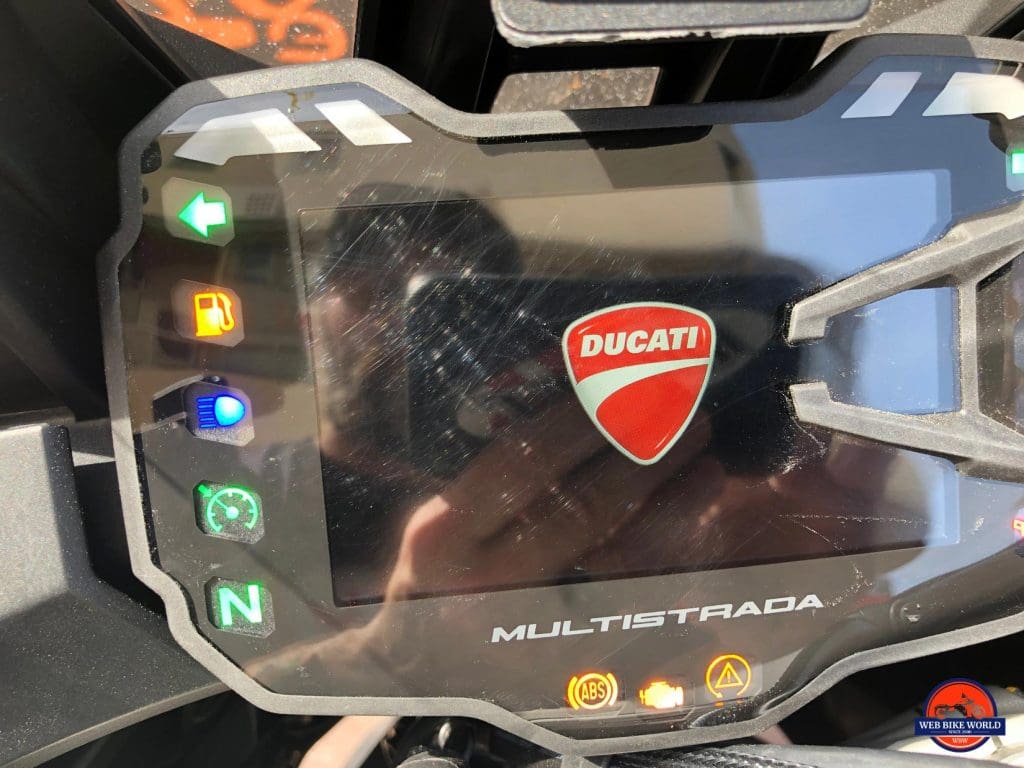 This is a big beef of mine with gauges and unfortunately, the Multistrada TFT scratches easily. I brushed my gloved hand over it a few times to get the dust off it and left behind marks you can see in these photos. Surely Ducati and other manufacturers know about this but fail all too often on bikes to correct or prevent it.
There are aftermarket companies making a decent living off selling screen protectors for these dashes.
Mirror Vibration
A friend of mine test rode a Ducati Supersport a couple of years ago and mentioned how the mirrors on it were nearly unusable at highway speeds. I was watching for this on the Multistrada and sure enough around the 75mph mark, they vibrated badly enough that objects in my rear view were hard to see clearly.
That's pretty disappointing considering so many other builders can engineer around this problem.
Interestingly despite all the mirror vibration, I have no complaints about it anywhere else on the bike (other than how the dash sometimes wiggles). The handlebars were rock solid, ditto the seat and footpegs.
Key Fob Goodness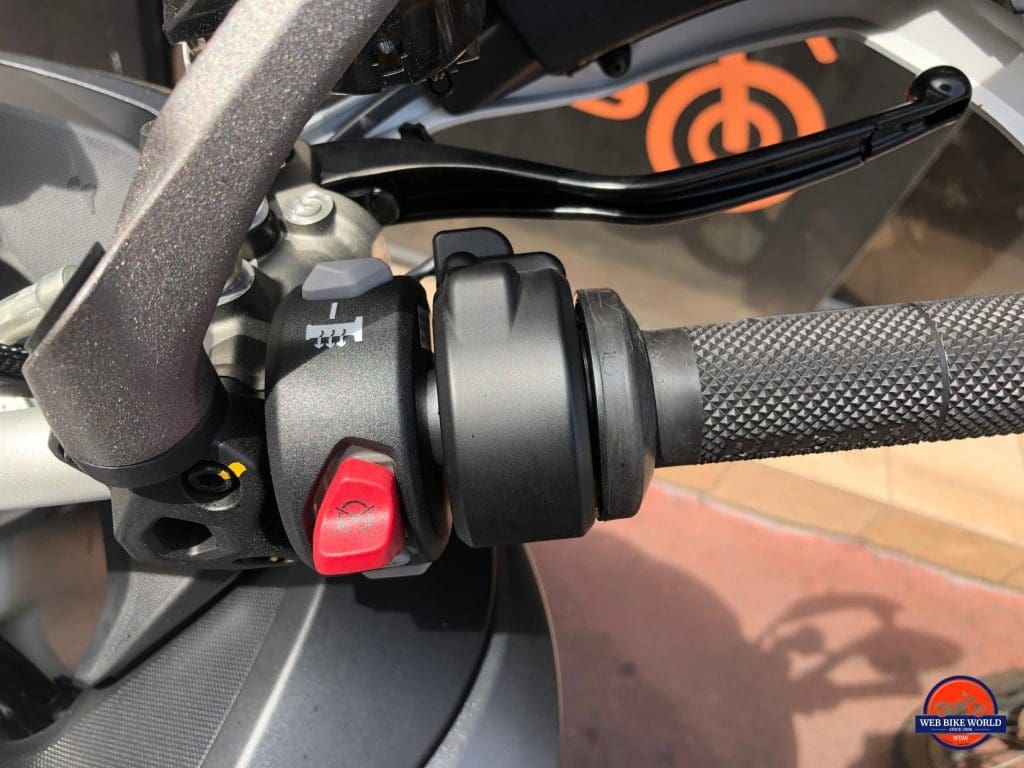 You need not bother plugging a key in the ignition with this bike because the fob sitting in your pocket is all you need to activate the display and start the engine with a push of a right handlebar button.
Seat & Riding Position Ergonomics
Seating Ergonomics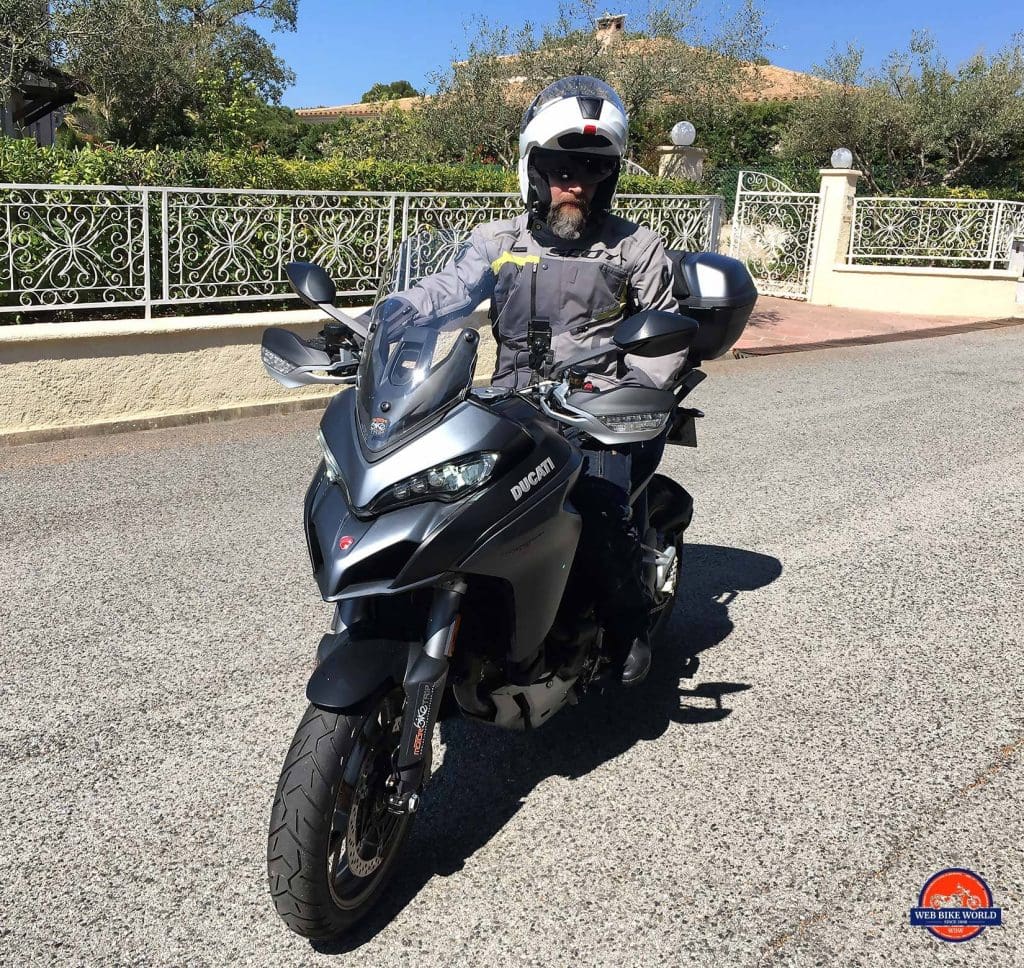 I'm shorter than average standing only 5'7" with a 28" inseam. I was surprised with how suitably designed the seating height and position was for me. I suppose my build must be close to those of the Italian designers of this bike, eh?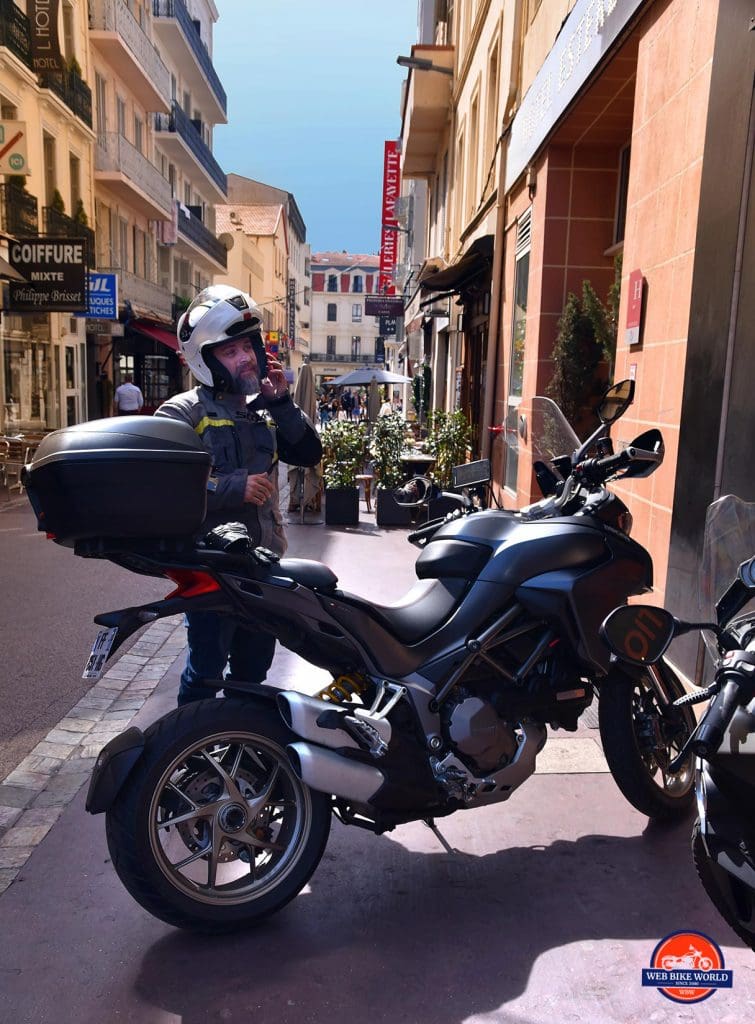 I logged a total of 730 km or 453 miles on this 1260 S with zero discomforts. The bike almost felt custom fitted to me with the adjustable height seat set on the lower 32" position. If you're taller it can be raised a full inch to help you out.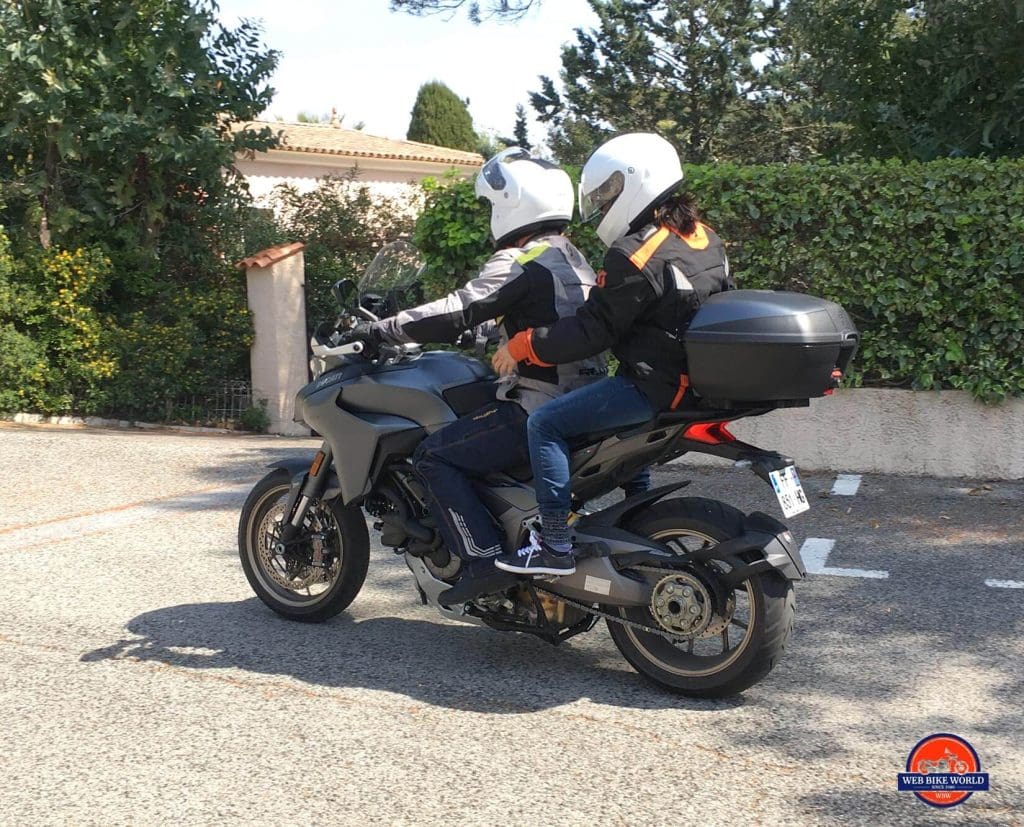 I felt like the bars were spaced right and the footpegs as well to leave me in a semi leaned forward riding position somewhere between sport and standard.
Compared to my former ride (a 2014 KTM 1190 Adventure S) this Duc felt lighter than its 518 lbs wet weight would suggest, probably because my feet could touch down more solidly. The 1190 weighed about the same but often threatened to fall over on me because of its taller seat and higher center of gravity. This Duc felt much more compact and manageable.
I found myself at one point having to push it backward over 60 feet while seated on it and was awed by how easy it was done. I accidentally rode into the wrong lane on the A8 toll road and couldn't proceed because I didn't have a passcard for the reader to scan. I'm sure onlookers thought it was pretty funny watching me "duck-walk" the bike out of there.
That Knob Though…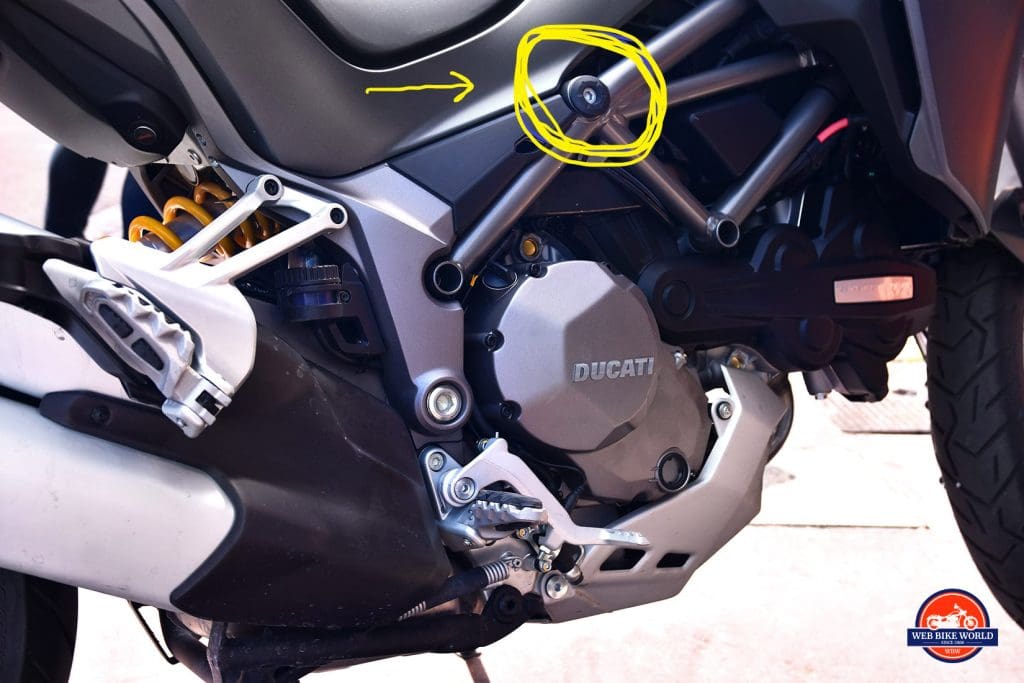 There's a protruding fastener with a rubber shoulder on it in the trellis frame I had some words with. It's circled in yellow in the photo above. It occasionally grabbed a hold of the fold in my pant leg caused by my bent knee when I went to dismount from the bike. I adjusted to avoiding it fairly quickly to avoid getting snagged solidly enough to take a tumble off the footpegs.
The Seats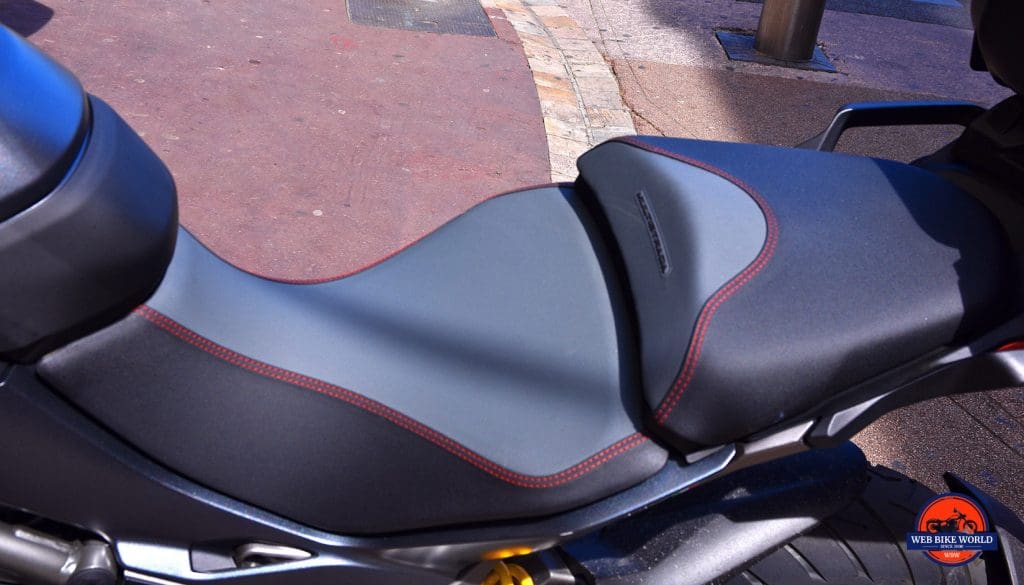 This seat is covered in a grippy, textured yet slightly rubbery feeling leather with handsome red stitching in the seams. It's surprisingly comfortable even after hours of riding for driver and passenger especially when combined with the factory Ducati tour pack which has a backrest pad for the passenger on it.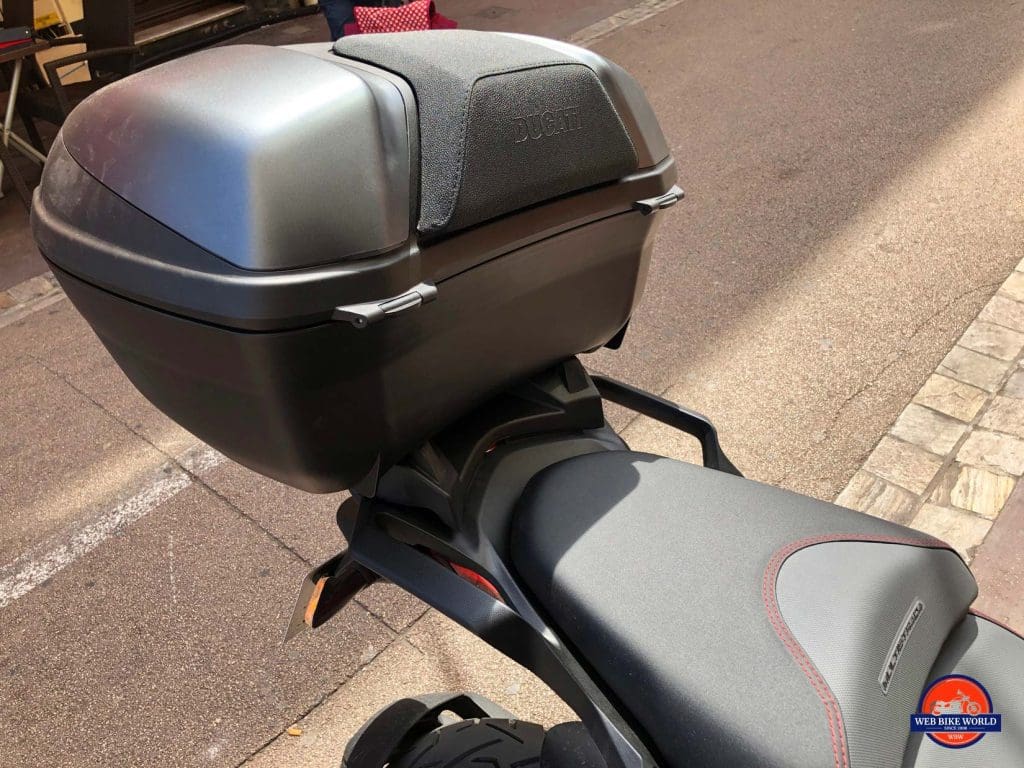 My wife and a friend of mine each logged over 180 miles back there and only had good things to say.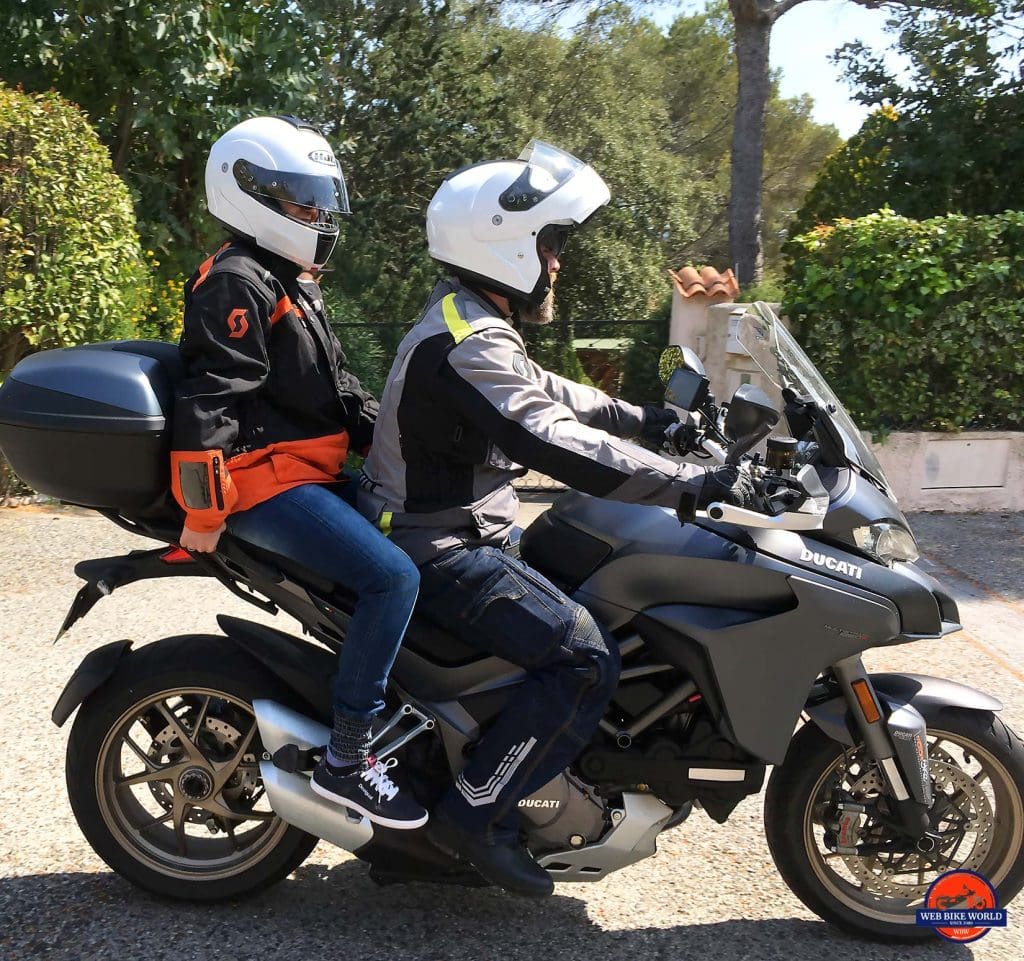 The seat doesn't absorb water or pucker weirdly after being used for prolonged periods and resists scuffing/scraping damage from when short riders catch their boots on it when climbing on and off.
Very well done, Ducati! You've done something KTM has never been able to do in building a comfortable stock seat on an adventure bike!
Luggage
Speaking of the optional Ducati factory passenger backrest/tour pack, it's excellent!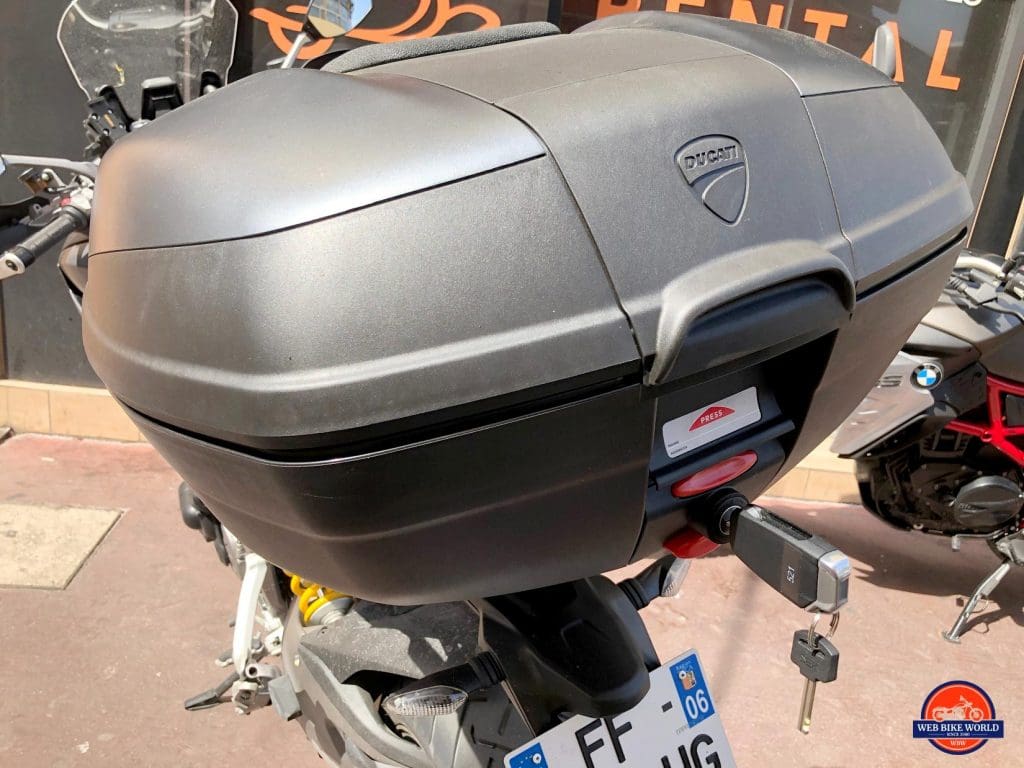 The bike I test rode didn't feel top heavy even with the pack filled with heavy items and swallowed gear beautifully. It can hold two full face helmets with room to spare for gloves, locking devices, insurance paperwork… you get the idea.
Tons of room and it locks very securely using the keyfob key that pops out like a switchblade knife when you push a release button on it. You really can't screw it up easily and leave it unlatched because the key won't release until it is properly closed up.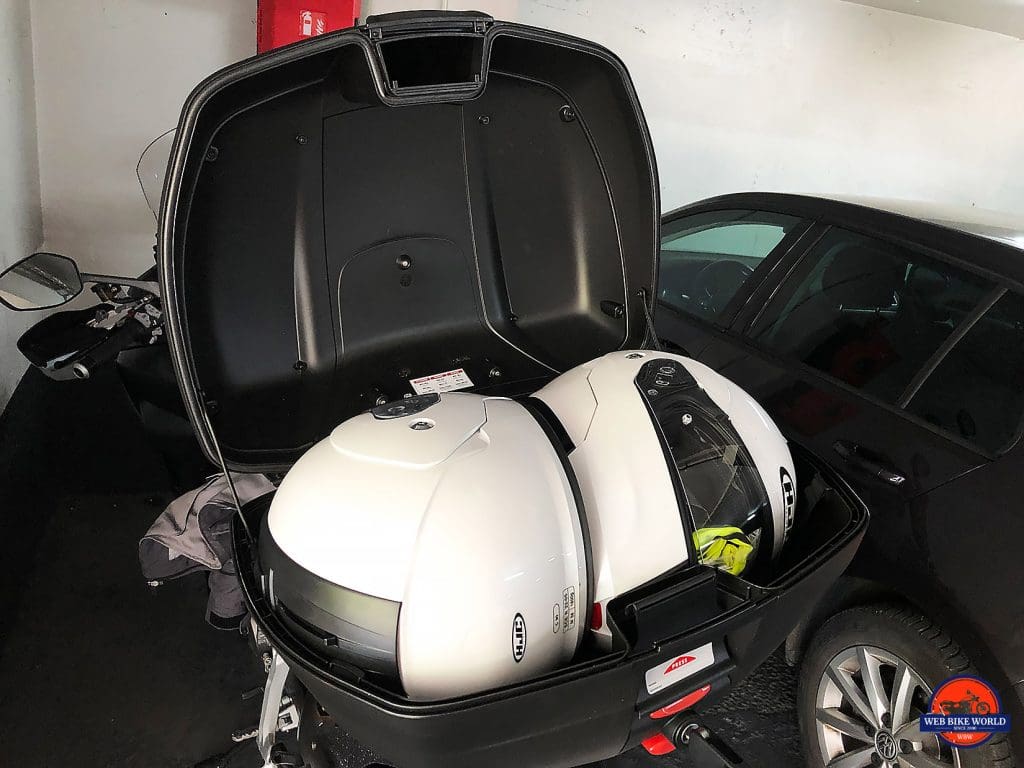 I hesitate to call it "idiot proof" because I've met too many superhuman idiots in my day… but it's close.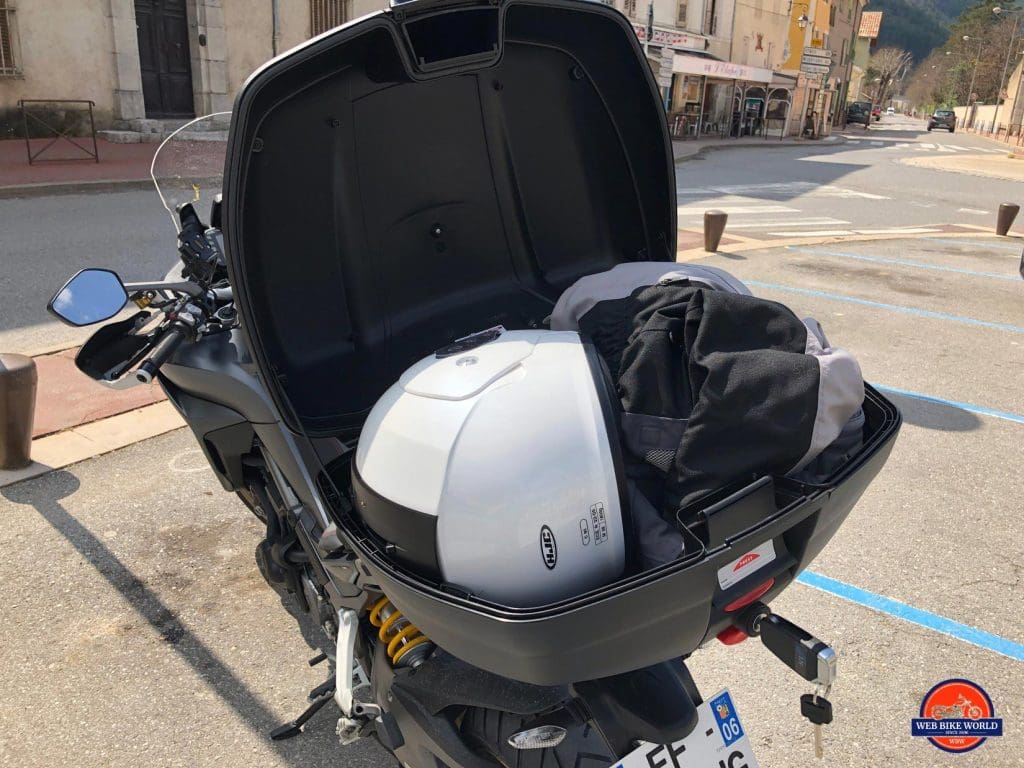 Out On/Off The Road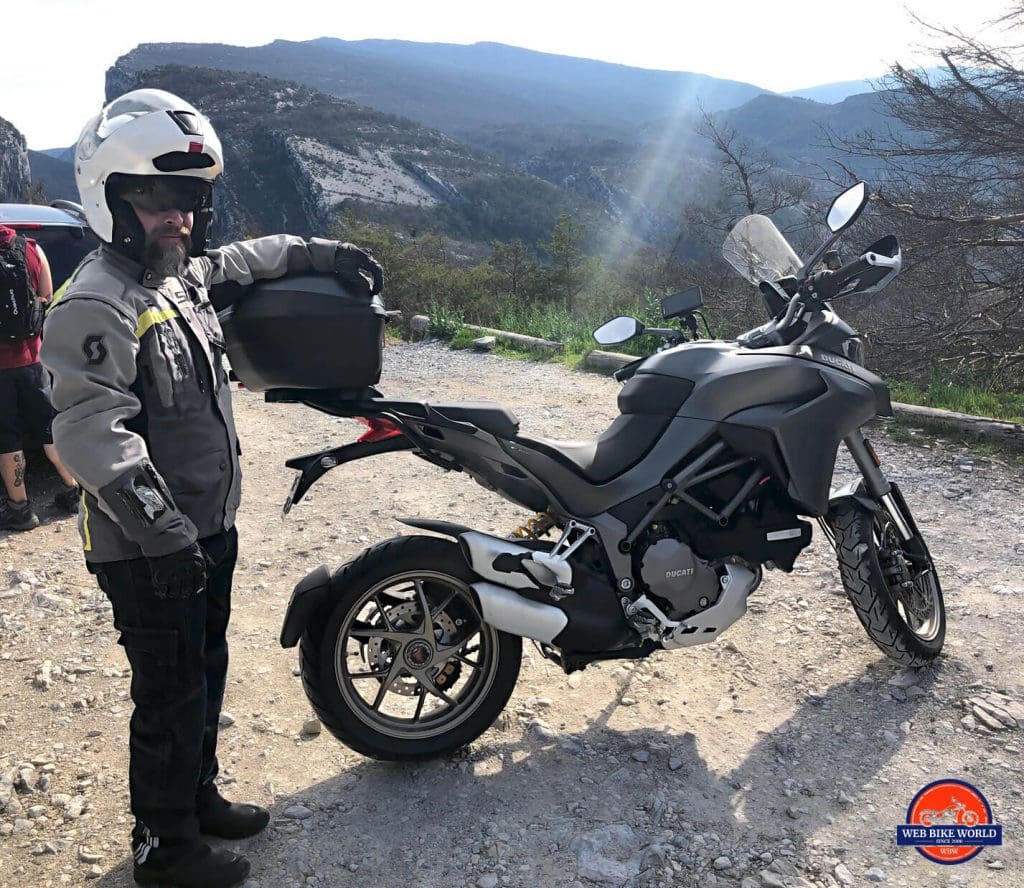 The Testastretta Engine
The ride is just so right on this bike it makes you forget about any small irritations.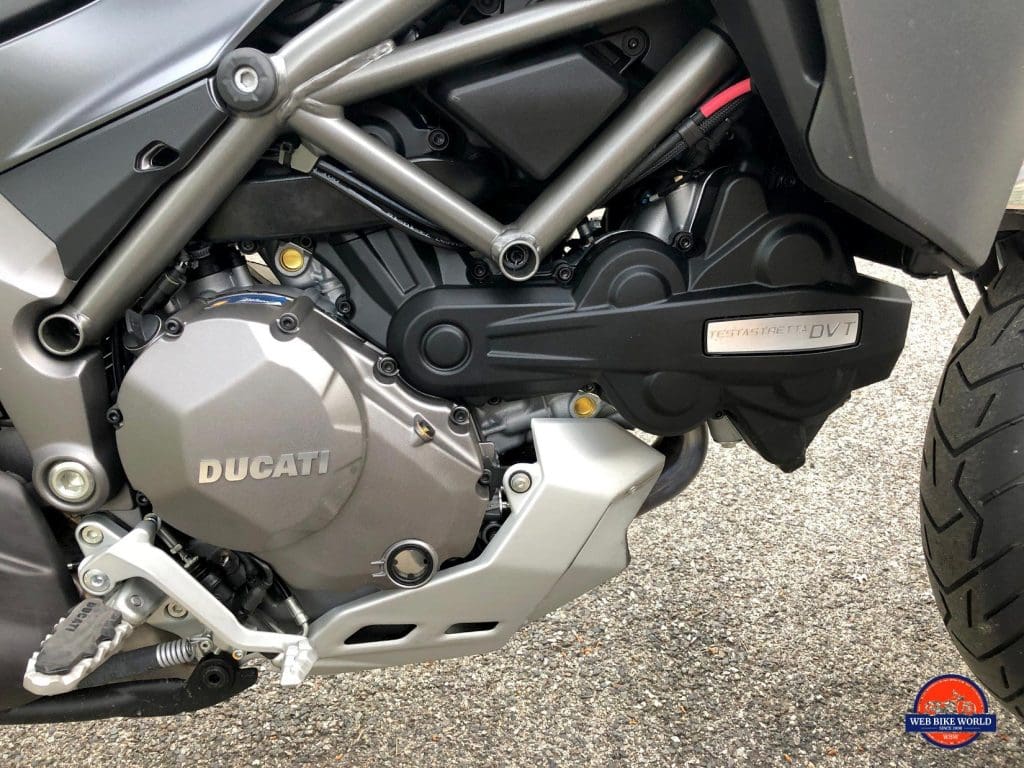 Gobs of power are available at just about any rpm thanks to the Testastretta Engine's Desmodromic Variable Valve Timing and 90 degree V twin technology. Wow does it ever pull, especially in Sport mode.
I scared the wits out of my wife on one very aggressive launch coming out of a sharp turn onto a long straightaway! It's fortunate to have the DWC (Ducati Wheelie Control) on this bike otherwise I doubt the front tire would ever wear out on it.
That Sound!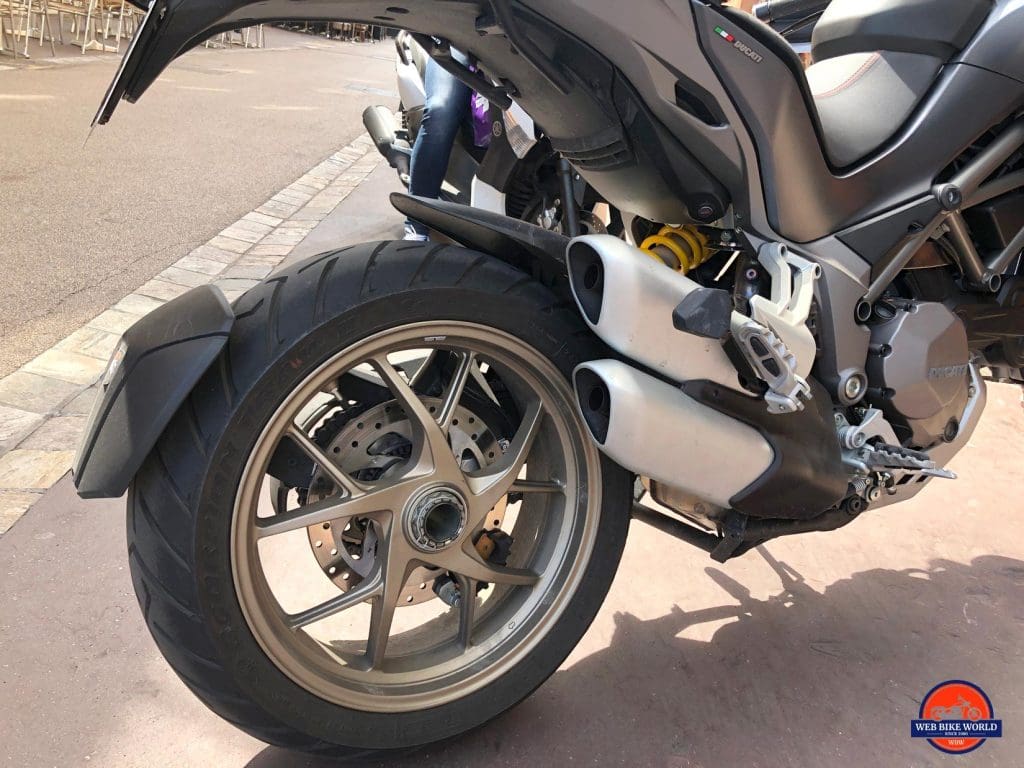 This engine likes to rev high and sounds so good when it is approaching 8000 RPM. The stock exhaust was very pleasant to my ear and bellowed a growly snarl to get everyone's attention. I was surprised to hear backfiring pops from it when I rolled off the throttle suddenly. No, surprised isn't the right word… amused is more succinct. I would giggle every time it did it.
Quick Shifting Trans
I'm a huge fan of the quick shift on this bike. It's a very positive shifting system that leaves no doubt about whether it just made a ratio change. At times a bit abrupt, but I'll take that over a vague one that won't engage if you're a bit light on the foot tap. If you prefer using the clutch not to worry because this one has a good feel, a light pull and the right amount of free play to go with it.
Wind Protection
The windshield is manually adjustable over about a 4-inch range and can be done with one hand. I found the fairing alone provided just about all I needed to keep an acceptable amount of wind in my face without causing a bunch of buffeting to beat me up. They did a great job on this.
Fuel Economy
According to the display the Ducati was consistently using 5.6 L per 100 km or a respectable 42 mpg despite the fact I was mainly riding on tight, twisty roads in 4th or 5th gear instead of 6th to avoid lugging the engine.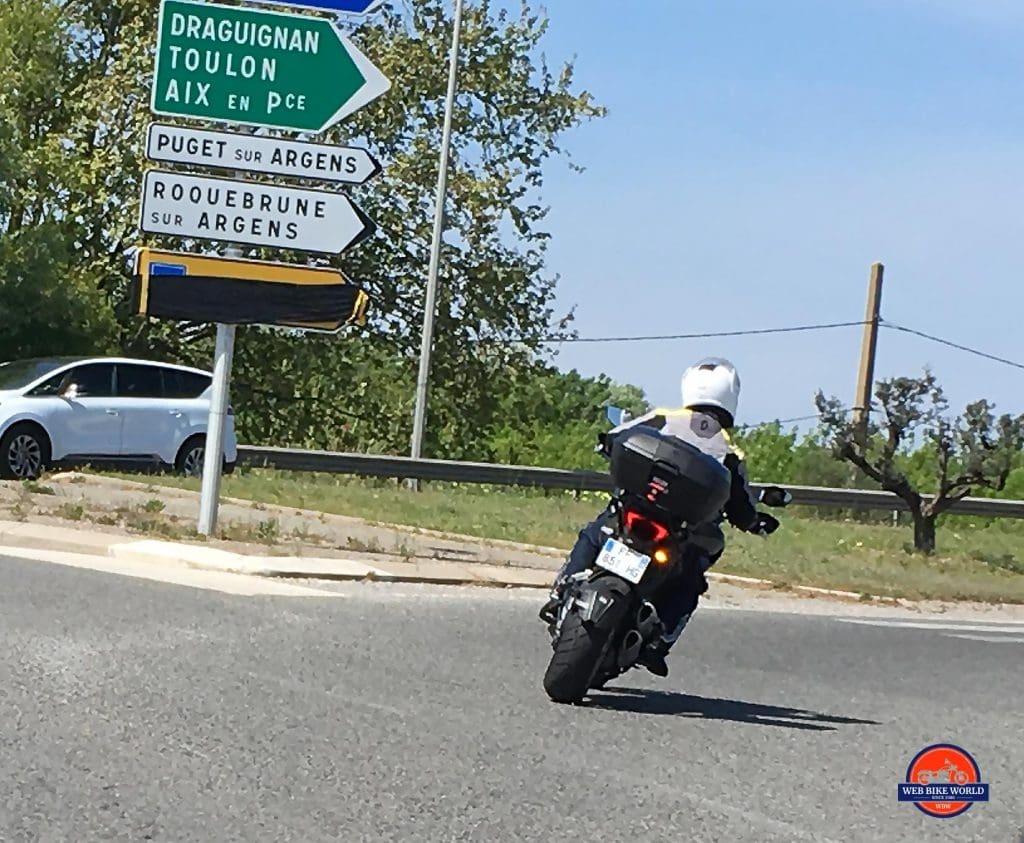 I'm reasonably sure this bike is capable of getting over 400 km per tank of fuel (250 miles) if ridden in top gear for an extended time. It holds 20L of gas (5.3 gallons) which is more than enough to tour properly.
LED Lighting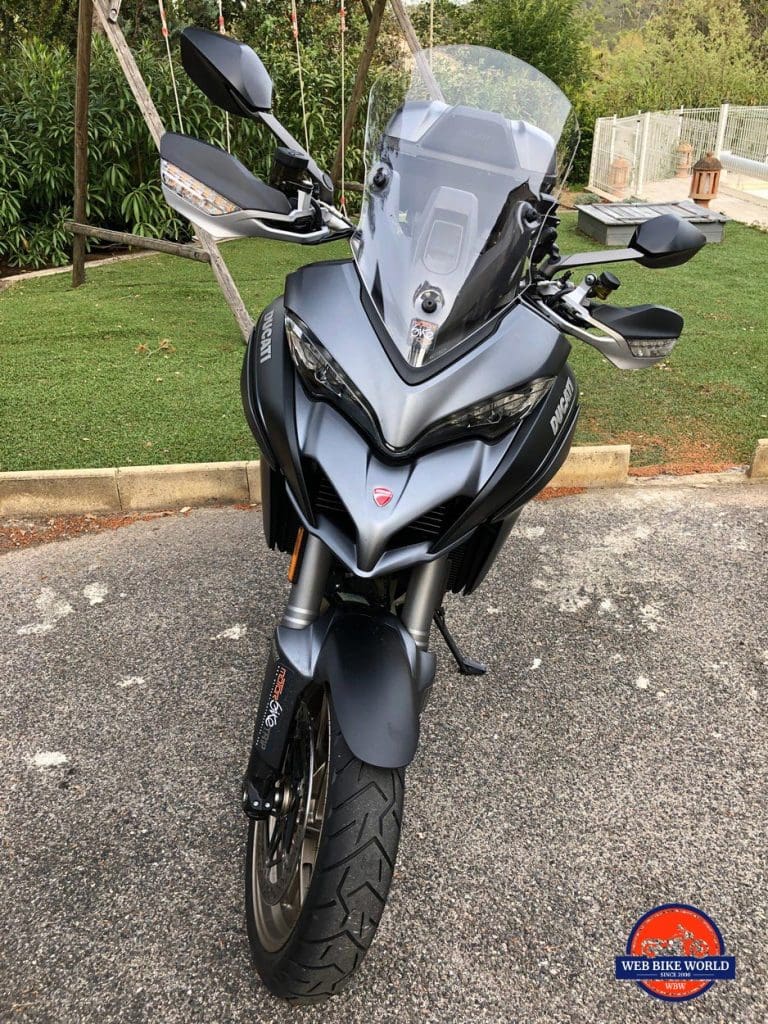 Many motorcycle LED headlights abruptly stop too low on the horizon for my liking and the one on this Ducati are guilty of that same crime.
Having said that once you flip on the high beams you'd swear it was high noon again with the number of lumens projected outwards.
Even more pleasing are the cornering lights on it. I rode in the dark for 3 hours one evening on a narrow, winding road complete with deer and other critters constantly threatening to cross in front of me.
The instant I leaned the bike more than what I'd call 10 degrees the area ahead of me in the turn was perfectly illuminated instantly. Bless all those responsible at Ducati for this feature.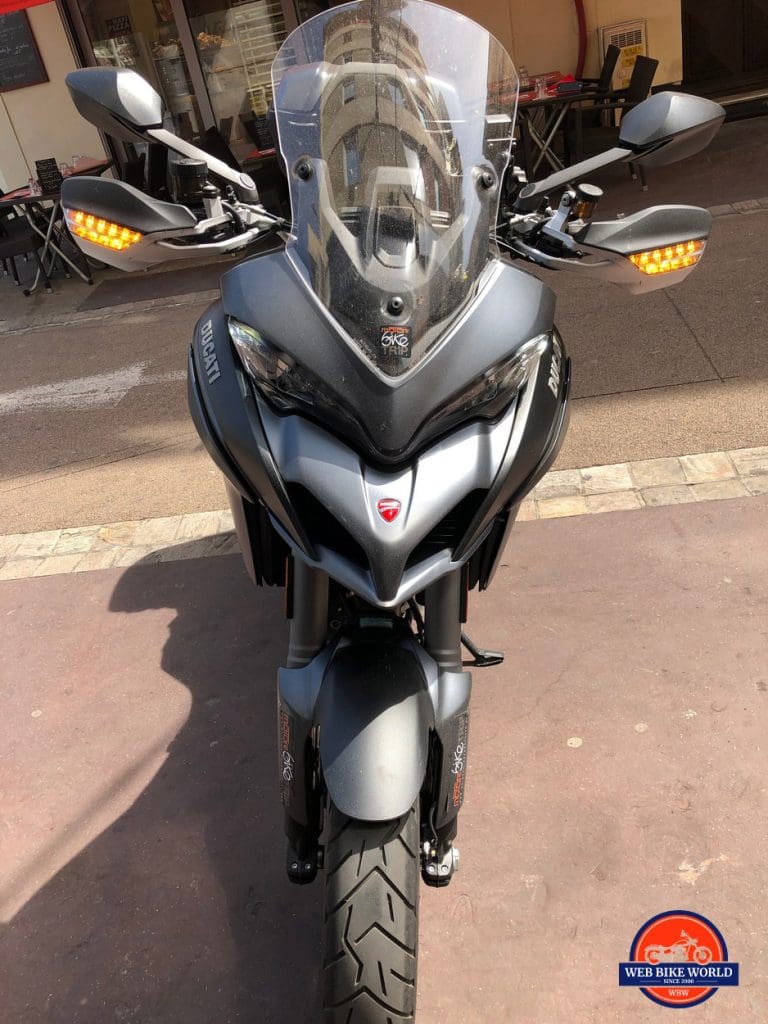 The integrated turn signals in the mirrors help keep the bike looking neat and are eye-catching along with the boomerang-shaped tail lights.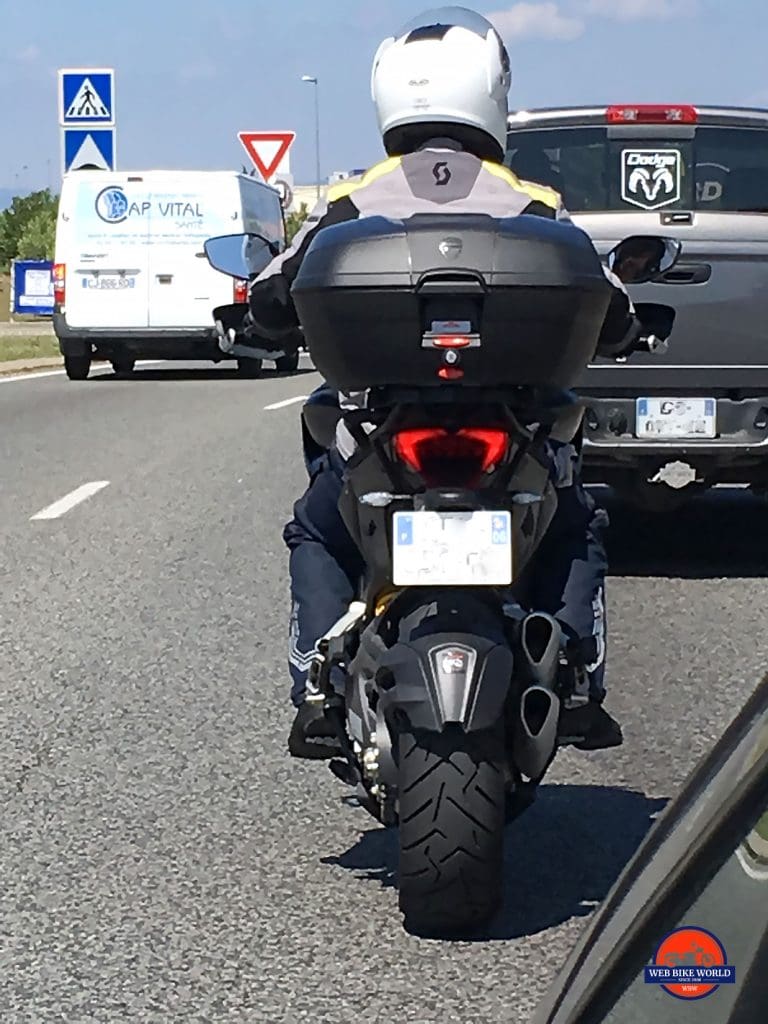 Bravo Ducati, you almost nailed lighting perfectly.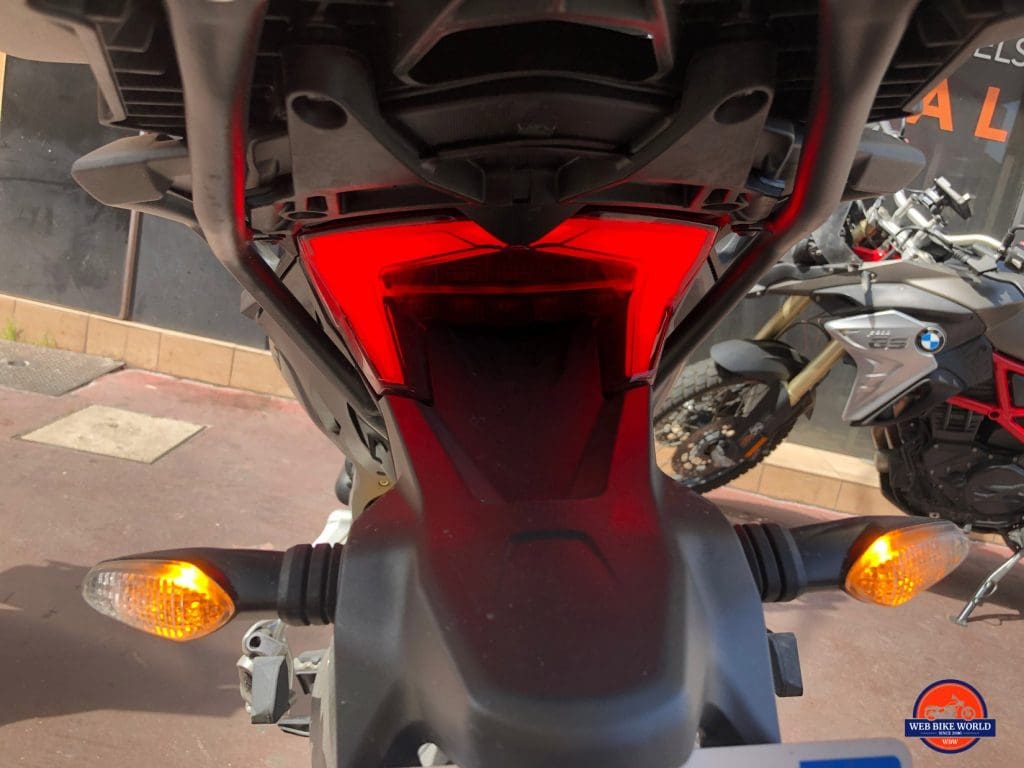 Tires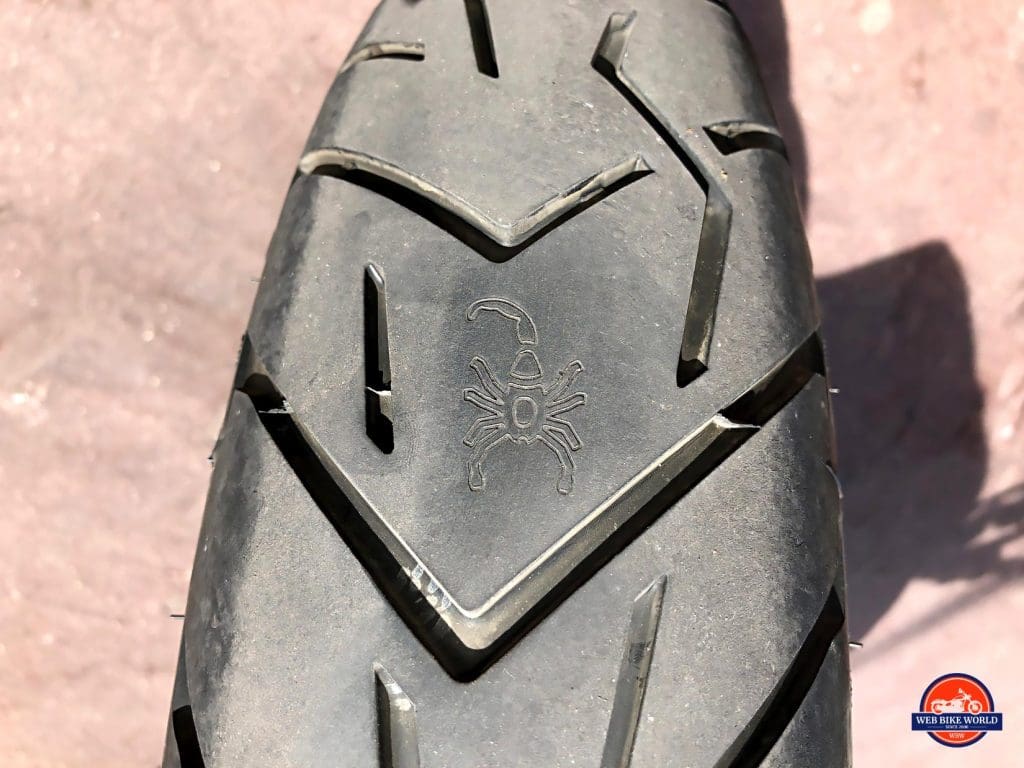 The Scorpion Trail II tires were easy to like on asphalt and on the gravel I briefly rode on. I didn't really go off-road with it other than on some hard packed dirt where they were good too. The scorpion drawing on them is a nice touch.
I've read other reviews where they took the previous 1200 Multistrada off road to compete with the BMW, Honda, KTM, etc and recall how surprised the testers were with this bike's ability despite its small wheels. I still wouldn't chance it too much for fear of damaging these cast rims. If I wanted to get more serious, I would opt for the Multistrada Enduro in lieu of this S model.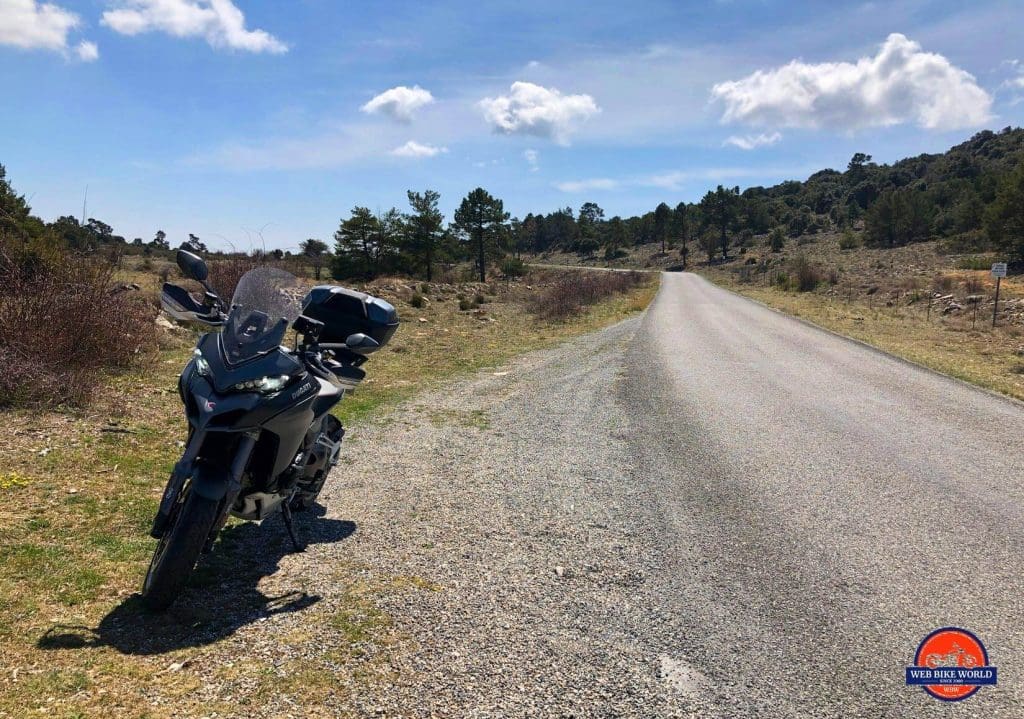 The real draw here are the rims which visually pop, especially so with the single-sided rear swingarm which allows everyone to better admire those Y shaped spokes.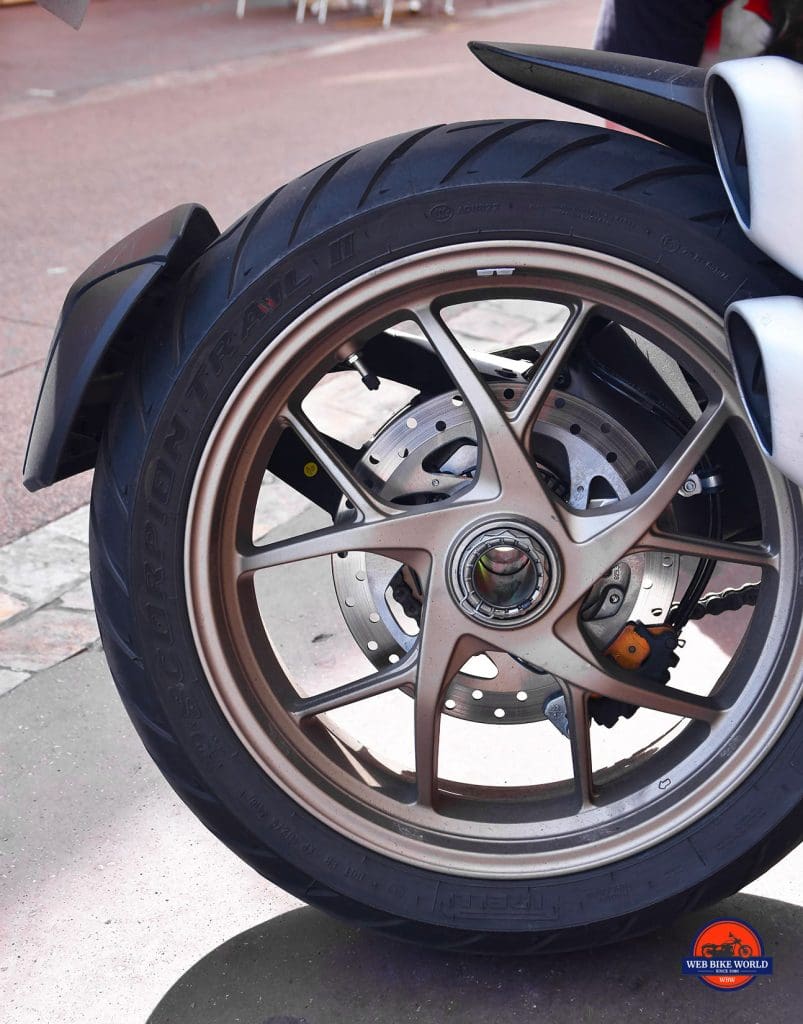 Brakes & Suspension
Too Soft
After riding only 50 miles in the middle setting of the Skyhook electronic suspension I was ready to make some changes.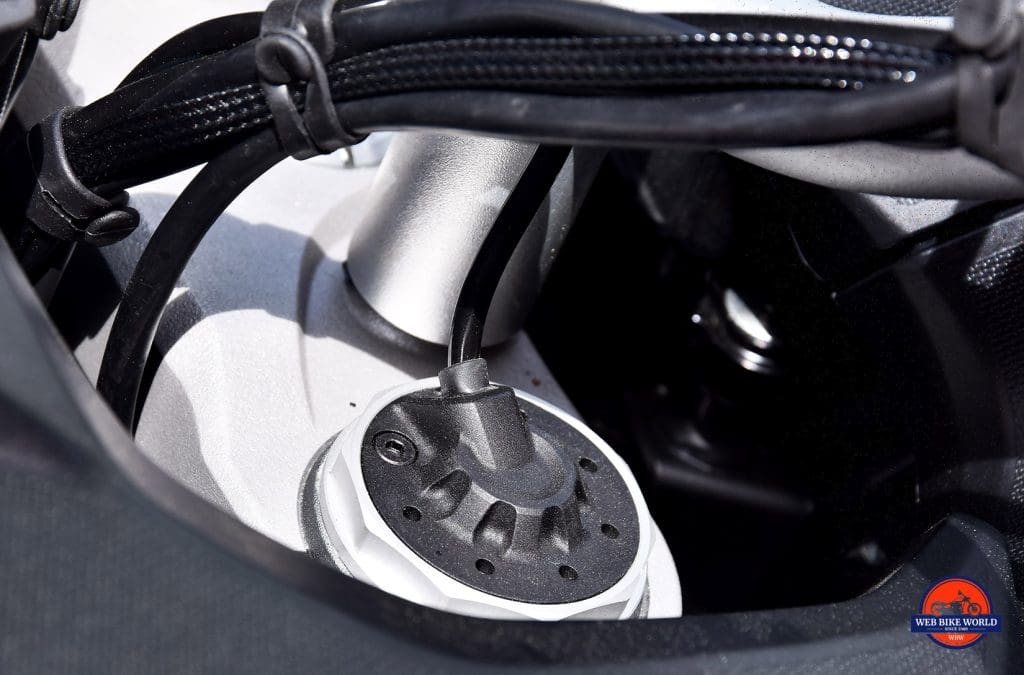 I found the front way too soft for my liking, especially when I would ride over a bump in the road in a corner. I found the softness caused the front wheel to wiggle around in an uncomfortable way. It was easy to navigate through the menu and find the adjustment bar for the suspension and I moved the slider halfway between middle and full on the front and rear.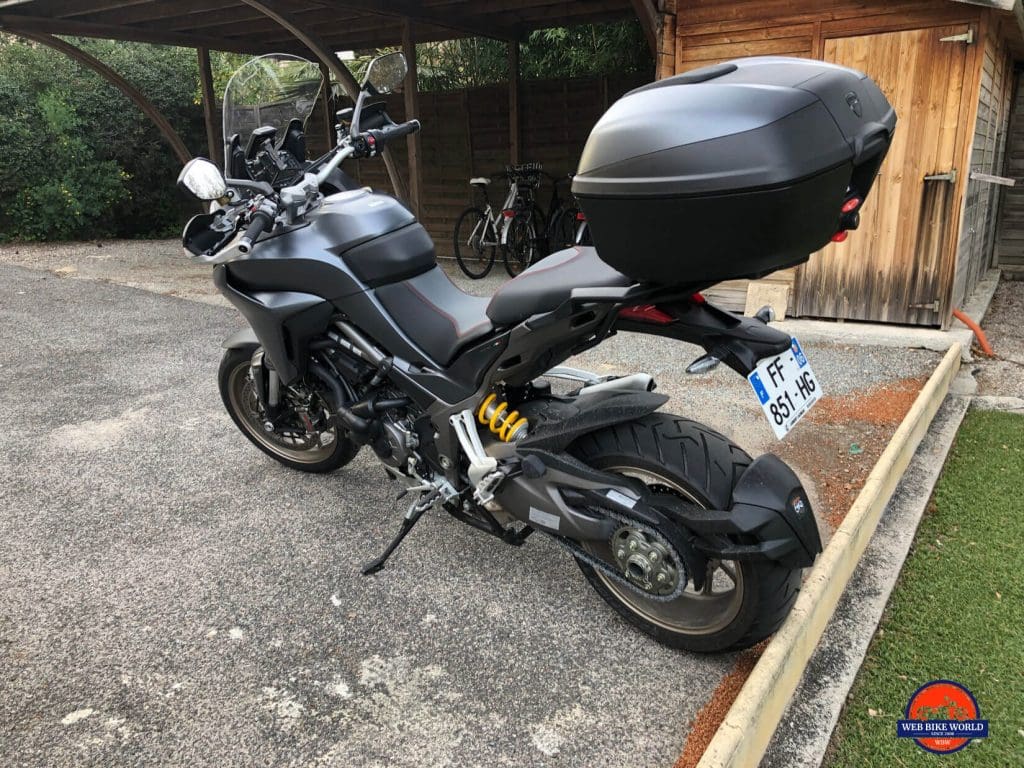 That made the bike feel perfect alone or when I had a passenger on it.
I also enjoy the way they mounted the rear shock offset from center on the bike as if to say "we reject conventionality and insert our own style." In reality, it has more to do with lining up with the single-sided swingarm used, but it also just plain looks badass.
Brembo Brakes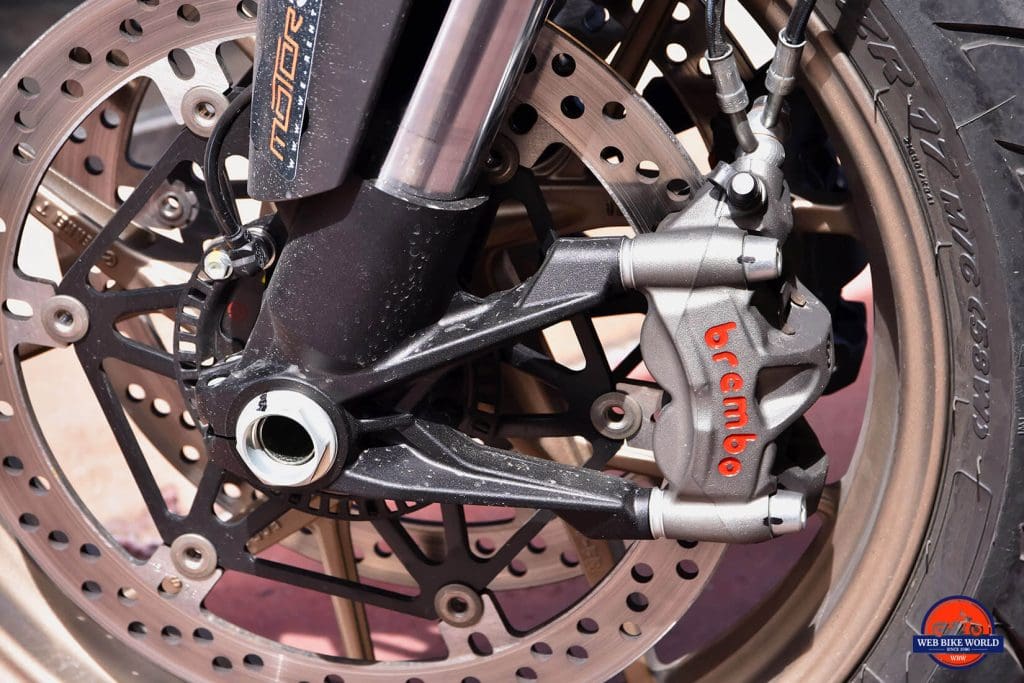 Ducati put Brembo brakes on the 1260S and they are overall quite pleasant. Good whether you use a light or heavy pull when coupled with this machine's Bosch controlled cornering ABS. I never wanted to change anything about the braking other than the irritating squeaking noises that came from the front rotors.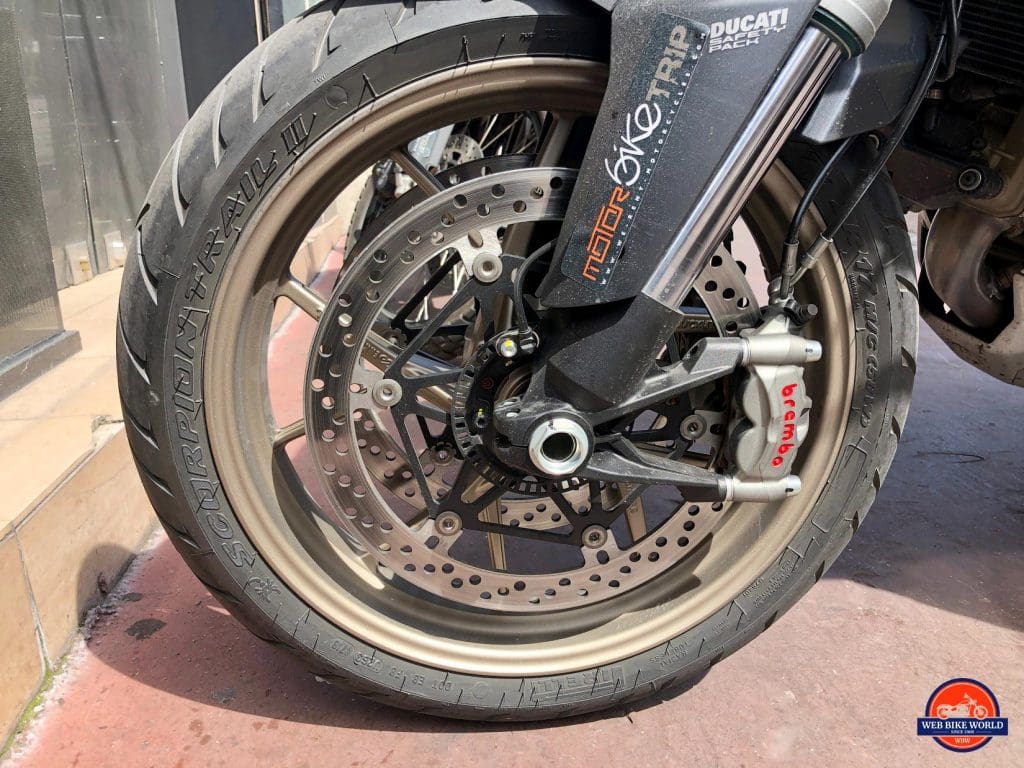 Warped Already?
This bike came to me with only 100 km on it (60 miles) and yet I think one or both of the front rotors was already warped. I found that when the bike sat and cooled off for more than a couple of hours that an irritating screeching noise would be produced each time I pulled in lightly or heavily on the front lever.
Once I made a few heavier applications it would go away, luckily, but I can't help wonder how this would be acceptable on a premium motorcycle equipped with premium brakes?
In chatting with previous generations of Multistrada owners I heard many of them had encountered this and more serious rear brake master cylinder failures. Something to keep in mind if you buy one of these beauties.
Final Verdict?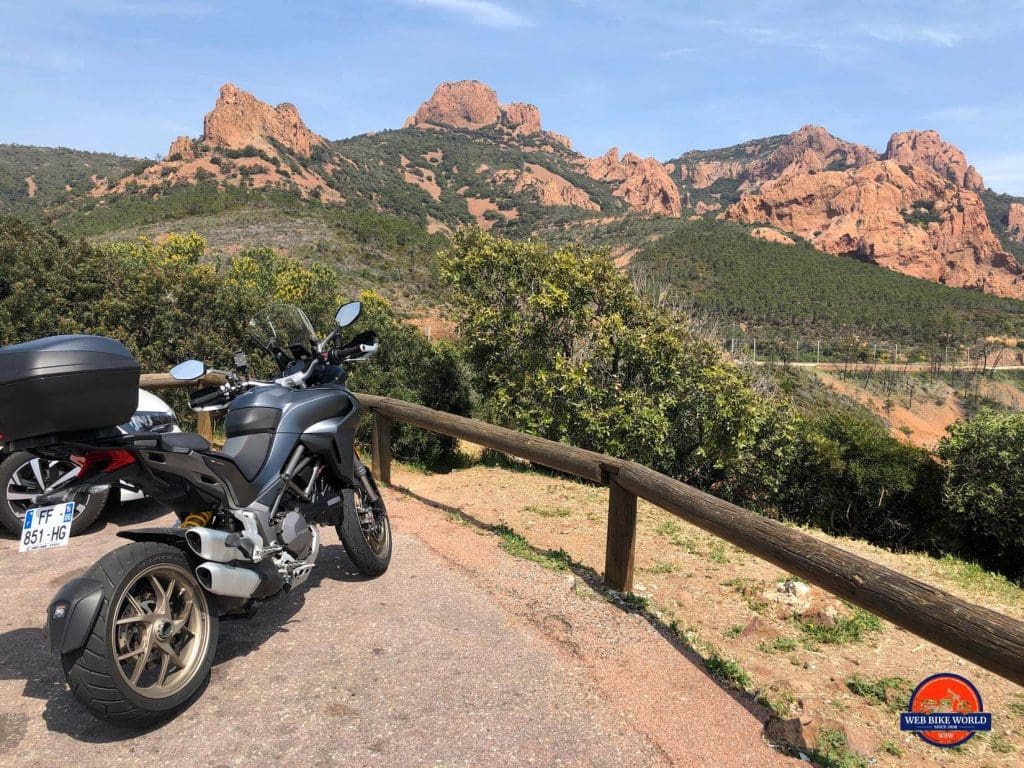 I'm enchanted with Southern France and the Multistrada. The opportunity to test drive a European bike for five days in Europe was a dream come true.
I had some questions answered about Ducati reliability on this trip that was lurking in the back of my mind. More than a few negative stories about high-priced, spirited, high maintenance motorcycles had come my way from owners before now. The common thread with all those owners was that while they hated the problems, they still unabashedly loved their motorcycles all the same.
This new 1260S seems just as good to me as any Japanese bike I've ever ridden from a reliability perspective and it has a distinct personality and look. Ducati has also managed to do away with the short intervals between oil changes and valve clearance adjustments. It's on par or better than most of the competition's bikes, in fact.
The handling and performance of it reminded me of many miles spent on my KTM 1190 Adventure only much more comfortable. Lovely torque and horsepower in a stiff chassis that loves to go fast. Having said that this Italian bike appeals to me way more than that Austrian one, which is a huge surprise! I really liked my 1190.
I love the technology on this Duc, it's top notch and easy to use. I tried out the Vehicle Hold Control feature just to see how it worked starting out stopped on an incline. It's not something I would normally use, to be honest.
The other features like quick shift, wheelie control, cornering ABS, and semi-active electronic suspension are welcomed to me. It's only going to get more complex next year as adaptive cruise control and collision avoidance tech will make its motorcycle debut in Multistradas like this one. Exciting times!
That exhaust note will forever live in my mind. I could listen to it all day.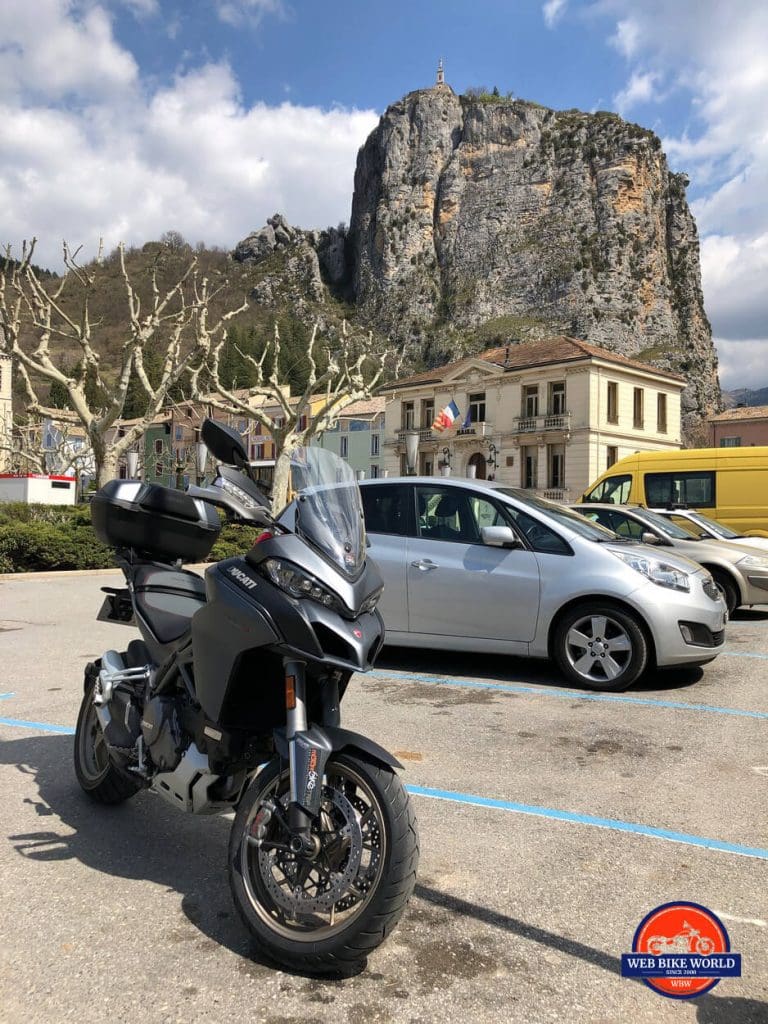 These Ducatis are like art you can ride around on or just stare at appreciatively when they're parked while enjoying gelato on a patio in the sunshine.
Little touches like the small Italian flags scattered around the bike or the Ducati brand name carved into the grips illustrate the love put into the design. Ducati designers REALLY love motorcycles, that's clear to me now!
It's a winner in my mind! Ducati fans I now understand what you've been crowing about.
Ciao!
Pros
Sportbike power and handling
Low seat height
Comfortable
Top shelf technology package
Full factory touring luggage option
Excellent LED lights all around
Electronically adjustable suspension
Longer service intervals 19000 miles (30,000 km) between valve adjustments
Cons
Expensive
17" front wheel off-road
Handlebar button labels unreadable at night
Mirror vibration at high speed
Squeaky rotors?
Specs
Manufacturer: Ducati Motor Holdings
Price (When Tested): $21,195 USD
Made In: Bologna, Italy
Alternative models 4 models: Multistrada 1260, Multistrada 1260 S, Multistrada 1260 S D|Air, Multistrada 1260 Pikes Peak
Sizes: 950cc engine and 1260
Review Date: May 17, 2019