The eight annual running of the successful The Distinguished Gentleman's Ride may be a little different with some rides announcing starting venues only 48 hours before the event to concentrate on fundraising efforts.
Some rides will also stipulate a minimum amount from each rider, varying from about $20-$50, as either a donation or funds raised.
The two voluntary moves were trialled in a few cities last year and will be added to more rides this year to ensure more fundraisers are involved and fewer ride-alongs.
More than 125,000 classic and vintage styled motorcyclists in more than 700 cities across 110 countries are expected to suit-up in their smartest attire for the ride on Sunday 29 September 2019.
DGR founder Mark Hawwa says he hopes to raise $US7 million for prostate cancer research and men's mental health initiatives on behalf of official charity partner, the Movember Foundation.
That would be a substantial increase in fundraising on last tear's total of $6.4 million.
Brisbane ride
One of the cities that continually "boxes above its weight" is Brisbane which was third highest global fundraiser in 2017 with a total of more than $150,000.
Jeff Gough who has been organising the Brisbane ride since the DGR started in 2012 says they are focussing more on fundraising this year.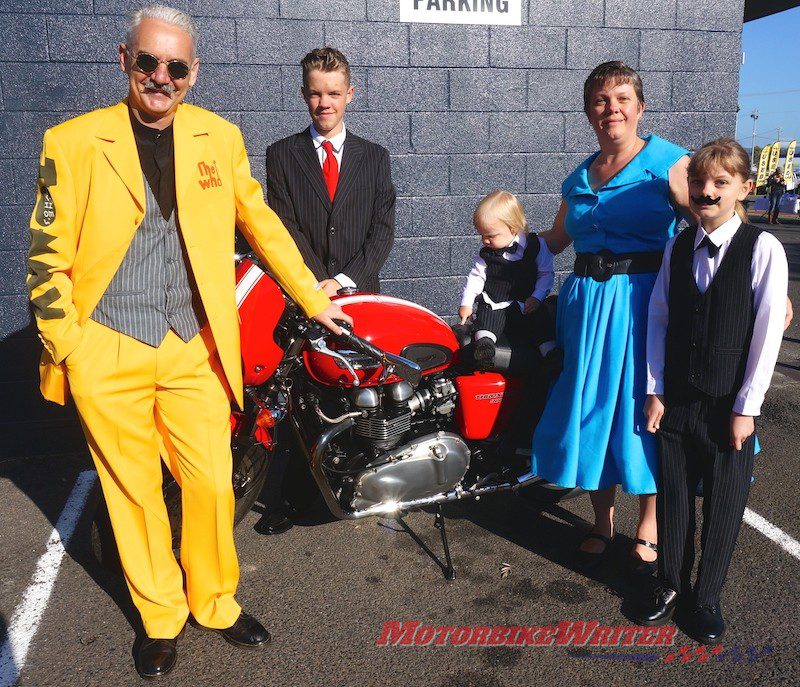 They will have a $20 minimum donation and secret starting venue revealed by email to registered riders 48 hours before the ride.
"More riders does not mean more funds raised for prostate cancer," the Triumph Thruxton rider says.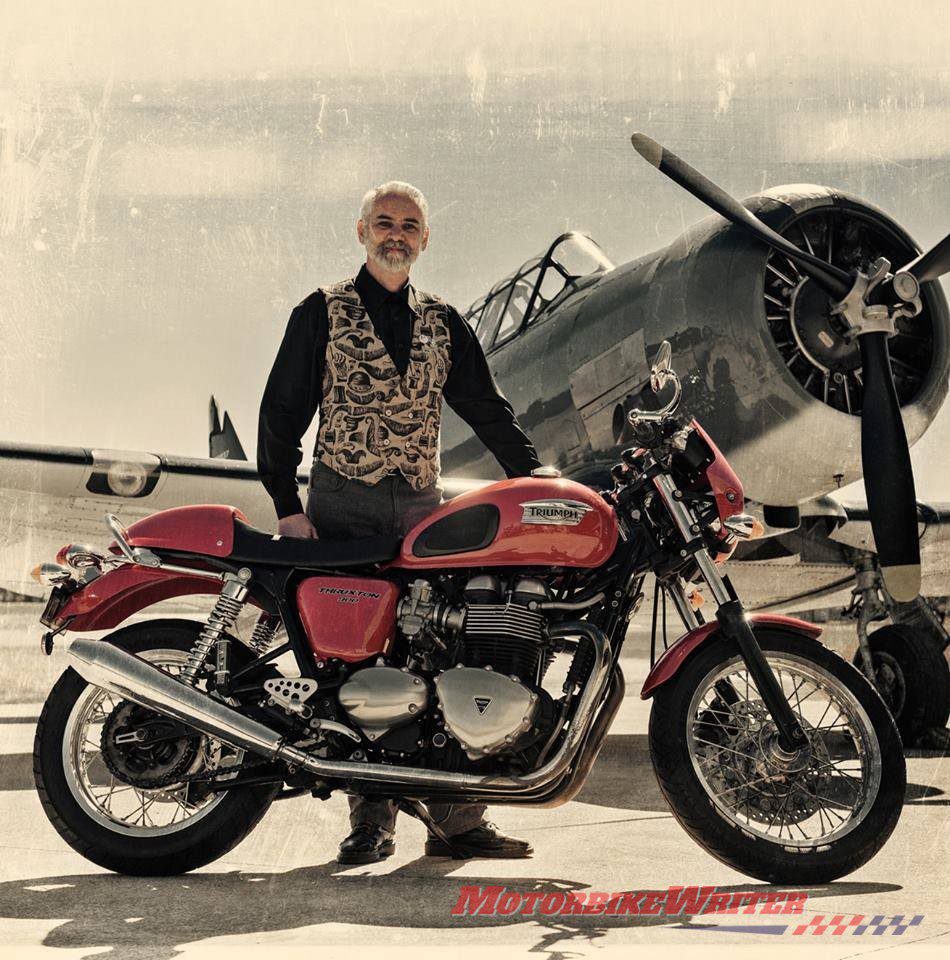 "We could have a lot more riders, but we cap it at 500 for insurance reasons.
"All the same, only 50% were fundraisers last year."
The Brisbane ride will not start at Oliver's Motorcycles this year, but Jeff says the dealership is still firmly behind the ride.
"Whoever turns up is welcome to take part," he says.
"I haven't got time to check, but I'd push for riders to follow the motorcycle style guide and stay with the distinguished theme of the event in dress."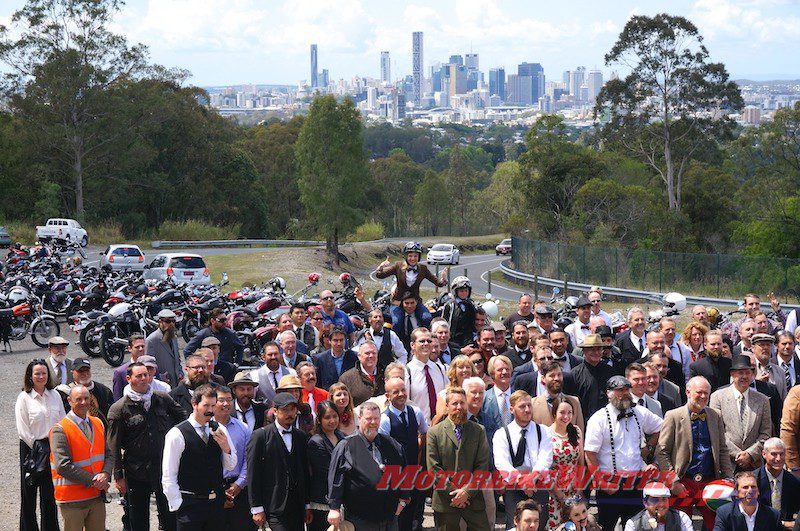 He confirms the ride will finish at Souths Rugby Union Club in Frederick St, Annerley, where everyone is invited and donations can be made to Movember Foundation.
"There will be enough room to host all bikes in the biggest rolling bike show in Brisbane," he says.
The 40km ride to the venue will be escorted by MotoMedics with a doctor and DC Motorcycle Transport breakdown van riding along. As usual, there is no police escort.
The Souths venue will also feature trade stalls, three food vans, Ballistic Beer on tap, Ungerman Brothers gourmet ice cream from the Ipswich runner–up in MasterChef and swing/jazz music by the Royal Australian Navy Band.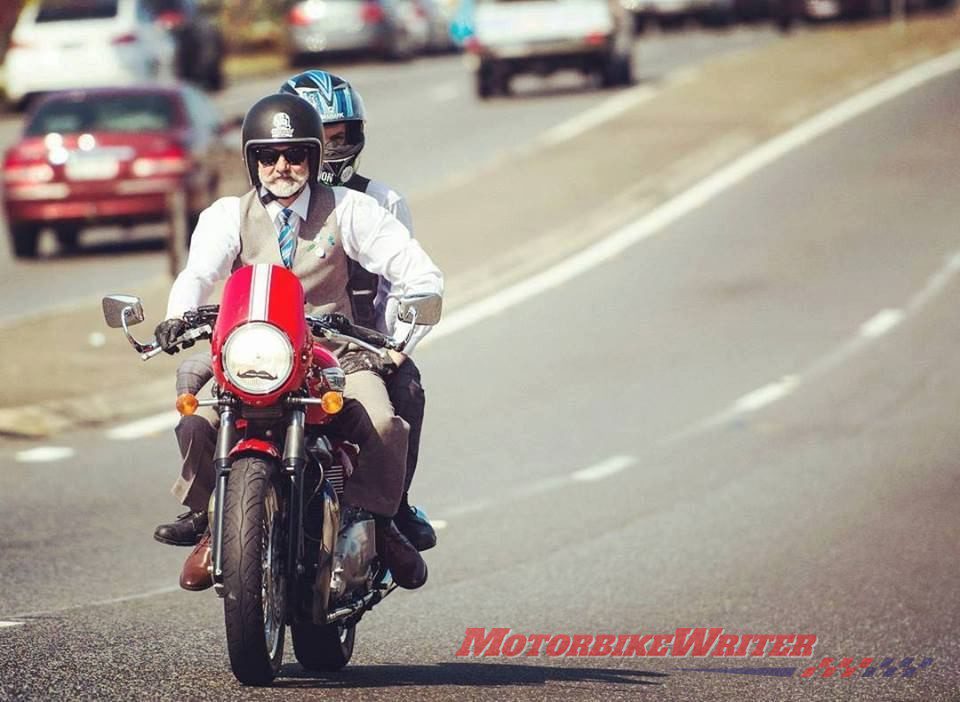 Fundraising boon
Mark says Brisbane is consistently a top fundraiser along with major cities such as London, New York and Sydney.
"The ride organisers are volunteers, they are passionate about the cause and as such dedicate their own personal time to make the events happen," he says.
"It is really on each individual and the DGR core team to motivate fundraising. Fortunately we have so many passionate people around the world and that continues to grow.
"Australians are charitable people.
"We are always willing to lend a hand when needed and help those around us."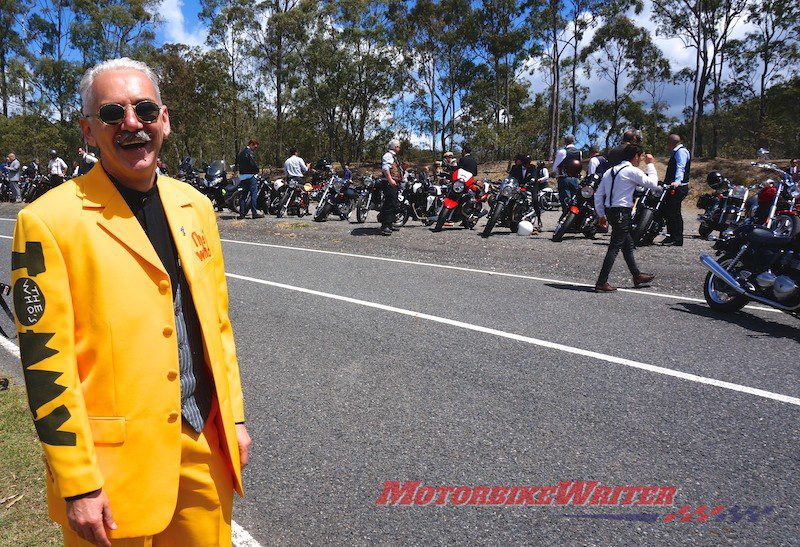 The incentive to raise the most money has been raised this year with not one, but four, Triumph motorcycles as prizes.
There will also be fundraising prizes of 100 Hedon special-edition DGR helmets, Elf Prize packs, REV'IT! Tailored Technology packs and more.
The Distinguished Gentleman's Ride website, www.gentlemansride.com, is a peer-to-peer fundraising platform allowing fundraisers to register, personalise, and share their online profiles. Riders must register on the website to take part and view their local ride details.