Pricing for the 2018 Indian Motorcycle range has been announced as parent company boss has revealed a future where customers can customise their bikes online before ordering.
Polaris CEO Scott Wine says technology will help the motorcycle industry attract new riders, including the ability for buyers to build their bikes online.
He says this would tap into the customisation and personalisation trends that are bolstering many other industries.
Scott told the American International Motorcycle Expo in Ohio that they are also considering experimenting with rentals.
He believes their three-wheeled Slingshot would integrate well into the so-called sharing economy.
Australia doesn't get the Slingshot and earlier this year Polaris axed the Victory Motorcycles brand, now relying solely on the Indian for motorcycle sales.
For 2018, Indian is adding the Scout Bobber which is arriving now in Thunder Black, Star Silver Smoke, Bronze Smoke, Indian Motorcycle Red, and Thunder Black Smoke from $18,995 ride away.
The first two shipments are already sold out.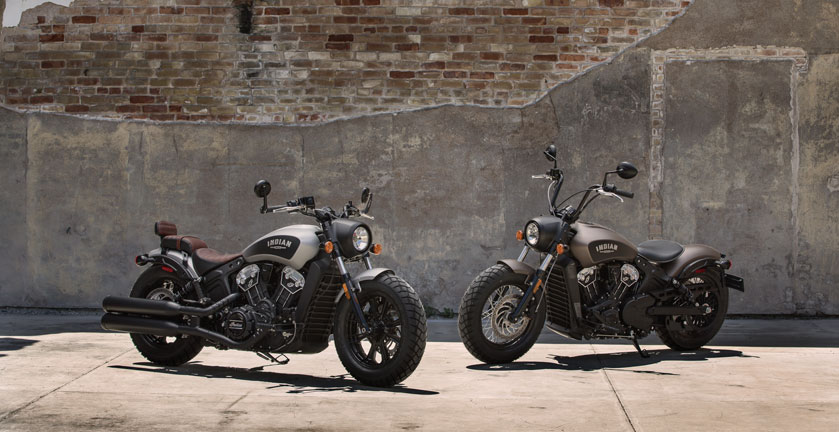 2018 Indian line-up and pricing
The rest of the 2018 Indian models will arrive in Australia in November/December with full pricing now announced.
They include the new Springfield Dark Horse (with pricing from $34,995 ride away) and Roadmaster Elite ($49,995), plus an expanded Chieftain Limited Range.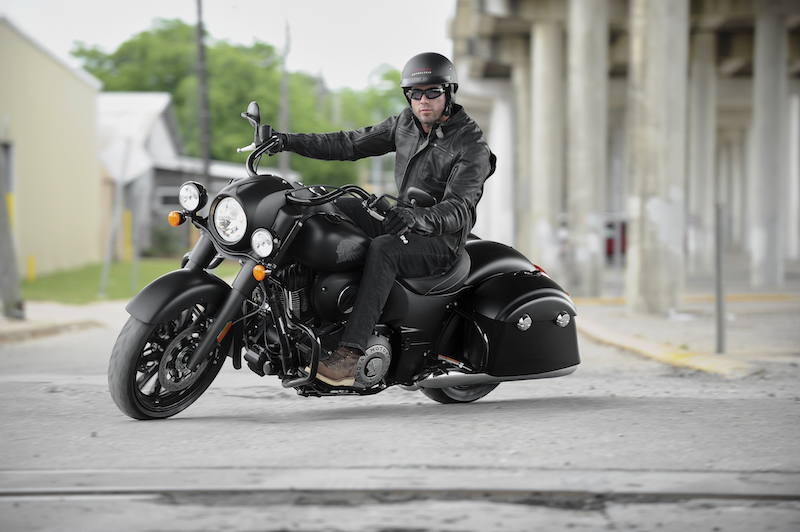 Indian Motorcycle Australia country manager Peter Harvey says that apart from the new models, Indian "have elevated each and every model – listening to our consumers to bring new features and colours they have asked for."
The Scout range (from $19,495) now comes standard with a pillion seat and rear footpegs, the telescopic front forks have been replaced with cartridge forks and it has Pirelli tyres.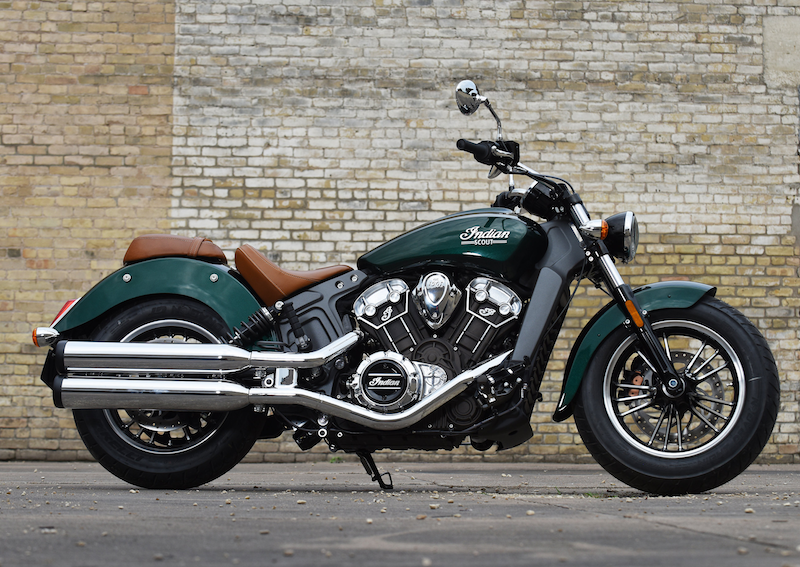 Thunder Black, Burgundy Metallic and Brilliant Blue over White continue and are joined by Metallic Jade and a Willow Green/Ivory Cream.
Pricing for the 2018 Chief range increases $1000 with the Dark Horse now $28,995 and Vintage $32,995 which now comes with a choice of black leather saddlebags and seat for the first time.
The Thunder Black and Star Silver over Thunder Black versions come with black seat and leather saddlebags. The new Sky Blue over Pearl White and the Willow Green over Ivory Cream will feature brown leather saddlebags.
Chieftain Limited (from $36,995) features their Ride Command infotainment system, open fenders rather than valanced and a 19" blacked-out wheel.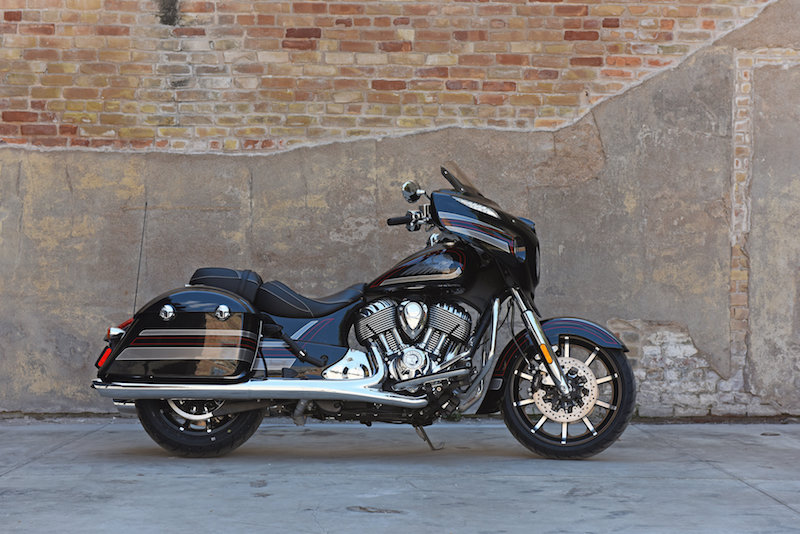 It has only been available in black, but it now comes in four extra colour schemes with two of these featuring striped graphics on the fairing and the saddlebags.
Chieftain Dark Horse (from $35,995) also comes with Ride Command, open fender and 19" ten-spoke wheel.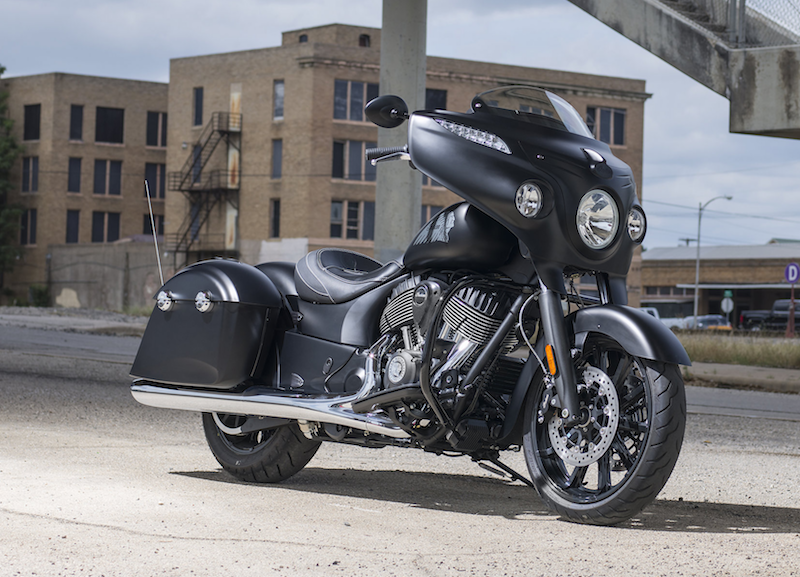 Limited numbers of Roadmaster Elite ($49,995) follow the Chieftain Elite while a premium Roadmaster Elite features a two-tone, hand-painted cobalt blue and black paintjob.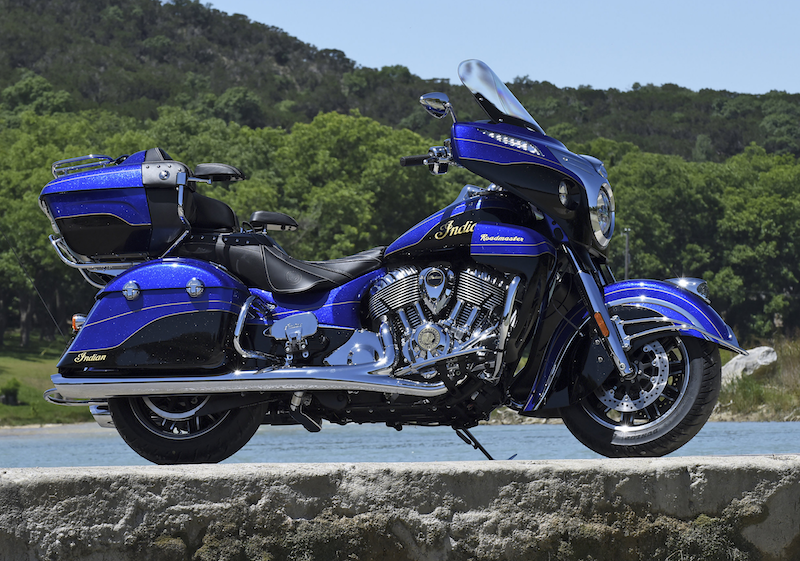 It includes real 23K gold leaf badging on the tank, a 300-watt Ride Command audio system, chrome front and rear bumpers, passenger armrests and pinnacle mirrors.
For 2018, Roadmaster pricing remains at $40,995 ride and the Burgundy Metallic version now comes with a tan coloured seat.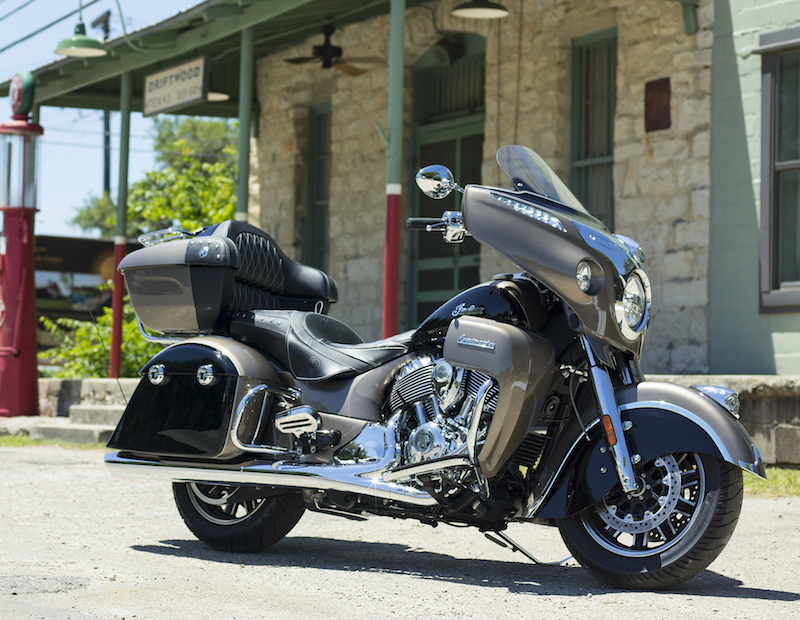 Black seats are included on the Thunder Black and the two new two-tone colour schemes: Polished Bronze/Thunder Black and Pearl White/Star Silver.