There are now nine models in the new 900cc and 1200cc water-cooled Bonneville line-up with the T100 sitting right in the middle of the price range.
Oliver's Motorcycles at Moorooka has a new demo T100 available, so they called me and asked me if I'd like a ride. My answer was obvious.
I ride a 2010 T100 and have been thinking about an upgrade for some time, but the nine-model choice makes it difficult.
Finances first
The old T100 sold for $14,250 and the new one is $15,300 ($200 more for the Black model), which is $1900 more than the basic 900cc Street Twin.
The Street Twin and T100 come with fly-by-wire throttle, ABS, switchable traction control, comprehensive instrumentation, slip-assist clutch, LED rear light, a USB charge socket under the seat, and an engine immobiliser with a transponder integrated into the key.
The T100 adds a lot of shiny chrome, brushed aluminium, knee pads, bolt-on badges, a tachometer, wire wheels and a supposedly more comfortable seat.
If bling is your thing, then this is your bike. It just looks so beautiful, especially in the "Aegean Blue and Fusion White" with hand-painted gold pin-striping on the tank of the demo bike. It also comes in "Intense Orange and New England White" or Jet Black.
But if cubes are also important, you might be tempted to let a few more butterflies out of the wallet and pay an extra $1700 for a 1200cc T120 bling machine.
When I reviewed the T120 I thought that extra money was justified. After all, who doesn't like more power?
It also adds two engine modes, heated grips, engine immobiliser with a transponder in the key fob, convenient USB charging socket near the headstock instead of under the seat, LED rear lights and the cool-looking LED daytime running lights which you can use without the headlight.
Tempting, but riding's the thing, isn't it?
Riding the T100
Let's cut to the chase.  The T100 is more fun to ride.
Sometimes power isn't everything. This bike is 24kg lighter, handles better, turns better, better fuel economy, and bigger service intervals (16,000km versus 10,000km).
Not that there is anything wrong with the T120. The 1200cc engine is thrilling, flexible and free-revving with lusty torque and dizzying power.
I just found the 900cc engine feels more pleasant and user-friendly for day-to-day riding.
Compared with my T100, torque is up 18% to a peak of 80Nm at a low 3200rpm, but surprisingly power is down almost 10kW to 40.5kW @ 5900rpm.
But in daily riding, it's the torque that counts and it makes the T100 so easy to use.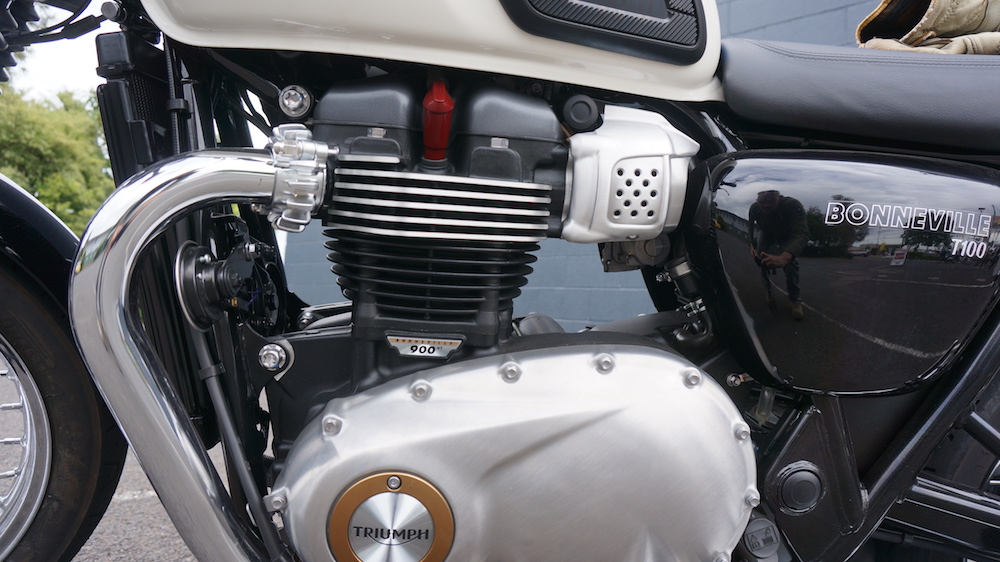 Even though I had the bike fresh out of the crate, the engine felt like it had been run in already and delivered fuel economy under 4L/100km. That's impressive.
But not a whole lot better than the T120 which returned 4.3L/100km on my test.
Both have excellent fuelling from the EFI and fly-by-wire throttle. There is no jerk off idle and you can negotiate slow manoeuvres without having to slip the clutch.
It's also handy for filtering slowly through tight lanes of traffic.
However, in slow-traffic conditions, the liquid-cooled engine runs hotter and the radiator fan blows the hot air directly on to your legs.
They both have a beautiful light feel in the clutch and light and precise gearboxes with no angel gears and neutral easy to find.
I'm not a fan of the gearing, though. First is too high, second too short and there is a gap to third.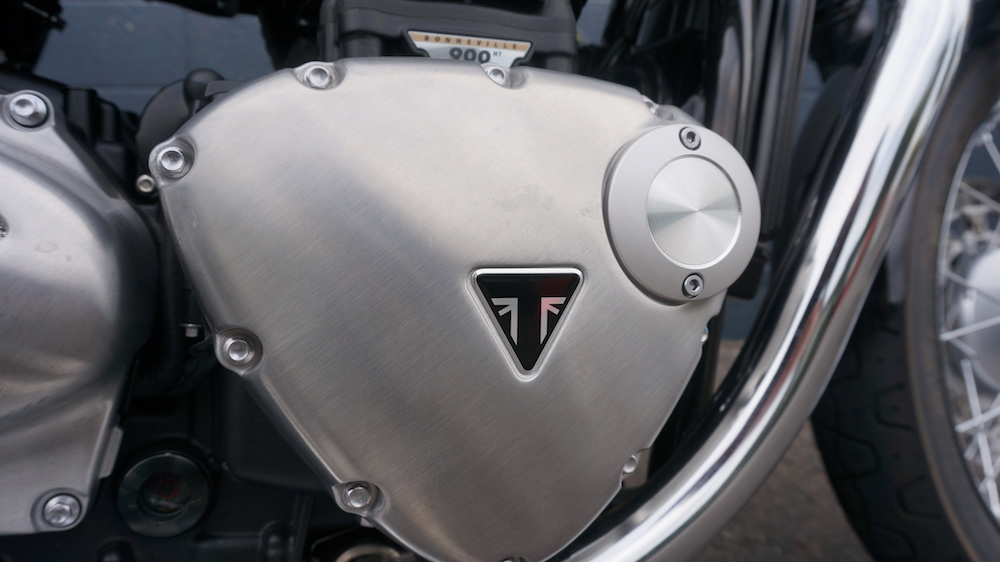 If it weren't for the more forgiving engine, it would make city riding difficult.
Fourth and fifth a tall gears and you never feel like you need a sixth.
Where they differ most is in stopping and handling.
The twin discs of the T120 are way better with more bite and feel. The T100 brakes are a bit vague by comparison.
Handling is better on the T100 thanks to the lighter weight.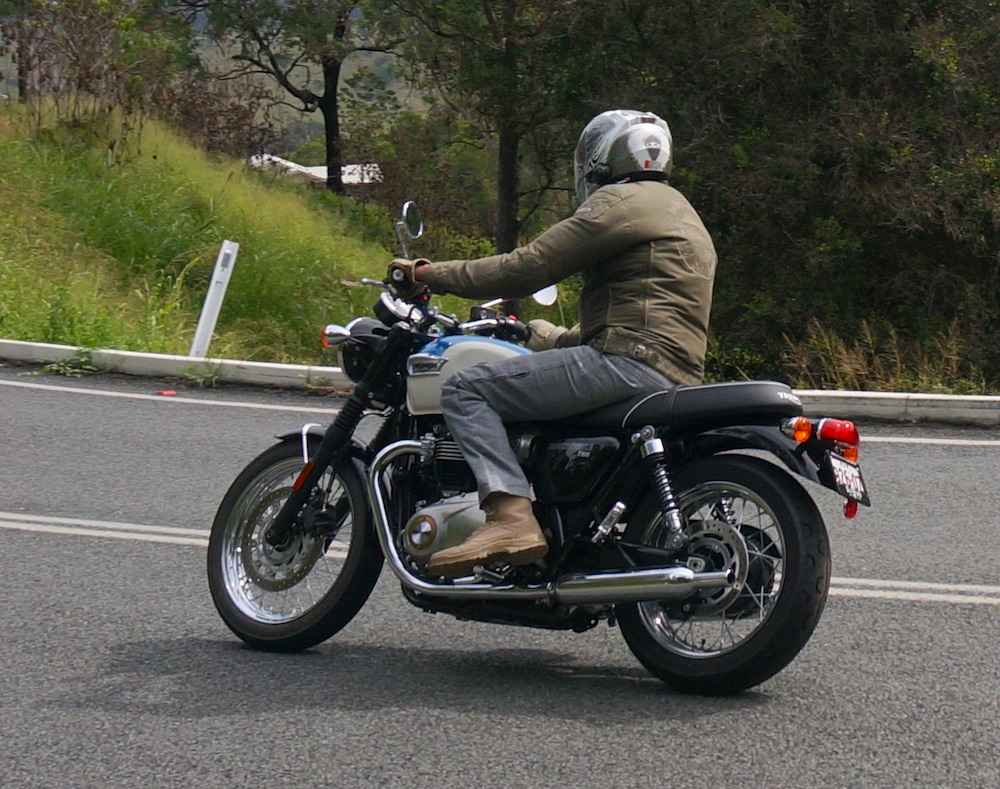 The forks feel particularly good with a light feel and a more precise turn-in. I rode a Street Twin which felt much more lethargic and heavy in the steering, but it could have been the lowered Ace bars that had been fitted.
The rear shocks are better, but still a little soft and under-damped.
I added Gazi shocks to my T100 which greatly improved the ride and handling.
While the new T100 shocks are an improvement, they are still not as good as the Gazis.
Creature features
While the seat is better than the standard Street Twin and has nice white piping, it's still only good for about an hour at a time. But maybe that's because of my bony bum.
It's a lovely neutral riding position with the instruments easy to see, a relaxed reach to the bars and lowered foot pegs.
Unfortunately, those pegs are easier to scrape in corners than on my T100.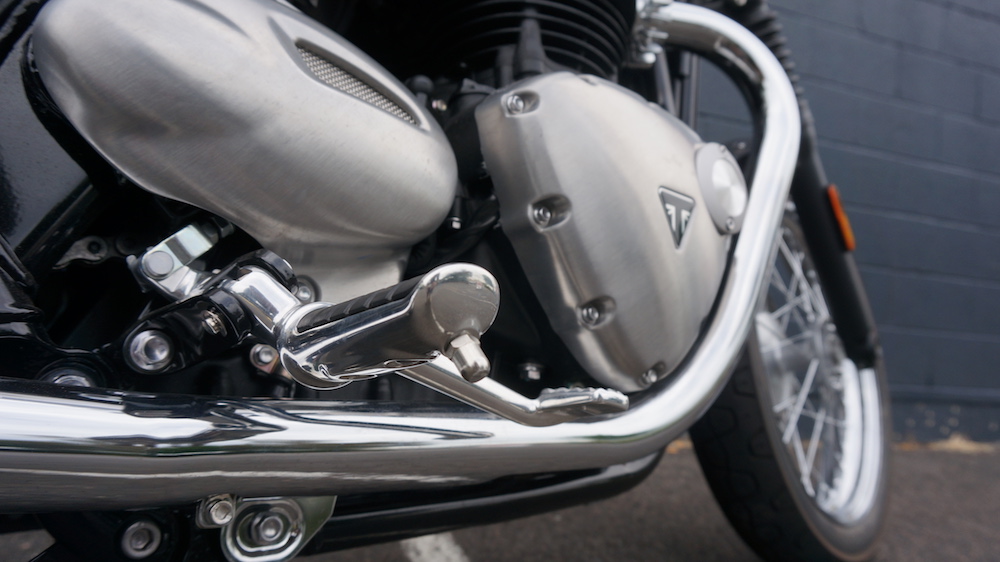 Pillions won't like the lack of grab handles, only the seat sash.
At least the seat is easier to remove with a key, rather than my T100 which required the removal of two allen bolts that are difficult to access.
There are no visible tie-down points for luggage. There are, instead, pop-out loops underneath the seat.
The dual-pod instruments look fantastic with big, bold chrome rings around the analogue speedo and taco and two LCD screens with almost every bit of information you need. An ambient temperature readout would also be nice.
However, they do have a fuel gauge, gear indicator and distance to empty on constant display and by using the "i" button on the left handlebar you can scroll through other information such as odometer, two trip meters, clock and instant/average fuel economy.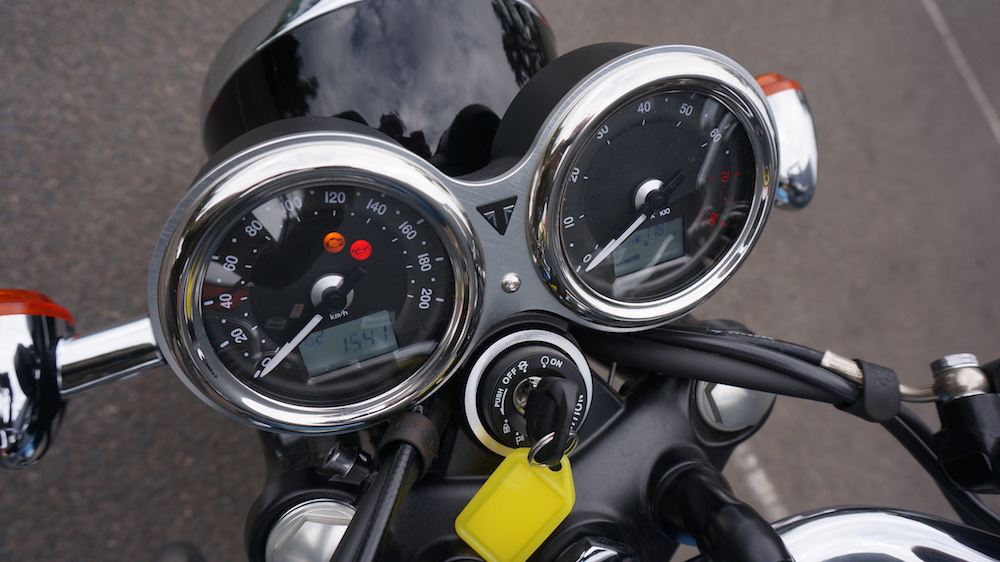 Verdict
The T100 might get a little lost being in the middle of the price range of the 900cc and 1200cc models.
However, it's a great bike if bling is your thing and you prefer a well-mannered ride to a wild one.
2017 Triumph T100
Price: $14,250 +ORC

Engine: Liquid-cooled, 8 valve, SOHC, 270° crank angle, 900cc parallel twin

Bore/Stroke 84.6 mm / 80 mm

Compression: 10.55:1

Power: 40.5kW (50bhp) @ 5900rpm

Torque: 80Nm @ 3230rpm

Transmission: 5 speed

Frame: Tubular steel cradle, twin-sided swingarm

Wheels: 18 x 2.75in; 17 x 4.25in, spoked

Tyres: 100/9018; 150/70 R17

Suspension: Kayaba 41mm forks, 120mm travel; Kayaba twin shocks with adjustable preload, 120mm travel

Brakes: 310/255mm discs, Nissin 2-piston floating calipers, ABS

Width: 785mm

Height (without mirror): 1114mm

Seat: 715mm

Wheelbase: 1450mm

Rake: 25.5º

Trail: 104 mm

Dry Weight: 213kg

Tank: 14.5 litres

Fuel consumption: 3.9l/100km (on test)

Bike supplied by Oliver's Motorcycles