2017 QUAIL MOTORCYCLE GATHERING IN THEIR OWN WORDS:
Below is the Quail's own coverage (ie: Press Release) on this year's Show. Mine will follow very soon:
"Carmel, Calif. – May 9, 2017 – Spectators turned out in force at the 9th Annual The Quail Motorcycle Gathering, presented by GEICO Motorcycle, despite cool and windy conditions and a threat of rain that never materialized. More than 3,000 spectators gathered at Quail Lodge & Golf Club on Saturday, May 6, 2017 to witness the more than 350 motorcycles, scooters and bicycles on display."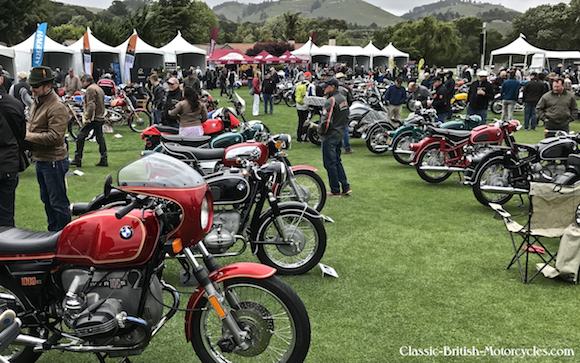 ABOVE: A field of BMWs old and new.
"Gates opened to the general public at 10am, and all in attendance began to wander the lawn to examine the diverse collection of motorized machinery. From vintage race bikes to unrestored antiques, highly modified customs to one-off prototypes, The Quail Motorcycle Gathering offered a truly unique cross-section of motorcycling history."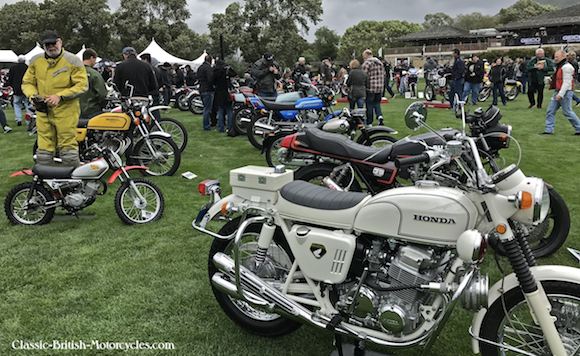 ABOVE: The area devoted to Japanese bikes, with 1-of-only-3 Honda factory-built police bikes that made it to the US. Most were converted once here.
"Amongst the many awards classes and private collections was a special display in recognition of this year's featured class: 50th Anniversary of the Norton Commando. More than three dozen bikes were part of this extremely comprehensive exhibition of Norton motorcycles, with almost every model and color represented (pictured at top of this page)."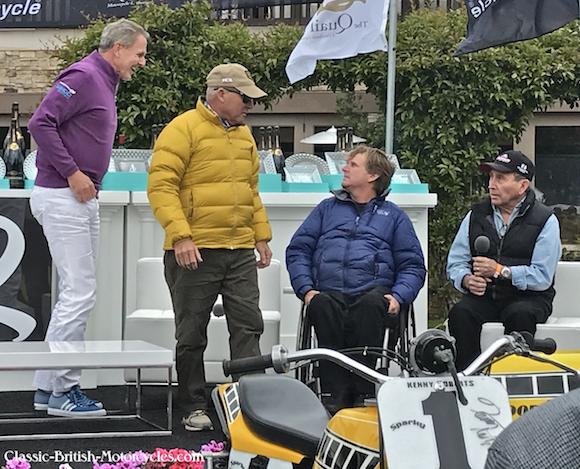 ABOVE: Gordon McCall, Quail producer (left), interviews racing legends Kenny Roberts (in yellow), Wayne Rainey (blue jacket) & Mert Lawwill (right).
"Along with the hundreds of exquisite motorcycles on display, guests were given the opportunity to see the latest models from sponsors like Honda, Yamaha, Kawasaki and Indian Motorcycles. Several custom shops joined in on the action as well, including Austin's Revival Cycles and Los Angeles-based Heroes Motorcycles. Lifestyle sponsors wowed attendees with the latest in motorcycle gear and accessories, with a live demonstration of Alpinestars' groundbreaking Tech-Air™ street airbag system drawing a crowd."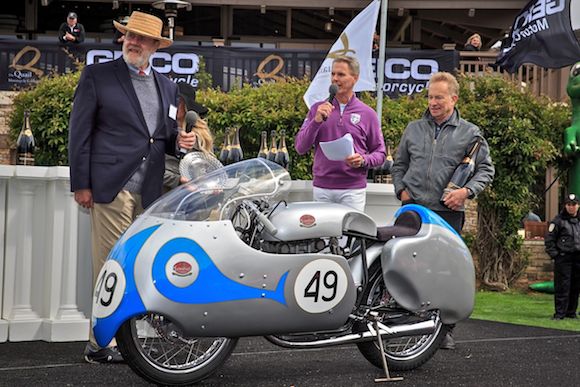 ABOVE: This ultra-rare '57 Mondial 250 Grand Prix won Best of Show at the 2017 Quail Motorcycle Gathering.
"This year's event was the first for presenting sponsor GEICO Motorcycle, a top provider in motorcycle insurance. "We are excited to serve as an official sponsor for such an outstanding event," said Ted Ward, GEICO vice president. "The Quail Motorcycle Gathering is one of the top destinations for motorcycle enthusiasts in the country, and offers a superb opportunity for us to connect with fans and actively support the motorcycle riding community."
"Finally, it was time for the awards ceremony and the GEICO Motorcycle Champions Row. Chief Judge Somer Hooker welcomed to the stage the more than two dozen owners of award-winning motorcycles. Jeff McCoy's 1968 Norton Commando Fastback was honored as the winner of the featured class celebrating the 50th Anniversary of the Norton Commando, while Jonnie Green's 1948 Triumph T100 Tiger was granted the Spirit of The Quail Award. John Goldman's 1957 Mondial 250 Grand Prix Dual Overhead Cam race bike won the Competition On Road class and was also awarded Best of Show."
Bikes of the 2017 Quail Motorcycle Gathering
BRIT BIKES AT 2017 QUAIL MOTORCYCLE GATHERING
With over 350 bikes to drool over, this year's Quail was eye-candy to bike nuts like me and you. I took hundreds of pics of all sorts of stuff, not just Brit bikes. But this being the world's greatest British motorcycle website, here are a few of the best Brit bikes I saw at the 2017 Quail Motorcycle Gathering (in order of year):
BELOW: 1939 Brough-Superior SS100. The ultimate British bike, and probably the most valuable, they started out with JAP, then later Matchless V-twin engines. Lawrence of Arabia famously rode a Brough. This particular bike came all the way from Hong Kong for this show, and handily won top honors in the British class.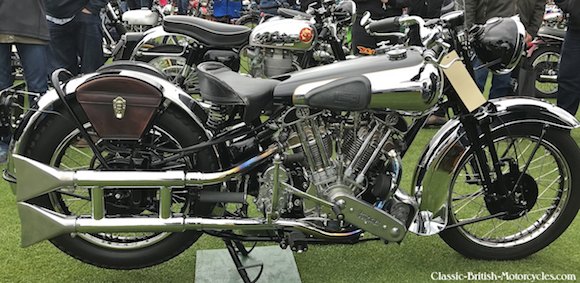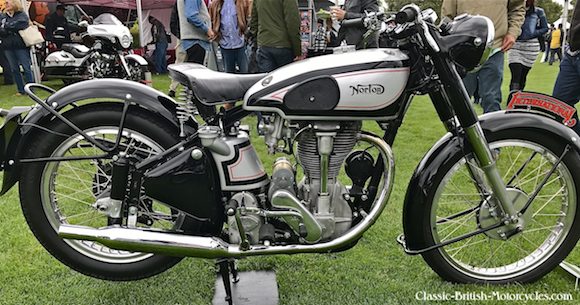 ABOVE: This 1951 Norton International is an all-alloy 500 single with a shaft-driven OHC. The engine was a milder version of the legendary Norton Manx, the International didn't get the Featherbed Frame. This one has a plunger frame.
BELOW: This lovely '58 Triumph Twenty-One 350 twin shows off its "Bathtub-styling".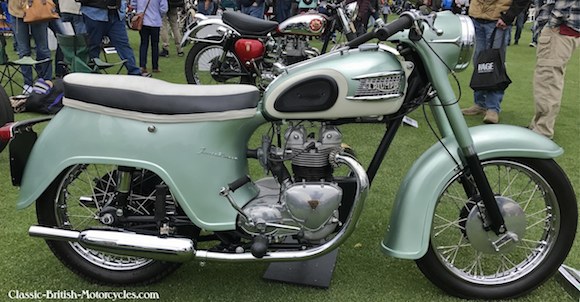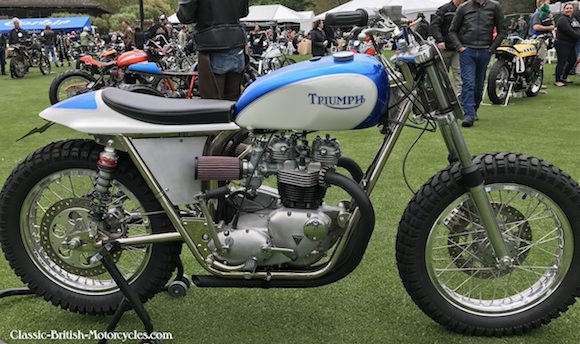 ABOVE: This flat-tracker has a '63 Triumph Bonneville engine in a Trackmaster frame. Nicely done.
BELOW: This wild custom bobber has a '68 BSA A65 engine in a rigid frame with girder forks and tons of cool detail.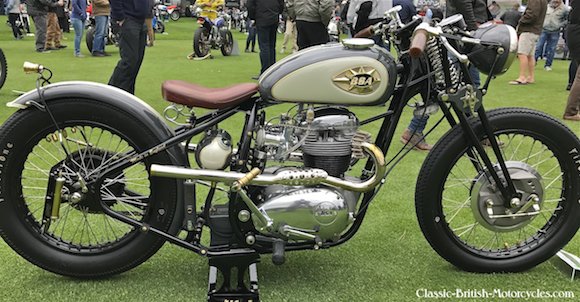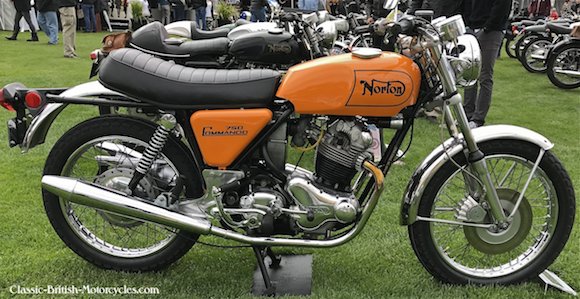 ABOVE: The 1972 Norton Commando Combat came with a high-performance engine that liked to grenade. Maybe that's why they called it "Combat".
BELOW: The 1988 Norton Rotary was Norton's big gamble on the twin-rotor Wankel upon which their revival depended. How did it go? Well, ever seen one before?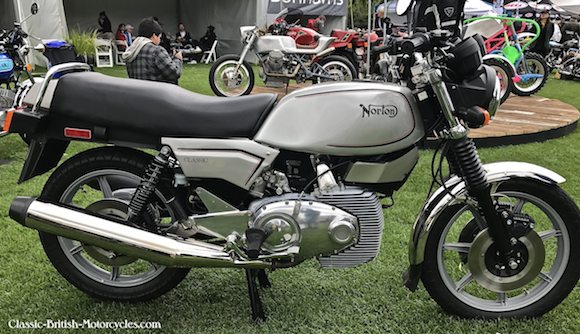 DON'T MISS THE NEXT ONE
The 2018 Quail Motorcycle Gathering is already scheduled for Saturday, May 5, 2018. For more information, please go to their site at:
http://signatureevents.peninsula.com/en/motorcycle/motorcycle.html