I rode a Royal Enfield Classic 500 about 12 years ago and thought it was interesting, but only as a second bike to ride to the cafe.
At the time, I owned a Honda Fireblade so my impressions were jaded.
By comparison, the RE wouldn't pull the skin off a rice pudding, wouldn't turn, wouldn't stop, it was difficult to start, the gears were vague and the ride was rough.
While the Classic 500 still looks the same, both the machine and my mind have changed.
I'm not in such a rush these days and I appreciate the scenery as more than just a periphery blur.
Meanwhile, the Indians have been finessing the Classic 500 and updated to a unit-construction engine which is not as uncivilised as it once felt.
In fact, after having ridden the 2016-model Classic 500, I now think it's a lot more versatile and more than just a second bike with limited use.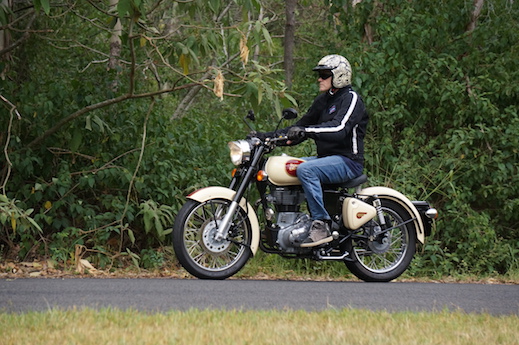 While the previous bike strained to reach 100km/h, the Classic 500 will run out to about 120-130km/h and overtake swift enough to be a safe part of the highway traffic.
That single-cylinder thumper doesn't seem to vibrate as much as has plenty of torque to now springs off the line at the traffic lights.
I love the "whoompa-whoompa" sound and the visceral thump it gives the rider around town.
However, at high speeds and revs it tingles so much you can't see anything in the mirrors and the numbing tingle through your butt and fingers will probably limit how far you ride.
That's easily fixed, though, with an aftermarket seat, softer handgrips, bar-end weights and/or high-quality bar-end mirrors.
Riding position is strange. It's a low bike with low bars and instruments, but a high seat, so you feel like you are right on top of it. The bars feel very close and the 13.5-litre tank seems short which gives the effect that you are sitting too far forward.
Yet it seems like a neutral position that you could maintain for hours on end – except for that seat!
The Classic is under-sprung and over-damped, which makes for a rather bouncy ride. Yet it copes well with rough roads if you keep your speed down.
A couple of new rear shocks for about $400-$500 would sort that out.
Surprisingly, the standard shock and narrow tyres work well on gravel roads.
That front 19-inch wheel doesn't make steering vague or heavy because of the fairly sharp steering angle and the fact that you sit right up toward the wide bars, so there is plenty of leverage.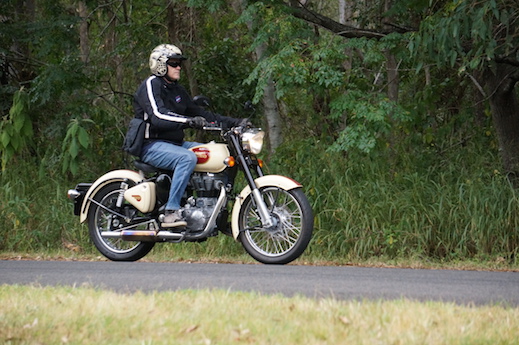 So when it wobbles over surface imperfections on a corner, you still have reasonable control. At highway speeds, it's as solid as an anchor.
Brakes are still on the soft side. The front 280mm disc creates a fair bit of fork dive, but at least it has bite and feel.
However, the rear drum is vague and ineffectual, except for controlling your line in a corner.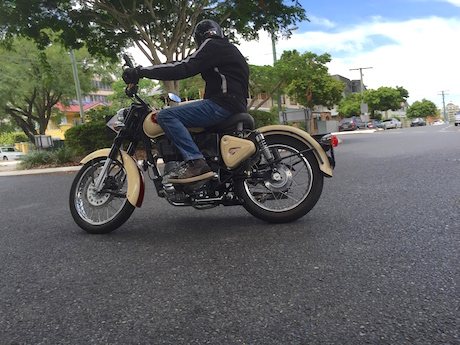 The one-down, four-up gears feel smoother than before, although neutral can still be obstinate, and if you work them properly, you get a responsive machine.
I'm not comparing it with a Fireblade, but it's adequate for most applications.
These days I would compare it with my 2010 Triumph Bonneville T100.
While it doesn't have the mid-range punch or top end of the Bonne, the grunt off the line is fairly similar.
Where it does excel over the Bonne is in build and fittings:
The Bonne doesn't have a lockable fuel tank. The Classic does.
The Bonne doesn't have metal guards and side panels. The Classic does.
The Bonne doesn't have a centrestand as standard. The Classic does.
The Bonne has the key in the side of the forks. The Classic has them on top of the headlight.
I like the handy grab handle so you can easily lift it on to its centrestand, but I don't like the way the horn sticks out strangely at the side. At least it's loud, which I guess is necessary for riding in Indian traffic.
There are some other interesting things about the way it is constructed, and not just the fact that it retains a kick starter even though it has a perfectly adequate and reliable electric starter.
For example, the rear wheel comes off leaving the sprocket and chain in place. How handy is that for roadside puncture repairs!
They've also considered you might be doing your own mechanical work while out on the road as they do in India, so they have included a comprehensive and compact tool kit in the left side cover. Both covers (the right contains the paper air filter) are lockable and waterproof, and the rubber gasket is only a couple of bucks to replace.
Which brings me to one of the most salient points about owning a Royal Enfield – they are cheap.
Not only do they cost just $8790 ride away (an extra $200 for the chrome model), but they are also inexpensive to run.
Fuel economy is about 3.5L/100km and parts are dirt cheap. For example, a new tank is just a couple of hundred bucks!
However, you will need to service it after the first 500km, then every 3000km.
With its high fuel economy, you can get nearly 400km from a tank, which means it will be capable of some touring.
So, while you may want a Classic 500 for the cafe run, it is capable of a lot more than that.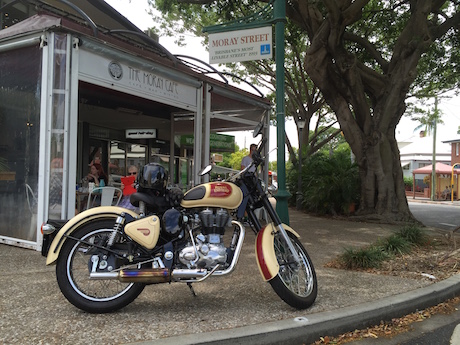 In fact, some riders could very easily live with this as their only bike.
The biggest drawback of ownership is that you will have to stop and chat to all the admirers and old-timers who want to tell you about their first Royal Enfield.
GREAT NEWS!
If you've read this far, you are obviously interested in a Classic 500. Well, this particular demo model is available for sale in Brisbane at $1500 off with only 2000km on the odo.
You can test ride it and other Royal Enfield models at the national demo ride day at 22 RE dealerships across Australia on Saturday, February 13.
Customers who participate in the test ride will receive a free event t-shirt and light refreshments at the dealership.
Those who buy a motorcycle on the day will also receive a $250 in-store credit on official Royal Enfield accessories or apparel.
Bookings are essential and you can register online at royalenfield.com.au.
2016 Royal Enfield Classic 500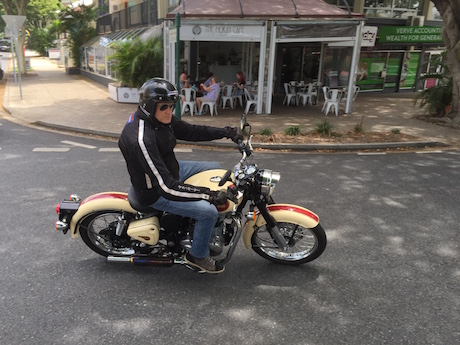 Price: $8790 ride away (extra $200 for the chrome model)
Service: 500 km, then every 3000 km
Warranty: 2 years parts and labour
Engine: 499cc single-cylinder, 4-stroke
Bore x stroke: 84 x 90mm
Compression: 8.5:1
Power: 20kW @ 5250rpm
Torque: 41.3Nm @ 4000rpm
Ignition: Digital electronic, electric and kick starters
Transmission: 5-speed constant mesh, wet multiple clutch, chain drive
Lubrication: Wet sump
Engine oil: 15W 50 API, SL Grade JASO MA
Fuel supply: Keihin EFI
Suspension: Telescopic, 35mm forks, 130mm travel; twin gas shocks with 5-step adjustable preload, 80mm travel
Wheelbase: 1360mm
Clearance: 135mm
Length: 2140mm
Width: 790mm
Height: 1090mm
Wet weight: 190Kg (with 90% fuel & oil)
Fuel: 13.5L
Economy: 3.5L
Tyres: 90/90 – 19; 110/80 – 18
Brakes: 280mm disc, 2-piston caliper; 153mm rear drum
Colours: Black, Lagoon, Tan