The 2016 MV Agusta Brutale 1090 has a very sharp and edgy kind of jet-fighter look, but like a jet fighter, it's got a lot more potential than you could ever use on the road.
I think it would make a great track-day bike.
For my first road test with Motorbike Writer I actually rode the bike during my full-day licensing test to go from a restricted to open licence.
While it wasn't exactly like any of my races, it was a surprisingly valid set of tests to put the bike through.
Probably a lot more testing than any buyer would get from a quick round-the-block test and  probably more the sort of riding most people will do on this bike, anyway.
While I'm used to salivating over faired race bikes, I actually found this very aesthetically pleasing for a naked bike.
The matte paint is nice, but I could already see some light markings that may be difficult to get rid of. I know bug splats and oil can be difficult to remove from matte or flat-finished paint.
The standard exhaust has an average appearance. The headers are nice but the rear of the exhaust system has lumpy and poorly finished welds.
It would be much nicer with a performance slip-on which is quite likely what most people will do when they buy one.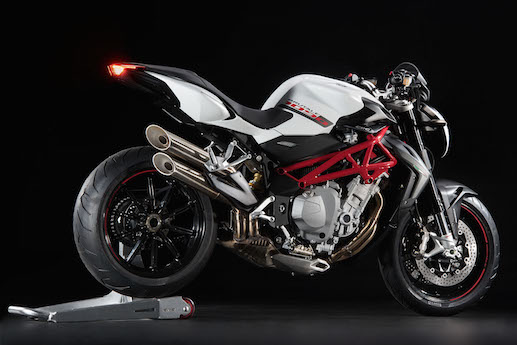 When I threw my leg over the bike, the seating position felt comfortable yet it still had a racy kind of feel which I like.
We were told to check the mirrors and they appeared a little small and difficult to see past your elbows, but at least they suit the look of the bike.
At first, I rode the bike around a carpark doing emergency stops, slow-speed manoeuvres and tight turns.
While it's a nimble and manoeuvrable bike, there is not a lot of steering lock to play with which makes sharp u-turns a little difficult and potentially embarrassing. But no, I didn't drop it!
The throttle is also a little jerky off idle which increased the difficulty in slow-speed stuff.
The jerky throttle got easier the more I rode the bike.
Once away from idle, the acceleration is smooth and the bike has more than enough power for daily use.
Performing the emergency stops was a breeze as it has a strong and powerful braking system with ABS as standard.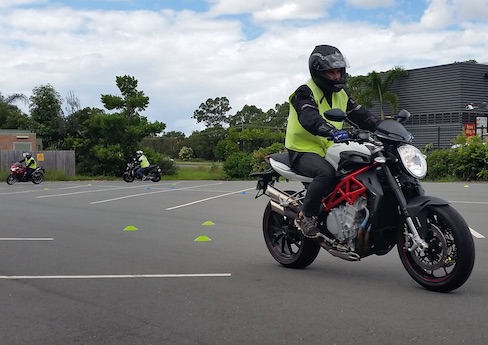 Suspension is stiff as you expect from an Italian performance bike but when we hit the urban streets I found it still soaked up all the bumps nicely.
Here I found the bike much easier to ride among the traffic but you have to concentrate to keep it to the speed limit as it's easy to get carried away.
In first and second gear it was difficult to keep the front wheel down with a handful of throttle. What an awesome feeling.
Overall, it's a nice bike but its full potential could never be reached on the street. It would make a fun track day bike.
After all, it has a maximum speed of 265.0km/h, not that I did that on my licence test.
Hopefully I'll get to revisit the bike on the track and can give you more feedback on its handling and performance.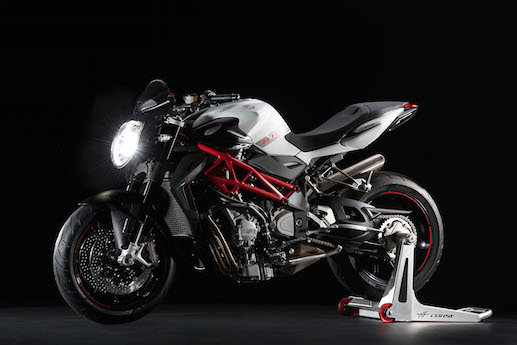 2016 MV Agusta Brutale 1090
Price:

$19,999 (+ORC) or $21,390 ride away

Warranty: 2 year, unlimited km, 2 year roadside assist

Engine: 1078cc, 16 valve, DOHC, 4-cylinder

Compression: 13:1

Bore x stroke: 79 x 55mm

Power: 106kW @ 10300rpm

Torque: 112Nm @ 8100rpm

Transmission: 6-speed, wet clutch, cassette gears

Wheelbase: 1438mm

Length: 2100mm

Width: 775mm

Seat: 825mm

Clearance: 140mm

Trail: 1035mm

Dry weight: 183kg

Fuel: 23 litres

Suspension: USD Marzocchi 50mm forks, adjustment for preload, rebound & compression, 125mm travel; Sachs shock with rebound damping and spring preload adjustment, 120mm travel

Brakes: Double floating 310mm discs with Brembo 4-piston callipers; 210mm rear steel disc with Nissin 4-piston calliper

Wheels: 3.50" x 17"; 6" x 17" alloys

Tyres: 120/70 – ZR 17 M/C (58 W); 190/55 – ZR 17 M/C (75 W)

Colours: white with red frame or all black

Web: Click here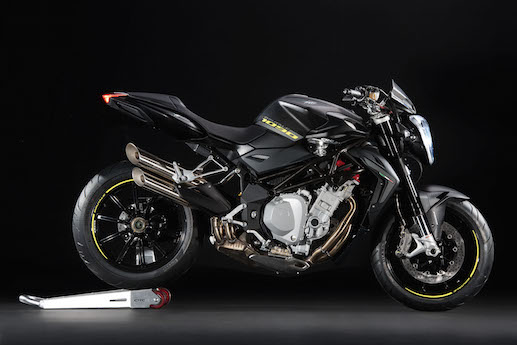 About the author:
Jake has been riding since the age of two, competed in Australia and America road-racing competitions and hopes to eventually race in World Superbikes. Results: 2013 Southern Californian Open Superstock 1000 champion, second in the 2013 Southern Californian Formula Twins championship, third in the Southern Californian Open Superstock 1000 championship and sixth in the 2010 Australian 600cc championship.
Feel free to ask any technical questions of Jake by placing your query in the comments section below.