Are we witnessing the passing of the sports bike era?
The new Suzuki sports bikes have arrived, but rather than a dazzling fanfare of more power and less weight, they come with new graphics and colours.
The GSX-R750 and GSX-R600 are unchanged from two years ago and the GSX-R1000 is unchanged from last year.
Sports bike sales are down around the world and particularly here in Australia in the land of the ubiquitous speed camera.
So the Japanese company is wisely not investing a lot of research and development into them.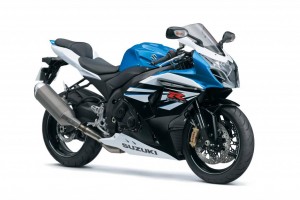 However, Suzuki hasn't completely given up on sports bikes. At the Tokyo Motor Show, Suzuki unveiled a "Recursion" sports bike powered by a turbocharged 588cc parallel twin.
Instead of brawny big-capacity sports bikes, smaller, more manageable bikes may be the future.
Suzuki Australia marketing manager Lewis Croft admits sports bike sales are "nowhere near the volume it used to be".
"Naked bikes and adventure bikes are the ones that are selling well now," he says.
Suzuki's big news this year is their most advanced adventure model ever, the V-Strom 1000, which features a new 1037cc V-Twin engine developed to deliver excellent low-mid range power.
Meanwhile,
Meanwhile, the largely unchanged 2014 GSX-R1000 still has no traction control or ABS like many of its competitors. It is still powered by a 999cc inline-four with 130kW of power and a kerb weight of 203kg. New for 2014 are paint schemes and a higher grip seat. That's it.
The retail price is up $500 to $18,490 (+ORC) and it comes in Metallic Triton Blue with Pearl Glacier White, or Glass Sparkle Black with Metallic Grey colour schemes.
The 2014 GSX-R750 is unchanged at $15,990 and comes in Metallic Mat Black/Pearl White or Glass Sparkle Black/Pearl Mira Red livery.
The new GSX-R600 is also unchanged in price at $14,990 and comes in Metallic Triton Blue/Pearl Glacier White or Pearl Bracing White/Glass Sparkle Black.
All are backed by with a two-year, unlimited kilometre warranty.