Chinese brand CFMoto is learning quickly. 
Last year I tested the CFMoto 650NK, their top seller and a real bargain.
Although it was a bit heavy and the brakes were light on, the bike was well built and a good value proposition for learner riders. It hit the market at $5990 plus on-road costs or a maximum of $6990 rideaway, depending on which state you live in.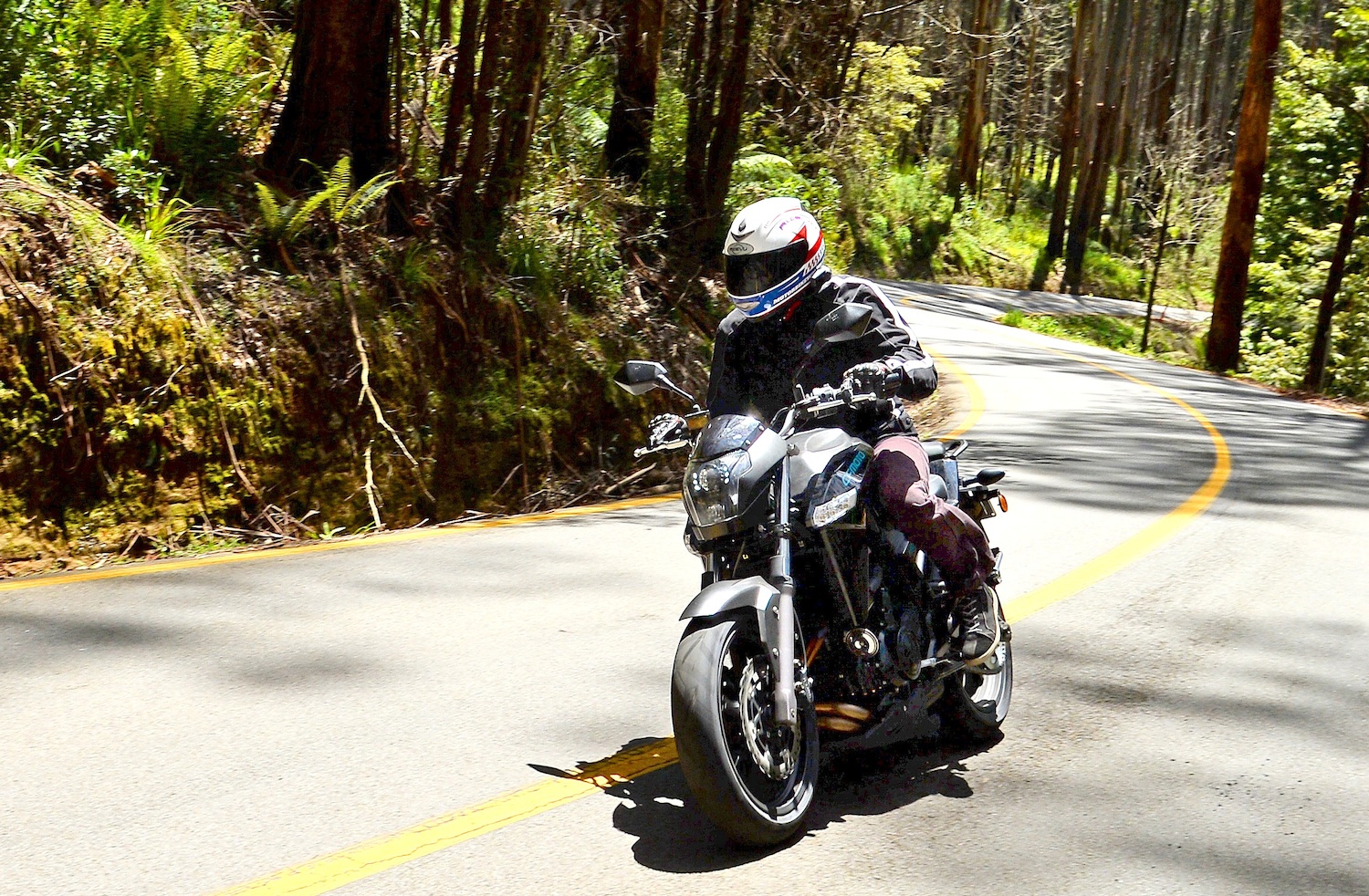 CHECK OUT THE PINTEREST PIX
For a bargain-priced bike, it had some quality graphics, adjustable levers, a Ducati-like red tubular frame, a Japanese-like gloss-black engine, indicators set into the radiator shrouds, pre-drilled holes on the frame for aftermarket Oggy knobs, and the handlebars and triple clamp finished in attractive matte aluminium.
Build quality was only compromised by four cadmium-plated bolts that held the instrument pod and cowl in place. The remainder were stainless allen bolts.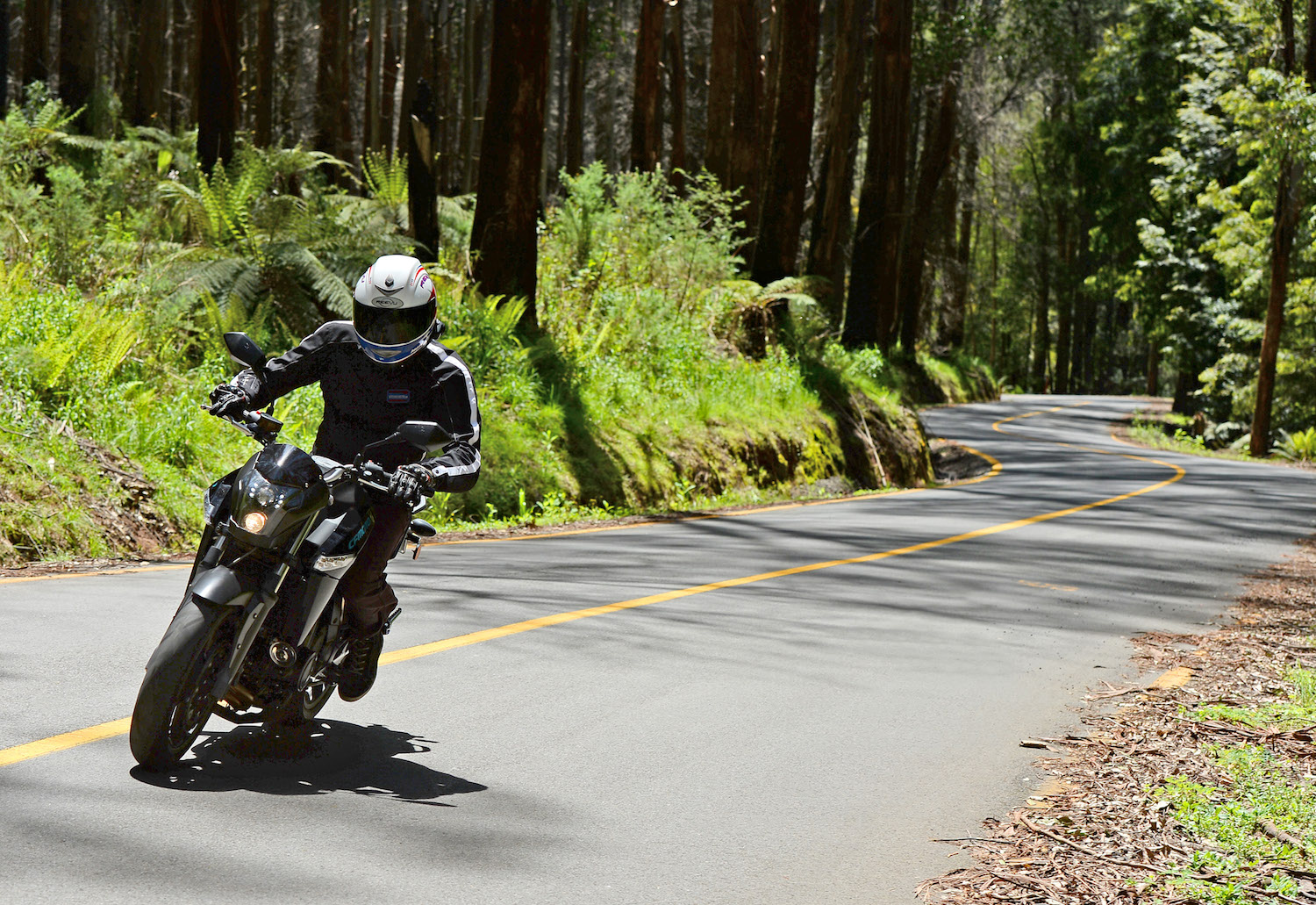 Now CFMoto has updated the 650NK for 2014 with a host of minor changes that make the whole bike an even better proposition.
For a start, it now has a mechanical throttle body restricter that tames the 52kW engine to 41.5kW or the magical 150kW per tonne limit for LAMS rather than an ECU modification.
Other updates include: LED running lights, indicators and taillights; a blackened stubby exhaust; new Koso instruments made in Taiwan; sticky German Continental Road Attack 2 rubber to replace the cheap Chinese CST hoops; and uprated brakes made in China for Spanish company J. Juan.
The new and bigger instrument cluster is easier to read and now toggles via a "select" button on the pod between odo, fuel gauge, clock, battery and water temp. Hit the "adjust" button next to it and it switches to a trip meter. Hold it in for a couple of seconds and it clears; hold it in longer and you can set the clock.
A toggle switch on the handlebars would be better, but just remember that low, low price tag.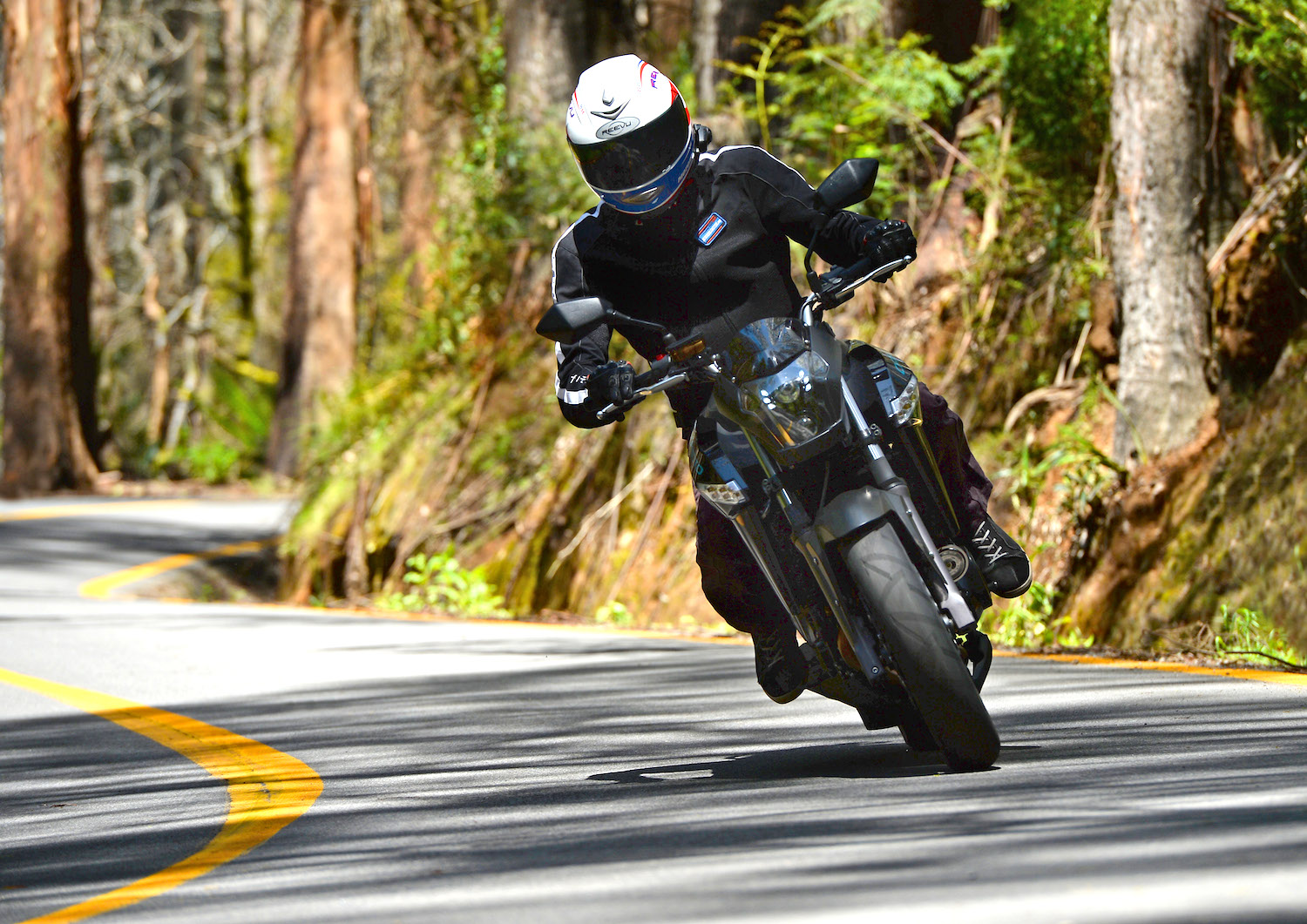 The switchgear feels a bit cheap, the indicator switch doesn't always disengage properly and the hand levers are a bit loose, but I also note it is one of the few new bikes where you can switch off the headlights. You can also just run the stylish LED running lights via a handlebar switch.
Brakes have been upgraded with a hydraulic system from J. Juan plus 25mm bigger discs front and back and stainless steel braided lines, and it gets sticky German rubber.
They've also changed from a silver exhaust to a matte-black, Euro III approved muffler which blends in the stubby little unit with the black bellypan and disguises the large catalytic converter.
Riding this bike is a pure joy.
None of the fancy electronic gadgetry we have come to accept with modern bikes, just a basic and honest bike.
It makes you appreciate the vibe and flexibility of the parallel twin; a great mill for a learner bike.
While there isn't heaps of torque down low, the CFMoto 650NK can almost be in any gear at any revs and it still sings along without protest. Just right for ham-fisted learners.
Engine braking is also strong without being abrupt, so if a learner drops too many gears or suddenly lets go of the throttle they won't fly over the handlebars.
And if you get a parallel twin singing in the right key, it will tickle your fancy with its vibes and its wide and willing power range.
Even with the restricter playing Super Nanny, the bike still manages to bring up go-directly-to-jail-do-not-pass-go speeds with a bit of a run-up.
Overtaking chores require a bit of shift work, but with a long clear stretch ahead, you can just roll on the throttle.
It hums nicely from about 3300rpm and becomes a little more active around 4000 revs, but then it's clear sailing up to the rev limiter at 10,000.
Of course, high-end power is limited, but there is more than enough poke here to get you into serious trouble.
Mostly you will want to keep the twin fluttering along at 4000 revs where it feels just right and the buzzing doesn't become annoying.
Clutch pull is very light and the gearshift is long, but positive and plush with neutral dead-easy to find, which should suit learners.
The brakes now have a bit more feel than before and more bite.
You'll still have to grab plenty of brakes to slow it down as the bike has a chunky Chinese frame that puts it on the heavy side for its ilk, weighing in at 206kg.
For 2014 CFMoto has made the sidestand a little longer so the bike sits more upright and isn't as heavy for young learners and women to lift.
Once astride the machine, the weight seems to disappear and only becomes an issue when you are diving into a corner too hot with the Kayaba forks loaded up and a fist full of brakes.
I can't believe it weighs more than 200kg, except when it comes to quick changes of direction between hairpins.
It wants to stand upright and you have to muscle it into corners, but with the wide bars and aggressive riding stance, it's easily controlled.
I revert to a dirt-bike-riding style letting the bike do the leaning and keeping my body upright. The sticky Conti Attacks dig into the tar and grip well, even at fairly radical lean angles.
Riding position is a neutral sit-up-and-beg style with the bars at an easy slight reach although the metal pegs are high, requiring the occasional stretch for arthritic knees.
The CFMoto 650NK is not only a perfect starter bike for new riders and returned riders, but it also makes a good bargain as a second bike. For example, if you have a big tourer or cruiser and you want something to carve up the commuter traffic and take for the occasional blatt up the mountain, try the NK.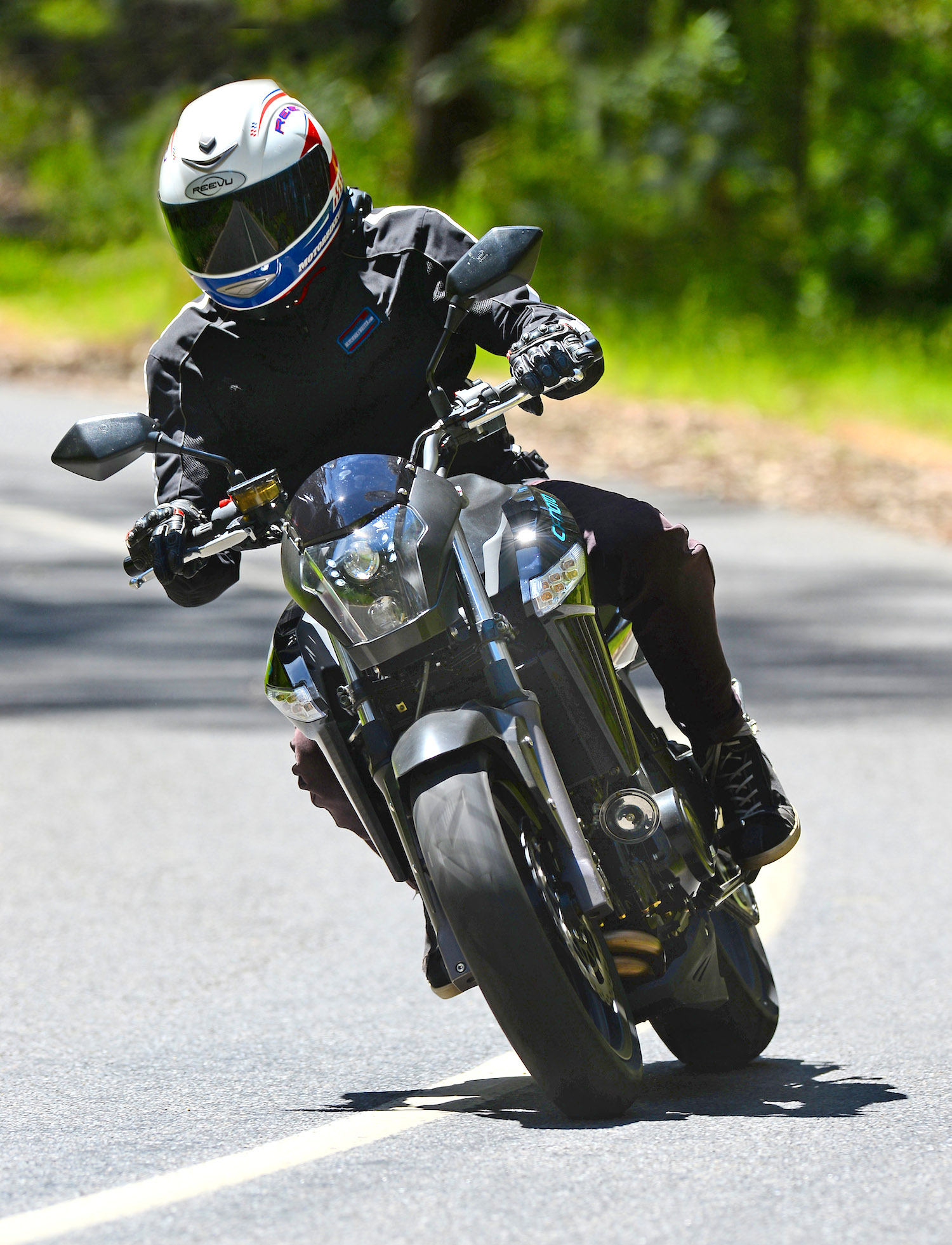 CFMoto 650NK tech specs
Price: $5990 (+ORC) $6990 (max rideaway)
Warranty: 2-years, parts and labour
Service: 5000km, or six months
Engine: 649.3cc, 8-valve, liquid-cooled, DOHC parallel twin, 180-degree crank
Power: 41.5kW @ 9500rpm
Torque: 62Nm @ 7000rpm
Bore x stroke: 83 x 60mm
Compression: 11.3:1
Transmission: 6-speed, multiplate wet clutch, chain drive
Chassis: tubular steel diamond frame with engine as fully-stressed member
Suspension: telescopic forks with hydraulic damper; oil and gas hybrid damper single damper rear shock
Brakes: dual 300mm steel discs with twin-piston calipers (front), 240mm disc with single-piston caliper (rear)
Tyres: 120/70 R1758H (front), 160/60 R1761769H (rear) Continental Road Attack 2
Wheelbase: 1415mm
Wet weight: 206kg
Seat: 795 mm
Fuel capacity: 17 litres
Colours: orange mica, white, black, blue mica
Check out our latest motor bike news and motorcycle reviews.