2007 Royal Enfield Bullet
Sidecar Rig
2007 ROYAL ENFIELD BULLET SIDECAR RIG BACKGROUND
Royal Enfield was another classic British motorcycle brand that started out in the late 1800s building bicycles. By 1899 they were dropping other makers' engines into things and before long they were building motorcycles. Over the following decades they built a reputation for building solid, reliable singles, including military bikes during World War 2. They also had considerable racing success over the years. But despite all that, Royal Enfield remained a small company, perpetually struggling, and always near the edge of insolvency. Things only got worse during the 1950s as competition from fellow British bike makers Triumph, BSA, Norton and others, ramped up. By war's end, they already knew they were in trouble and formed a plan. During the War, Royal Enfield had been shipping motorcycles to every corner of the British Empire as part of the war effort. Those shipped to India were in "knock-down" form, which means the final assembly was done onsite. The Indians proved to be very adept, and after the War were quite anxious to expand their own domestic heavy industry. Madras Motors approached Royal Enfield about buying the rights and the tooling to built 350 Bullets in India. Royal Enfield (the original English one) made the sale, hoping that the infusion of cash would help them develop the new models they needed at home. Enfield India was the name of the new entity formed by Madras, and production began. India's home market was huge and so the new company did quite well and soon punched the 350 Bullet out to a 500. Meanwhile, the original Royal Enfield back in England continued to flounder until they finally gave up the ghost in 1970, leaving Enfield India on its own as the only 'Royal Enfield'. They wasted no time in changing their name to Royal Enfield and that's what they're called today.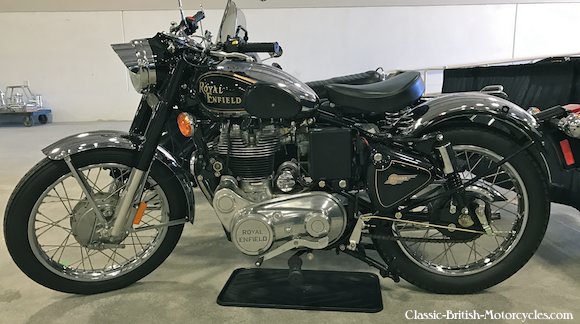 MODERN ROYAL ENFIELDS
This 2007 Royal Enfield Bullet Sidecar Rig is a prime example of a modern Enfield, sans sidecar. Over the years, the Indians have made some important improvements, mostly to the engine. In modern times, they switched over from non-unit construction with cast-iron cylinder, to unit-construction with an all-alloy top end. They added electronic ignition, electronic fuel injection and an electric starter. While the bikes are fairly modern, they are also very retro and old-fashioned. The frame has not changed since the Brits handed it over in 1949, the suspension, wheels & hubs, and the styling haven't changed much in 50 years. They sell very well in India and the Asian market where they're considered a premium bike, and do respectable business in Europe and America, where they're regarded more as a retro bike than a premium machine. Royal Enfield is on the cusp of a major push in the US. They just opened a new corporate HQ in Milwaukee WI along with their first company-owned dealership, with plans to sell 3 models in the US market: the Bullet 500, the Classic 500, and the Continental GT535 Cafe Racer, all based on the 500 Bullet. The Cafe Racer has a model-specific bespoke frame, rather than the antique relic seen here.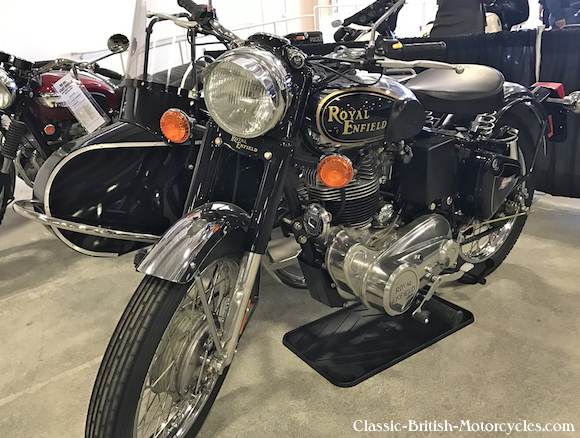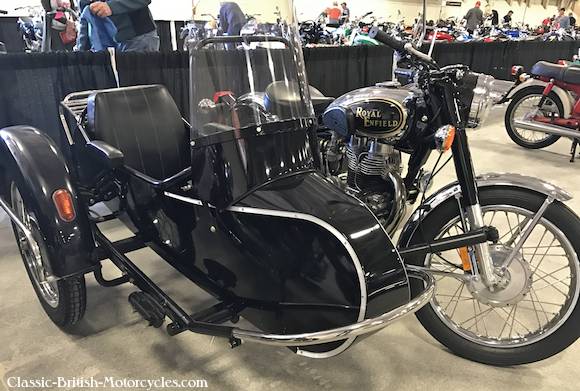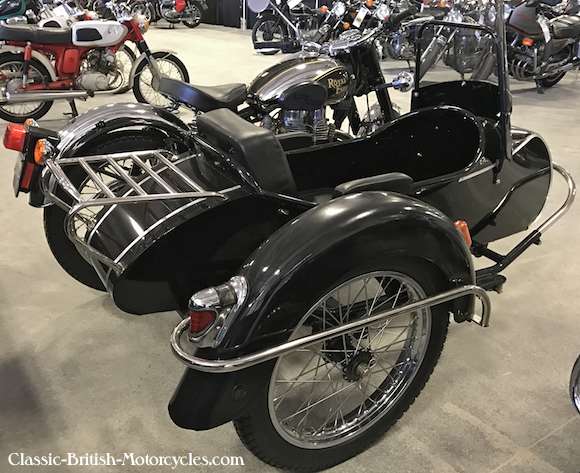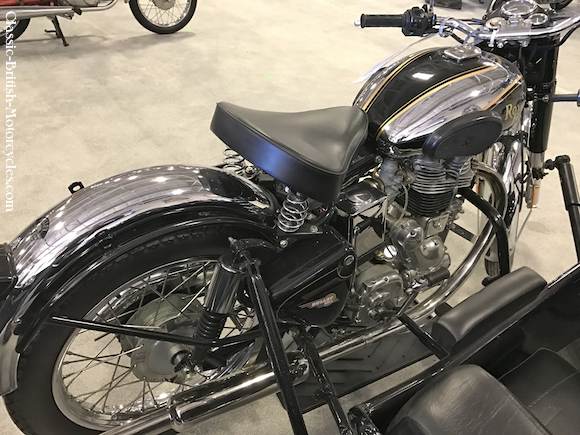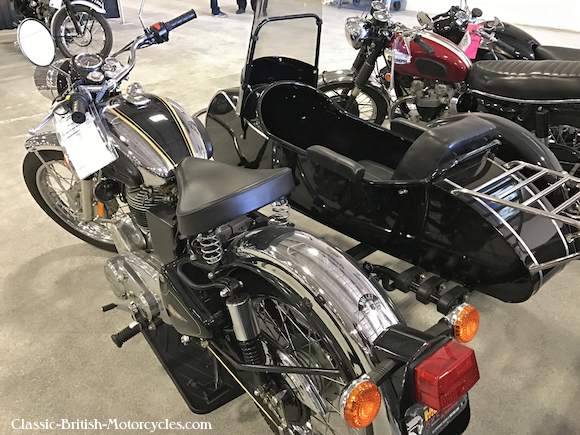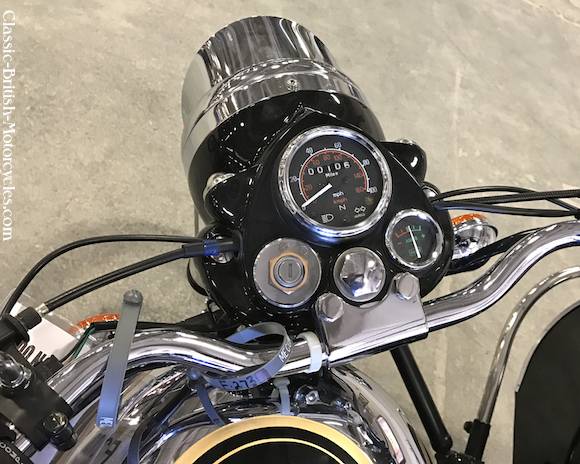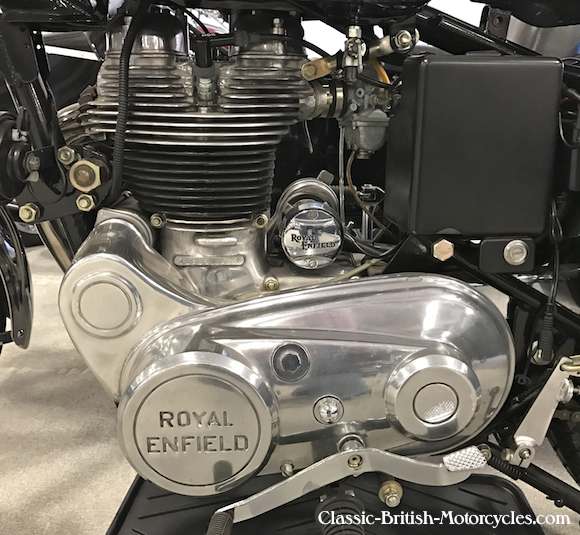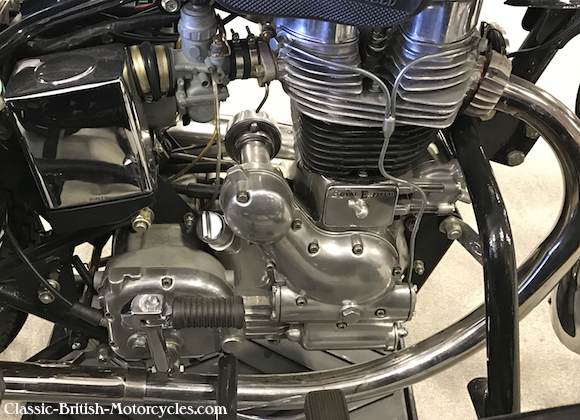 This incredible 2007 Royal Enfield Bullet Sidecar Rig ran through the Mecum Auction in Las Vegas in January 2017. It sold for just $7,000, can you believe it?!
---
2007 Royal Enfield Bullet Sidecar Rig
SPECIFICATIONS
Engine type:
Displacement:
Bore & Stroke:
Compression ratio:
Fuel system:
Ignition system:
Horsepower output:
Torque output:
Primary drive:
Clutch:
Gearbox:
Final drive:
Suspension, front:
Suspension, rear:
Brake, front:
Brake, rear:
Wheelbase:
Seat height:
Trail:
Overall length:
Width:
Curb weight:
Tire, front:
Tire, rear:
Air-cooled OHV single
499cc / 30.45 ci
84mm X 90mm / 3.31″ X 3.54″ 7.9:1
1X carburetor
Analog CDI electronic ignition
28hp @ 5200rpm
34 lb-ft @ 3400 rpm
Chain
Multi-plate, wet
5-speed, left-foot shift
Chain
Telescopic forks w/hydraulic damping
Swing arm w/2 shocks/dampers
7-inch / 178mm TLS drum
6-inch / 152mm SLS drum
54″ / 1372mm
30.2″ / 770mm
4.3″ / 109mm
83.1″ / 2110mm
27.6″ / 700mm
370 lbs / 168kg (without sidecar)
90 / 90 R19
100 / 90 R19