1974 Triumph Trident T150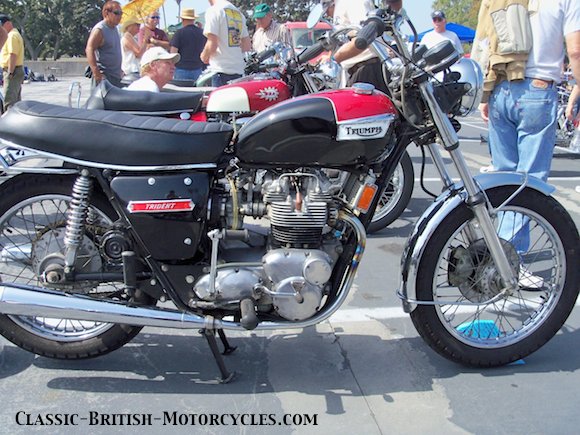 1974 TRIUMPH TRIDENT MOSTLY CARRIES OVER
The 1974 Trident was essentially much the same as the 1973, other than paint schemes and minor details. Trouble was brewing at Triumph that saw the workers union shut down their Meriden plant, where their best-selling Bonneville and all other twins were produced. This crippled the company, and even though the Trident was built at parent-company BSA's Small Heath factory alongside its stablemate, the Rocket 3, the company's woes slowed production to a crawl. Hence very few '74 Tridents were built. By the time business resumed, under the newly-formed, worker-owned Meriden Co-op, the 1974 model year was over and it was time to concentrate on the '75's. Fortunately, the scrappy Brits were slightly ahead of the game and had all the engineering prepared to change the Trident over to left-foot-shift, now required by US law. It was a big move and masterfully pulled off, considering they had almost nothing to work with. The 1975 Trident also got an electric starter (long overdue) and BSA Rocket 3-style forward canted cylinders and a whole new name: T160. So, the 1974 Triumph Trident is sort of a "tweener". It fell between the pivotal 1973 (which brought the 5-speed and disk brake) and the all new '75 T160 Trident. Underproduced and largely overlooked today, the 1974 Trident was last of the right-shift Tridents. And the kick-start Tridents also. It would have been nice too, but the T160 starters very quickly developed problems. Yep, you guessed it, Lucas, the Prince of Darkness.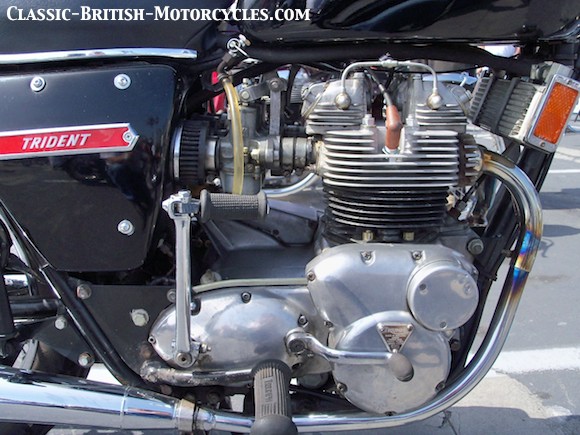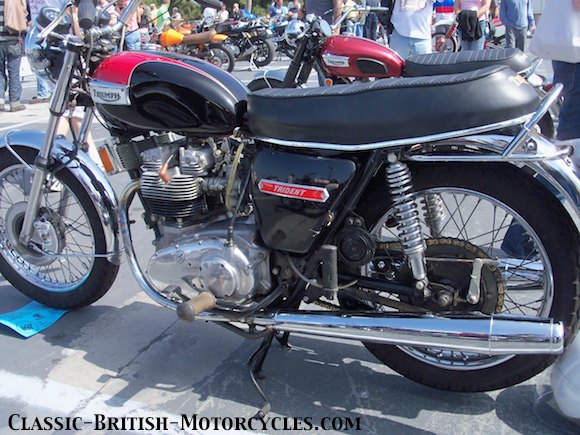 ---
1974 Triumph Trident SPECIFICATIONS
Model designation

Engine type

Displacement

Bore & Stroke

Compression

Carburetors

Primary drive

Clutch

Final drive

Gearbox

Ratios, overall:

1st, Bottom

2nd

3rd

4th

5th, Top

Wheelbase

Ground clearance

Seat height

Suspension, front

Suspension, rear

Brake, front

Brake, rear

Wheel, front

Wheel, rear

Tire, front

Tire, rear

Weight

T150V

Air-cooled OHV inline 3-cylinder

741cc / 45ci

67mm X 70mm / 2.67″ X 2.751″

9.5:1

3- Amal Concentric

3/8″ Triplex chain X 82 links

Single plate, dry, diaphragm-type

5/8″ X 3/8″ chain X 104 links

5-speed constant-mesh, right foot shift

12.9:1

6.97:1

5.93:1

4.98:1

6.5″ / 16 cm

32.0″ / 81 cm

Telescopic fork, oil damped

Swing arm, 2 coil-over hydaulic dampers

8″ Hydraulic disk brake

7″ SLS drum in conical hub

WM 2-19 (19″)

WM 3-19 (19″)

3.25″ X 19″

4.10″ X 19″

460 lbs / 209 kg