1970 Velocette LE Police Bike
1970 VELOCETTE LE POLICE BIKE BACKGROUND
Tiny Velocette didn't have much capital to work with in the late 1940s, but they knew they needed to come up with something new. And they hoped to get a jump on the market and get some real bang-for-the-buck out of their meager resources. All through the late 1940s and 1950s, the British home market for motorcycles kept growing steadily, but the bulk of the growth was in low-priced economical commuter bikes. Britain was still recovering from World War 2 and cars were hard to come by. Motorcycles had become one of the primary means of getting to work for a great many Brits. Velocette saw this as a never-ending growth curve and they wanted to get in early and get a big piece of it. So, they completely rethought contemporary motorcycle design and came up with what we would call today a "clean-sheet design". The result was the 1948 Velocette LE. The idea was to use a small, horizontally-opposed flathead twin (meant to be smooth and quiet) into a radical new pressed-steel monocoque frame. In theory this type of construction, once all the expensive tooling was paid for, would be cheaper to produce that conventional frames. In practice, this economy-of-scale never materialized, making LEs barely profitable for Velocette (some say they even lost money on every one). Too bad, too, because after Velocette's long and illustrious career, this ugly little mutant became it's biggest-seller ever. That doesn't take much, when you're a small-volume player like Velocette was. But the bulk of the sales didn't come from the commuter buyers that they had hoped for. With just 8-horsepower, and with those off-putting looks, the public just didn't like the bike all that much. The British Police however, loved the bike and bought them by the warehouse-full. It was largely all the government sales that made the bike such a sales success, even though very little, if any profit was made on the enterprise. In America, motorcycle cops always rode big macho bikes like Harleys and Kawasaki Z1s. It's hard to imagine taking a cop seriously who pulled up in one of these things.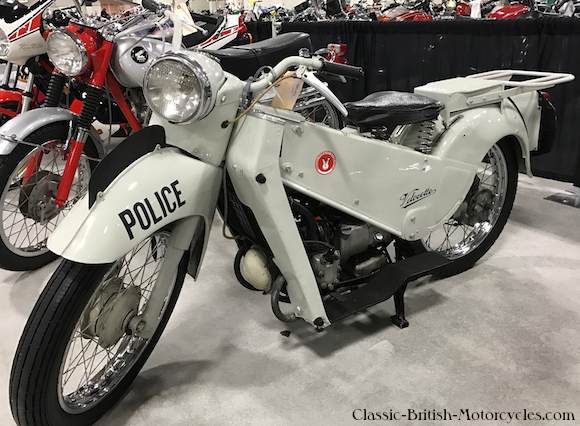 1970 VELOCETTE LE POLICE BIKE IN SERVICE
For some reason, the British Police just loved the LE. Their purchases alone really propped up Velocette and made the LE a sales success, even if there wasn't much profit in it. But, it was just these kinds of bad decisions that led to Velocette's voluntary liquidation in 1970. All the lucrative law enforcement contracts dried up instantly. But they were already suffering due to the widespread adoption of the Panda Car by British police forces. The ancient, underpowered, funny-looking Velocette LE was outdated and hopefully outclassed. The Kent Constabulary purchased the remaining parts inventory from Velocette's liquidation sale, and managed to keep their LE's in service through 1974, when they were retired.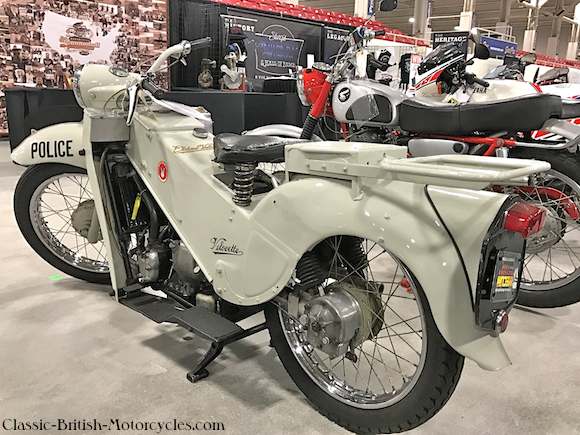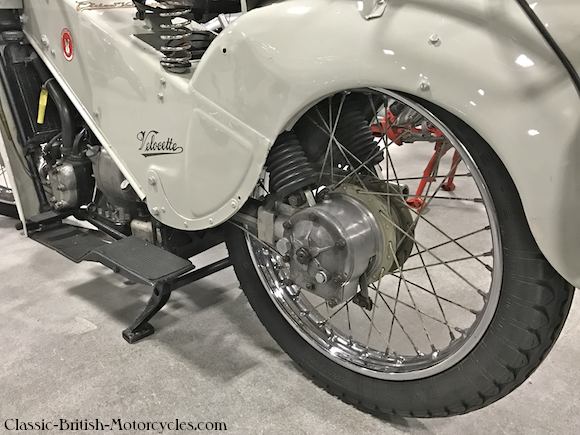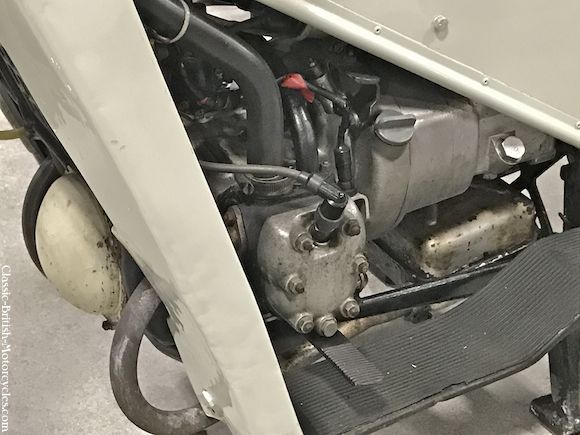 1970 VELOCETTE POLICE BIKE IS A MK III
There were three generations, or Marks, of Velocette LEs. In classic British motorcycle parlance, the abbreviation for Mark 1, for instance would be Mk I (the one being a Roman numberal "I"). Mk I ran from 1948 through 1950; Mk II from 1950 through 1958; and Mk III from 1958 to the end of production in 1971. That makes our 1970 Velocette LE Police Bike a Mk III. In its final evolution, the LE Mk III ditched the awkward pull-handle for starting in favor of a more-conventional kick starter. The Mk III also got a new foot-operated 4-speed gearbox, replacing the 3-speed unit in the Mk I and Mk II. Wheels were now 18 inches in diameter and fuel capacity was increased from 1.25 to 1.62 Imperial gallons (1.5 to 1.95 US gallons; or 5.7 to 7.4 liters). The instrumentation was moved into the headlight shell.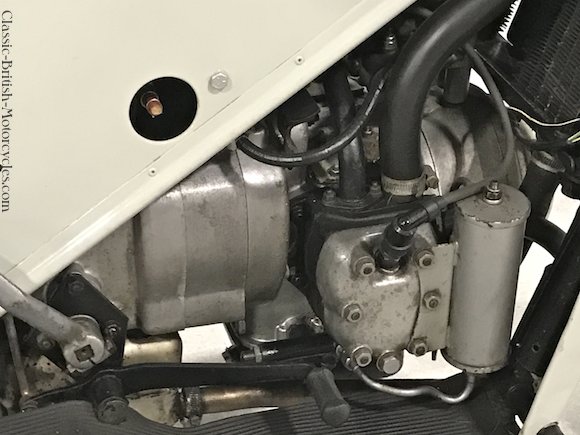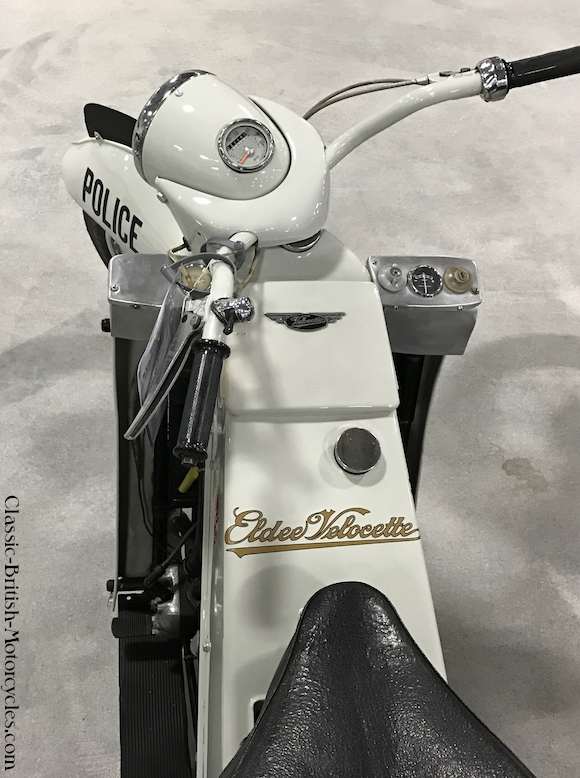 END OF THE LINE FOR THE VELOCETTE LE
As an epilogue to the story, in the late 1960s, before the LE went out of production, and Police forces across Britain began dropping the bike, the Conservators of the Epping Forest in England wanted to augment their patrolling abilities (primarily on foot or horseback up to that time), and so they adopted the Velocette LE to be their official forest vehicle. Every one was painted bright red so that they'd be easy to spot, and they became a regular sight in Epping Forest. The Conservators preferred the Velocette LE because it was quiet, smooth, comfortable, and reliable. It certainly was all those things, in fact those qualities are exactly what the Velocette LE was designed to deliver.
---
1970 Velocette LE Police Bike
SPECIFICATIONS
Model designation:

Engine type:

Valve gear:

Displacement:

Bore & Stroke:

Compression ratio:

Fuel system:

Ignition system:

Charging system:

Cooling system:

Lubrication system:

Starting system:

Engine output:

Clutch:

Gearbox:

Gear ratios:

Final drive:

Frame type:

Wheelbase:

Length:

Width:

Seat height:

Ground clearance:

Suspension, front:

Suspension, rear:

Brake, front:

Brake, rear:

Tire, front:

Tire, rear:

Fuel capacity:

Dry weight:

1970 Velocette LE MkIII (Mark 3)

Water-cooled horizontally-opposed twin

Side-valve (flathead)

192cc / 11.7 ci

50mm X 49mm

7.0:1

1X Amal 356 Monobloc carburetor

Points & coils

6-volt, 42-watt Lucas alternator & battery

Liquid-cooled

Wet sump

Kick start

8 horsepower @ 5000 rpm

3-plate, dry

4-speed constant mesh, right-foot shift

1st=2.078; 2nd=1.353; 3rd=1.0; 4th=1.739

Shaft

Stamped-steel monocoque

51.2″ / 1300mm

82.0″ / 2083mm

25.0″ / 635mm

28.0″ / 711mm

4.5″ / 114mm

Telescopic fork

Swing arm w/2 dampers (shocks)

5″ X 1″ drum

5″ X 1″ drum

3.25″ X 18″

3.25″ X 18″

1.9 US gal / 7.4L

263 lbs / 119 kg