1970 Royal Enfield Interceptor
1970 ROYAL ENFIELD INTERCEPTOR BACKGROUND
Royal Enfield hopped up its 692cc Constellation and created a new model, the 700 Interceptor in 1960, for sale in the US and Canada markets only (on England). They'd just lost their contract to rebadge Constellations with Indian Motorcycle regalia then selling them in the US (or trying) as the Indian Chief. It wasn't a great plan from the start, and from 1955 to 1960, far fewer bikes were sold than needed to be to ensure profitability. So now that all that factory capacity was freed up, the filled that gap with a new top-line model, the 1960 700 Interceptor. By 1962, they'd bumped displacement to 750, as it stayed until the last Interceptor rolled off the assembly line in 1970. At that time, ailing, struggling Royal Enfield sold all its assets to Madras Motors of India, who moved production to India, and still builds the single-cylinder Royal Enfield Bullet to this day.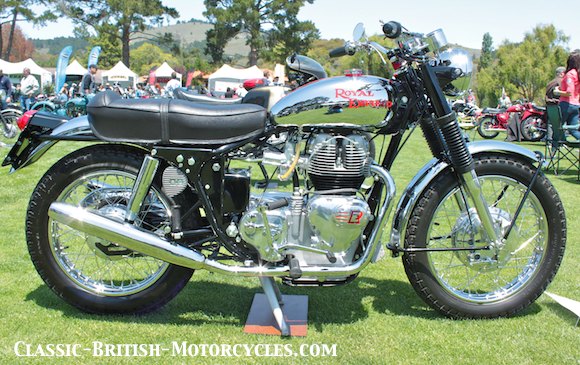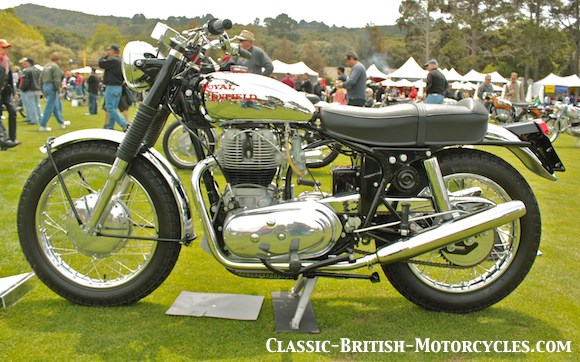 1970 ROYAL ENFIELD INTERCEPTOR TUNING SECRETS
Royal Enfield felt they needed to do something meaningful if they were to overcome the bad reputation that the Indian debacle had cost them. So, when it came time to replace that bike with one of their own marque, they went all the way with performance modifications over the old Constellation upon which the Indian Chief was built. These were already very strong engines, one of the only British vertical twins with a center main bearing, aiding not only its bottom-end strength, but also its smoothness. First off the old 692cc Constellation engine got 2 carburetors instead of one, a lightened and balanced crankshaft, hot "R-grind" cams, and a Lucas magneto. Displacement was increased to 736cc in 1962.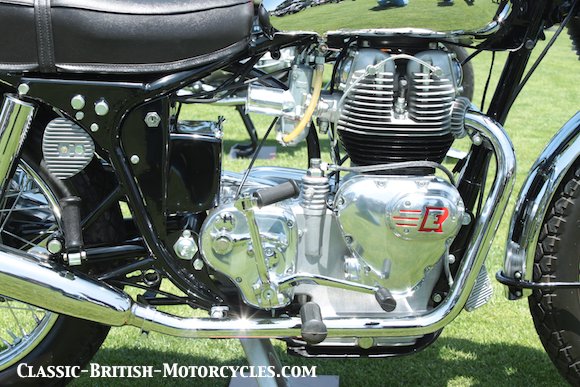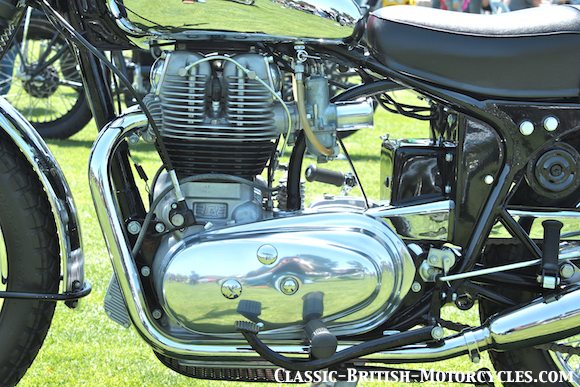 ---
1970 Royal Enfield Interceptor
SPECIFICATIONS
Engine type

Displacement

Bore & Stroke

Compression

Carburetors

Ignition

Charging

Battery

Primary Drive

Clutch

Final Drive

Gearbox

Ratios, overall

1st, Bottom

2nd

3rd

4th, Top

Fuel capacity

Oil tank capacity

Wheelbase

Seat height

Ground clearance

Weight

Suspension, front

Suspension, rear

Brake, front

Brake, rear

Tire, front

Tire, rear

Top speed

USA List price, 1970

Air-cooled OHV vertical twin

736cc

71mm X 93mm

8.5:1

2- Amal Concentric 30mm

Lucas Capacitator w/2 coils

Alternator

12 volt

Chain

Multi-plate, wet

Chain

4-speed constant-mesh, right foot shift

12.4:1

8.19:1

6.05:1

4.44:1

2.3 US gal

4.5 US pints

57.0″

30.5″

5.75″

426 lbs

Telescopic fork, 2-way damping

Swing arm, 2 coil-over dampers

8″ TLS drum

7″ SLS drum

3.25″ X 19″ Dunlop K70

4.00″ X 18″ Dunlop K70

117 mph

$1,495.00