1969 Triumph Trident T150
1969 TRIUMPH TRIDENT: BRITAIN'S SUPERBIKE!
At a time when Honda started building 50,000 750s a year, Triumph & BSA launched their star-crossed twins…er, triples, the BSA Rocket 3 and the Triumph Trident which combined would struggle to produce 5,000 in a good year. They were expensive to make, hard to build, and sometimes even harder to keep running. At nearly twice the price of a Bonneville they never sold well. The boxy styling didn't help matters either.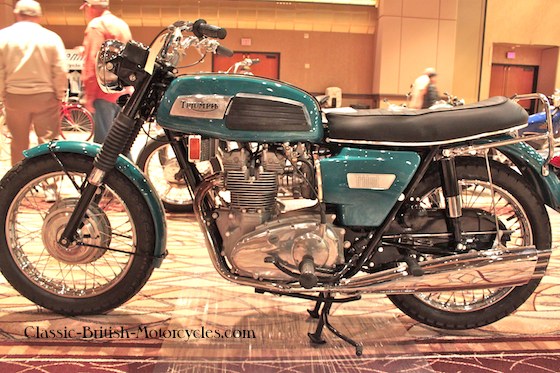 It was hard to make the 1969 Triumph Trident ugly, it's such a well-proportioned machine. But they did their best with boxy tank & side covers, and those hideous "Ray Gun Muffers".
INTRODUCTORY YEAR
The 1969 Triumph Trident was the introductory year for Triumph's new 750cc triple. Designated T150 (per Triumph custom of claiming a hypothetical top speed), the Trident had much in common with earlier Triumph Bonnevilles. For 1969, the new Triumph Trident utilized the Bonneville's 8-inch TLS (Twin Leading Shoe) front brake, 7-inch SLS (Single Leading Shoe) rear brake, front forks, the gearbox, much of the frame, and tons of minor hardware. But it also benefitted from a lifetime of experience that Triumph's engineers had learned in dealing with Triumph's twins, all those years.
1969 TRIUMPH TRIDENT: TEETHING PROBLEMS
Of course, like any radical new design, the 1969 Triumph Trident was not without it's teething problems, many associated with shoddy build quality in the factory. Sometimes, they were too good. The new gear-drive oil pump (gone was the old plunger-type oil pump of the twins) worked so well that it circulated the oil 3 times faster than the twins, too fast for the oil to have a chance to cool. This is why the oil cooler was added. But even with that, the total oil capacity was quite low, so it had to be checked constantly.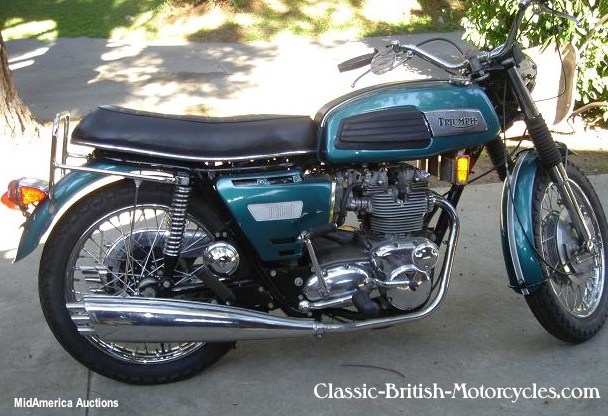 ABOVE: This gives a good view of those "Ray Guns" (aka "Flash Gordons"). Note the horrible chromed vertical strut that supports that enormous muffler. And that rear grab rail looks like an afterthought. You'd think that on a new model launch as important as this one was, they would have done a far better job of styling it. But that would come soon enough.
1969 TRIUMPH TRIDENT: TECHNICAL FEATURES
The 4-speed gearbox was interchangeable with all Triumph 650 twins from 1969 or later, but in the twins, it ran at a primary reduction of 2:1, where in the Trident ran at 1.78:1, with the side benefit of being easier to kickstart, as the result. In an effort to trim engine width, Triumph engineers decided against a conventional multi-plate clutch in favor of a Bord & Beck automotive-style single plate diaphragm dry clutch. To keep it dry, it lived in it's own sealed case within the primary chaincase, but was prone to leaks. The single plate clutch offered little travel or feel, or even adjustment, and proved very fussy to live with. Many early developmental problems surfaced and were resolved by Meriden's clever staff. Quality never really improved, exacerbated by the complexity of the engine assembly and the extreme care and skill that was required. The engine package conformed closely to established Triumph lines, and was just 3 inches wider than the twins. But alas it was 'kickstart-only' for this beast.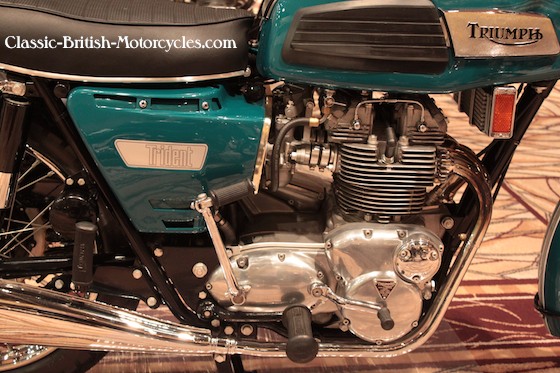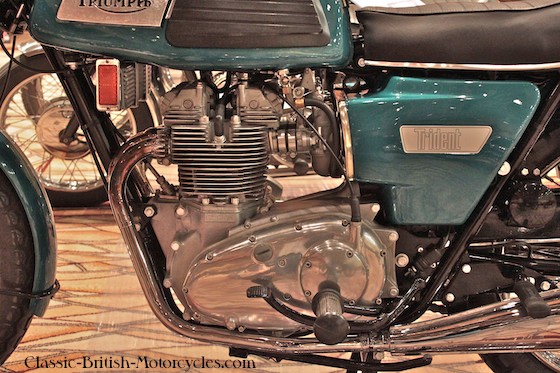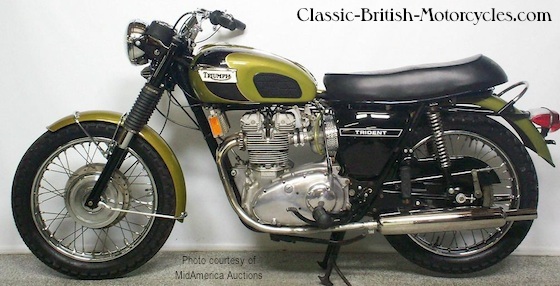 ABOVE: Looking more like a Triumph should, this 1969 Triumph Trident received Bonneville cosmetics (ie: tank, mufflers, etc.), a common dealer add-on in those days.
1969 TRIUMPH TRIDENT: BSA MEDDLING
Early 1969 Triumph Tridents arrived with the so-called "Shoebox" gas tanks and "Ray Gun" or "Flash Gordon" mufflers. And they looked ridiculous. A victim of parent company BSA's heavy-handed and spiteful mismanagement, the Triumph Trident, originally conceived as a Triumph, BSA jealously insisted on a BSA version also. And not just something badge-engineered either, they wanted a truly unique BSA version of the Trident, with it's own frame, and it's own engine, no less. Well, the same engine mostly, but with the cylinders canted forward about 10 degrees, instead of vertical like the Triumph's. This one small change alone cost millions in not only additional tooling, but constantly having to change that same tooling back and forth from the assembly of one engine to another. All BSA and Triumph triple engines were assembled in BSA's Small Heath factory, and at one point production had dropped to just 50 engines of each per month, and it must have seemed that more time was spent changing the tooling back and forth than actually building engines. The horrible styling was just one more facet of BSA's inept and self-destructive management style. Prototypes of the Triumph Trident were running around as early as 1964 and 1965, but this pivotal machine's release was delayed by years of BSA's meddling and indifference. When they finally green-lighted it, it was with the caveat that they allow automotive suppliers, Ogle, do the styling. And this is what they came up with: A boxy tank and side covers, Ray Gun Mufflers, and an overall dated look. Of course, BSA loved it. The American public hated it.
1969 TRIUMPH TRIDENT: SHOEBOX STYLING
Almost as soon as it arrived in America, U.S. Triumph dealers were swapping out the ugly bodywork for more typical classic Triumph motorcycle fare: handsome teardrop tanks, sleek mufflers and voluptuous lines. The new looks were an immediate hit, depsite BSA's best efforts to the contrary. Of course, even this couldn't help the 1969 Triumph Trident sell the big volumes that were needed. The combination of bad management, a shortage of financial resources, labor problems, an extraordinarily complex assembly process, and blistering competition from the Japanese Big-4 probably doomed the Triumph Trident from the start. But, what a machine!!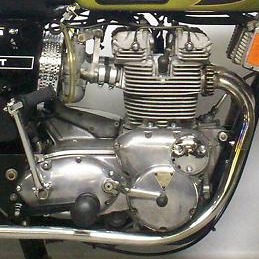 1969 TRIUMPH TRIDENT IN COMPETITION
Tom Mellor set 4 world speed records at the Bonneville Salt Flats with a 1969 Triumph Trident. Further development of the engine continued and road racing victories followed, by the likes of legends Dick Mann (BSA Rocket 3), Gene Romero and Don Emde (BSA Rocket 3. The reputation of the Triumph Trident and it's sister-bike, the BSA Rocket 3 as racing machines needs no apologies. They were giants in their day.
---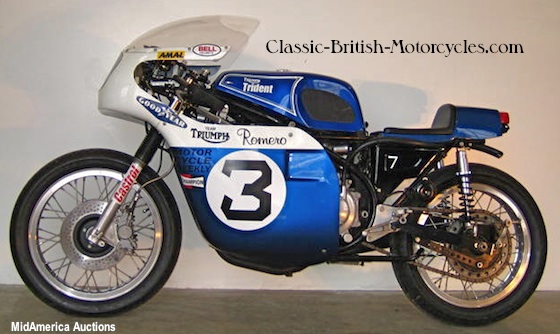 Gene Romero's Triumph Trident T150 racer.
---
---
1969 Triumph Trident SPECIFICATIONS
Model Designation

Engine type

Engine configuration

Engine displacement

Bore & Stroke

Compression Ratio

Horsepower @ RPM

Ignition type

Electrical System

Contact Breaker Gap Setting

Advance Range

Fully Advanced at

Carburation

Amal Type

Main Jet size

Needle Jet size

Needle type

Needle position

Primary Drive

Clutch

Gearbox

Shifting

Shift Pattern

Gearbox Internal Ratios:

4th gear

3rd gear

2nd gear

1st gear

Overall Ratios:

4th gear

3rd gear

2nd gear

1st gear

Final Drive

Gearbox Sprocket

Wheelbase

Overall Length

Overall Width

Overall Height

Ground Clearance

Seat Height

Unladen Weight

Engine Weight

Engine Lubrication

Front Suspension

Rear Suspension

Front Brake

Rear Brake

Front Tire size

Front Tire type

Rear Tire size

Rear Tire type

T150

4-stroke, air-cooled

traverse inline 3-cylinder

741cc / 45 ci

67mm X 70mm

9.0:1

58hp @ 7,250rpm

Points & Coils

12 volts DC

.014 – .016″ / .35 – .40mm

12 degrees / 24 degrees (crank)

2,200rpm

3-Amal 26mm Concentrics

Mk I

150

106

STD

2

triple-row chain

single-plate, dry, diaphram-type

4-speed constant mesh

right foot

1-down, 3-up

1.00:1

1.26:1

1.71:1

2.47:1

5.26:1

6.64:1

9.00:1

13.00:1

18 teeth

56.25″ / 142.875cm

86″ / 218.44cm

33″ / 84cm

43.5″ / 100.49cm

6.5″ / 16.51cm

32″ / 81.28cm

460 lbs / 208.8kg

180 lbs / 81.72kig

dry sump

telescopic, hydraulic

swing arm, 2 shocks

8-inch TLS drum

7-inch SLS drum

3.25 X 19″

Dunlop K70

4.10 X 19″

Dunlop K70