1966 BSA A65
---
1966 BSA A65 Spitfire Special
1966 BSA A65 SPITFIRE SPECIAL
This was the hot rod version of the A65, just behind the A65 Lightning. Like the Lightning, the Spitfire had twin Amal carbs (Amal Monoblocs would be standard for 1966; Amal Concentrics didn't arrive until 1967.)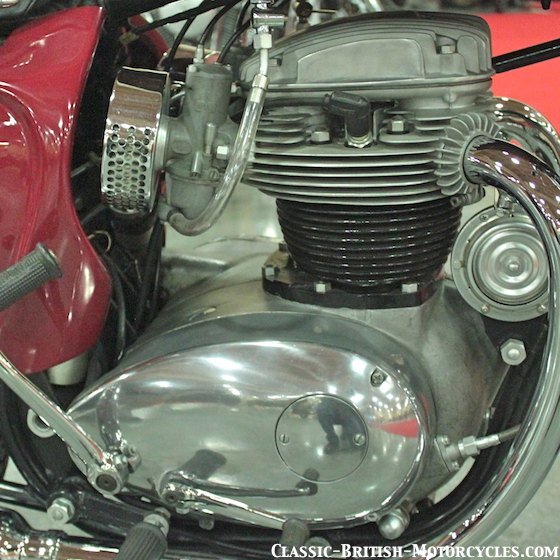 A65 MECHANICALS
The unit construction 650 twin hadn't changed in any major way since its introduction in 1962. However, there had been constant incremental improvements made as problems presented themselves. Lots of improvements were made in the main bearings which started out with a bushing on the timing side, but was soon upgraded to a bearing. This is just one of the many running changes that were made over time that the A65 benefitted from. They were actually becoming fairly reliable, as long as you didn't press them too hard.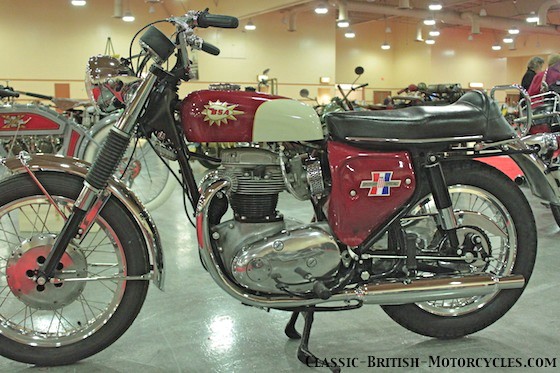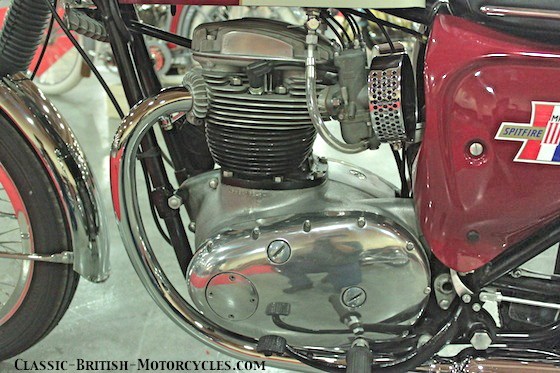 ---
1966 BSA A65 Hornet Scrambler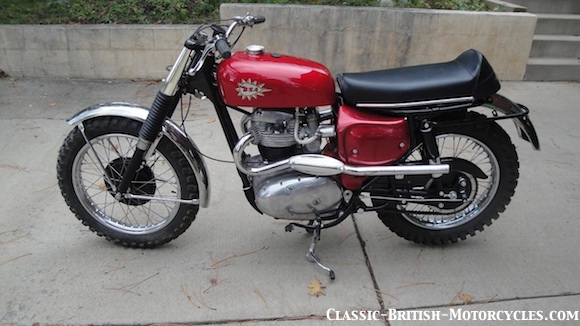 A65 HORNET SCRAMBLER
The Hornet was BSA's 650 dirt bike. They came stripped of all highway gear, knobby tires, special gearing, and those slick side pipes, one running high on each side of the bike. No way you're going to hit them, right?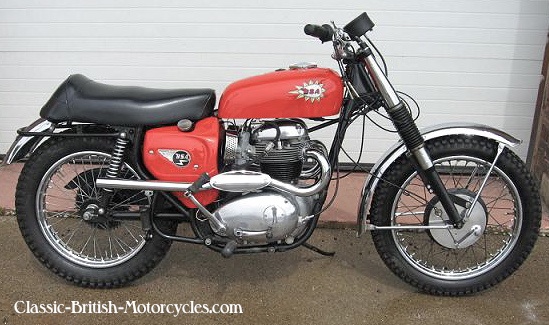 ---
1966 BSA A65 SPECIFICATIONS
A65 Thunderbolt

A65 Lightning

A65 Spitfire Scrambler

Engine type

Displacement

Bore & Stroke

Compression

Carburetor(s)

Ignition

Engine output

Primary drive

Clutch

Gearbox

Ratios, overall:

1st, bottom

2nd

3rd

4th, top

Final drive

Frame type

Wheelbase

Seat height

Ground clearance

Suspension, front

Suspension, rear

Brake, front

Brake, rear

Tire, front

Tire,rear

Fuel Capacity

Curb weight

Single-carb Roadster

Twin-carb Roadster

Twin-carb Street Scrambler

Air-cooled OHV vertical twin

654cc

75mm X 74mm

9.0:1

Amal Monobloc, 1-1/8″

Breakers & coils, Lucas

38 bhp @ 5800 rpm

Triplex chain

Multi-plate, wet

4-speed constant-mesh, right-foot shift

—

11.1:1

7.18:1

5.13:1

4.35:1

Chain

Welded & brazed lug, full double cradle

54″

33″

7″

Telescopic fork, hydraulic damping

Swing arm, 2 Girling dampers

8″SLS drum

7″ SLS drum

3.25″ X 18″ Dunlop

3.50″ X 18″ Dunlop

2.4 gal (US models); 4.8 gal (UK & export)

406 lbs