1958 Ariel Square Four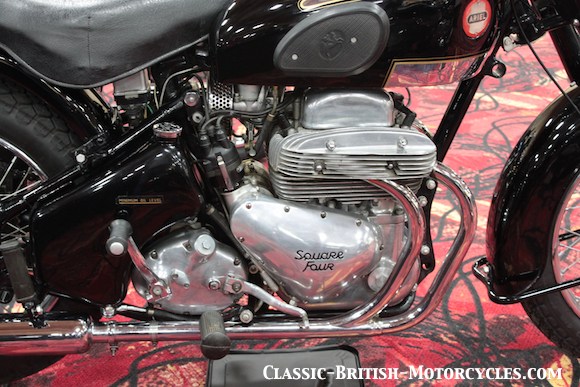 1958 ARIEL SQUARE FOUR – GETTING LONG IN THE TOOTH
Alas, the world was changing, and with it the motorcycle market. The Ariel Square 4 designed decades before, was keyed to another age, one where acceleration and all-out top speed weren't as important as smoothness and reliability. Hence the Square Four engine was built around these parameters. Two counter-rotating crankshafts not only gave it its name, but also provided a level of smoothness that was mostly unavailable in that era. But it came at a price. Two crankshafts are heavier than one, so double the rotating mass must have hurt performance. Also, the head was designed, automotive-style, with a long, torturous route that the intake tract had to follow in order to feed all four cylinders. By this late stage in the game, the Square Four was now sporting an auto-industry-derived SU carburetor, but it wasn't nearly enough. The horsepower of this 1000cc 4-cylinder hovered around 40hp, good for a claimed 100 mph, but it took its time getting there, for sure. The market was moving toward all-out performance, even at the cost of reliability and vibration in some cases. Free-revving vertical twins like the Triumph Tiger and Norton Dominator became the standard, and Ariel was able to do nothing to counter it. No new bikes were coming. These last few years of series production saw sales steadily dwindle until by 1959, it was all over for the Ariel Square Four.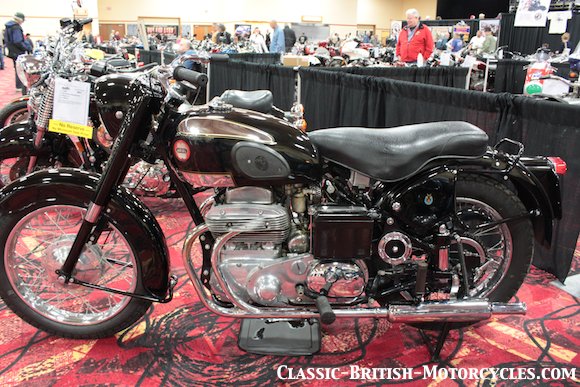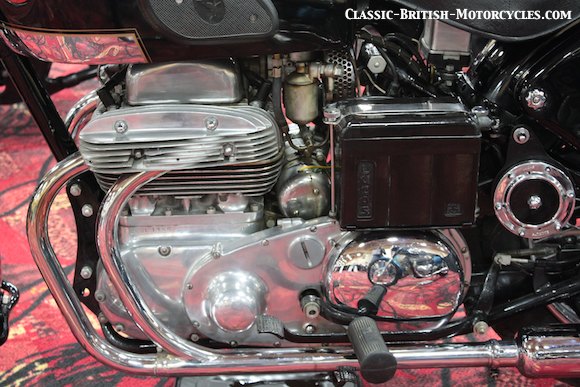 ---
1958 Ariel Square Four SPECIFICATIONS
Engine type

Displacement

Bore & Stroke

Compression

Carburetor

Engine output

Ignition

Charging

Battery

Primary drive

Clutch

Gearbox

Ratios, overall:

1st, bottom

2nd

3rd

4th, top

Final drive

Frame type

Suspension, front

Suspension, rear

Brake, front

Brake, rear

Wheel, font

Wheel, rear

Tire, front

Tire, rear

Fuel capacity

Wheelbase

Seat height

Ground clearance

Dry weight

Air-cooled OHV twin-crankshaft 4-cylinder

997cc

65mm X 75mm

7.2:1

1- SU side-draft w/variable choke

42 bhp @ 5800 rpm

Lucas coils & distributor

Lucas 70W dynamo

6 volt, 20 amp-hours

1/2″ X .305″ chain

Multi-plate, dry

4-speed constant-mesh, right foot shift

—

11.55:1

7.4:1

5.7:1

4.36:1

5/8″ X 3/8″ chain

Steel tube, full-cradle

Ariel telescopic fork, hydraulic damping

2- plunger-type w/short trailing arm

7″ full-width SLS drum

8″ SLS drum

WM2-19  (19″)

WM3-18  (18″)

3.25″ X 19″ Dunlop, ribbed

4.00″ X 18″ Dunlop, universal

5 gal

56.0″

31.0″, unladen

5.5″, unladen

435 lbs