1955 Triumph T110 Tiger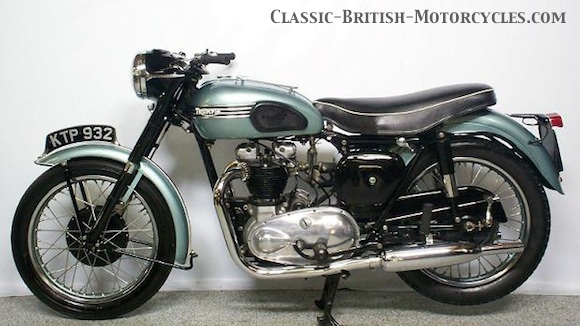 1955 TRIUMPH T110 TIGER CONTINUALLY IMPROVES
True to the British style at the time, steady, continuous improvements were applied to all their bikes. The 650cc T110 Tiger was their hottest bike in 1955 (the TR6 wouldn't topple its top spot until 1956), so much attention was lauded on it. 1954 Tigers had a problem with their new cylinder heads distorting when they got hot. As a temporary fix, a fifth cooling fin was added to help beat the heat. The real problem was that the cylinder and head were made of cast iron, which doesn't shed heat as well as aluminum. The following year (again with the introduction of the TR6) the new alloy Delta Head was introduced, solving the problem. The choke lever was moved under the seat to clean up the handlebars. All swing arm frames now had sidecar lugs and a new side stand.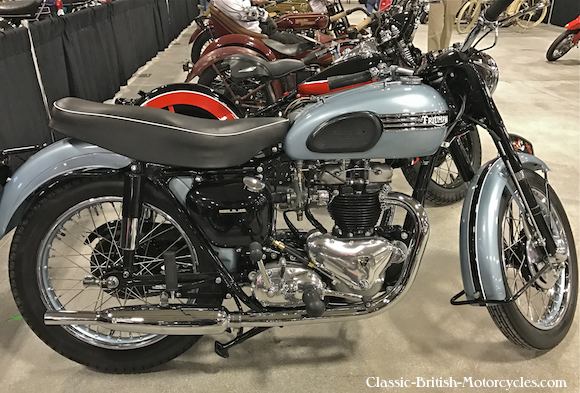 1955 TRIUMPH T110 TIGER GETS EVEN HOTTER
There is a saying in the motorcycle business: "Too much is never enough". The 1955 Triumph T110 Tiger was already one of the hottest machines on the road, on 2 wheels or 4, but more power was needed. So, compression was bumped up to 8.0:1, and new, hotter E3325 cams were installed. The added compression forced Triumph to build the entire kickstart mechanism out of nickel-steel chrome to cope with the added loads. Ignition was now handled by a K2FC competition magneto.
---
1955 Triumph T110 Tiger
SPECIFICATIONS
Engine type

Displacement

Bore & Stroke

Compression

Carburetor

Ignition

Engine output

Primary drive

Clutch

Gearbox

Ratios, overall:

1st, bottom

2nd

3rd

4th, top

Final drive

Frame type

Wheelbase

Seat Height

Ground Clearance

Suspension, front

Suspension, rear

Brake, front

Brake, rear

Tire, front

Tire, rear

Fuel capacity

Curb weight

Air-cooled OHV vertical twin, non-unit

649cc / 40 ci

71mm X 82mm / 2.79″ X 3.23″

8.5:1

1- Amal Monobloc, Type 289

Lucas magneto

42 bhp @ 6500 rpm

1/2″ X .305″ chain

Multi-plate, wet

4-speed, non-unit, right foot shift

11.20:1

7.75:1

5.45:1

4.57:1

5/8″ X 3/8″ chain

Brazed-lug, full cradle

55.75″ / 141.6 cm

30.5″ / 77.5 cm

5.0″ / 12.7 cm

Telescopic fork, hydraulic damping

Swing arm, 2 Girling dampers

7″ SLS drum

7″ SLS drum

3.25″ X 19″ Dunlop

3.50″ X 19″ Dunlop

4 gal / 18 liters

395 lbs / 179 kg