1951 Velocette MAC
1951 VELOCETTE MAC IS A TOP-SELLER
The Velocette MAC debuted in 1933. It had an air-cooled OHV 350cc single cylinder engine that was capable of hustling the 280-pound MAC to 75mph. It was developed out of the 250cc Velocette MOV by lengthening its stroke for the 1934 model year, and the new machine was called MAC. It turned out to be Velocette's top seller for many years. It was not only popular, but much cheaper to produce than the OHC KSS, which required meticulous hand assembly. 1939 marked the beginning of Britain's involvement in World War II, ending civilian production. This brought military orders for the MAC, now with a (WD) after the name, signifying Britain's War Department. Civilian production resumed in 1946 and the postwar MACs now featured telescopic forks, replacing the old girders. MAC production continued through 1960.
VELOCETTE MAC – WHAT'S IN A NAME?
Velocette's naming-regimen at the time was to precede the names all overhead cam (OHC) bikes with a "K" (ie: KSS for example). All pushrod-operated overhead valve (OHV) bikes had an "M" as the first letter in their model designation. The K-bikes' engines were complex with their fussy shaft-driven overhead cam, with bevel gears on each end. Hence they had to be hand-assembled, greatly increasing production costs. The M-series bikes solves all that by going with a very conventional cam in the crankcase operating two pushrods. They were much simpler and cheaper to build and proved to be very robust, reliable machines with good performance.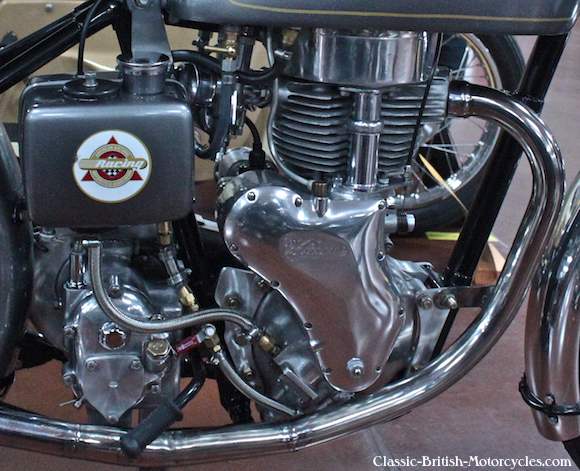 Special thanks to MidAmerica Auctions for the use of their picture, appearing at the top of this page.
---
1951 Velocette MAC SPECIFICATIONS
Engine type

Displacement

Bore & Stroke

Compression

Carburetor

Ignition

Engine output

Primary drive

Clutch

Gearbox

Frame type

Suspension, front

Suspension, rear

Brake, front

Brake, rear

Tire, front

Tire, rear

Wheelbase

Seat height

Fuel capacity

Weight

Top Speed

Air-cooled, high-cam OHV single

349cc

68mm x 96mm

6.75:1

Amal

Lucas K2F magneto

15 bhp

Chain

Multi-plate, wet

4-speed

Backbone w/engine as stressed member

Veloce Tele-Forks

Rigid

7″ SLS drum

6″ SLS drum

3.25″ X 19″

3.50″ X 19″

50.25″ / 127.6cm

27.5″ / 70cm

2.5 Imp gal / 11L / 3.0 US gal

320 lbs

75mph