1949 Royal Enfield Bullet
1949 ROYAL ENFIELD BULLET BACKGROUND
Royal Enfield had been building sturdy, reliable motorcycles since the turn of the century. They produced military motorcycles for the British army in both world wars. They struggled at the edge of insolvency throughout most of the 1930s but managed to hang on until the the second world war boosted their business again. After the war, they quickly settled back into civilian motorcycle production with their 350cc Model G, and 500cc Model J, both singles. The "Bullet" name was first used in 1931 and the fun never stopped. They used rigid frames and telescopic front forks. A new swing arm frame was adopted in 1948. It took a year for it to appear in the new 1949 Royal Enfield Bullet 350, and shortly after, in the Bullet 500.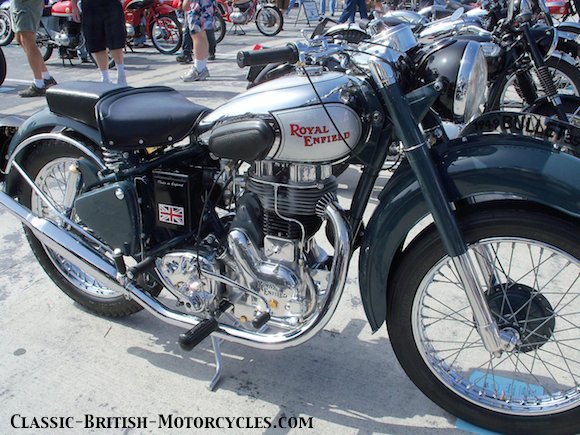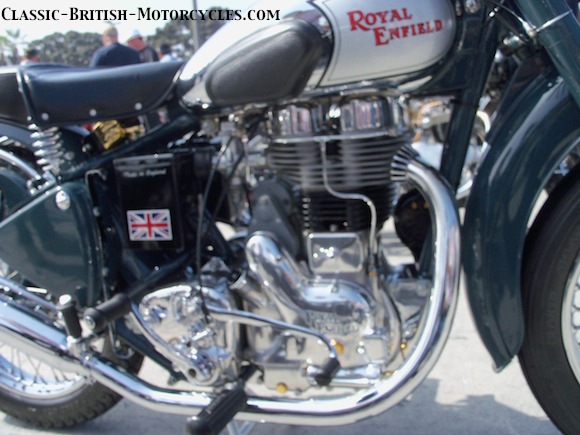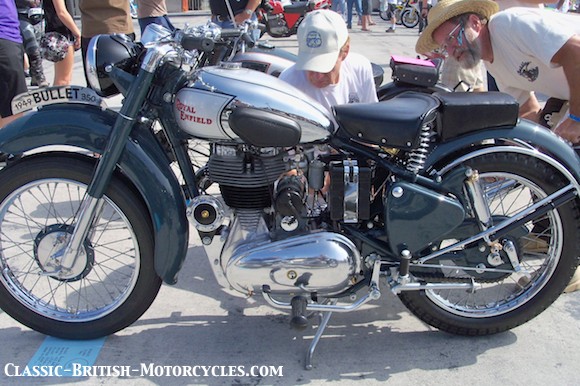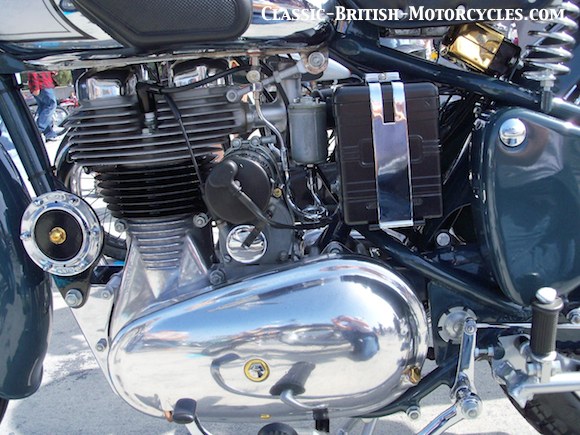 ---
1949 Royal Enfield Bullet SPECIFICATONS
Engine type

Displacement

Bore & Stroke

Compression

Carburetor

Ignition

Engine output

Primary drive

Clutch

Gearbox

Final drive

Frame

Suspension, F

Suspension, R

Brake, F

Brake, R

Wheel size, F

Wheel size, R

Wheelbase

Grd clearance

Length

Width

Height

Fuel cap

Weight

350 Bullet                

Air-cooled OHV single

346cc

70mm X 90mm

6.5:1

Amal

Magneto

20 bhp

Chain

Multi-plate, wet

4-speed, right-shift

Chain

Welded steel

Telescopic fork

Swing arm, 2 shocks

6″ SLS drum

6″ SLS drum

19″

19″

1370 mm

135 mm

2140 mm

800 mm

1030 mm

13.5L

180 kg

500 Bullet               

Air-cooled OHV single

499cc

84mm X 90mm

7.5:1

Amal

Magneto

Chain

Multi-plate, wet

4-speed, right-shift

Chain

Welded steel

Telescopic fork

Swing arm, 2 shocks

6″ SLS drum

6″ SLS drum

19″

19″

1370 mm

135 mm

2140 mm

800 mm

1030 mm

13.5L

184 kg