1935 Velocette KTT Background
The 1935 Velocette KTT was the first year of the KTT line that would run until 1949. Based on Velocette's very successful 350 KSS, which won the Isle of Man TT in 1926 (10 minutes ahead of the next bike), the KTT was a very advanced machine. The KTT went on to become one of the most successful road race motorcycles of its time, racking up many international titles in its long career. The entire "K-series" were designed for racing, although Velocette wasted no time in cashing in on their racing success by building popular street bikes. All K-series Velocettes had a single-overhead camshaft (SOHC) driven by a vertical shaft with elaborate bevel gears on each end. When set up right, it was a brilliant and effective system, but they were extremely laborious to put together on the assembly line and required the experienced hands of a craftsman. Not the kind of thing you want in high-volume motorcycle production. This bike represents part of a very long, and worthy line of KTTs that ran from 1929 through 1949. A very long run indeed.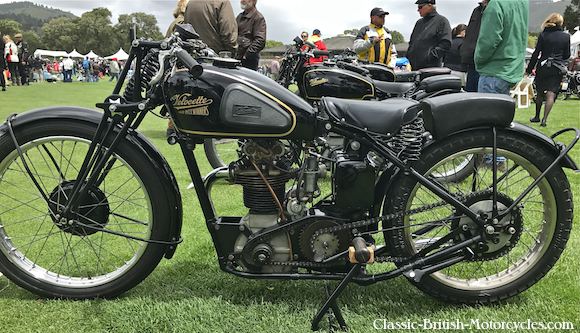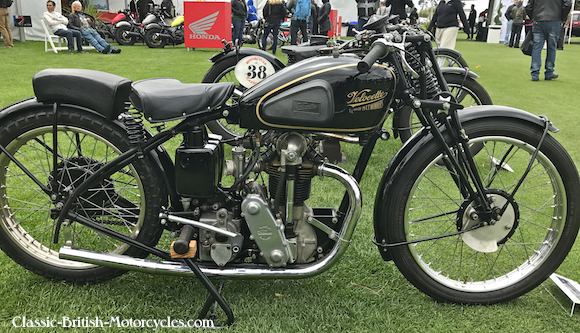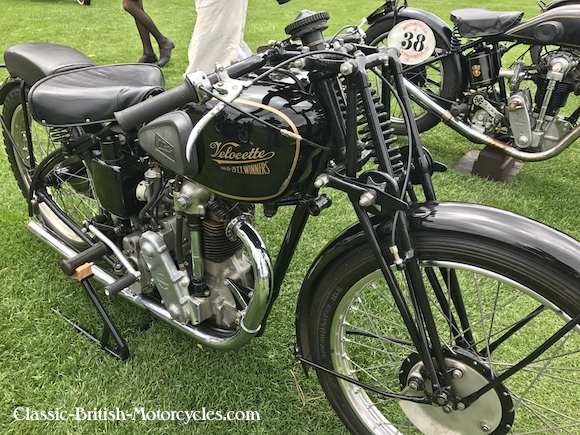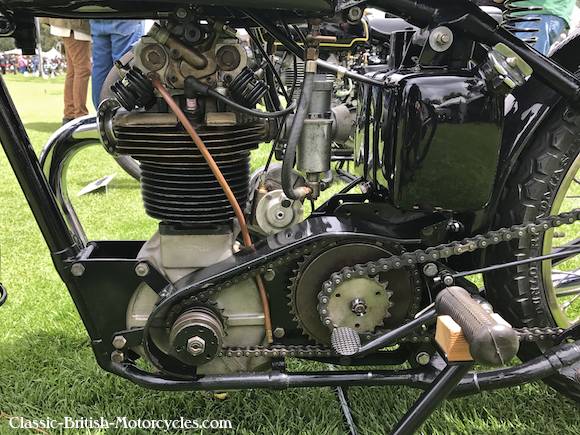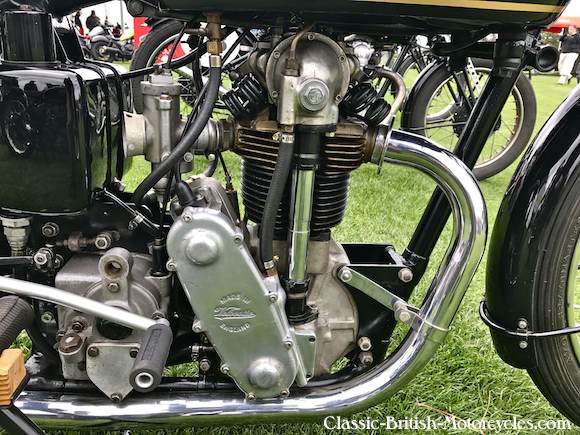 1935 Velocette KTT Engine
The KTT has earned many distinctions, not the least of which being the first motorcycle ever to employ a positive-stop sequential foot-shifted gearbox. We don't even think about it today, but that 'one-down, four-up' move you've done a million times didn't exist prior to this bike. Above, you can see that long housing rising up and back from the crankshaft, that's covering the chain that drives the Lucas magneto. It's also a great shot of the shaft-drive for the OHC. Notice the exposed 'hairpin' valve springs. While quaint today, they were state-of-the-art in 1935. Years of racing experience, creative design and engineering, and trial-and-error led to innovative approach. Metallurgy of the day simply wasn't up to producing coil springs that could maintain their tension over long, hard races. Hairpin springs were being experimented with by several others, but Velocette got it right.
---
1935 Velocette KTT SPECIFICATIONS
Engine type

Displacement

Compression ratio

Fuel system

Ignition system

Primary drive

Clutch

Gearbox

Final drive

Suspension, front

Suspension, rear

Brake, front

Brake, rear

Weight

Top speed

Air-cooled, SOHC single

350cc

7.5:1 (9.0:1 optional)

Amal carburetor

Lucas magneto

Chain

Multi-plate, dry

3-speed, right-foot shift

Chain

Webb girder fork w/friction dampers

Rigid

SLS drum

SLS drum

265 lbs

85 mph