Winter is around the corner, and before we know it, a lot of us will have to park our ATVs away. However, this is no reason for us to stop representing our community. A cool ATV shirt is one of those simple pieces of clothing that is sure to get you noticed by other enthusiasts.
That said, there are thousands of options for you to choose from; from popular, trending designs to official merchandise from brands like Polaris—you're never going to be short of options. Now, scouring the internet to find a design that represents you and your love for ATVs is just time-consuming. So, we did all the hard work and compiled a list of the best ATV shirts you can get your hands on to make things easier for you.
It doesn't matter what or how you ride; there's a shirt on this list for you.
Note: We have posted links to the products we call out here. Some of these products are available on Amazon, where we have an affiliate relationship. If you purchase a kit via these links, we may receive a small commission (at no additional cost to you). This is how we fund our site.
O'Neal Mayhem Crank Men's Jersey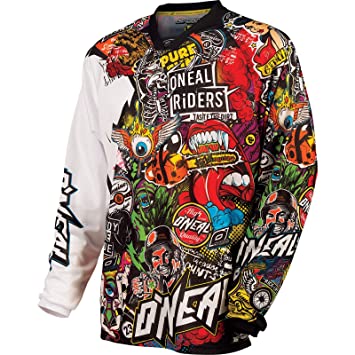 O'Neal is a brand that specializes in off-road merchandise and gear. This Mayhem Crank jersey is made of a functional, sweat-wicking material that's covered in some of the boldest graphics you'll probably ever find on a T-shirt.
You may be opposed to the bright colors and the attention they'll bring you, but keep in mind that it also makes you easier to spot when you're out riding through a dense trail or if you break away from the rest of the pack. And your friends will certainly be able to pick you out of a crowd!
Troy Lee Designs TLD Polaris RZR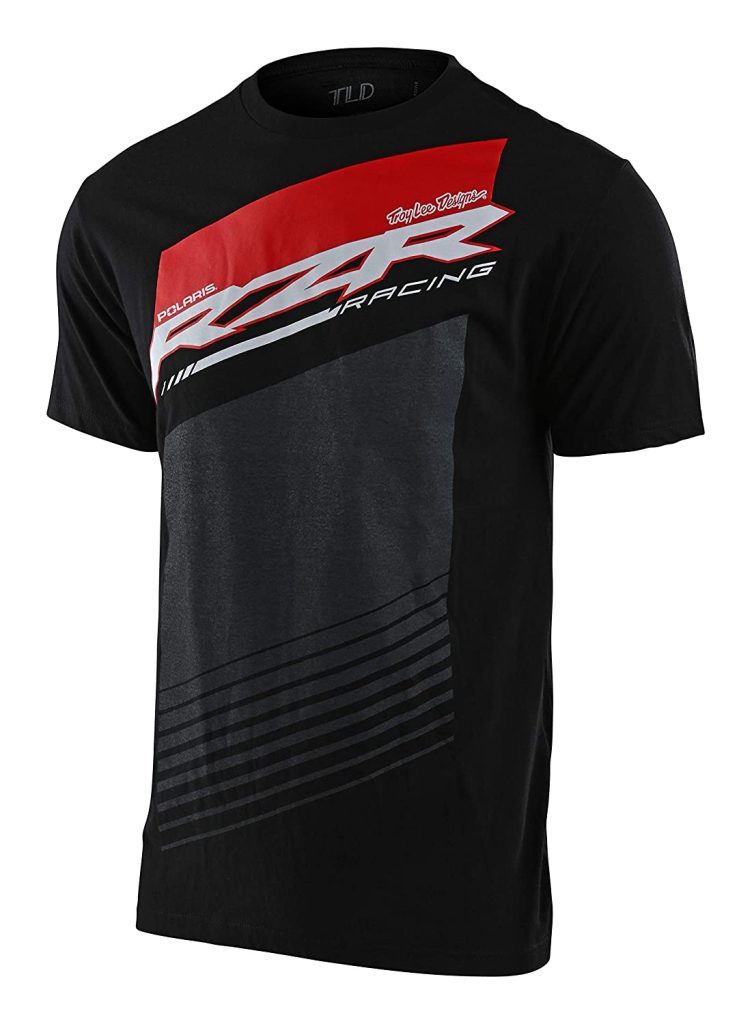 This Troy Lee Designs shirt has been officially licensed by Polaris and sports branding for the Polaris RZR. The RZR lineup is the manufacturer's side-by-side model, and for 2022, there's a whole 19 variants you can choose from. It doesn't matter which one you choose because this TLD Polaris RZR short-sleeve T-shirt will fit right in with all of them.
Extreme Muddin'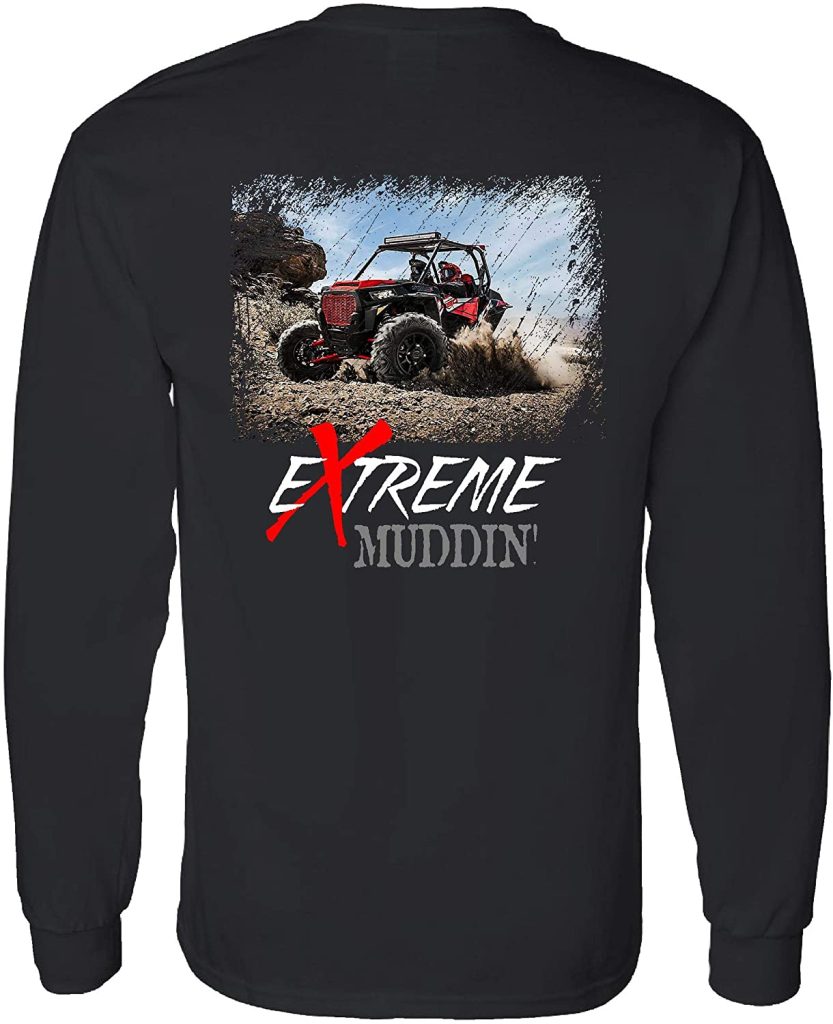 Want a T-shirt that tells the world you love the dirt and your ATV? This is the one. The front of this shirt is straightforward, with an 'Extreme Muddin' text patch on the left chest. On the other hand, the back has a relatively large picture of an SxS ripping through some gravel, accompanied by the exact text as the front.
Side-by-sides (SXS), also referred to as UTVs, are designed to seat more than just one adult and are usually meant for specialized work rather than recreation. They offer lots of storage space and are most commonly used for moving around equipment, gear, or supplies in places where more conventional modes of transport aren't viable.
Considering their utilitarian intentions, UTVs are predominantly used in the farming sector. However, they're also used by those looking to head out on an adventure with a partner or friend these days. If you're one of these people, you could also gift this T-shirt to the person you ride with.
The Week In Progress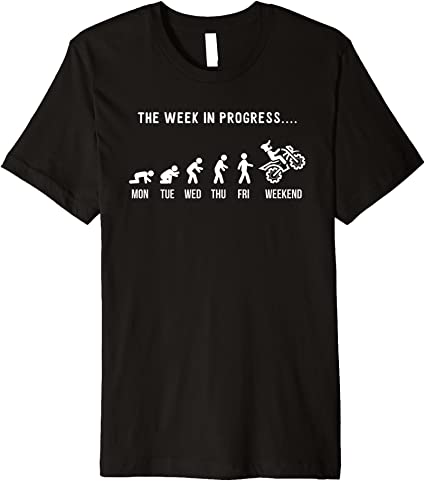 As lovely as it may sound, some of us, unfortunately, can't get onto our ATVs and ride out on a trial whenever we want to. The weekdays are usually consumed by other responsibilities, and it's no wonder we're all looking forward to the weekend.
This T-shirt perfectly depicts the wait for the weekend as the days go by, and it's a design that a lot of people will be able to relate to. If you're not someone who's bound to riding only on the weekends, consider yourself blessed. Maybe the next shirt on this list is something that you'll resonate with better.
Where We're Going We Don't Need Roads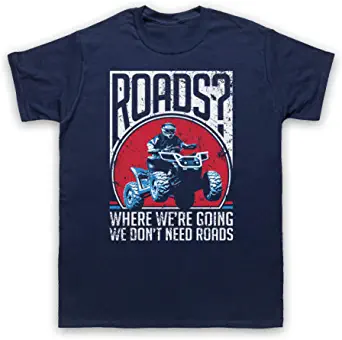 These famous words were first said over three decades ago, in 1985. Granted, the context was completely different, but it's a surprisingly apt representation of the ATV community as well.
For those of you who are unaware of what we're on about, these words were said by Dr. Emmett Brown to Marty McFly in the Spielberg movie Back to the Future before they climbed into the iconic DeLorean.
They were about to transport themselves to the future where they presumed there would be flying cars, making roads redundant. Well, we might not have invented flying cars yet, but our ATVs can go almost anywhere.
If you're into the Back to the Future series and love going off-road, this is a brilliant design that combines both of those worlds.
The Quadfather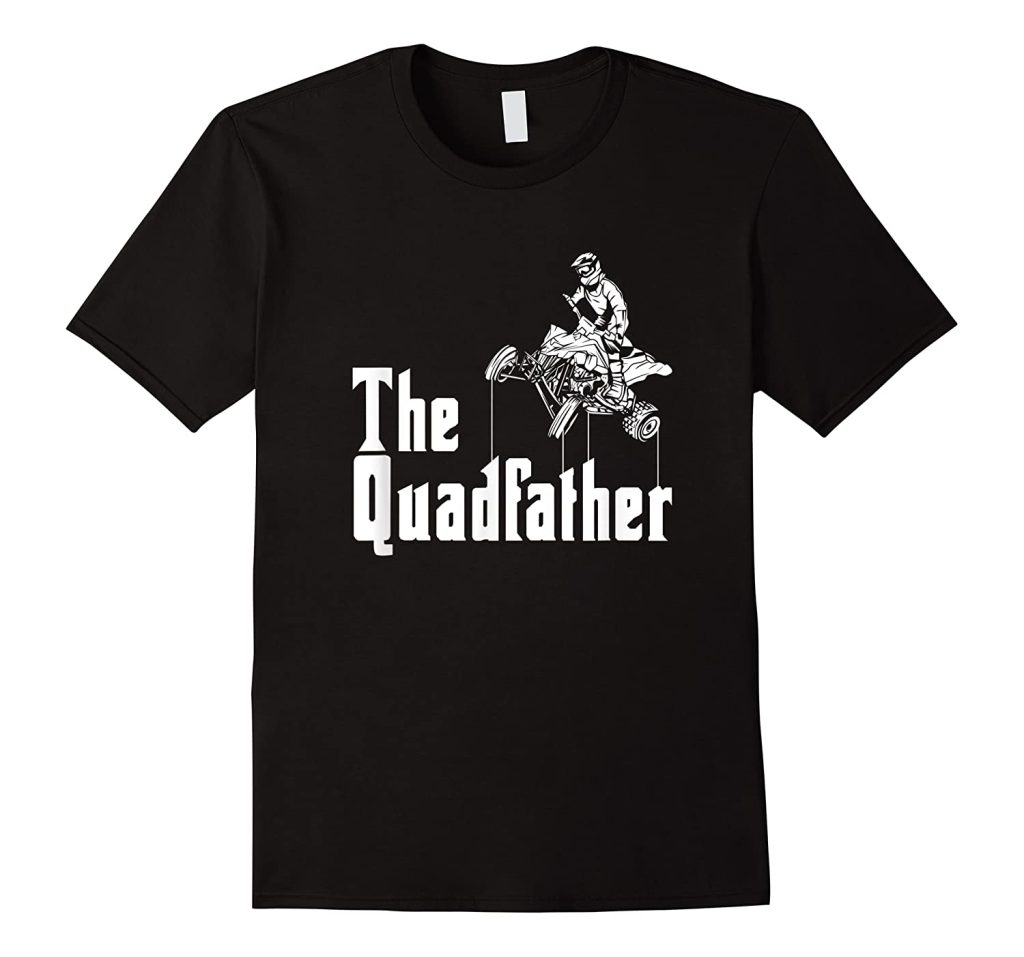 Another iconic movie reference. The Godfather trilogy is about the rise of the fictional Italian-American Corleone mafia family. The Quadfather? Well, that could be you.
The Godfather logo included the arm of a puppet master with strings attached to the movie's title. This cool T-shirt pays homage to that with strings hanging down from the ATV.
The puppet strings symbolize that the godfather is the master of his empire and has complete control over his decisions and choices. Sometimes heading out onto an unexplored trail makes you feel a little like that, doesn't it? We think this is a T-shirt that should definitely be a part of every enthusiast's wardrobe.
Honda Talon 1000X-4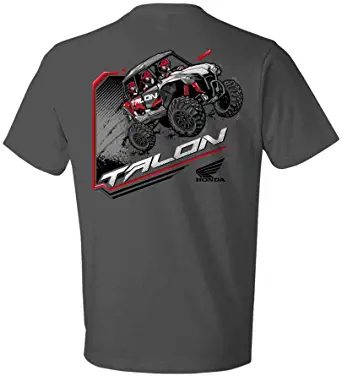 The Honda Talon is a relatively new player in the UTV class. The 1000X-4 seats four, so you could take your entire family out on the trails if you wanted to.
The Talon 1000X-4 comes with a quality kit that'll keep all of its occupants quite comfortable. These include spacious, supportive seats, as well as FOX Podium, shocks with QS3 manual adjustors. There's also the Talon 1000X-4 FOX Live Valve variant that offers self-adjusting suspension.
If you own a Talon 1000X-4, we're confident the occasional weekend adventure with the entire family is a significant part of your life. Now, all of you can represent your adventures with one of these T-shirts. It's a great design to own even if you don't drive a Talon and are just a fan of the machine.
We Gonna Ride or What?
The perfect shirt to wear when you're out with riding buddies whose rest stops are a little too long. Long, unwarranted breaks can ruin the flow of your ride, and sometimes it's best to keep breaks as short as possible.
This T-shirt is also the most customizable one on this list. You can get it in a regular fit, athletic fit, with a V-neck, or a round neck, and more. It's also available in over 25 colors, so you're not going to be short of options.
Retro ATV Shirt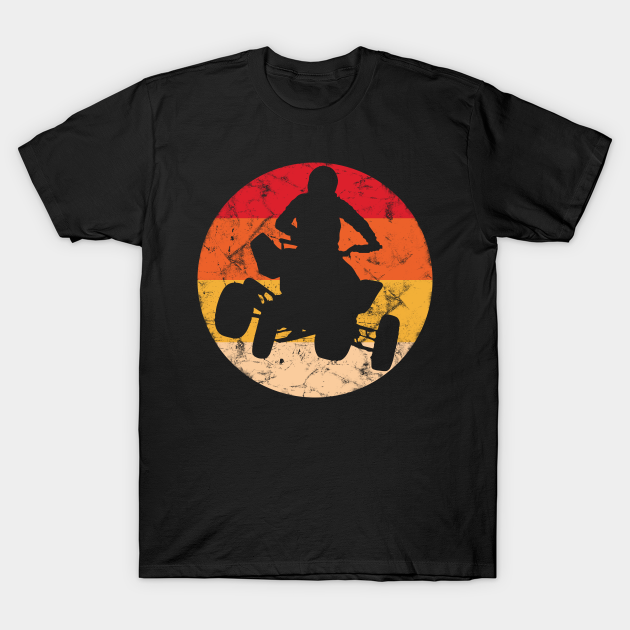 ATVs have been around since the late 1960s. The first commercial ATV came to life in 1969, when the American Honda Motor Company, Inc. asked one of its engineers, Osamu Takeuchi, to design a product that could continue to sell when sales for Honda motorcycles dropped in the winter.
Five decades later, there are numerous other players in the market, each offering several ATVs and UTVs, for recreational and sports use.
This T-shirt features a retro color palette with the silhouette of an ATV catching some air on it. Yes, the outline is of a modern-looking ATV, but keep in mind the machines of yesteryear were bulky and often featured only three-wheels—not a very accurate representation of the machines we get to ride today.
Factory Effex 'Yamaha' Flare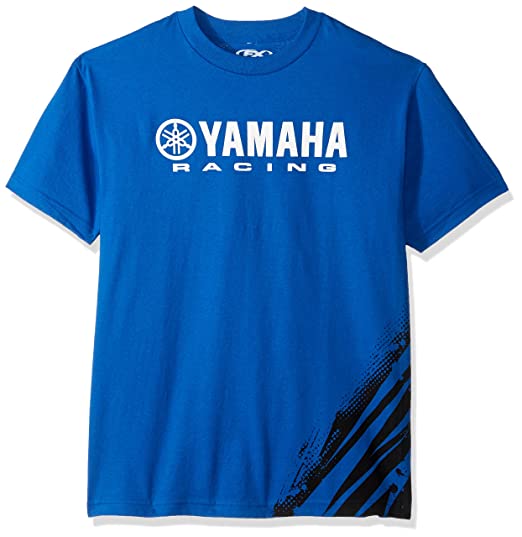 Yamaha has been in the ATV business for a little over four decades now. It made its way into the North American market with the three-wheeled Tri-Moto that debuted in 1980. In 1984, it introduced its first four-wheeled model, the Moto-4, and there's been no looking back since.
The Japanese manufacturer has taken its ATVs racing, and they've been quite successful at it too. Yamaha ATVs have seen the most success in the GNCC Racing Championship, winning multiple titles with the popular YFZ450R.
This Factory Effex 'Yamaha' Flare T-shirt also has the Yamaha Racing logo with some track marks on the bottom. It's simple yet sophisticated. And it comes in Yamaha Blue!
The Adventure Begins
One of the most empowering feelings of owning an ATV is that with an appetite for adventure and some skill, you can take any ride and turn it into an epic adventure. The design of this T-shirt symbolizes that.
It doesn't matter if you're going to ride around the beach, explore a trail, or do some more hardcore off-roading; the adventure begins when you get on your ATV.
American Flag and Quad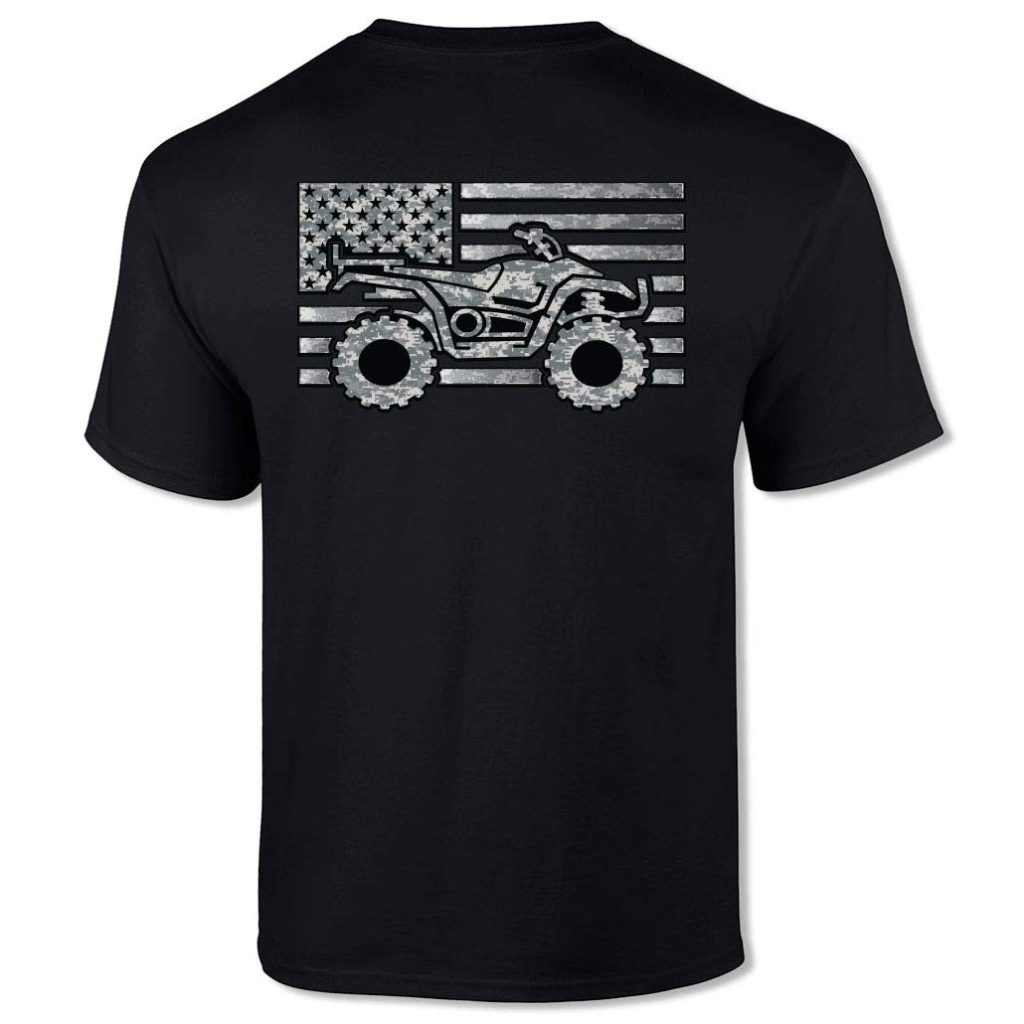 This simple T-shirt features just two elements—the American flag and an ATV. There's not much else to it. America has always been home to the All-Terrain Vehicle; the first commercial ATV from the Japanese manufacturer, Honda, was sold in our market.
Today, we're the largest ATV market in the world, and it looks like it's going to stay that way for a while.