I wanted to take a quick break from talking about all these motorcycle helmets and reflect a little on just what make this sport so much fun. When I first started riding, I was single – free – and a little reckless. Riding my bike was a way to express just how a few of these values that I deemed to be important at that stage in my life.
Today it's not so different – with a few small improvements on that early passion and excitement. My wife and I enjoy taking long trips to rediscover that freedom and recklessness. Sometimes we take the bike, sometimes we haul the bike. Those items on the Bucket List need to get ticked off somehow right? Depending on your own values and perspectives, you may find yourself getting in more time with those that you care about when choosing to ride, or opting to haul.
On the the reckless bit, and a few items that have made it onto my personal bucket list. We'll save my F-uck!t-List for another time.
10 Wildest Biker Parties I want to go to next year (2015)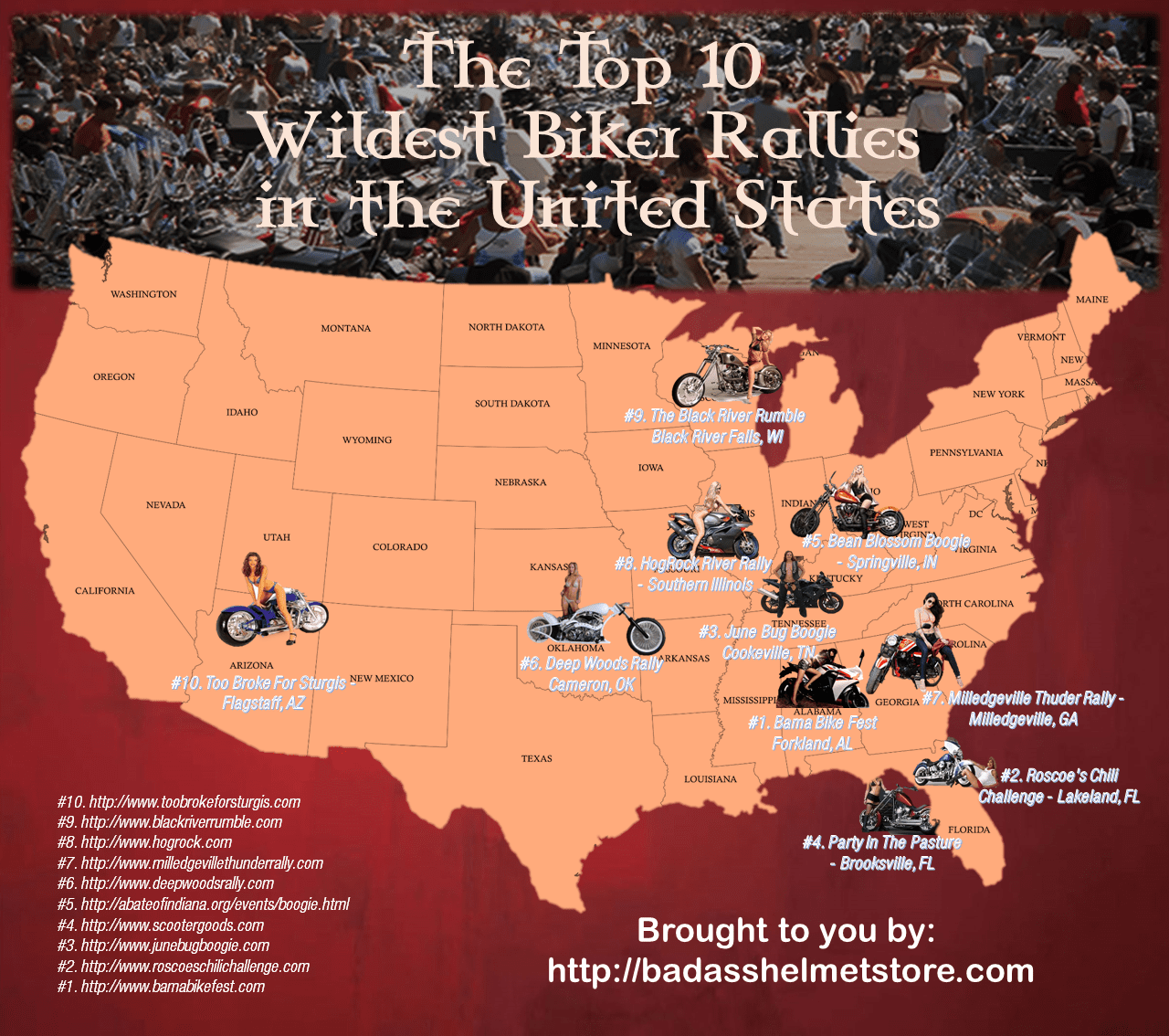 If any of these parties tickle your fancy, go ahead and add these to your own list. And feel free to use and embed this image on your own site, or share it on your favorite social media account. Just grab the code below in the Embed code box.
You might just get a few of your buddies jealous enough to start making the plans. Don't forget your Beer Helmet.
Quick Links to the Official Sites:
#10.  Too Broke For Sturgis – Flagstaff, AZ
#9. The Black River Rumble – Black River Falls, WI
#8. HogRock River Rally – Southern Illinois
#7. Milledgeville Thuder Rally – Milledgeville, GA
#6. Deep Woods Rally – Cameron, OK
#5. Bean Blossom Boogie – Springville, IN
#4. Party In The Pasture – Brooksville, FL
#3. June Bug Boogie  – Cookeville, TN
#2.  Roscoe's Chili Challenge – Lakeland, FL
#1. Bama Bike Fest – Forkland, AL