Helmet laws have changed radically in Australia over the past year, leaving riders a little confused about what they can wear and what they can and can't do with their helmets.
The Federal Government now allows European-standard helmets to be sold throughout the country, and every state now allows them to be worn.
And a recent court case dismissed a fine for wearing a helmet camera, but the verdict doesn't represent a test case.
Motorbike Writer has been documenting these changes as they have happened with thanks to helmet law experts such as Guy Stanford and Wayne Carruthers.
If the situation changes, you'll read it here first.
Meanwhile, here are 10 things you need to know about helmet laws as they stand, noting that this situation can change at any time:
1 What should I look for when buying a helmet?
It is now legal for retailers to sell helmets compliant to the recognised standards AS1698, UNECE 22.05, DOT, Snell and BSI. A helmet only has to be "fit for purpose" to be sold and the "purpose" may be either road use or motor sport use where helmets to other standards are allowed. This means that when purchasing a helmet for road use, riders must ensure the helmet is compliant to AS1698 or UNECE 22.05 only.
2 Where can I wear a European helmet?
European-standard or UNECE 22.05 helmets are now approved for wear in all states and territories. While it has been difficult to find a store to sell you one, distributors are now beginning to import them as stocks of Australian-approved helmets run out. Also, importers are starting to bring in brands we have not seen here before.
3 What stickers and labels does my helmet need?
Police in most states believe an AS1698 CAB sticker must be on the exterior of the helmet but it is not specified in any regulations where the CAB sticker should be placed.  The AS1698 standard only requires a label sewn into the liner. UNECE 22.05 only needs a label on the chin strap or liner. You can actually remove outside stickers. CLICK HERE for more details.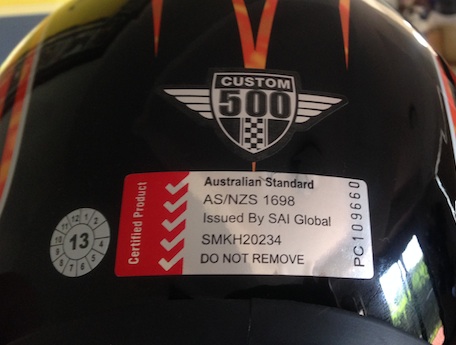 4 Can I wear a camera or bluetooth unit on my helmet?
Neither AS1698 nor UNECE 22.05 have been updated to specify accessory attachment methods. It is not legal to modify a helmet shell to fit an attachment such as drilling holes. but if it is clamped or stuck on with the provided attachments, it should be ok. The position in Victoria is still in doubt.
NSW and Victorian police improperly interpreted the AS1698 specification to determine accessories were illegal on the basis they were rigid external projections protruding more than 5mm beyond the helmet shell. NSW police have been instructed by the Police Commissioner to stop issuing infringement notices for accessories.
A recent helmet camera fine was dismissed in Victoria, but only on the grounds that the laws were too difficult for the public to access, not on the applicable laws. If the Victorian laws become more readily available, there could be concerns for riders in Victoria. Some NSW and Victorian police may still improperly interpret any change to a helmet as making it non-compliant. The argument that compliance only applies at the point of sale has still not been proved.
The ACT government has ratified the legality of helmet cameras and Bluetooth units, while States such as Queensland and Western Australia do not see it as an issue. Meanwhile, bike cops in all states have cameras and Bluetooth units attached to their helmets.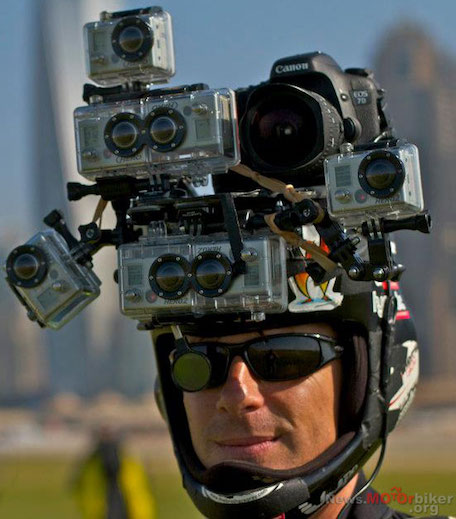 5 Can I paint my helmet or put stickers on it?
Neither AS1698 nor UNECE 22.05 specify painting or stickers so this is a grey area. Manufacturers advise you don't and because of that the police may interpret that as meaning the helmet has been modified and therefore non-compliant. If the compliance issue is resolved as only referring to the point of sale, then you should be ok to paint or sticker your helmet, but be wary of solvents and glues that can destroy the helmet's structural integrity. Read more here.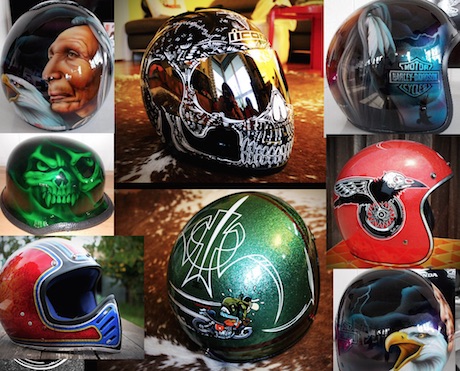 6 When do I have to replace my helmet?
There are no rules regarding a time when you should replace your helmet, except that it must not be damaged with an intact chin strap and unbroken visor. Longevity of a helmet depends on how often you use it and how much you sweat in it. If it becomes loose or is damaged, we suggest you update it. Five years is a recommended maximum. Read more here.
7 Must the chin strap be done up?
Yes, regulations state it must be securely attached. Police have been known to fine riders for not having the chin strap done up properly. That means you can't just loop it through the double-d clasps; it must be secure. It might seem petty – and it is – but it is important for your safety. Meanwhile, we are yet to see how the police will respond to the new Australian-designed Vozz helmet which has no chin strap!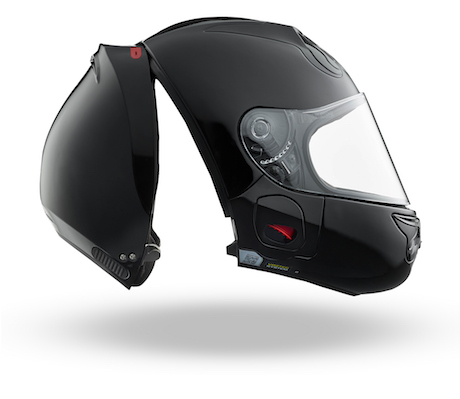 8 Are head-up display units legal?
Neither AS1698 nor UNECE 22.05 have been updated to specify HUD and there is no talk of them being updated to include this latest technology. The units can either be integrated into the helmet or an after market accessory. However, these units are fitted internally and shouldn't cause concerns from police about distance protruding from the helmet.
9 Are tinted visors and goggles legal?
AS1698 and UNECE 22.05 specify limits on visible light transmittance (VLT) for tinted visors, neither specification has been updated to cover modern optical treatments or internal visors. AS1698 allowable tinting is 50-85% VLT, UNECE 22.05 allowable tinting is  50-80% VLT. Victorian police withdrew a non-compliant helmet fine against a rider for having a tinted visor. However, because it didn't go to court for a decision, there is no test case and no reason why police can't continue to interpret the law that way. The ACT is the only government that has specifically ratified internal tinted visors. There have been very few examples of riders being fined, but it makes sense not to wear a tinted visor at night. Meanwhile, the legality of replacement tinted visors is still open to interpretation. Goggles are legal on helmets which are designed for use with goggles. If they are not tinted, there is no problem with helmet goggles.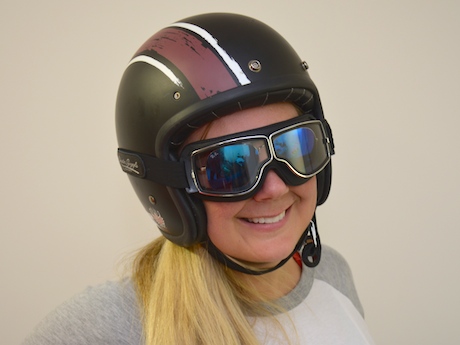 10 What should I do if fined by police?
We recommend you do not enter into an argument with police on the side of the road. However, you should advise the officer politely that you will be contesting the matter and show them a printed copy of the appropriate state regulation which you should keep with you. Make sure you do that before they start to write out the fine. Also, be aware that they may then start finding other faults such as bald tyres, illegal lights, after market tail tidies etc. Where any infringement notice for a helmet offence is issued ensure your state rider association is informed so the issue can be addressed.