I was 8 years old the first time I drove a motorcycle. From the moment I first got into the throttle, I was hooked on the rush of acceleration. After that it seemed no matter what I was riding, driving, or a passenger on, I always wanted to feel the power. Always wondering, can I handle it?
For this list, I was curious what others have done to feed the same addiction to power that I have. I've largely ignored drag bikes and race specials, in favour of bikes that were obtainable (kind of) to anyone.
I will share one spoiler upfront: my number one bike shocked me. First, for how much power it makes, but second, when it hits you that he and his wife were just out on it for a "relaxing ride."
To the list!
2020 Triumph Rocket 3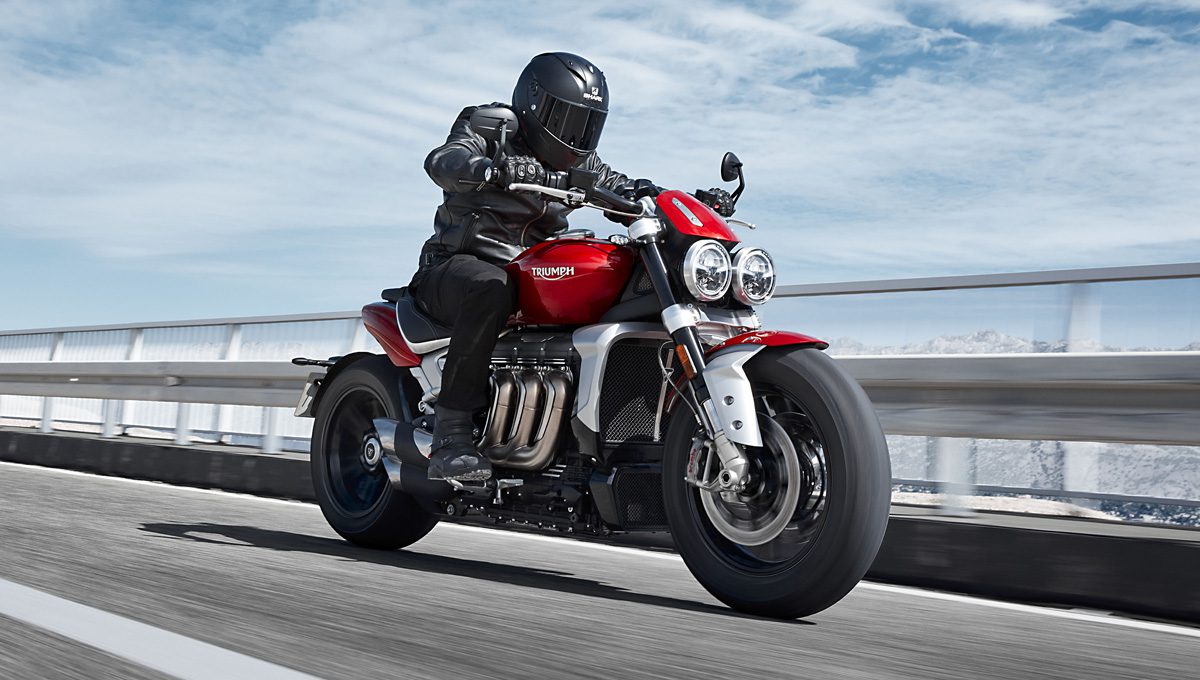 I had been eagerly awaiting this bike earlier in the year. It sure impresses me.
With displacement increased to 2458cc, the 240 rear tire now needs to try and get 165 hp and 163 ft/lbs of torque to the pavement. That's the most displacement and torque of any production gas-powered bike.
Front to back this is an all-new bike. Thanks to the new aluminum frame and driveshaft, a great looking single-sided swingarm, the 2020 Rocket 3 comes in 80 lb lighter than its predecessor.
Yes, 2020 has bikes with more horsepower, but the Rocket 3 tops the muscle bike category with its fat torque curve. No question, it has to be on my list of Most Powerful Motorcycles Ever Made.
Lightning LS218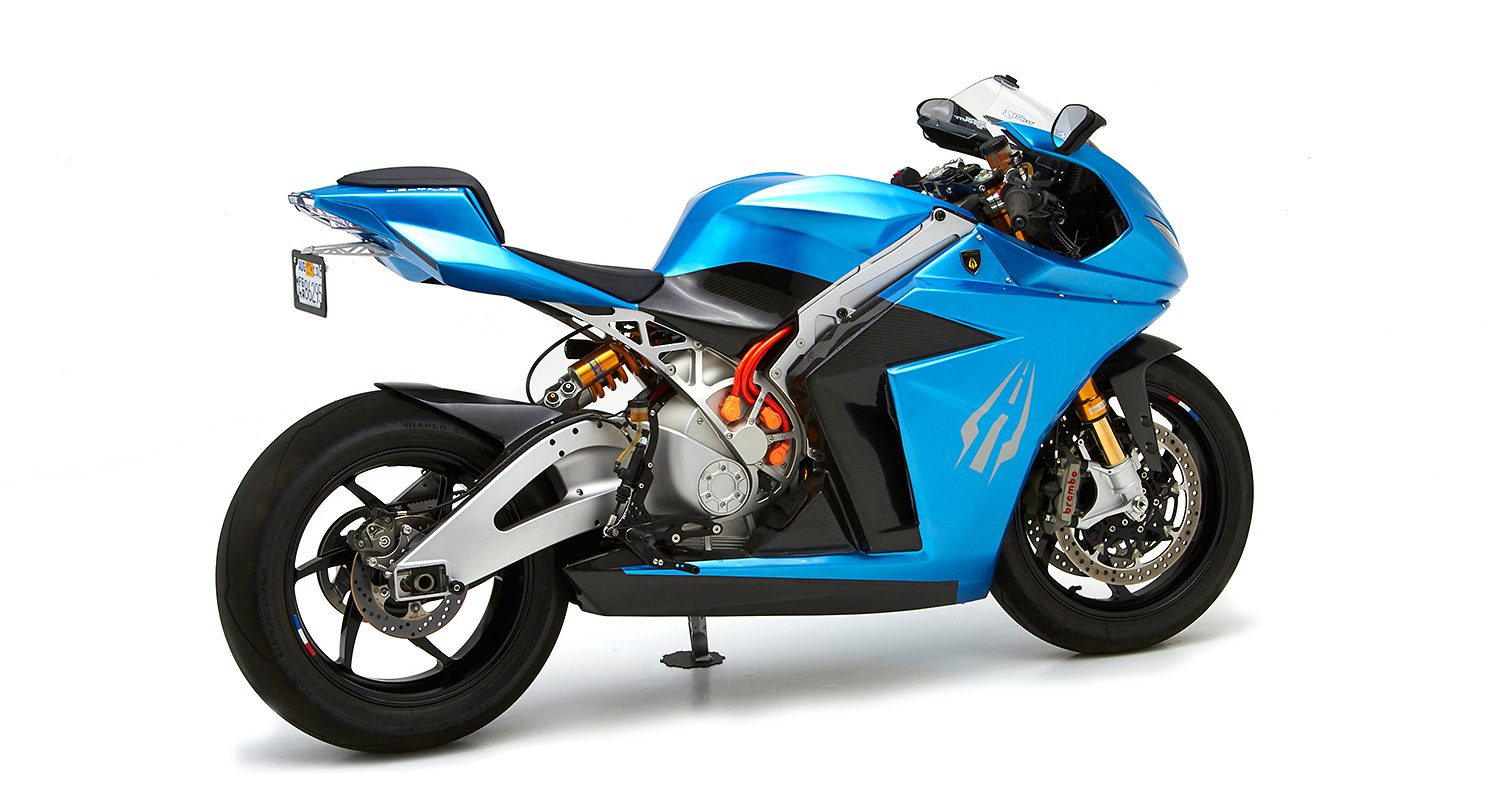 Electric motors make beautiful linear power. Motor designs are becoming more efficient and powerful, battery technology is rapidly improving.
The Lightning LS218 is able to engineer all that new technology into a 495 lb missile. 200 hp and 168 ft/lbs of torque put this bike at the top of all-electric production bikes.
With an Ohlins suspension, Brembo brakes, and lithium batteries this bike is world-class. Backing it all up with records at the Bonneville Salt Flats, and wins at Pikes Peak.
KZ2300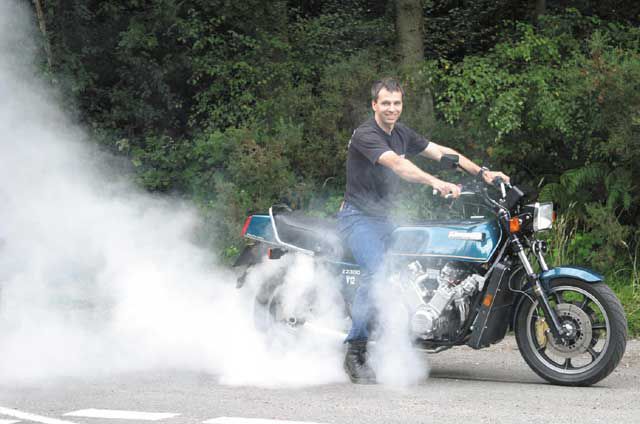 Photo Credit: motorcyclistonline.com
Allen Millyard is the epitome of "challenge accepted," which is basically what led to this glorious creation. Grafting together two crankcases from Kawasaki KZ1300's, Millyard devised a 2281 cc, 70-degree V12.
Working out of his garage in Berkshire, England, Millyard modified the frame from a KZ1300 Voyager to accept this huge engine. Toss in a custom fuel tank, Pretech brakes, and stiffer shocks, stir it all up, and Voilà! 250 hp and godlike amounts of torque.
Never one to rest, check out his latest creation.
Trask Performance Assault FXR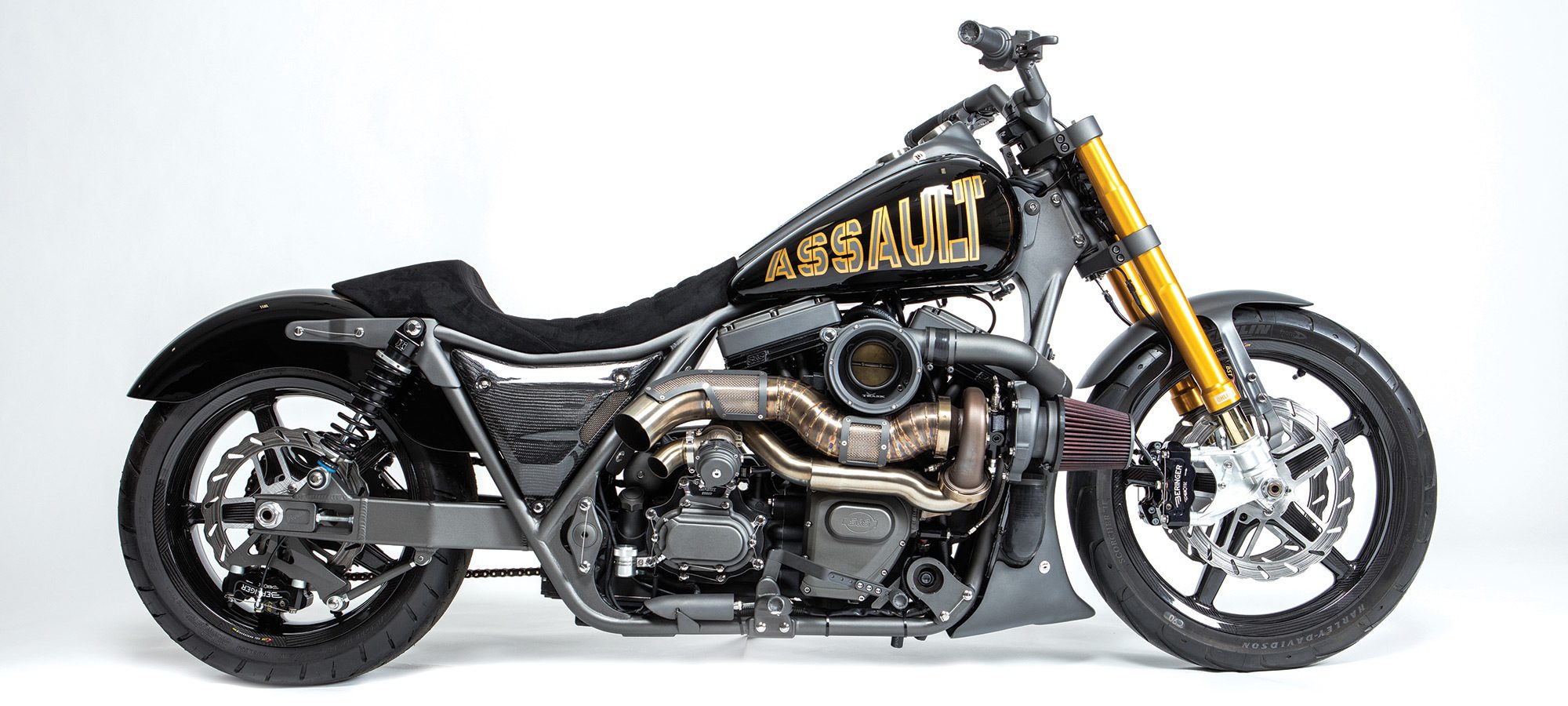 Photo Credit: Hot Bike Web
Nick Trask is a performance junkie. His Trask Performance shop in Arizona is well known for the Harley owner that wants big power. Trask is a tuning shop, custom parts supplier, and builder of the Assault line of customs.
Built around the S&S T143, Trask added their custom-built turbo setup and high flow fuel system. With the custom Ohlins front end, Baker driveline, and Beringer brakes, this HD is very badass.
Trask has this engine tuned to deliver upwards of 300 hp and 280 lb /ft of torque. Still think Harleys are slow?
Kawasaki Ninja H2R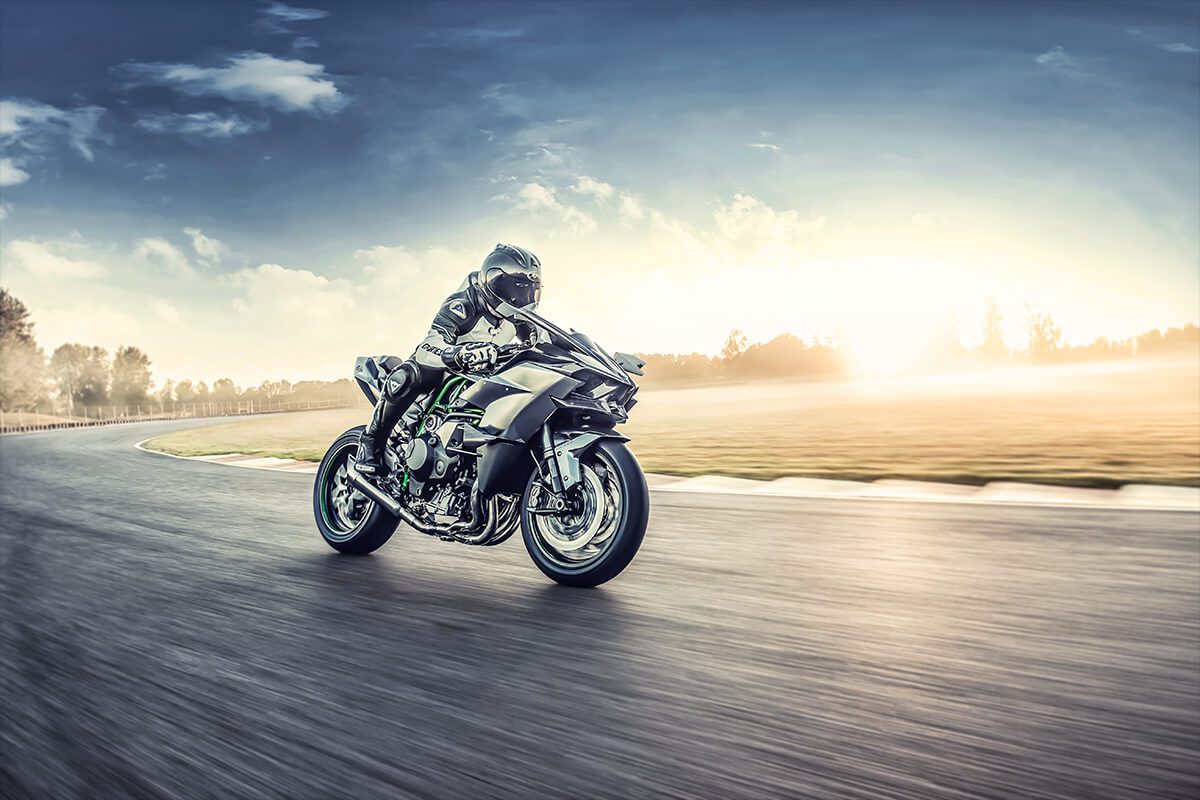 Kawasaki shocked the industry when the Limited production H2R was introduced in 2015.
Deemed as a race bike, with a claimed top speed of 249 mph, the supercharged 998 cc lays down an incredible 326 hp.
I love the styling and no apologies approach of this bike. It shrugs "whatever" at the sub 400 lb, litre-class corner shredders, in favour of straight-line brute force.
Gunbus 410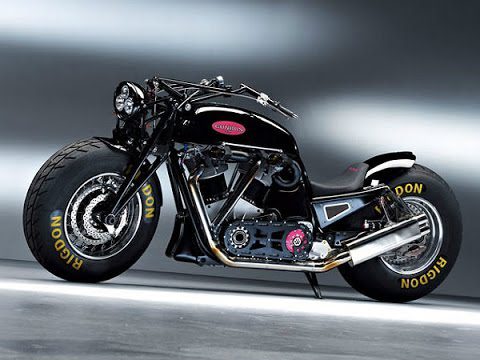 Photo Credit: YouTube
The Gunbus 410 is bigger in every single way.
Just shy of 11 feet long (3450 mm) and 5 feet tall (1480 mm), the massive 410 cu/in (6.7 L) V-Twin makes 350 hp and 523 lb/ft of awesomeness.
I love the styling, mixing up classic V-Twin Bobber and Board tracker influences, with a little cafe racer, then doubling every dimension.
I was unable to find any video clip of this bike being ridden, but that massive V-Twin deserves mention on this list.
Suzuki Hayabusa Turbo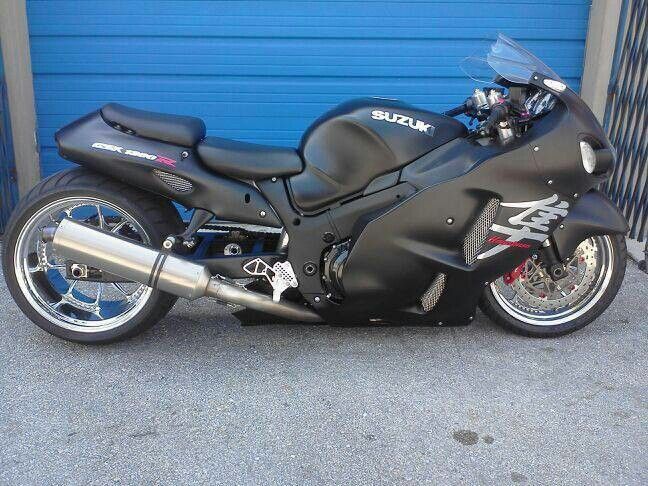 Photo Credit: Pinterest UK
The Suzuki Hayabusa is well known for power and speed.
With a few mouse clicks and a weekend in the garage, Hayabusa owners can have over 400 hp on pump gas. Companies such as Schnitz Racing have extremely thorough and complete kits just a mouse click away.
The Hayabusa has been in production since 1999 and is very well supported in the aftermarket community. Finding either a new or used bike and heading down your own rabbit-hole of horsepower insanity, is way easier than most realize.
MTT Turbine 420R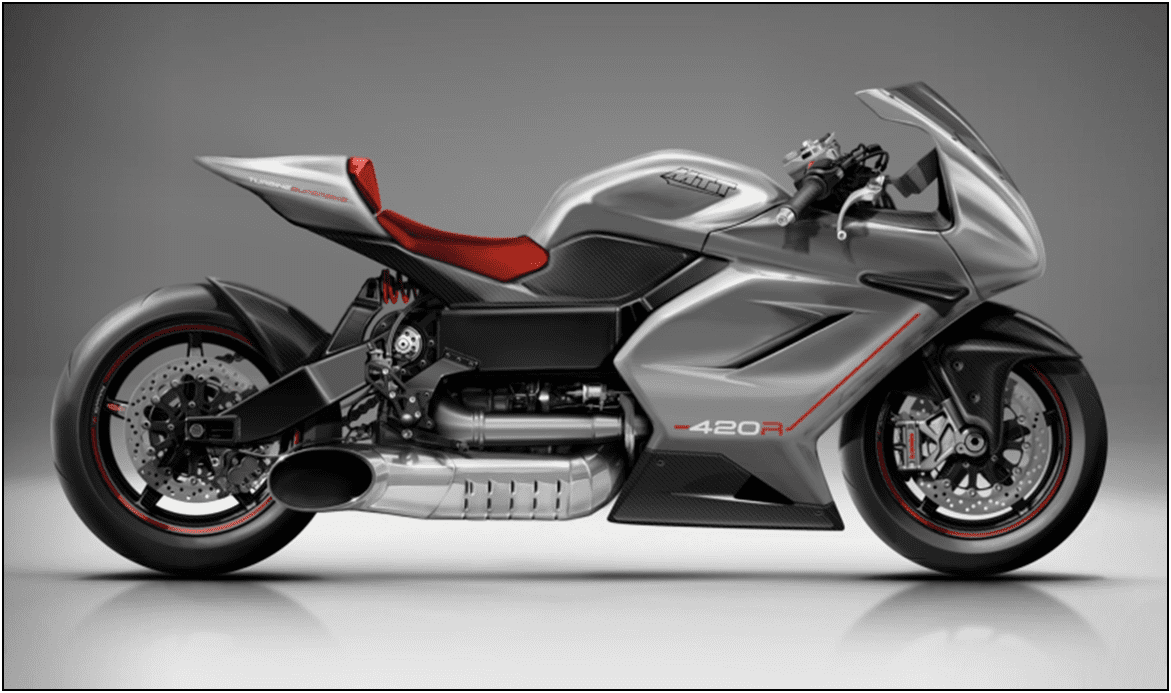 Now is where this list gets truly different.
In Southern Louisiana, Ted McIntyre II founded Marine Turbine Technologies. Using turbine technology for the manufacturing of Industrial Oilfield Equipment, Power Generators, Airboats, and all sorts of custom turbine applications.
With this knowledge came the first turbine-powered street legal motorcycle, the Y2K. Refined since the 2000 model year, the current 420R uses the Rolls Royce Allison – 250-C20 Series Gas Turbine. Power output measures out at 420 HP @ 52,000-rpm, and  500 ft/lbs @ 2,000-rpm. 
A 2-speed transmission delivers the power via chain to the rear wheel. 1st gear is good for 100mph, MTT claims they are not certain what 2nd gear would top out at.
I will wait while you let that marinate for a moment. This is a turbine engine which is primarily found in helicopters! If it has the power to lift a Bell 206 into the sky, how would it be in a 550 lb motorcycle?
I really want to get a leg over this bike.
Dodge Tomahawk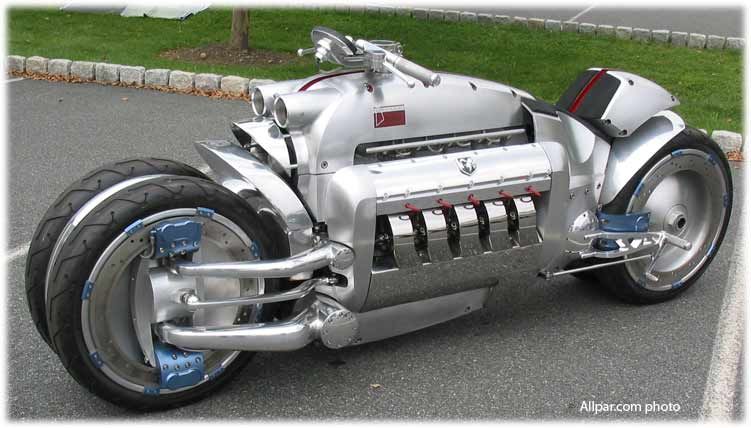 Photo Credit: Allpar.com
Back in 2003, Dodge had a genius marketing idea. Let's put a Viper V-10 engine in a motorbike, make it insane looking, make it actually run, then sit back and let the tongues wag. So they did. It achieved exactly what they hoped: huge press attention! Brand awareness at its finest!
Now forget all the logic behind why they made it, and look at what they actually did. The massive 8.3 L V-10 engine, all 500 hp worth, is stuffed between a new, patented front and rear swingarm suspension. This allows both parallel wheels to lean together, keeping all four in contact with the ground and allowing countersteering. The riding position seems all about looks and not comfort, likely the byproduct of what worked on the aluminum frame used to tie it all together.
No marketing hype machine is complete without some outrageous claims. 0 – 60 mph in 2.5 seconds. Top Speed of 420 mph. Believable? Not a chance. Did anyone care? Not a chance. What is 100 percent true and accurate? That's a 500 hp Viper V-10  powered motorcycle. It's very fast and perfectly outrageous.
Boss Hoss Cycles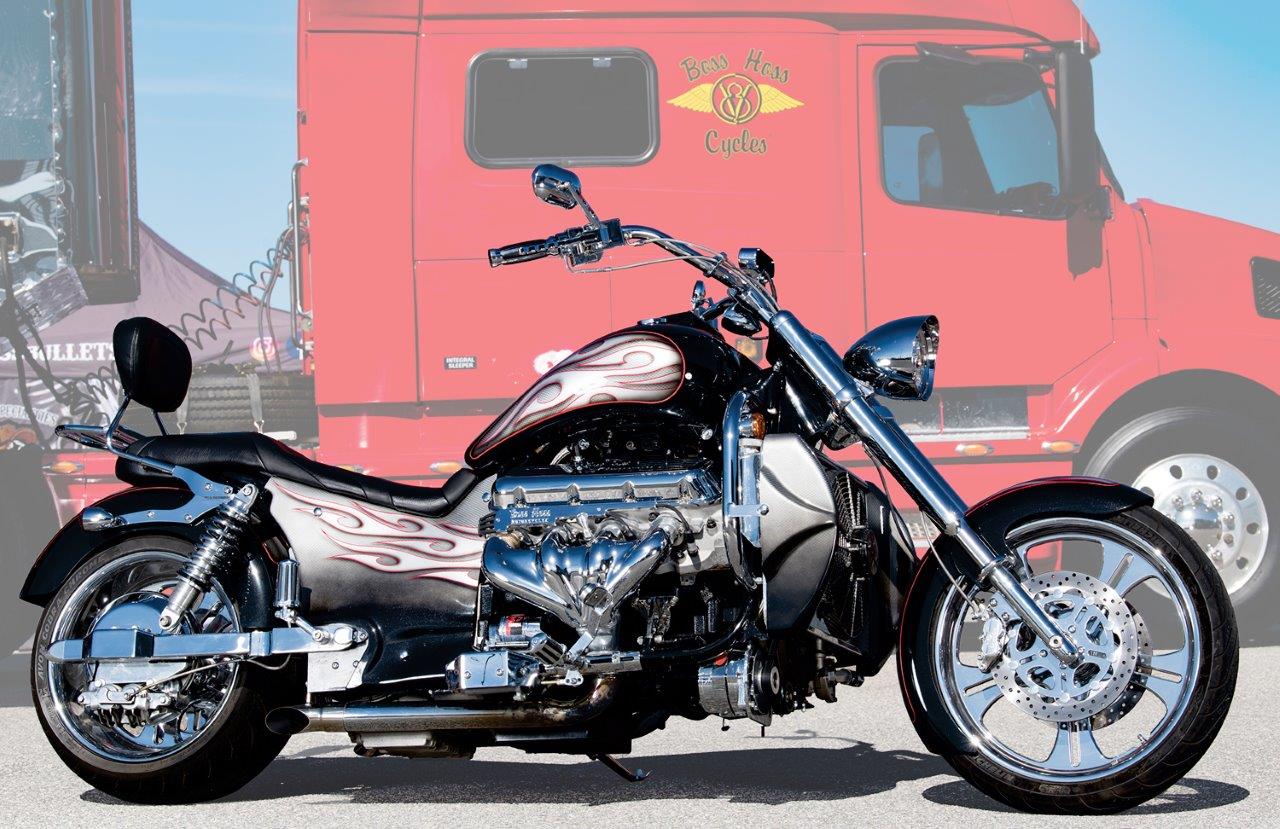 Started back in 1990 by Monte Warne, with the thought of making a normal-looking bike that just happened to have a Chevy V-8 for its engine, Boss Hoss Cycles was born. That first bike was well sorted and smooth-riding as could be. Naturally, other bikers would soon come to want one of their own.
Successful from the start, years of R&D have led to the steller bikes currently available.
For 2020, you can choose from either a small block or big block Chevy V-8, power ranging from 430 hp to 563 hp.
Now to truly put the cherry on top of the 1st place spot on this list, I bring you this Boss Hoss.
YouTuber "Do it with Dan" ran into this Boss Hoss' owner fueling up. Dan knows his stuff and was able to instantly build a rapport with the owner. Learning all about his LS-7 powered, twin ProCharger equipped Boss Hoss. Claiming 1200 HP plus a Nitrous kit good for a 300 hp shot, this bike is utter insanity.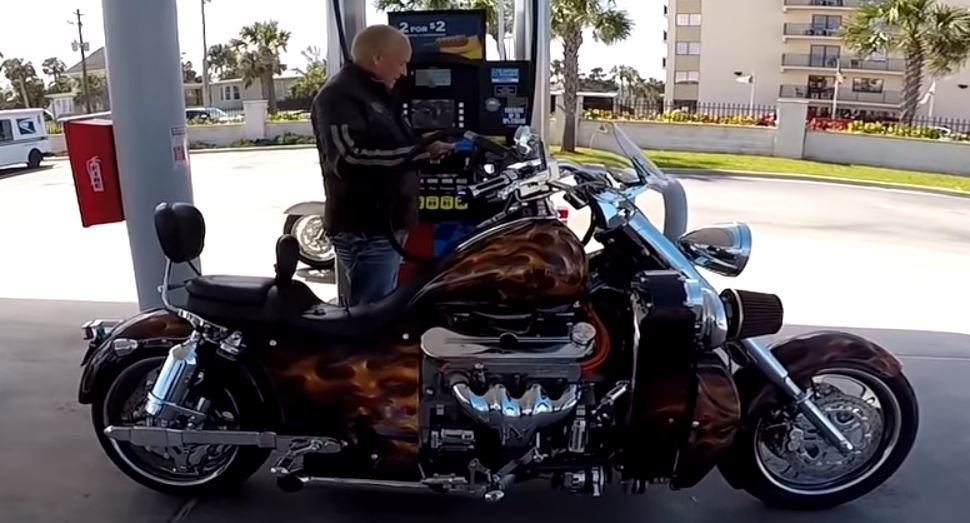 Image taken from: YouTube
Check out the video on this "Most Powerful Motorcycle" and let me know if you can argue with it making number one on my list.