AGV Sport Element Vintage Leather Jacket
AGV Sport Element Vintage Leather Jacket Review
by Rick K. for webBikeWorld.com
More: wBW Reviews Home | Motorcycle Clothing Reviews | Owner Comments (Below)
---
Summary
The AGV Sport Element Vintage Leather Jacket is a modern take on the classic motorcycle jacket.
It features modern touches like double-row stitching, removable CE-rated elbow and shoulder armor and an array of vents and pockets.
The fit is nicely tailored and accurately sized.
The lining is also very comfortable with an upscale look and feel.
The AGV Sport Element Vintage Leather Jacket is perfect over jeans and work boots for a look that works with anything from cruisers to sportbikes.
It also makes a good-looking street jacket with the protectors are removed. And finally, the pricing seems very reasonable.
Background
After more than a half-dozen AGV Sport reviews posted on webBikeWorld, the takeaway is that this is one manufacturer who delivers good quality and "honest" gear at reasonable prices.
The Element Vintage Leather jacket is relatively new to the AGV Sport product lineup and it's one of 14 leather jackets currently listed in the company's catalog.
That's an impressive number and if you're counting, it means that AGV Sport has twice as many leather jackets as textile, which is surprising.
Someone at AGV Sport must like leather, and that's fine with us.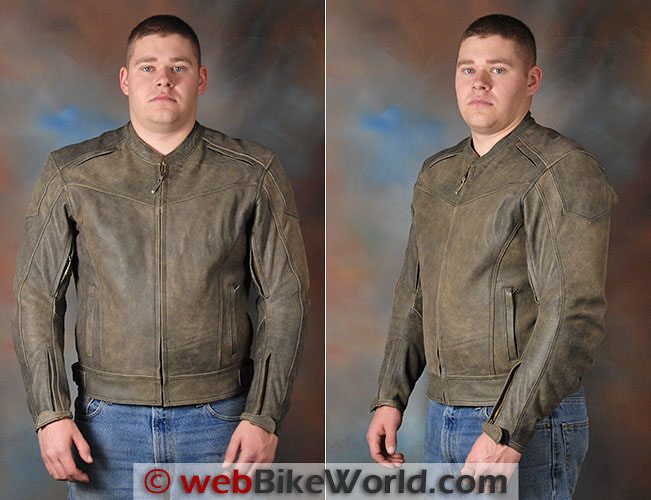 The AGV Sport Element Vintage Leather Jacket
If there was an Encyclopedia of Motorcycling, you could look up the term "classic leather motorcycle jacket" and if there was a photo of the Element jacket, you'd nod your head and think "Yep -- that's it!".
The styling of this jacket is pure retro, right down to the distressed leather. But the magic is in the modern touches, like double-row stitching, CE-rated shoulder and elbow protectors and a total of 6 vents, which is way more than you'd ever find back in "the day". The jacket even has a full complement of YKK brass zippers.
Back in "the old days", I couldn't imagine someone buying a brand-new jacket (or jeans, or...) with a "distressed" (i.e., "used") look. That beat-up look was something you earned over time -- and with lots of interesting experiences along the way.
Of course, back then you'd only have one jacket anyway (probably bought second-hand or inherited from Dad) that would have to last for many years. So naturally it would eventually look like, well, just like the AGV Sport Element Vintage Leather jacket.
But no one need know that the modern version is brand new and there's really nothing about this jacket that broadcasts that fact. At first glance, it looks more or less like you've owned it since right-foot shifting was in vogue.
The leather isn't ultra-dress-jacket-plush, but it's soft enough, pliable, comfy and it feels nicely broken-in. The distressing has treated the leather just enough to give it a "not too stiff; not too soft" feel. And be sure to take a deep whiff of that nice leather smell when the jacket is new!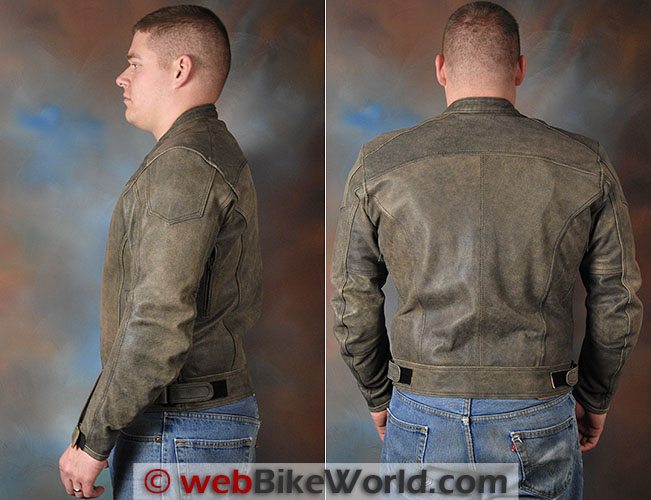 Jacket Color and Finish
The AGV Sport Element Vintage Leather Jacket comes in any color you want, as long as it's the distressed brown you see here. It's a nice, warm hue that probably looks just a touch lighter in reality than the photos may indicate.
The leather has a sort of "egg shell" semi-matte finish, giving it just a touch of shine. It's nicely done; less would make it boring and more would make it too garish.
One interesting advantage of owning the Element leather jacket is that the finish can be tweaked, if you so desire. Some owners have reported coating their Element jacket with beeswax or protective leather oils, which (they say) deepens the color and gives it a shinier finish.
Just remember that if you're going to try this, run a little test first on a non-obvious section of leather -- perhaps a strip along the placket or inside the collar -- to make sure the end result meets your expectations. I prefer the semi-matte beat-up look, but I'm sure that with enough wear and handling, the finish will take on its own patina anyway.
Fit and Sizing
The Element Vintage Leather Jacket fits much better than any of those "original" old-school types. Jacket evolution has now given us arms with a modern pre-curved shape that fit just right without needing clumsy sleeve adjusters.
The style and tailoring of the jacket also hides the removable shoulder and elbow protectors, so you don't end up looking like The Hulk or an '70's incarnation of David Bowie. The "V" shaped tailoring makes even me look buff (sort of), and that's a real bonus.
This example is a size large and it fits as expected to perhaps just a touch snug across the chest. This is correct actually, because it keeps that armor in place while keeping the cold air from entering underneath.
The Element Vintage Leather Jacket size range runs from XS to XXXL. Apparently, the AGV Sport size chart doesn't show letter sizes for this type of jacket and the retailers' websites don't have a chart that converts the AGV Sport number sizes to letter sizes, which is a bit strange. So you're left guessing, but the size large seems to run true and I'd say a 43" chest with 34" sleeve length (street) should be a perfect fit.
If our size experience holds true for the rest of the size range, you should be able to order your normal size from XS to 3XL and find a good fit.


Features and Details
The biggest difference between the Element Vintage Leather Jacket and an original from a '60's time capsule is the double stitching employed in our 21st Century version. The black thread used for those stitches complements the grained brown leather and all of the stitched seam edges are rolled, which may be a subtle feature but one that adds style and a higher-spec overall ambience.
Look beyond the distressed appearance and you'll find that the construction quality is excellent and better than many other leather jackets in this price range from lesser-known brands. Also, a few added features are appreciated at this price range.
For example, the addition of brass YKK zippers is nice touch. The antiqued brass has a built-in patina that matches the look of the jacket -- another subtle design choice but it's smart thinking, because too-shiny zippers would certainly ruin the effect.
By the way, the description for the Element Vintage Leather Jacket on the AGV Sport website is either outdated or incorrect. It lists another set of zippers that I can't identify -- something called "Long & short No. 8 YBS plastic connection zippers". I'm not sure exactly what that is, but the Element Vintage Leather Jacket shown here does not include pants connection zippers. Also, of the zippers found on this jacket (i.e., vents, entry and pockets) are brass, not plastic.
Lining and Collar Details
The polyester lining on the jacket is also described on the AGV Sport website as "mesh", but ours is a very nice satin-feel polyester with a narrow diagonal weave. It does not look or feel like mesh but it is very soft and comfortable and it looks more like something that might be found in one of those expensive leather dress street jackets.
The collar is a simple short stand-up leather affair, unlined but comfortable. There is no tab or snap on the jacket and the main entry zipper simply ends at the top of the neck, but this is keeping with the retro theme for this type of jacket.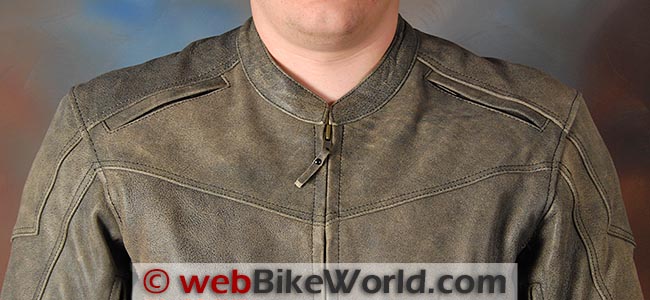 The neck of the BMG Adventure II jacket can be fastened in either the closed or open position.
Zipper and Vent Details
The YKK brass main entry zipper on the Element Vintage Leather Jacket operates smoothly and it has a 40 mm wide leather backing flap that serves to block the cold air that seeps through those brass teeth.
Each sleeve cuff has a 140 mm long zipper made from brass, with another miniature leather flap backing behind it. The sleeve cuffs open completely when the zipper is opened with no leather or fabric "V" shaped dart underneath.
I would have preferred if the main entry zipper and sleeve cuff zippers used locking runners, but this feature is missing. Perhaps YKK doesn't make the antiqued version of the brass zipper with locking runners? The runner on the main entry zipper has so far held in place when secured, but the sleeves do have a bit of "zipper creep", with the zipper sometimes opening unexpectedly.
One definitely modern feature of the Element Vintage Leather Jacket is the surprising number of vents -- six total -- and this is another feature that separates it from leather jackets of old. And each vent has its own brass YKK zipper, yet another nice surprise.
The six vents include two 140 mm long vents, one placed on the underside of each sleeve at the bicep; 120 mm long upper vents at each shoulder and a 150 mm long vent located vertically on each side at the rear of the jacket behind the arms.
The brass YKK zippers in the mesh-backed vents open smoothly but the vents don't necessarily stay open, so whether they actually move enough air to make a difference in hot weather remains to be seen. We had just barely enough time to ride with the jacket on a few 40-50 degree F days to get the general idea before winter set in.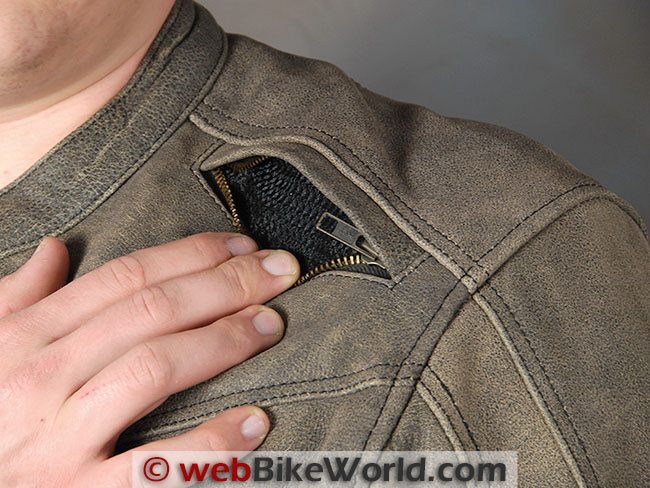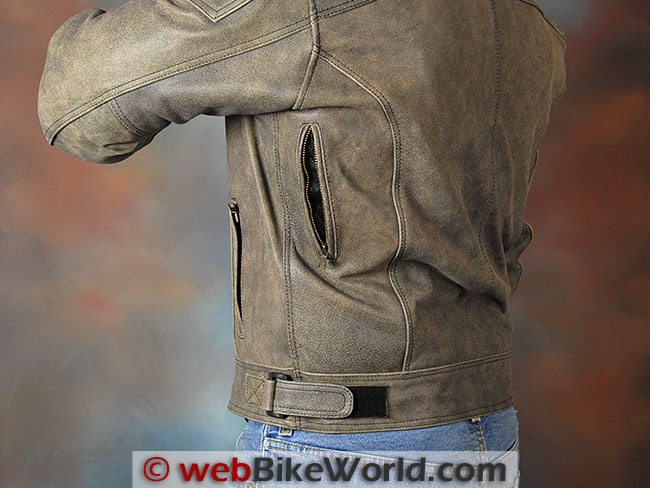 Insulation and Temperature Range
The Element Vintage Leather Jacket does not include an insulating liner and it is not waterproof, other than whatever water resistance is offered by the leather itself.
The style takes precedent here; remember that it's a retro-styled leather jacket that is a modern take on a design that can be traced back 100+ years or so. So an insulating liner wasn't expected and just wouldn't work with this style. In fact, adding an insulating liner or a water-resistant finish to the leather would definitely ruin the effect.
But the leather is thick enough to make a pretty good job of keeping the wearer fairly warm and it does block the wind. So I'd guess the 60 to 80 degree Fahrenheit (15-27 C) range is about right for this jacket.
By the way, the styling will look just as good on a cruiser as it would on a sportbike, scooter or pretty much anything else you might ride -- including a bicycle!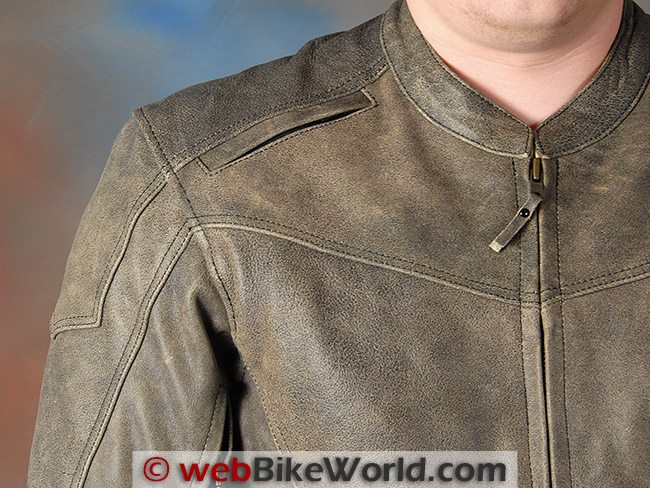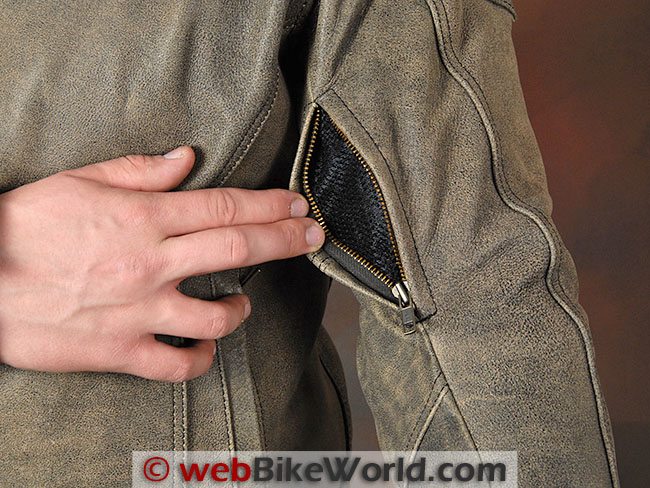 Waist Adjusters
One other modern feature that has been very nicely implemented on this jacket is the waist adjustment system.
The waist adjusters on each side are big, thick leather straps measuring 35 mm wide and 2 mm thick. The leather runs through a thick plastic square "O" or "D" ring, which is attached to another fairly massive section of "X" stitched leather as the anchor.
The hook-and-loop used in the adjusters and sleeve cuffs on the jacket seems to be a more heavy-duty variety than is usually found in motorcycle jackets. It has deeper teeth, so it holds really well and also makes for an easier "pull and adjust" system on the waist adjusters. It also holds very tightly, which is a plus.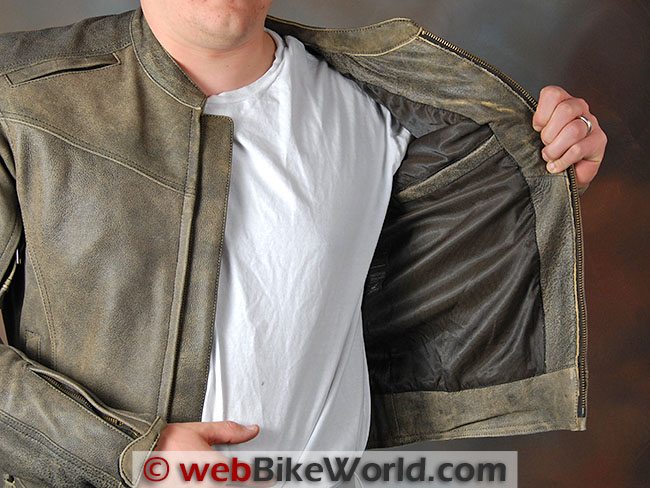 Pockets
The Element jacket includes four pockets, with two hand pockets on the outside and two pockets on the inside.
The two standard slash hand pockets in the front employ the same 140 mm long brass YKK zippers that are found on the jacket vents and sleeve cuffs. That length seems a bit small for the average-sized hand, however, and a 150 mm to 160 mm wide opening would have been better in this case.
The slightly narrow opening means that the rough edges of the brass zipper teeth can be felt when I push my hand inside, although the edges should become smoother over time. But this is a minor gripe, as I only use the pockets for occasional storage anyway. The hand pockets are lined and big enough to hold ear plugs, a small cell phone or wallet.
The jacket also has two internal pockets in the liner, both with a horizontal opening and hook-and-loop closure. One pocket is located on the inside on the left and one on the right. Each has a leather banded lining along the top and they are 190 mm deep and 140 mm across, which should be big enough to hold a wallet or cell phone. Both pockets are lined and nicely finished.
Protection and Safety
In addition to the (claimed) CE-rated elbow and shoulder armor, which are removable, the Element Vintage Leather Jacket includes a removable back pad. It's of the thin foam type that isn't very useful, and although I don't see a listing for optional back protectors in the AGV Sport catalog, it is possible that a better protector of another brand might fit.
The shoulders are also covered in separate leather abrasion sections which are nicely integrated into the overall design without affecting the classic styling.
The

w

BW

Opinionator: AGV Sport Element Vintage Leather Jacket
Picks...
...and Pans.

Quality construction and detailing.

Nice retro styling isn't overdone.

Accurate fit.

Comfortable leather and lining.

More vents than expected.

More pockets than expected.

CE-rated armor is well-hidden.

Hefty waist adjusters work well.

Price seems reasonable.

Zippers are not the locking type.

Hand pockets are slightly small.

Main entry and sleeve cuff zippers should have a locking pull.
Conclusion
The AGV Sport Element Vintage Leather Jacket is a good-looking and comfortable take on the classic motorcycle jacket.
It is a stylish a subtle blend of old and new, with just enough modern features to bring it up to modern specifications for motorcycle riding with most of the safety features modern motorcyclists demand.
The jacket feels comfortable and broken-in right out of the box. With the armor removed, it could be worn as a stylish street jacket. And the owner has the option of changing the looks by adding a coat of beeswax or leather treatment to change the look.
It looks the part when worn over a pair of jeans and a pair of classic engineer boots or work boots. Pop on a matching retro helmet like the Cromwell Spitfire (review) or the Nexx X60 (review), hop on your 1968 Royal Enfield (report) and you'll look like you stepped right out of the Mods and Rockers (review) era, ready to attend the next Ace Café Reunion and Brighton Burn-up (report).
With a list price of $274.00 and some discounts available at our affiliates through the links displayed in the review above, the price is right too.
So whether you ride a cruiser, street bike, a "modern classic" like the Ducati GT 1000 (blog) or a true vintage motorcycle, the AGV Sport Element Vintage Leather Jacket should serve you well.
w

BW

Review: AGV Sport Element Vintage Leather Jacket

Manufacturer: AGV Sport
List Price (2012): $274.00
Colors: Brown distressed leather.
Made In: Pakistan
Sizes: XS to 3XL
Star Rating (1-5):
Review Date: February 2013
Note:
For informational use only. All material and photographs are Copyright © webWorld International, LLC since 2000. All rights reserved. See the webBikeWorld®
Site Info page
. Product specifications, features and details may change or differ from our descriptions. Always check before purchasing. Read the
Terms and Conditions
!
Please send comments to
Comments are ordered from most recent to oldest.
Not all comments will be published (
details
). Comments may be edited for clarity prior to publication.
---