Handy Motorcycle Lift
Handy Motorcycle Lifts and Accessories
by Rick K. for webBikeWorld.com
2012 Dealer Expo Live Report
---
Background
February 19, 2012 - I'm happy to report that Handy is back!
Handy Industries was well known to motorcyclists and motorcycle dealers as the manufacturer of high-quality, heavy-duty, made in American lifts.
But the company apparently failed and went under in 2010, much to the surprise of everyone in the motorcycle industry.
Handy is back in business and, from the looks of the products at the 2012 Dealer Expo, better than ever.
The products at the Dealer Expo are displayed by type, so while I was in the area looking at tools and the Torchmate Plasma CNC cutting machine (article), I discovered the Handy booth and stopped by for a chat.
The company representatives had a nice display of Handy products, including their lifts and tables of various sizes (including one designed for home use).
The Handy lifts on display looked just like the Handy lifts of old -- built the way stuff used to be built -- that is, to last!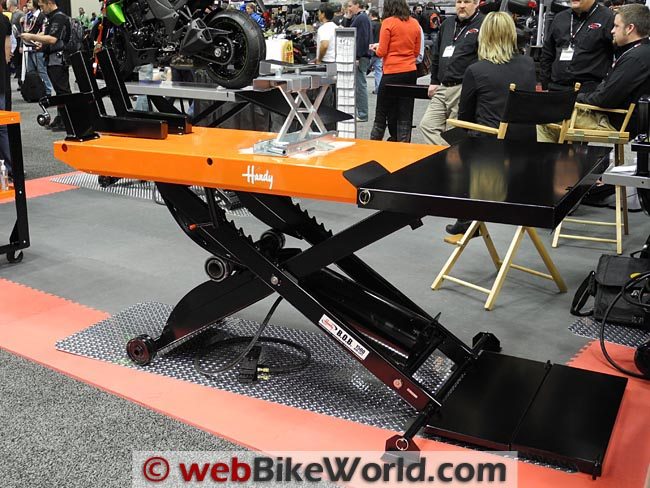 Handy B.O.B. 1500 Air Lift.
The reps weren't forthcoming on the issues that caused Handy Industries to fail, but it's "water under the bridge" now. The new company is actually known as Handy Division of Jadeim, LLC. Apparently, a couple of long-time vendors were able to come up with the funding and buy the manufacturing equipment and re-start production and keep some of the staff.
Congratulations to them and to all Handy employees!
They still make the Handy S.A.M. 1000 lift, available with the rear wheel drop. You want the drop to make it easier to change rear tires.
But they have a variety of other lifts, including the "Gruntavore" (think about that name) with an 1,800 lb. capacity and 64" of width and 108" of length. The S.A.M. 2 lift has a fold-down front also, to allow easy removal of the front wheel or forks (make sure you strap down the rear and put a jack under the engine first!).
They also make tear-down tables, multi-lifts, scissor jacks, the Gas Caddy (that looks strong enough to hold nook-you-ler fuel) and even pickup truck tailgates and tool boxes.
A new home lift was on display but I don't see it listed in either their print catalog or online. It's a slimmed-down full-size life for home use and it folds to 7" high. It will be available with a dropout also.
UPDATE: I received a note from Handy regarding the Sport Lift: "The new lift you see in the picture is the Sport Lift. It has a 750 lb. capacity and is built more for the sport bikes. The reason itís not in our catalog is because this if the first one off the powder coat line and it was truly new at the show. And, we donít see a drop out in the Sport Lift in the future, but starting today we are developing and testing new accessories to go on the Sport Lift.
Thank you. We appreciate the attention. Even though Handy was only closed for 3 weeks, it seems like those that heard that it was closed didnít necessarily hear that it was reopened so soon. We are excited about 2012 with the addition of 2 new products already and many more ideas in the box, especially after talking to all of the dealer that stopped by our booth this past weekend."
For more information, visit the Handy Lifts website. More on the wBW Motorcycle Lifts, Stands and Wheel Chock reviews page.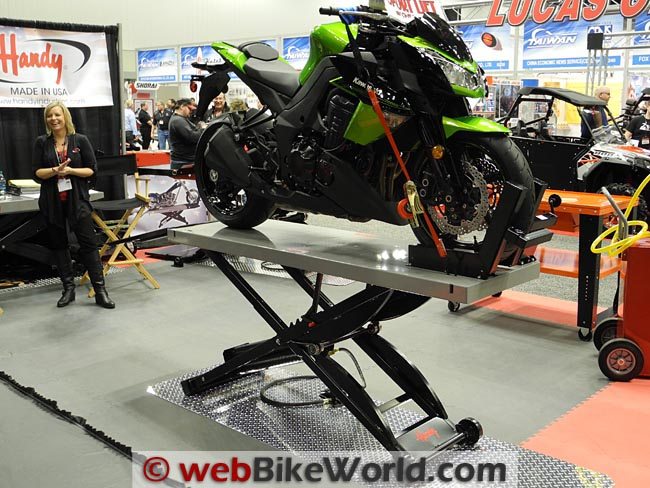 Handy home lift. Not sure what it's called and it's not in the catalog?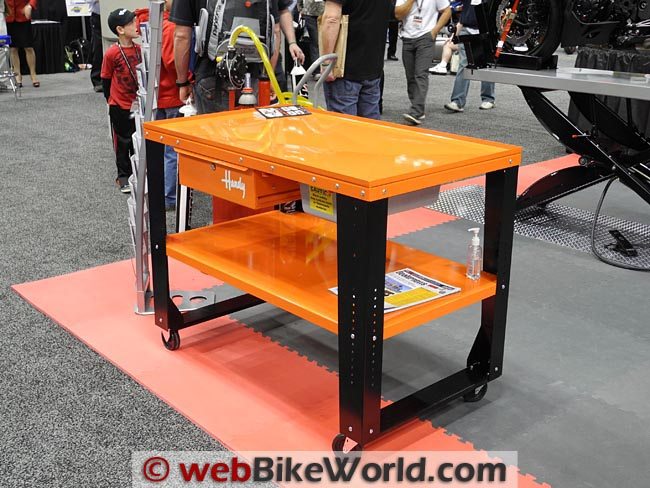 Handy Tear Down Table is built like a tank.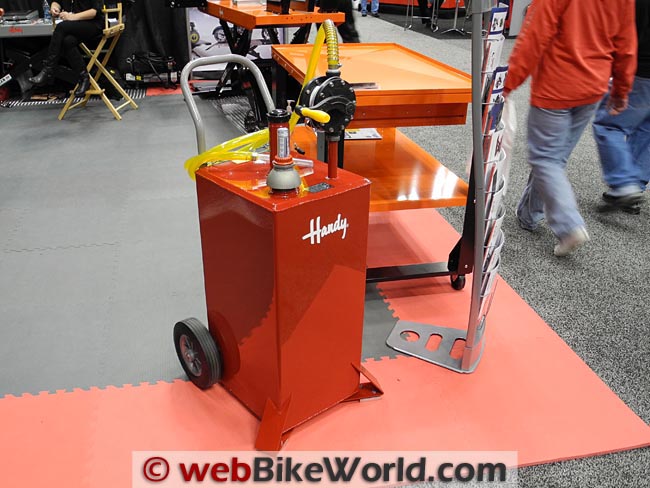 The popular Handy Gas Caddy.
More: 2012 Dealer Expo Live Reports
Publication Date: February 19, 2012
Note:
For informational use only. All material and photographs are Copyright © webWorld International, LLC since 2000. All rights reserved. See the webBikeWorld®
Site Info page
. Product specifications, features and details may change or differ from our descriptions. Always check before purchasing. Read the
Terms and Conditions
!
Please send comments to
Comments are ordered from most recent to oldest.
Not all comments will be published (
details
). Comments may be edited for clarity prior to publication.
---
From "J.J." (February 2012): "I have had my Handy Lift for a few years now with several different bikes. I don't miss having the drop out in the rear.
You will need a good quality scissor jack to make your life easier to get the bike up on the center stand if it has one or you can use a rear wheel lift to get it up on the center stand. If no center stand you will for sure need a wide scissor jack to hold up the front or rear while changing tires while the bike is on the lift. It would seem to me you will need the scissor lift to unload weight off the drop out panel to remove it anyway.
Maybe I am missing something by not having it but I don't really seem to have been missing it as of yet."