Blow Hard 3-Way Horn Review
The "Blow Hard" 3-Way Electronic Horn
by "Ingannare" for webBikeWorld.com
More:
▪ wBW Reviews Home
▪ Owner Comments (Below)
▪ wBW Motorcycle Horn Reviews
w

BW

Motorcycle Horn Reviews
Summary
It looks like an old "ring the bell" bicycle horn, but the Blow Hard is actually a modern electronically-controlled sound system.
It comes with three standard horn sounds and more can be downloaded from the Blow Hard website.
All three sounds will get the attention of any fool daring enough to get in your way!
Background
webBikeWorld readers like their horns (did I say that?) No horn is big enough, loud enough or obnoxious enough, as far as they're concerned.
But the "Blow Hard" has to be the most unique horn there is!
It looks like one of those old-school "ring-a-ding-ding" horns, straight from a Good Humour ice cream truck. But, with the miracle of modern technology, the Blow Hard can toot any tune you like.
It comes with three basic horn sounds -- including that 1950's bell (accurately reproduced in full stereo) -- and a couple of modern honkers.
The modern sounds include the standard disk-type "bleeeep" and the more authoritative "honk" of a trumpet horn.
But, you can download more horn sounds from the Blow Hard website, and there's even an app that let's you preview the sounds and install it directly to your installed Blow Hard via a Bluetooth connection.
Of course, it's hard to describe the incredibly life-like tones from the Blow Hard horn, so we put together a quick video to illustrate:
w
BW
Video: The Blow Hard 3-Way Horn
w

BW

Motorcycle Horn Reviews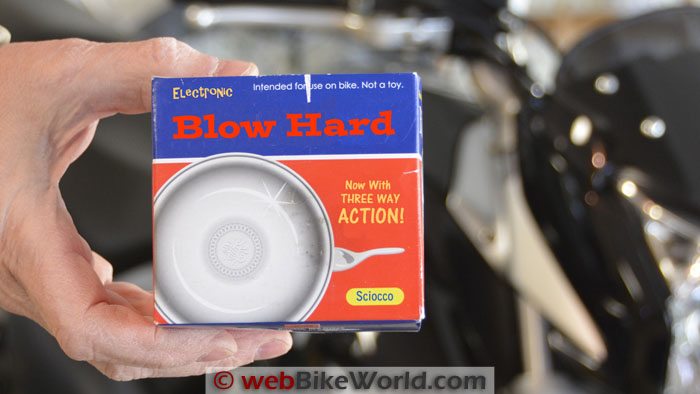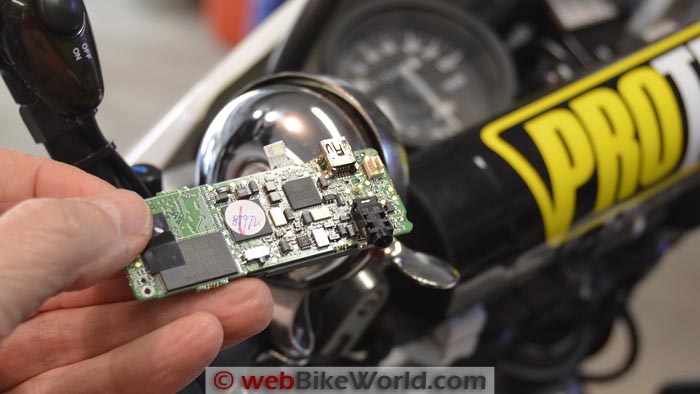 The miracle of modern electronics can fool anyone.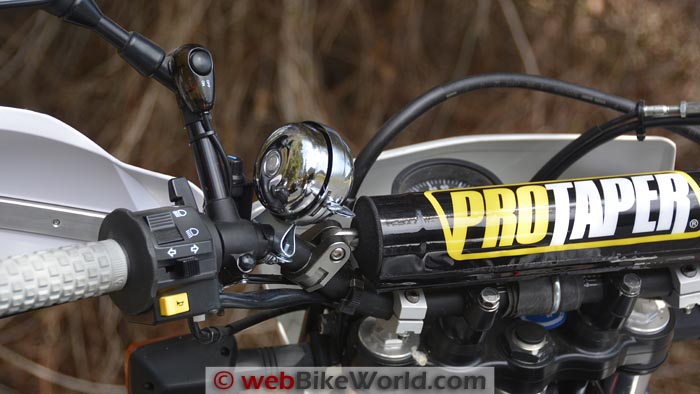 If you have the bars, this is the bell.
Conclusion
Bottom line? You need one of these for your bike. Don't be a fool -- when you have to toot, let it go. Remember: Blow Hard!
w
BW
Review: Blow Hard 3-Way Horn
List Price (2014): $30.00
Review Date: April 1, 2014
Note:
For informational use only. All material and photographs are Copyright © webWorld International, LLC since 2000. All rights reserved. See the webBikeWorld®
Site Info page
. Product specifications, features and details may change or differ from our descriptions. Always check before purchasing. Read the
Terms and Conditions
!
Please send comments to
---
From "T.V." (January 2017): "I have searched for Sciocco the USA manufacturer of the Blow Hard horn but didn't come up with any leads?
I would like to place an order in April if only I knew where to get one? Regardless of what I type in my browser it takes me back to your review."
---
From "R.H." (April 2014): "This thing is as loud as a Stebel Nautilus horn I used to own!"
---
From "D.B." (April 2014): "At first I thought I'd have no use for this, but then I discovered the Bobcat Goldthwait soundboard collection available for download. There is no horn in the world capable of inflicting the kind of emotional damage that my Blow Hard can now dish out."
---
From "H.S." (April 2014): "I downloaded the police siren sound from the Blow Hard website and I mounted a PowerFlare LED emergency light (review) on my helmet. My mom sh*te her britches when I came up behind her car and let loose. That's what I call fun!"
---
From "L.T." (April 2014): "Perfect -- I have an old Harley Servi-Car three-wheeler, I'm planning on selling ice cream this summer, this is just what I need."
---
From "A.C." (April 2014): " I've been using this on my Kenworth rig, the bell is the only thing that gets their attention. Never thought of using it on my bike."