The BMW C 650 GT Scooter
BMW C 650 GT Scooter Blog
by Rick K. for webBikeWorld.com
---
Also: wBW BMW Motorcycles Page
Welcome to the BMW C 650 GT Scooter blog!
This scooter is the webBikeWorld Project Bike for 2013.
The links to the reviews are entered in the table below as we customize the bike.
The C 650 GT and C 600 Sport scooters mark a new direction for BMW, although the company made the short-lived C1 scooter for a few years in the 2000's.
The BMW "C" series scooters have many high-end features, including ABS, triple-disk brakes with ABS and optional heated seats, grips and a TPMS.
This is one scooter that handles better than many motorcycles!
Not many accessories are available for the C series scooters, but we'll be reviewing as many as we can get and relating life with the "C" over the next year, so stay tuned!
Be sure to subscribe to the webBikeWorld.com RSS feed and Twitter posts to get updated every time a new article is posted!
If you have any tips on parts or accessories for the BMW scooters, please feel free to drop me a line at
▪ BMW Scooter Oil and Filter Change
▪ Russell Day Long Saddle for the BMW Scooter
▪ Rigid SRM2 Lights for the BMW Scooter
▪ BMW Scooter Top Case and Liner
▪ SHAD SC20 Tunnel Bag
▪ Morimoto Bi-Xenon Headlight Conversion
▪ Malossi Multivar Variator Kit
▪ Kaoko Throttle Control for the BMW Scooters
▪ BMW Wiring a BMW Scooter Top Case
▪ Torx Bits and Drivers for the BMW Scooter
▪ BMW C 600 Sport CVT Maintenance - Panel Removal
Foam filter over the CVT.
Also From J.T.: "I started peeling off covers to see what was underneath, and how to access the coils (for when I take it to my dyno guy for more exact measurements). While taking off my lower fairings, I was amazed to see Stainless steel braided brake lines. In fact the rubbing of the rear brake line, is a rubber coating on the steel braid line. Adding more covering may be moot.
Another Item is that the panels, unlike the Burgman, are painted and not cast plastic. Further investigation shows that Color Rite has the BMW cosmic blue and lists the C600 sport under vehicles it is used for. I have no doubt that the other colors are supported as well. So if a nasty scratch was seen, I could order a kit to prime and re-spray, rather than order a complete new panel. This also includes my lower panel of silver.
The Sport air intake, while the filter is on the right side, the air intake tube opens up on the left side under the left light. Thatís just a few items you can add, I imagine a lot of this is similar to the GT, no sense in changing these items from one bike to the next."
▪ SHAD Tunnel Bag for BMW Scooters
▪ Akrapovič Exhaust!
▪ BMW Scooter Tunnel Bag
▪ BMW Scooter Top Boxes
▪ BMW Scooter Recalls
▪ BMW Scooter Stalling Problem Update
▪ BMW Scooter Maintenance Schedule Update
Right side panels removed. Note folded-back foot rest pad.
Air filter location.
BMW scooter air filter. Probably a $65.00 part, knowing BMW?
▪ BMW Scooter Paint Protection
▪ BMW Scooter Stalling Problem?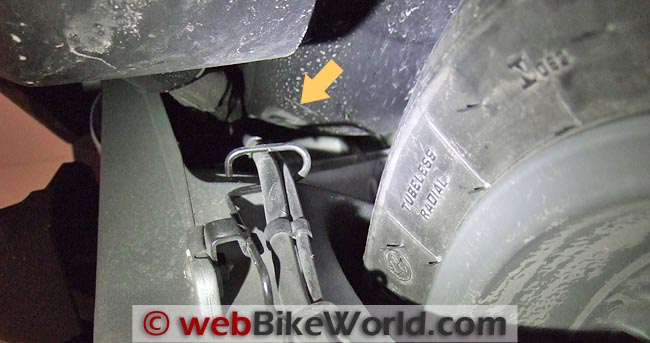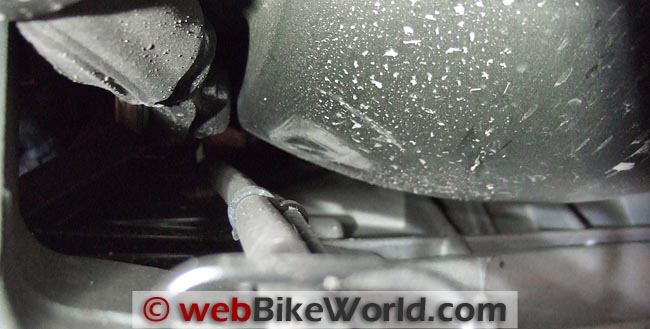 From "D.R." (December 2012): "My GT has the same smudge as the bike in the picture has."
▪ Top Box(es) and Tunnel Bag
▪ BMW Scooter Low Seat Option
▪ BMW Scooter Engine Oil Check - Update
▪ BMW Scooter Maintenance Schedule
▪ Checking the Coolant Level on the BMW Scooters
▪ World's First 3D BMW C 650 GT Scooter Photos!
C 650 GT horn is buried under the left front fairing.
Plastic friction connectors hold the inner fender liner.
▪ BMW C 650 GT Details and Features - Video
▪ BMW C 650 GT vs. C 600 Sport
▪ BMW C 650 GT Review and First Impressions
Note: For informational use only. All material and photographs are Copyright © webWorld International, LLC - 2000-2012. All rights reserved. See the webBikeWorld© Site Info page. Product specifications, features and details may change or differ from our descriptions. Always check before purchasing. Read the Terms and Conditions!
Please send comments to