Updates Make a World of Difference
I've been following the evolution of BMW scooters since the BMW "Concept C" was first introduced at the 2010 EICMA show (report).
The following year, I published this preview of the new BMW "C" scooters from the 2011 EICMA show.
When the BMW C 650 GT and C 600 Sport scooters were released in the U.S., I then bought one of the very first to arrive and it served as a webBikeWorld Project Bike for nearly two years.
Many reviews, articles and reports about that Project Bike were posted in the BMW C 650 GT Blogand the C 650 GT review so be sure to check them out; much of that information is still valid for the latest version of the BMW scooters.
And finally, I posted a report on the new and updated 2016 BMW Scooters last year, live from the 2015 AIMExpo show in Orlando, Florida.
As you can tell, I'm a big fan of the BMW "maxi-scooter" concept!
And that's coming from a long-time motorcycle guy who — like many other motorcyclists — had one word for anything called a scooter: disdain.
To put it mildly, that word means "the feeling that something is unworthy of one's consideration or respect". Or to put it another way, it means contempt.
Despite that initial feeling (that I know many others unfortunately share), it wasn't until BMW introduced its version of a maxi-scooter that I became interested.
After all, BMW motorcycles have been in my blood for many years. So if BMW was suddenly getting behind the scooter movement, then it was time to take notice.
That's why — in the interest of science, as they say — I put my own hard-earned money down and bought that brand-new "Platinum Bronze" metallic C 650 GT back in 2012.
I called it "2/3 motorcycle and 1/3 scooter" at the time, because it was a do-it-all "Urban Mobility" device that's part touring bike, part sport bike and part grocery-getter. And don't forget; it's part scooter, too.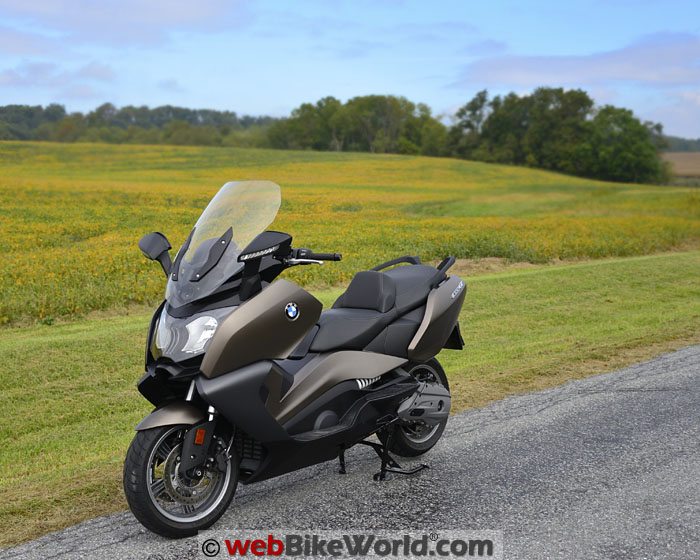 Today…
Which brings us to the present.
I've been bugging BMW since last year's AIMExpo show to give me an opportunity to ride one of the updated C-series scooters just to compare any differences to the original.
I nearly gave up when suddenly, an email arrived!
I could borrow a brand-new 2016 C 650 GT for one month. The catch? I had to drive up to BMW North America headquarters in Woodcliff Lake, New Jersey, to pick it up.
No problem! I've already been up that way a couple of times, once to pick up a Harley-Davidson Road Glide Custom for a review and again to pick up an Aprilia Mana 850 (review).
So we now have a brand-new 2016 C 650 GT with all the bells-and-whistles sitting in the garage.
Ironically (or maybe not), the color is "Frosted Bronze Metallic", a pretty close approximation of my original C 650 GT. But this one's matte instead of gloss.
And also ironically, the 2012 scooter arrived just as Hurricane Sandy hit the East Coast of the United States. Guess what? This one arrived with Hurricane Matthew! What is it about me, scooters and hurricanes?
By the way, as of this writing, we now have 511 members of the BMW Scooter Community on Google+, with members from all over the globe.
If you have any questions about BMW scooters, feel free to join the Community and/or send me an email. Remember, we only have this one for a month, so ask away and I'll do my best to answer.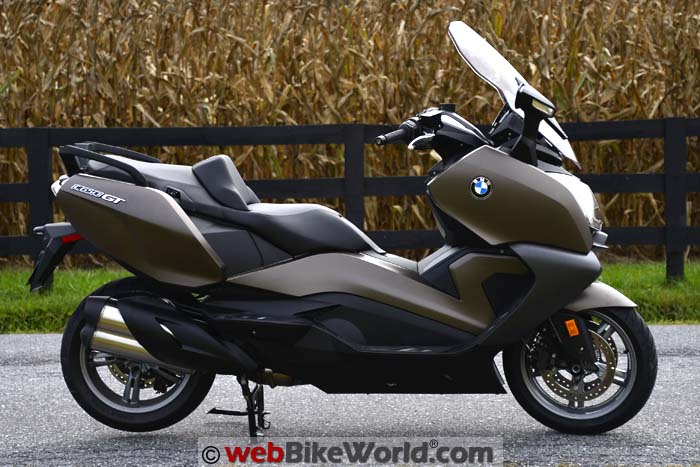 First Impressions
I'll provide more details over the next month but first, I just had to post some photos and a quick video of the new C 650 GT.
Also, I wanted to quickly note something that hit me immediately, as soon as I first pushed the start button on this "Version 2.0" scooter.
Although the 2016 version of the C 650 GT are quite similar to the original, a couple of internal updates have made a huge difference compared to the 2012 version.
I noticed these right away, as soon as I first pulled the scooter off the trailer and started it up — first, the engine sounded quieter, yet stronger.
That's due to the new dual-tipped exhaust system, which gives the C 650 GT the sort of burbling growl you'd expect from a 650 cc motorcycle, not a scooter.
But the biggest and most significant surprise came as soon as I climbed on board and twisted the throttle.
BMW have updated the drive train and the CVT on the 2016 version of the C 650 GT and it makes a night-and-day difference.
The scooter now has a lot more torque and power at lower RPMs and overall it's a much more lively and responsive ride — again, more like a motorcycle and less like a scooter.
This should be immediately noticeable and apparent for anyone who has ridden an original version and then the new one.
It's everything the original should have been and when combined with the updated shocks and suspension settings, the 2016 C 650 GT is very sporty indeed.
The one feature on the original that really did mark it as a scooter was apparent as soon as you twisted the throttle: it took forever to get up to speed and the CVT moaned and droned all the way. Loudly.
In comparison, the new version has right-now power. It's quieter and sounds a lot better and gets to 100 kph in no time at all. It also responds to throttle inputs much less like a scooter and more like a motorcycle.
So the engine and drive train improvements alone should be enough of a difference to convince owners of the original to upgrade, while the updates should also go a long way in convincing touring bike owners as well.
I'm really very impressed by the difference that the changes have made; in my mind, it has completely changed the personality of this scooter and definitely for the better.
If you were on the fence before or even if you have never considered a maxi-scooter, just do yourself a favor and grab a test ride on a new C-series example and tell me what you think.
w

BW

Video: 2016 BMW C 650 GT
Will It Sell?
Which brings up what is probably the most difficult task BMW faces in trying to market the C-series scooter in the U.S.A. — getting people to actually try the darn thing.
Again, I know there's a healthy dose of disdain for anything labeled a scooter in the U.S.A. and that's too bad, because the new C 650 GT now really is a true do-it-all machine.
It's not only easier to jump on this two-wheeler and go for a quick ride or down to the store or some back-road blasting, it's even perfectly suitable for taking cross-country.
In fact, I'd actually prefer doing just that on a C 650 GT over any motorcycle I can think of.
If you hear the word "scooter" and you're still thinking Audrey Hepburn and Gregory Peck on that smoking Vespa two-stroke, well, your thinking is as outdated as a 10″ tire.
That said, I don't know what the answer is. Maybe find a new word to replace "scooter"?
BMW now has a pretty cool two-wheeled conveyance here with more coming — an electric version is on the way. If they could only get motorcyclists to try it.
At the very least, BMW should have free test ride days for die-hard touring bike owners and I'd be very surprised if a significant majority weren't impressed. I just can't believe otherwise.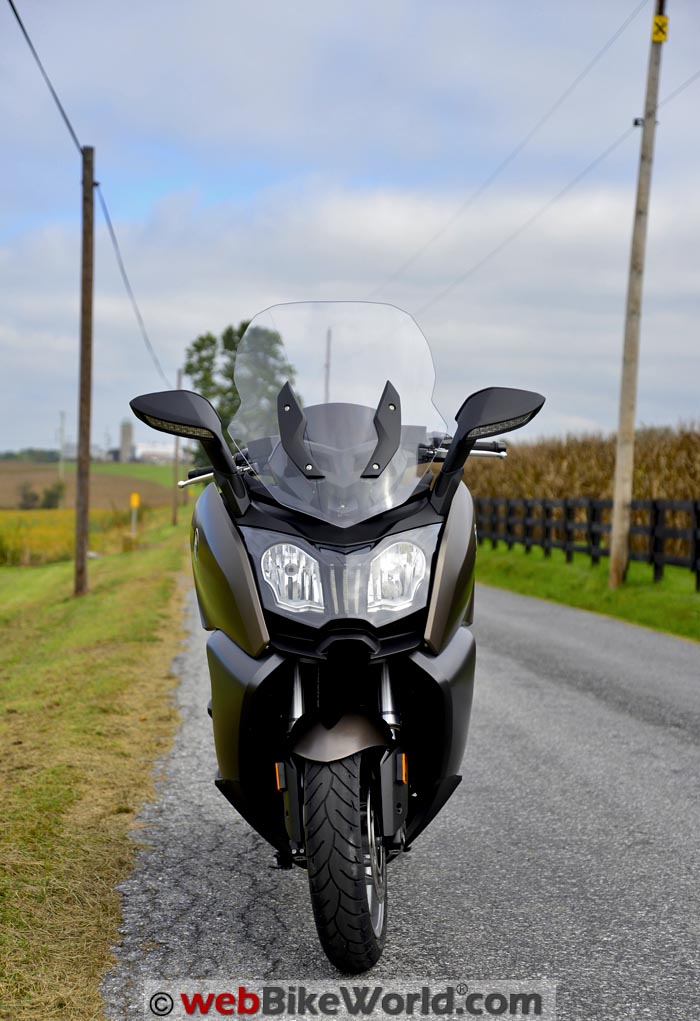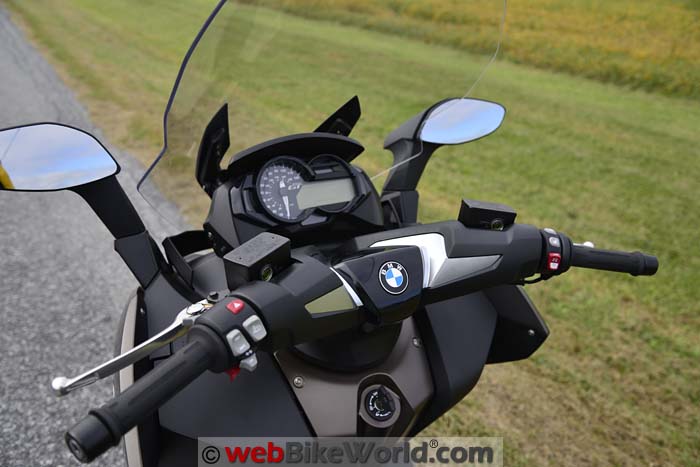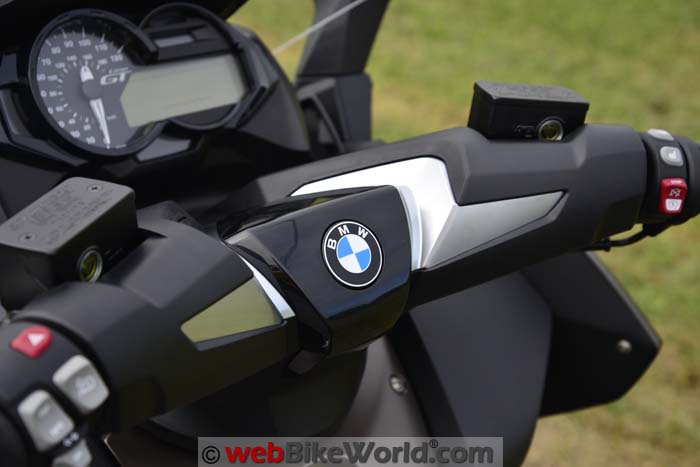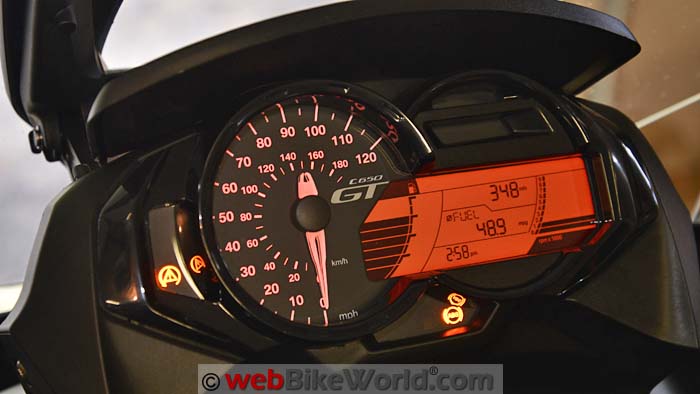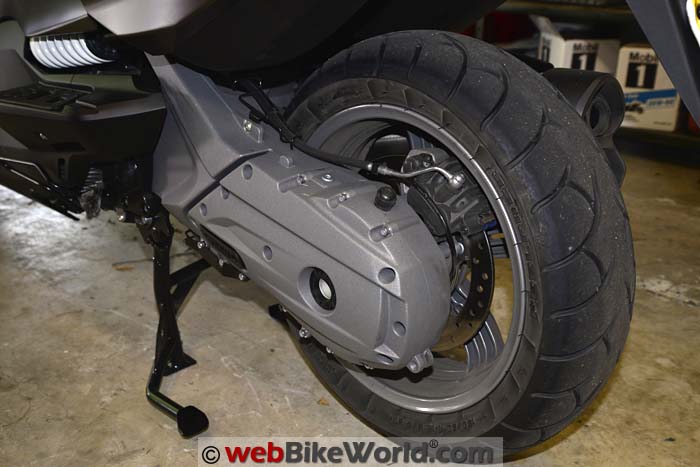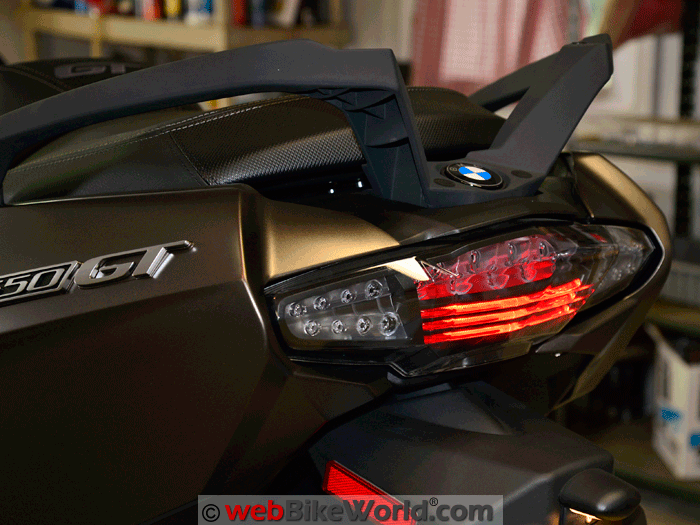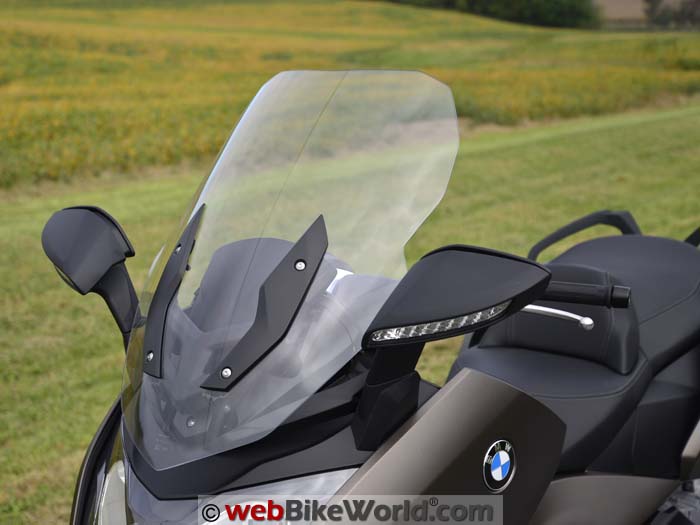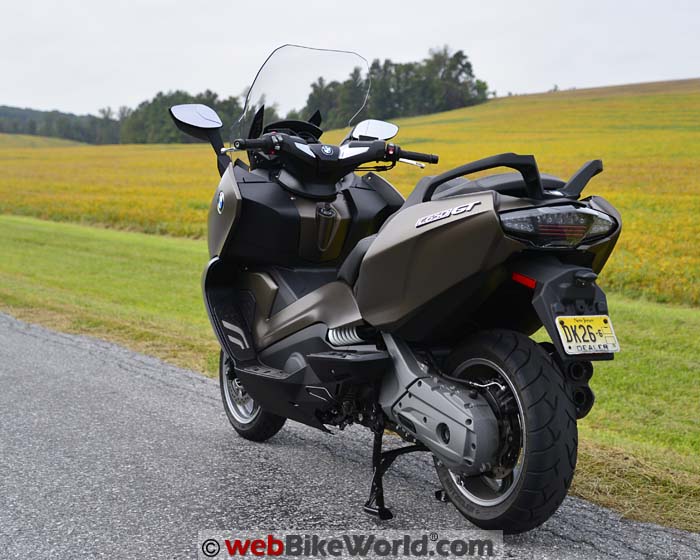 To Be Continued…
Again, this is a quick update just to get your juices flowing. I'll report back as the month wears on but if you have any questions about the new BMW scooters, send 'em to me at editor@webbikeworld.com and I'll be happy to answer.
2016 BMW C 650 GT Specifications

Part 2: Final Thoughts, Pros and Cons
Publication Date: October 2016
Master Listing of All wBW Motorcycle Product Reviews
Note:
 For informational use only. All material and photographs are Copyright © webWorld International, LLC since 2000. All rights reserved. See the webBikeWorld® 
Site Info page
. Product specifications, features and details may change or differ from our descriptions. Always check before purchasing. Read the
Terms and Conditions
!
Owner  Comments and Feedback
---
From "K.W." (October 2016): "Yes, scooter doesn't quite express what large scooter like bikes are all about. They aren't really scooters, but, have the the features we like best about scooters, yet they fill the bill as a motorcycle.
When someone asks me what it classifies as, I tell them it's a "Notcher", as that is the most obvious difference from a standard motorcycle."
---
From "K.D." (October 2016): "So happy to see you revisit the BMW maxi-scooter. Based on your previous review and blog, I bought a 2015 GT and have been enjoying it.
I have often referred back to the old blog for information about oil changes, auxiliary lighting, etc.
Happy to hear about the improvements to the clutch/CVT. I suppose I can take advantage of the update when the time comes to replace mine.
I'm looking forward to your impressions as the review progresses."
---
From "B.P." (October 2016): "Assuming one doesn't intend to spend much time at freeway speeds, in your opinion is there any really compelling reason to spend twice as much money on the BMW as something like a Honda Forza?"
Rick's Reply: Wow, this is a tough question. It's pretty much apples vs. oranges, like asking "Is there any reason to spend twice as much on a R1200GS compared to something like a DR650"?
Difficult to answer.
I've never been on a Honda Forza so I don't know, but I have sat on one in the local shop. The C 650 GT is a big, solid bike, while the Forza seems like, well, a bit toy-ish in comparison.
Nothing against it, I really like the Forza, but it's just a completely different vehicle in my opinion.
The C 650 GT is more comparable to the Silver Wing or Burgman, although those designs seem a decade old in comparison.
When you're riding the C 650 GT, there's pretty much nothing it can't do and you feel completely secure doing it. Not so with any of the other scooters and many motorcycles I've been on.
---
From "K.W." (October 2016): "Well, I too went for the 2015 650GT in an effort to  help slow myself down from sport bike speeds and the convenience of getting me around the overcrowded Atlanta while being able to easily carry items.
All was going well until I saw a sport bike pacing thru the cars on the local 285 ring road. I was up to 90mph catching up to him, then passed him at over 100mph.
He pulled up next to me trying to figure out what I was riding, now at 115mph he started to back off then I took the 20 West exit.
My only real complaints on the 650GT are: No cruise control on a touring scooter with the ability to easily do long miles comfortably and those very low quality doors on the dash storage pockets.
The one on the left is supposed to lock but don't trust it, a simple push and it will pop open.
Might have to test ride the new 2016. IF the updated CVT is as much a difference as you say…I just might have to update myself.
Thing is, the electric is coming to the USA so maybe smart to wait a wee bit."
Rick's Reply: I also want to try the electric version, I'm back to begging BMW again but so far it's only available in Europe for test rides.
The forward compartments have been improved slightly on the 2016 version. Still no cruise control though, several people have commented on that and it's one of the things I'll list in my upcoming pros vs. cons vs. differences article.
---
From "B.P." (October 2016): "I hear ya, re scooter preconceptions, performance, touring, and on and on.
I owned a 2007 Burgman 650 Exec for five years. I had a lot of fun in the twisties with it, thanks to the relatively short wheelbase, small(ish) wheels, and ample ground clearance.
Attached are a couple of shots at Deals Gap, for instance. And it was an excellent superslab tourer, for those occasions when time vs. distance constraints came into play.
Twice Twice coming home from MotoGP races at Indy, my buddy — on a 2008 Burgman 650, purchased after making fun of me for a year, then riding it, and then buying his own — did the 840-mile trip in one shot.
And I also did two other 800+ days, coming home from family visits (North Carolina to New York).
It helps on long trips that your feet don't do anything, and are free to move about the cabin. It also helped that I installed an electronic cruise control; more on that in a minute.
In 2012, I traded in the Burgman for a Victory Cross Country Tour (review).
The Victory has unmatched storage and more power, adjustable passenger floorboards and is a much better two-up mount (one of the areas the Burgman falls short in).
Somewhat surprisingly, the Victory's seat is also noticeably lower than the Burgman's, affording me flat-footed, knees bent, stops, another big plus for two-up riding.
Fast forward to this August. I hadn't been on a Burgman for four years, but my buddy was looking to sell his; he has several other bikes, and was looking to cut back.
I borrowed that 2008 scooter for a "non-sportbike" track day, put on by Tony's Track Days, in this case at Palmer (MA) Motorsports Park.
I had participated in two of these track days on the Victory, and was looking to try something different at the tight and twisty Palmer track.
I had a blast, just doing my own thing, and, incidentally, being able to out-handle the baggers in my track group. I had no problem keeping up on a mere scooter, and actually lapped many of the "real" bikes during each 20-minute session.
I have a gallery of that track day. Also, at the end of the gallery are links to two GoPro videos I made and put up on Vimeo: here and here .
It was a sunny day, a smooth track, and a smooth scoot, and I think the videos came out really well, and show how a maxi-scoot can handle.
I enjoyed going around the track so much on the scooter that a few weeks later I bought it from my friend. So now, for the first time ever, I am the proud owner of multiple powered two-wheelers.
Because of medical issues, my wife probably won't be riding pillion very much anymore. Come next season around here, I may sell the Victory.
And now back to cruise controls, and, yes, I do have a question for you, regarding the C 650 GT.
On the 2007 Burgman, I installed an MC Cruise. That was expensive then, and is even more so now. Further, it had a bulky vacuum canister as part of the system. Not going that route again.
On the recently acquired 2008 Burgman, I've purchased a Rostra electronic cruise control.
Unlike the MC Cruise, the Rostra is meant for cars, but some owners have successfully modified it for the Big Burger, with a bare minimum of metal fabrication changes.
Also, it is purely electro-mechanical — no vacuum canister here. I plan to complete this project in the next month or so.
Which brings me to the Beemer.
At the NYC cycle show some years back, I spoke about cruise control vis-à-vis the 650 GT with a representative from the mother ship in Germany.
I told him that I'd be very interested in the BMW scooters if one or the other came with a factory-installed cruise. He essentially told me that it wasn't going to happen.
So, has that changed with the latest iteration of the C 650 GT?
If not, I really have an issue with a manufacturer who calls that a Grand Tourer, but omits cruise control. And this from a company that has pioneered electronic enhancements, from ESA to the ill-fated power brake levers (at least once described as a solution in search of a problem).
So I say this again: I won't buy the C 650 GT until it can be had with factory cruise … or at least until someone does a nice job documenting the installation of the Rostra or something similar.
On the other hand, if that comes to pass, I would be very interesting in looking at the Beemer. After all, I think I've established that I'm a fan of the maxi-scoots. No disdain from me!"
Rick's Reply: No electronic cruise control on the BMW scooters. The closest you'll come is theKaoko throttle control (review) I installed on the first-gen BMW scooter (and other bikes).
It works very nicely on the scooter; better, in fact, than it does on the motorcycles, probably because of the CVT transmission.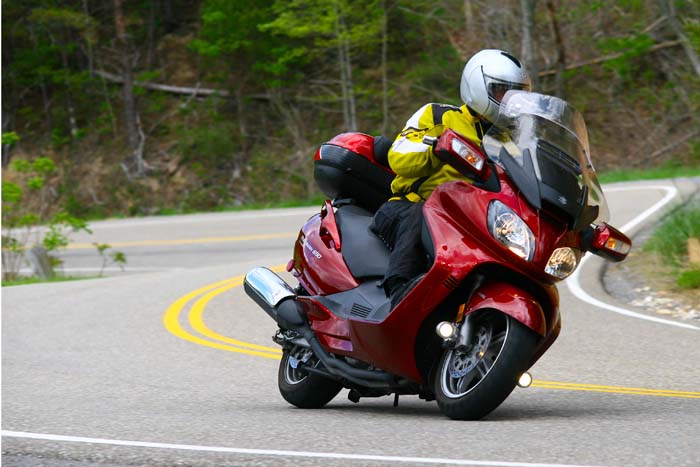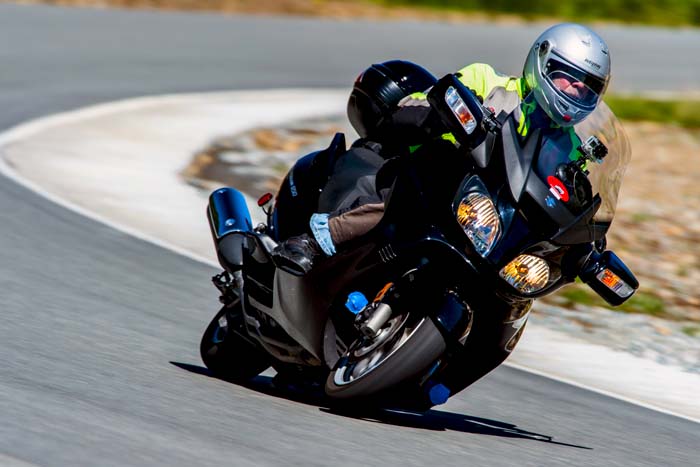 ---
From "J.F." (October 2016): "I think they should call it an 'uber-scoot'. Not a 'scooter'!
I'm the guy who had ALL kinds of stalling problems with my first edition 2016 C650GT, but the replacement I finally purchased (with their compensation for the faulty unit) just ROCKS.
I have to apologize to no one on the road, and motorists, bicyclists, and pedestrians alike all love to gawk and comment.
Thanks for the review and chance to add comments."