Riders can now more easily see what's behind them with the Zona M100 – a system that features a head-up display screen in their helmet and a rearview camera mounted on the back of their bike.
The M100 system comes from UK start-up Zona and our British reviewers installed two units on several bike/helmet combinations to see how they performed.
Our extensive review process found some pros and cons to the solution. It will not be suited to all riders, but is well worth considering.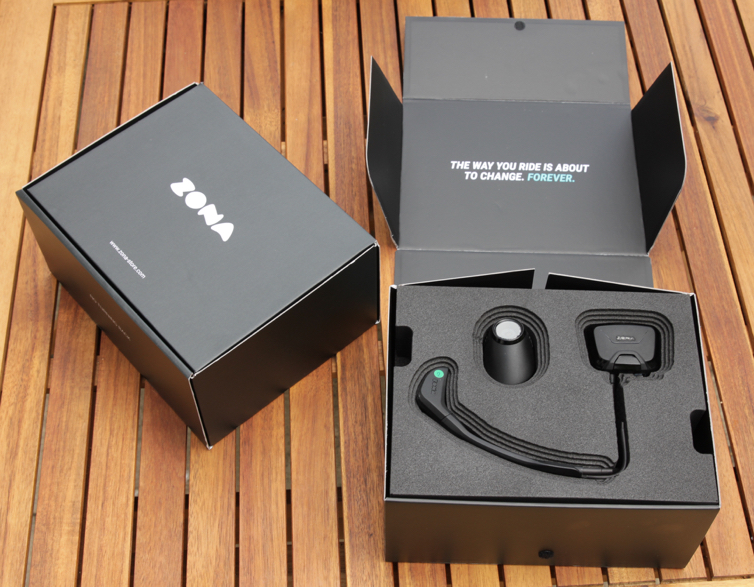 Founder's introduction
Zona founder John Hale gave us an overview of the solution and highlighted some of the features.
John is passionate about the product which is reflected in the attention to detail in everything from the website and installation videos through to the packaging and product design.
The product will be released in August at £239 (about $A400) and available for purchase in 12 other countries including USA, Germany and Japan.
The M100 is comprised of three main components and accessories: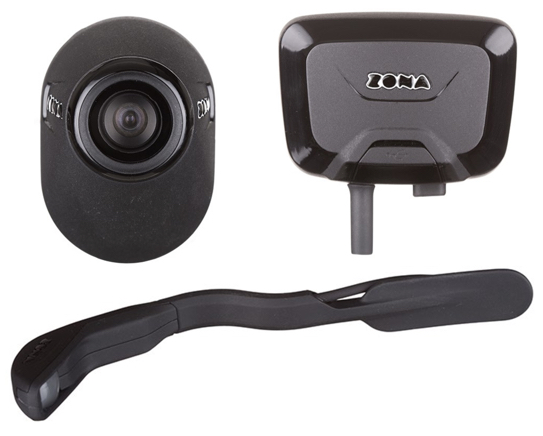 Camera;
Receiver;
Display Arm; and
Ancillary items including battery wiring, connectors, mounting brackets, charger, USB, lengthened bolts etc.
Features
Main features include:
Live rearview camera and in-helmet head-up display screen;
Looping video capture and storage;
Fits to either side of helmet (auto-orientates the correct way up);
Screen which allows the eye to focus at an equivalent of about 3 metres (more comfortable);
Accelerometer and gyroscope which are used in image stabilisation and to detect significant impacts such as a crash, which also prevents looping video capture from overwriting impact footage;
Head tilt functionality adjusting the perspective of the image while turning/leaning (upcoming feature not available in our test units); and
Update storage USB stick.
The product also comes with free lifetime software and feature updates for all customers installed via USB cable so there are no annoying costs to get the latest software and features as they become available.
Installation
Installation was pretty straightforward, if a little bit fiddly but easily doable within 20-30 minutes.
The Zona website has an excellent, comprehensive video guide on installation with basic steps for the camera and helmet screen.
Bike installation
Fitting the M100 to the bike varied from 20-30 minutes.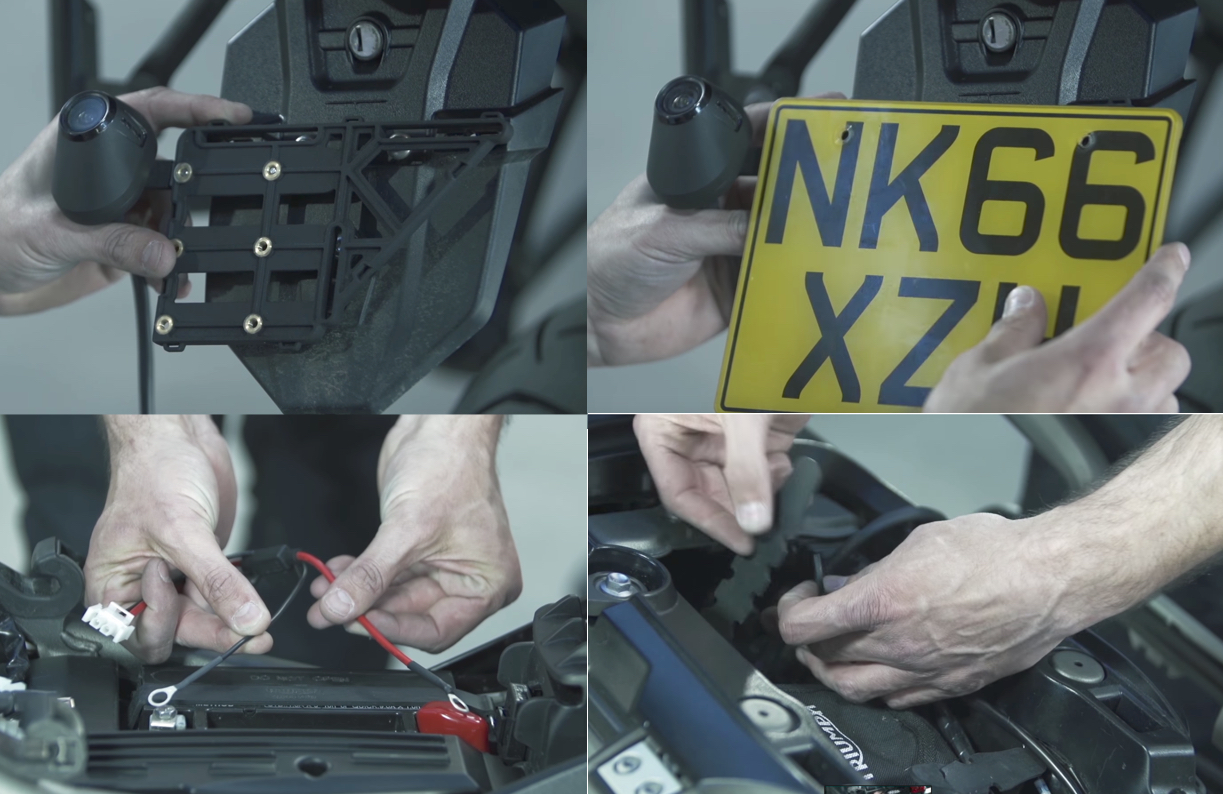 Remove rear number plate, 'sandwich' in camera-mounting bracket and replace with supplied extended bolts, if required, otherwise use existing bolts;
Mount camera on the supplied bracket; and
Run camera power cable in under the seat and connect the harness to the battery terminals.
Installing the system on custom bikes which don't have a conventional rear number plate will likely make "standard" installation problematic. The camera does have a "standard action camera mount" so it shouldn't be too hard to find a workable alternative or improvised solution if you ride a custom.
Helmet installation
We challenged the claim that the "…System fits any motorcycle and any helmet" by installing on three different helmets. The process is quite simple if a bit of a fiddle.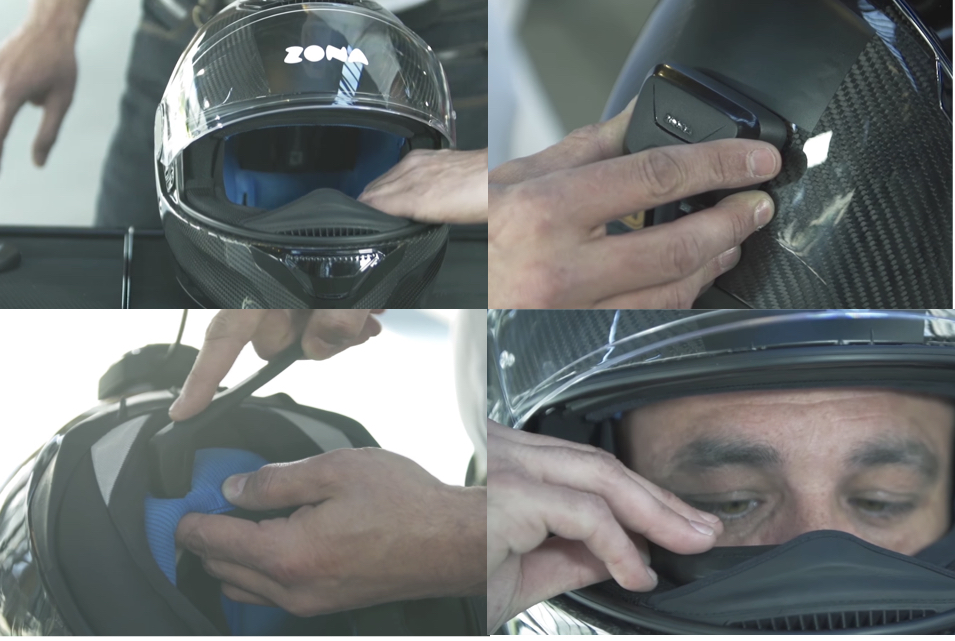 Stick receiver on the back of the helmet with velcro strips;
Run the display cable and arm into the helmet behind the lining; and
Adjust display arm to view.
One helmet where the lining could not be removed made it difficult to install the arm for optimal position.
Dirt bike helmets with goggles are difficult to make the display visible due to space constraints with the googles obscuring peripheral vision. However, dirt bike riders may not be the target market.
It is really important to ensure that the display is positioned correctly as it takes a bit of getting used to and requires a bit of perseverance. Zona confirmed that they will be creating a more comprehensive guide to help make this easier following our feedback.
Road test
The units were road tested for a week by three different bike riders including a London commuter, newbie and an experienced bike instructor.
The commuter riding a GPZ had some issues getting the display into position without obscuring peripheral vision and it vibrated out of position a number of times. There was value when in traffic being able to see vehicles behind and potential for spotting threats from behind in stop-start traffic. However, one annoyance was the glare at night time from vehicle headlights behind. Their verdict was that it is worth considering.
The newbie said the Zona was good when riding a sports bike with limited mirror visibility. The M100 enabled him to see behind without lifting his elbows or turning around to check to see behind. He would consider buying one.
The bike instructor was riding a Triumph Tiger and felt that the unit didn't really add any value beyond what he could already see in his mirrors. He found that it slightly obscured his view when glancing down to his right mirror and was generally a bit of a distraction. The verdict – Don't like it.
Conclusion
The appeal and ease of installation of the Zona M100 is dependent on the type of bike you ride and the type of riding you do.
In traffic, you might need the constant reminder of what's behind you, but on a long ride through the country you would rarely check your mirrors and that constant screen reminder could be a distraction.
Overall, there is definitely a place for the Zona M100 but we believe it could be an unwanted distraction for some riders.
Given the price tag and a 28-day return policy (depending on location) it is definitely worth checking out.
Special thanks to our reviewers, James, Barry at BLT and Orla Reed.