The biggest electric motorcycle company, Zero of California, will finally plug into the sportsbike market with the launch of the SR/S.
Over the past 14 years, the company has produced dual-sport models and last year added the naked SR/F streetfighter.
The Zero SR/S is basically an SR/F with a fairing.
Zero says it's "the most comfortable sportbike on the road" with higher bars and lower footpegs.
However, range, power, speed, and other tech specs are fairly identical to the SR/F.
The premium SR/S model with 6kW Rapid Charger, heated handgrips and aluminium bar ends starts at $US21,995 and the standard model with 3kW Rapid Charger starts at $US19,995. They are available in grey or blue.
Plug pulled
But don't get too excited as Zero Motorcycles pulled the plug on the Australian and New Zealand market in 2017, citing unfavourable exchange rates and taxes.
Since then the exchange rate has worsened.
While Zero has not yet made an announcement about a return, we suspect it is a long way off. At least until the government offers subsidies like America's 10% rebate and our charging infrastructure catches up to the USA and Europe.
As a guide, their 2017 Aussie fleet ( Zero S, SR, DS, DSR, FX and FXS) ranged in price from $18,000 to $25,000 on the road. You can also buy an optional $4790 Power Tank battery which extends range up to 320km.
SR/S power and range
The Zero SR/S is powered by the same 14.4kWh battery and ZF 75-10 motor with 82kW of power (110hp), 190Nm (140lb-ft) of torque and a top speed of 200km/h (124mph).
Range is also the same at 260km (160mi) in the city, 132km (82mi) on the highway and a combined range of 175km (109mi).
Riders can also buy a $US2895 3.6kWh Power Tank that increases range 323km/201mi (city), 166km/103mi (highway) and 219km/136mi (combined).
However, with 13% improved aero from the fairing, range could be better if you tuck down low.
Zero SR/S has the option to install one, two, or three Level 2 charger modules on board.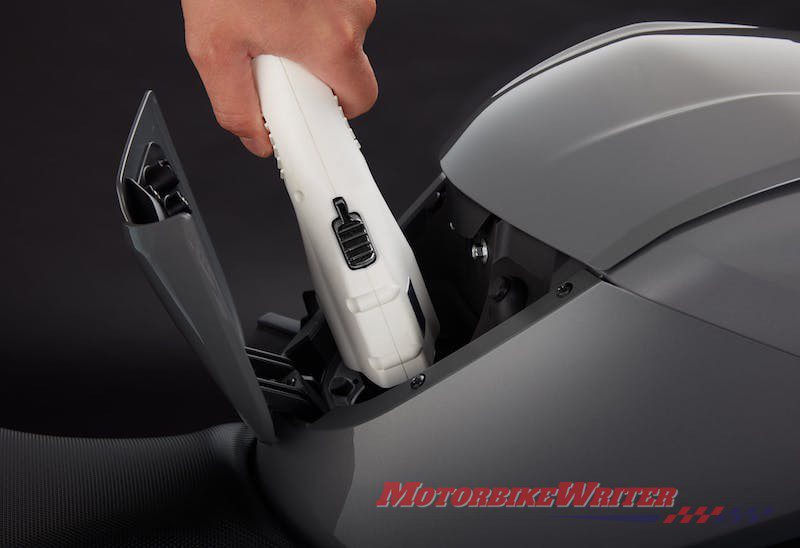 Charge time from 0-95% is four hours with a single charge module, two hours with two charger modules and just over an hour with three.
It features a Cypher III operating system that includes Bosch stability control and a full telemetrics that links to your phone.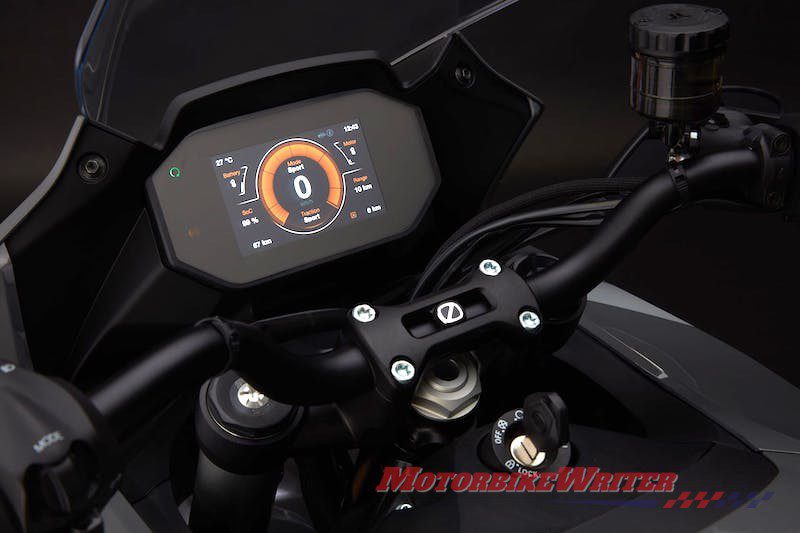 It shows charging status, charge time scheduling, tip-over protection or unexpected motion notifications in case someone is trying to steal it plus a Find-my-Bike feature to track its whereabouts.
You can also share your ride data with other riders, but be wary of divulging too much incriminating evidence!
They even have optional Shard panniers in case you want to go sports touring.